The short-sleeve shirt has been looked down on for a long time now – a bit too long, we reckon. Yes, there is a delicately fine line between a lightweight, tailored short sleeve shirt for summer and looking like a number of suspect TV personalities – you know who we're referring to - Jim Carrey as the gaudy Ace Ventura for example, Michael Douglas as the unemployed engineer in Falling Down or Richard Ayoade in his array of beige short sleeve shirts as the part of the naïve Maurice Moss in IT Crowd – for those of you who prefer a cult-comedic reference to underpin your choice of shirt. Anyway, we can see why many of you may shy away from the short sleeve shirt, but if you get it right it can be one of the best summertime styles to wear.
An explosion of Hawaiian-inspired short sleeve shirts have crept into collections in the last few seasons, but there is still a lot to be said for keeping things simple, too. Which, thankfully is where most styles for SS17 lean towards. Keeping an eye on fit is of the utmost importance when it comes to choosing the right short-sleeve, though. Too tight, it looks like you have purposely purchased a shirt too-small to show off your gym gains. Too loose; you risk the exact opposite, and it looks as if the shirt has been thrown on in an immediate response to the emergence of some sun and in total disregard for what it actually looks like. Rather than continuing to point out the pitfalls of the short sleeve shirt, we're embracing it with a help of a few of this week's latest arrivals. Below are five of our favourite short-sleeved shirts, and how to wear them.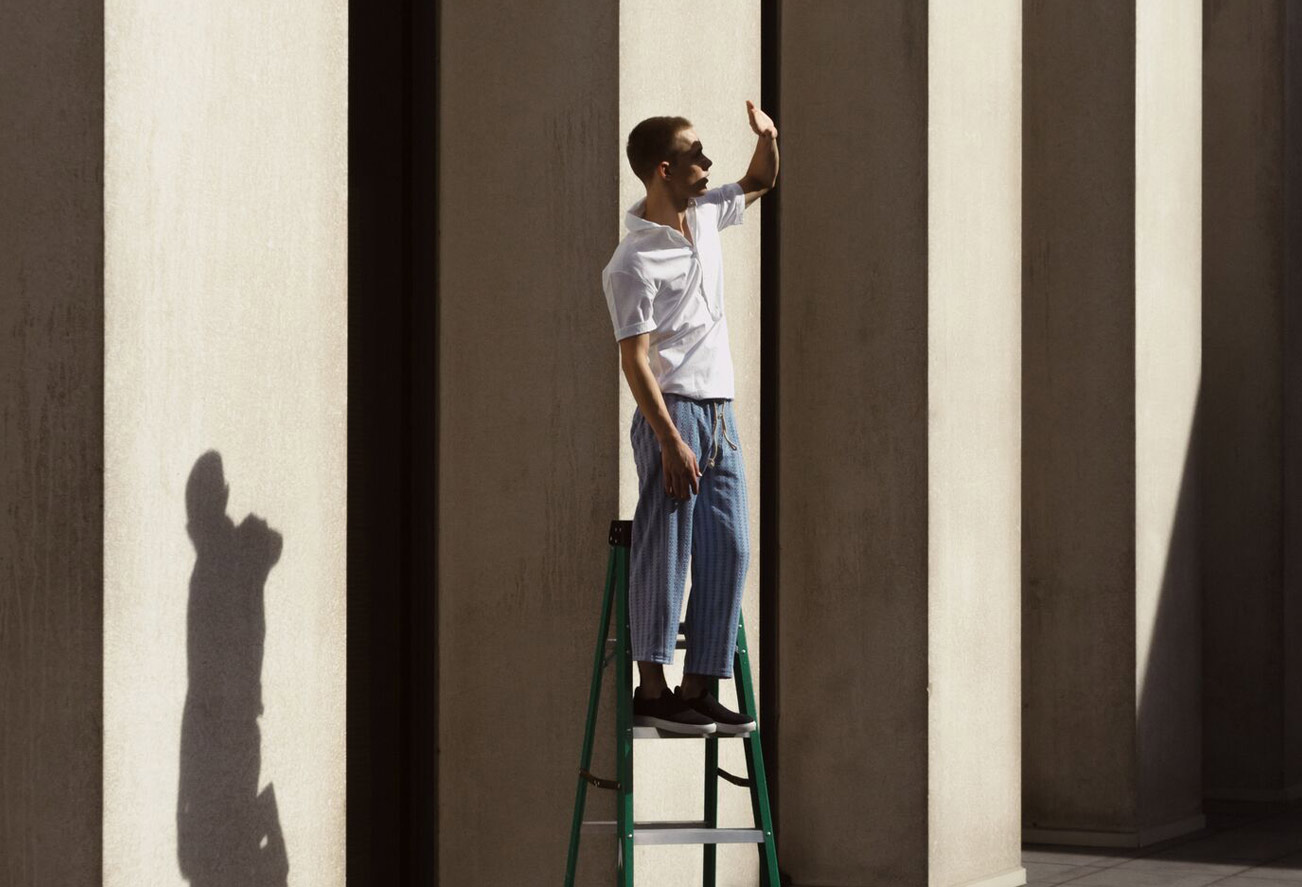 New Union Clothing White Short Sleeve Cutaway Collar Popover Shirt
And finally, something a little different courtesy of American heritage brand, New Union. The White Short Sleeve Cutaway Collar Popover Shirt is a little bit of out of the ordinary; for one, it's a little bit longer than the average so it offers a little bit more comfort. And two, it's made from an incredibly soft Japanese cotton that possess a crisp, almost crinkly texture that ensures the shirt will age perfectly over time. Plus, the fresh white colour hue means the shirt can be matched to almost any item in your wardrobe; from navy cotton chinos, light wash jeans and grey tailored shorts.
Comfort is of paramount importance when it comes to your short sleeve shirt, and they don't come much more comfortable than this Pharaoh Shirt from You Must Create. Crafted from lightweight aircel cotton for an incredibly lightweight touch, the shirt is garment dyed in a dark olive green hue and is finished with a blunt collar and a relaxed cut. Play on the ongoing safari-theme, and pair yours with a crisp khaki short or a turn-up trouser for a practical, clean finish.
This season You Must Create pay tribute to the influence of African on Britain by reflecting the vibrant counter-culture across a range of key staple pieces. One of our favourites, the Paw Print Malick Shirt, is available in both navy and orange, and it looks exactly like a summer shirt should. Which means it's incredibly versatile, but is perhaps best worn with a coordinating pair of YMC Jay Shorts and a statement pair of Matte Honey Bubs Sunglasses.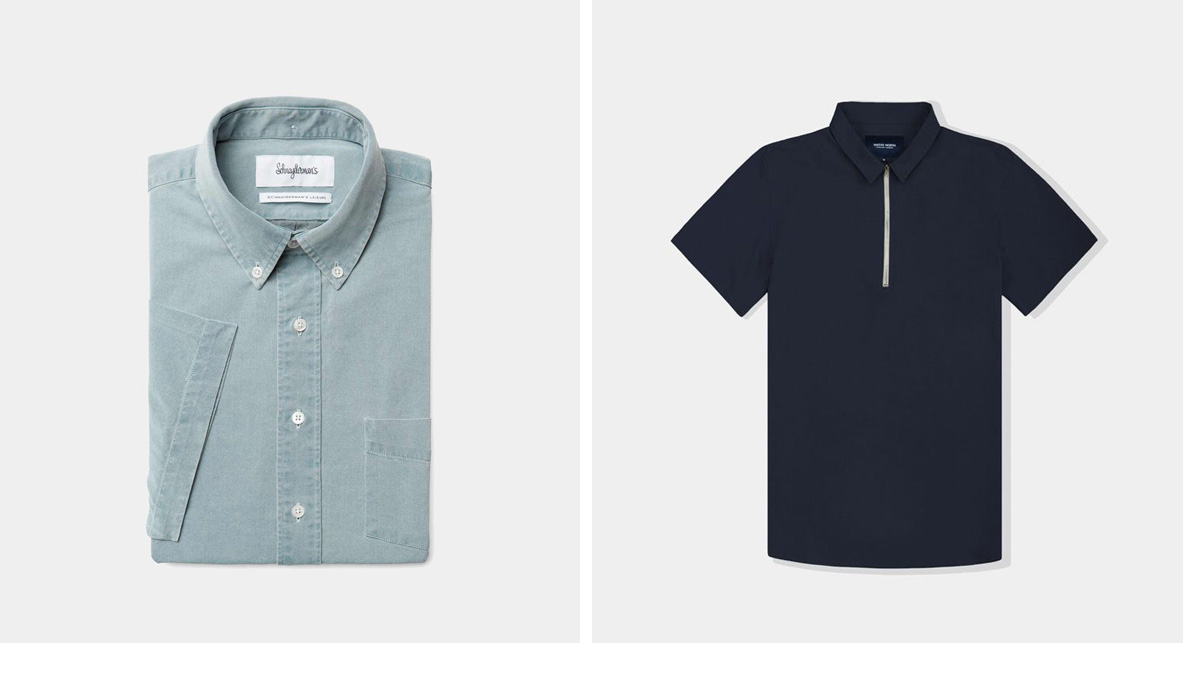 Schnayderman's Light Blue Indigo Jean Short Sleeve Shirt
To ease you into the transition from long to short sleeves, we've picked a shirt that isn't too dissimilar to the Oxford-inspired styles that you've been wearing all year-long. Schnayderman's is known for incorporating tailored details into clean, modern designs, as displayed by this slim-cut Indigo Jean shirt in a bleached-wash light blue colour hue. We suggest teaming the laidback shirt– complete with its simple patch pocket and button down collar – with a lightweight pair of drawstring trousers and a simple white sneaker to bring out the washed pastel hue.
Native North Navy Twill Zip Shirt 
Bowling shirts came on strong last year, and this season it is the turn of another collar type to take over; the zip collar. Much like the plethora of elegant zip tops that came your way over autumn and winter, this Navy Twill Zip Shirt from Native North features a minimal quarter zip that to elevate this short-sleeve above the ordinary. The zip top is easy enough to slip over jeans or a relaxed pair of shorts, and smart enough to look suitable done-up with a pair of tailored shorts in a co-ordinating navy blue colour hue.
Shop all shirts at OPUMO.