So, you've made an excellent choice by buying one of The Skateroom's decorative boards. Each board features an iconic work of art by one of history's greatest artists - whether that's Andy Warhol, Jean-Michel Basquiat or Keith Haring. The boards have arrived and they look great, right? Well, the journey has only just started, and we're here to give you a step-by-step walkthrough for the remainder of it. It may be a treacherous journey but this is the most important part, the style of your room is in the balance and it's all down to you to execute properly: how to hang up your The Skateroom decks. We've got it all covered. In six easy steps we show you how to safely and securely hang your skateboard deck on the wall. 
Step one: Organise what you have
It's essential to remain calm and organised throughout this process. Lay out everything that you have received in the package, making sure you haven't left anything out. Altogether you should have your deck(s), a cable tie, nail and frame hook.
Step two: Collect the rest of the necessary tools
Time to venture into the miscellaneous tools section of your home. You're ideally looking for a tape measure – but any measuring tool will work, a hammer and a spirit level. The spirit level is essential, you will not forgive yourself if you finish with lopsided decks on display. 
Step three: Measure the distance between boards
Consistency is key when wall hanging, it is quicker and easier to go straight ahead with the nails but you will notice the difference if you measure. The Skateroom recommend measuring a distance of 21 cm between the nails in the deck if hanging a trio of decks and a distance of 26 to 30 cm between the nails if hanging solo boards, remember that this is vertical hanging. If you'd like to hang your deck horizontally, the distance between nails should be 46 cm.
Remember:
If you're hanging a trio of decks, measure a distance of 21cm between the nails.
If you're hanging solo boards, measure 26-30cm between the nails.
If you're hanging your deck horizontally, the distance between nails should be 46cm.
Step four: Hammer the nails
After marking your wall with pencil marks measuring 21, 26 or 46 cm from each other (the centre of the board) it's time to nail. Insert the nails through the eyes of the frame hooks and begin hammering. The nails do not need to be hammered particularly aggressively, and remember to nail at a 45 degree angle.
Step five: Loop decks
Run the cable tie through the lower two of the top four holes of the board, closing the tie when you're satisfied.
Step six: Hang decks
The final, glorious step is to carefully place to closed loop of the cable tie onto the perfectly positioned frame hook. Take a few steps back, make sure the deck is straight because Rauschenberg wouldn't be happy if he knew you were hanging his work at an angle. All that's left to do now is to grab a drink, pull up a chair and admire your handiwork.
Don't forget:
The Skateroom advise not to display the decks directly in front of the sunlight as any art editions or piece of art.
+
René Magritte's L'empire des lumières Triptych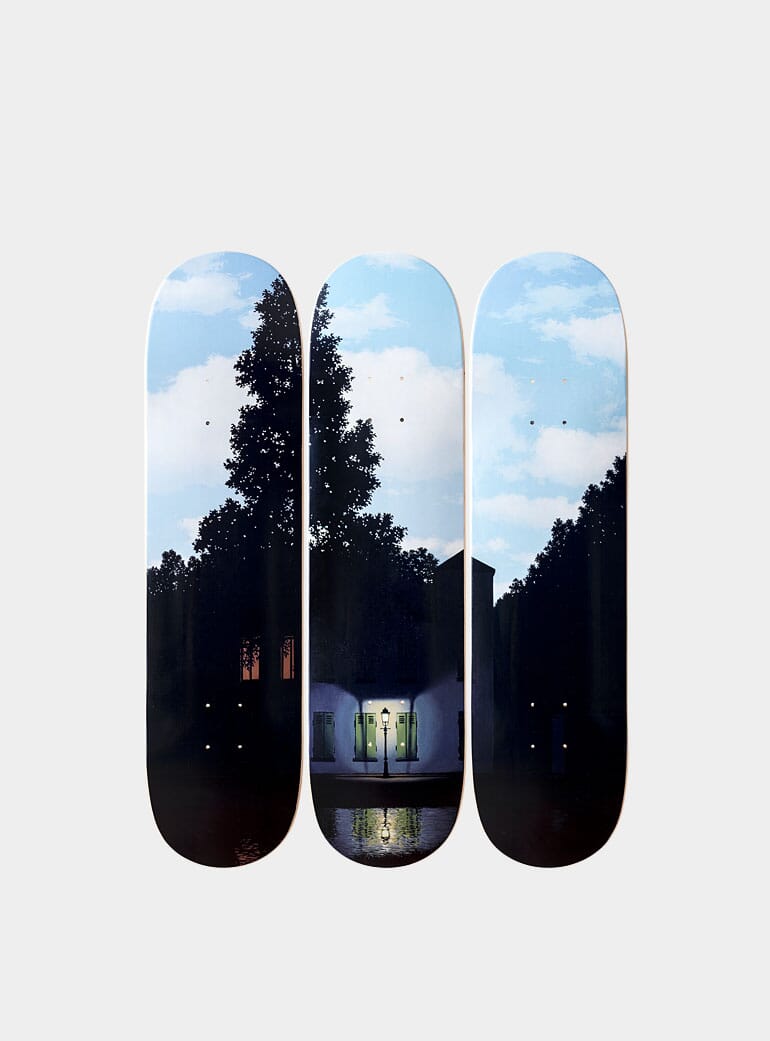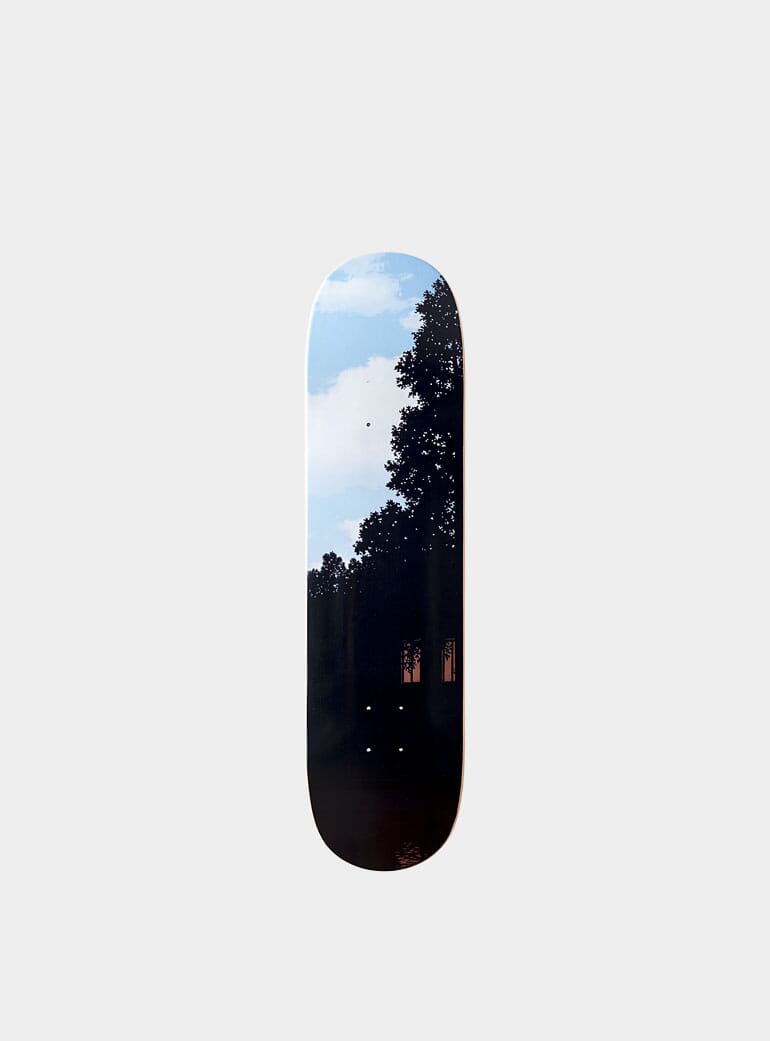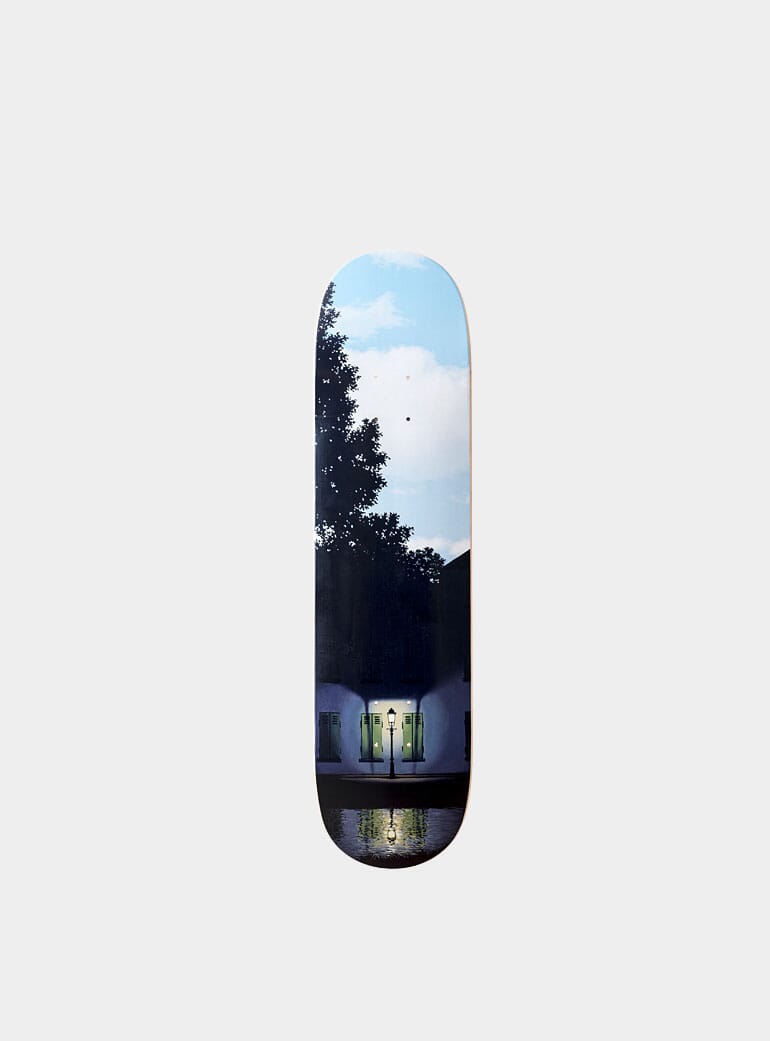 René Magritte's L'empire des lumières Triptych
Jean-Michel Basquiat: © Estate of Jean-Michel Basquiat Licensed by Artestar, New York
Keith Haring: © Keith Haring Foundation. www.haring.com. Licensed by Artestar, New York
René Magritte: © Succession René Magritte – SABAM, Belgium – 2018
Now you know how to hang your skate deck, you can go ahead and shop the latest The Skateroom collection at OPUMO.