When it comes to audio equipment, you're on the right track if you're considering Bang & Olufsen. The brand was founded in 1925 by Peter Bang and Svend Olufsen and has been a leader in audio equipment innovation since the beginning. Where most brands can only cater to one, Bang & Olufsen's seamless blending of top-quality audio, premium craftsmanship, and modern design sets them apart from the crowd. But we're sure you've heard all of this before, do the products really live up to the hype? We put together a review of Bang & Olufsen's E8 2.0 Earphones just so you can be sure.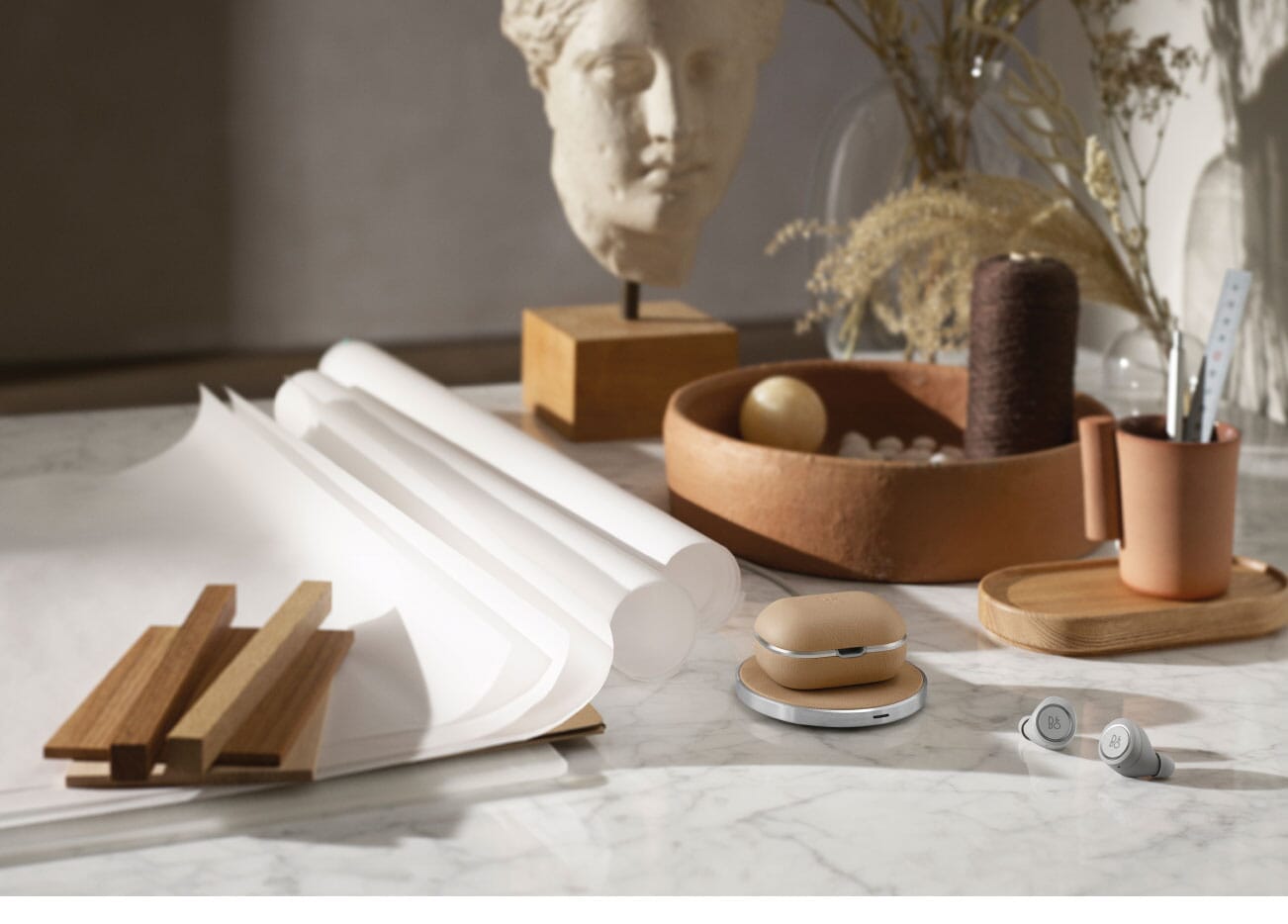 Bang & Olufsen E8 design
First we'll look at the earphones from a design standpoint, focussing on usability and visuals. Frankly, it doesn't get better than Bang & Olufsen E8 Earphones. The sleek and ergonomic design looks and feels great in ear, the size and shape means that the earphones are comfortable and not distracting, feeling natural from your very first use. 
The wireless earphones exude the quiet confidence of all of B&O's designs, with no physical buttons in sight. Instead, the touch-sensitive pads on each earphone give you all the control you need through a series of simple taps. The touch controls only make your life easier, the controls are simple, instinctive and effective. It only takes one light touch, not a prod at several different angles before it finally works.
Once you master the one touch, it makes your whole life a lot easier. The E8 buds use the touch-sensitive pads to control music and take calls. Simply tap the right ear once to pause/play and double-tap to skip a trap and double-tap the left to rewind. There's more, too. You hold the right ear down to increase volume, and the left to lower it.
Technology 
The most important part: technology. First of all, the earphones are completely wireless. They charge while in their soft leather case which charges wirelessly when placed on a wireless charger – which is a great feature. With one tap on the earpiece you'll enable transparency mode which lets the real world back in for a second, before returning you to your encapsulating audio experience. The tiny earpieces cater to a frequency range of 20-20,000 Hz which is huge, you'll be pushed to find any music that they can't effortlessly process.
Audio quality
Unsurprisingly, the Beoplay E8 sound incredible. Use the multiple ear tips provided to find the most comfortable fit and you'll hear the full benefits of the E8s audio capabilities. Naturally, the sound is incredibly crisp. Without a tinge of rattle or hiss that you sometimes get from Bluetooth headphones. The E8s also have a balanced sound that provides a lot of punch and dynamism depending on what genre you're listening to. For that reason alone, the B&O E8s are one of the best-sounding wireless earphones around.
Battery life
As for battery life, you get four hours from a single charge, which is typical of true wireless earphones. A fully charged case holds enough power for a further two full charges, so you're looking at a total of 12 hours. The case itself is charged via a micro-USB cable, which is included in the box. Solid all-round then.
Final verdict
Like all Bang & Olufsen products, the E8 earphones are an investment worth making. The best design meets the best technology in a perfect marriage. We're not overstating it when we say that these earphones will make you rethink the music you thought you knew like the back of your hand.