When it comes to cars with gullwing doors, you'll need a taller garage of course, but no-one said fashion came without compromise. Gullwing doors turn an ordinary supercar into an event as you arrive at or depart from your Monaco penthouse, so they're not for the shy and retiring. They are feats of automotive engineering and add weight and complexity to what are already complicated machines. Some are necessary, while others are more frivolous, but everyone will know you're arrived, in every sense of the word. Choose your favourite, then, from our pick of the 10 coolest cars with gullwing doors.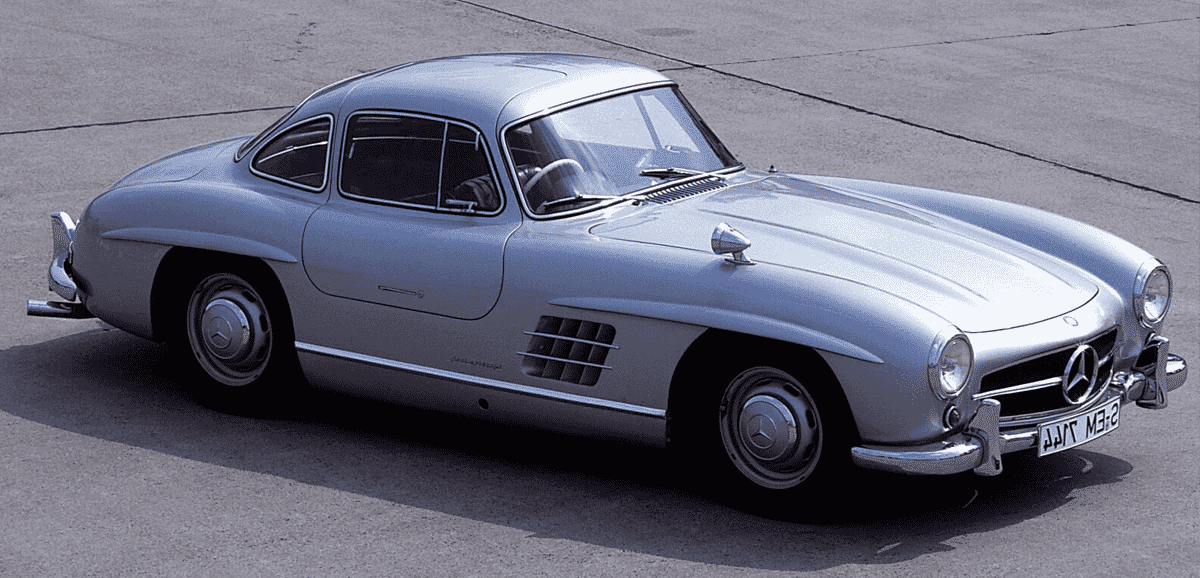 Top 10 cars with gullwing doors
Mercedes 300SL (1954)
Perfection, in one motor car. Developed from the company's 1952 Le Mans 24-Hour winner primarily for the US market, the 300SL's gullwing doors were no fashion item, but a necessity. Huge structural chassis tubes to each side of the open-topped race car were carried over to the road version, making conventional doors unfeasible. There's still a wide sill to negotiate before settling in, fitted luggage behind you, for that great American road trip, after - that is - you've paid around £1m for your 300SL at auction.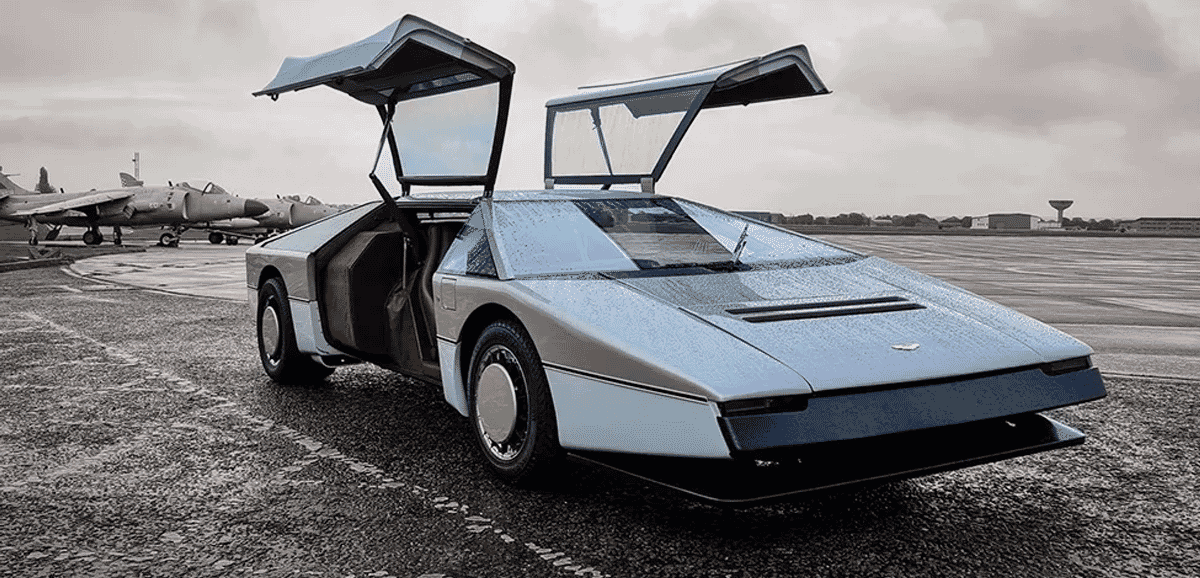 Aston Martin Bulldog (1979)
Only one of these was made, and just look at it. Design was by the adventurous William Towns, also responsible for the angular Aston Martin Lagonda limousine, which reached - somewhat troubled - production. The Bulldog didn't, though there were plans for a dozen to be handmade. Gullwing doors spoke of an optimistic future and the interior was lavish. Twin-turbocharged Aston V8 gave it proper power. The sole example has been recently restored and is very much a "what if?" of British sports car history.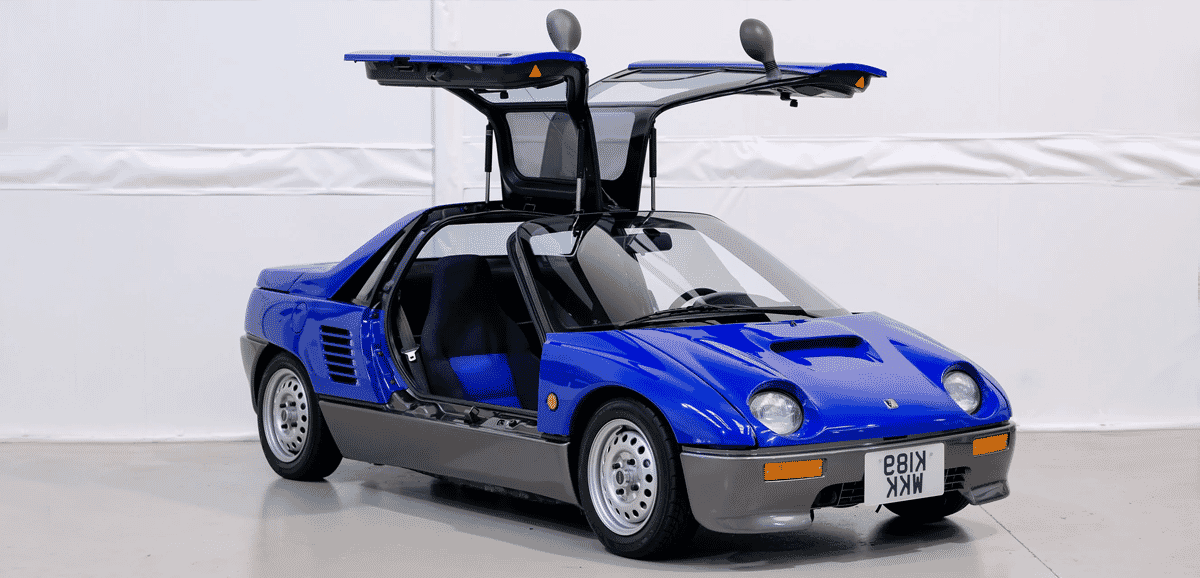 Autozam AZ-1 (1992)
What's not to love about this magnificent Japanese oddity? Gullwing doors were just part of the story of this Mazda/Suzuki collaboration, which also featured a tiny, but willing, 650cc engine mid-mounted to the rear, to make the point that this really was a tiny supercar for your urban adventures. Lightweight construction was fibreglass around an aluminium frame so progress was surprisingly rapid. Yes, please.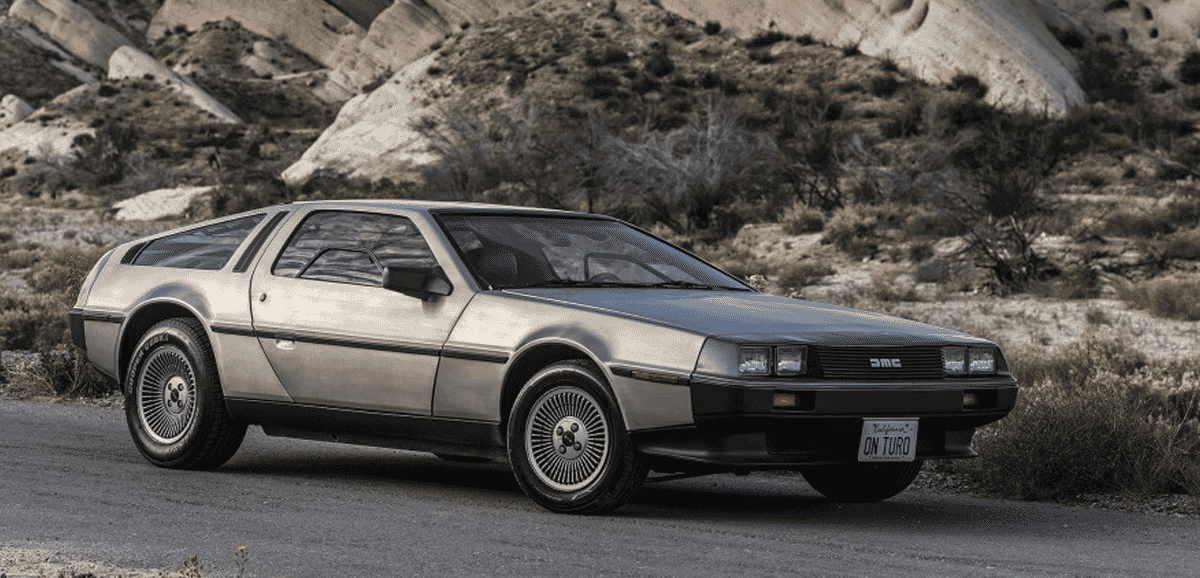 Delorean DMC-12 (1981)
Made in Belfast with government subsidy to a design by Italian genius Giorgetto Giugiaro by a company headed by American car guru John Delorean, the DMC-12 must have seemed like such a good idea at the time. Open the gullwing doors to your next supercar, only to find that performance was at best disappointing, courtesy a heavy stainless steel body and weedy rear-mounted V6. Fame in 'Back To The Future' came too late: after bankruptcy, with just 9,000 made. Pay around £60,000 for yours, flux capacitor not included.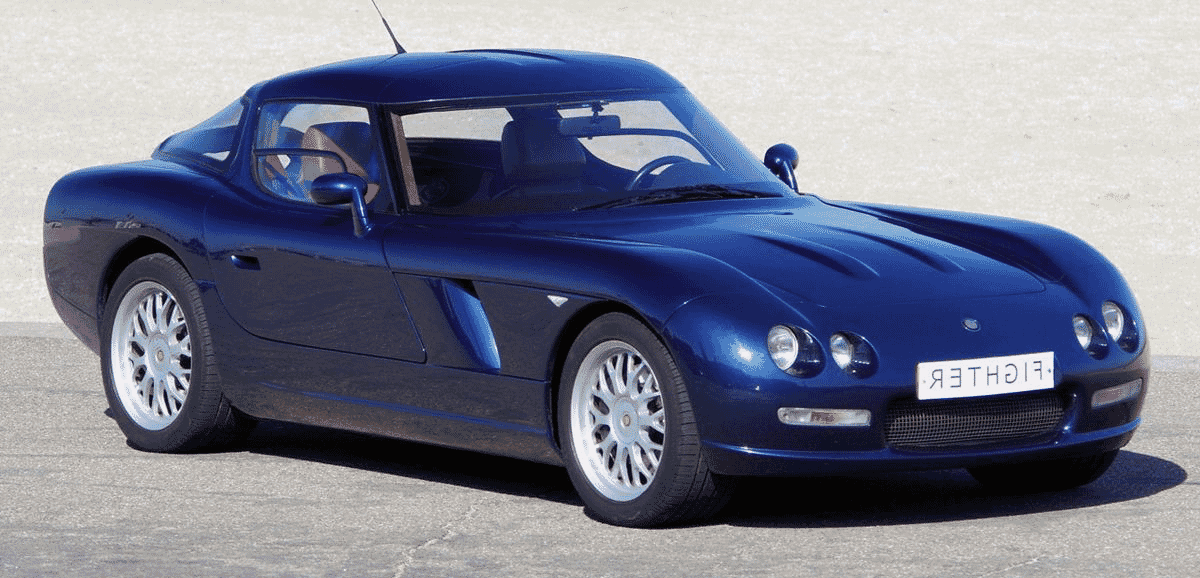 Bristol Fighter (2004)
The most discreet of British car-makers - and a favourite of fashion designer Paul Smith - startled the motoring world with the remarkable Fighter, complete with look-at-me gullwing doors. Given that Bristols had always been designed to avoid conspicuous attention, this was a radical departure. Plans seemed modest, with just 20 to be handmade each year. In the event, a total of no more than a dozen were produced. Want one? Around £200,000 will buy a piece of British history today.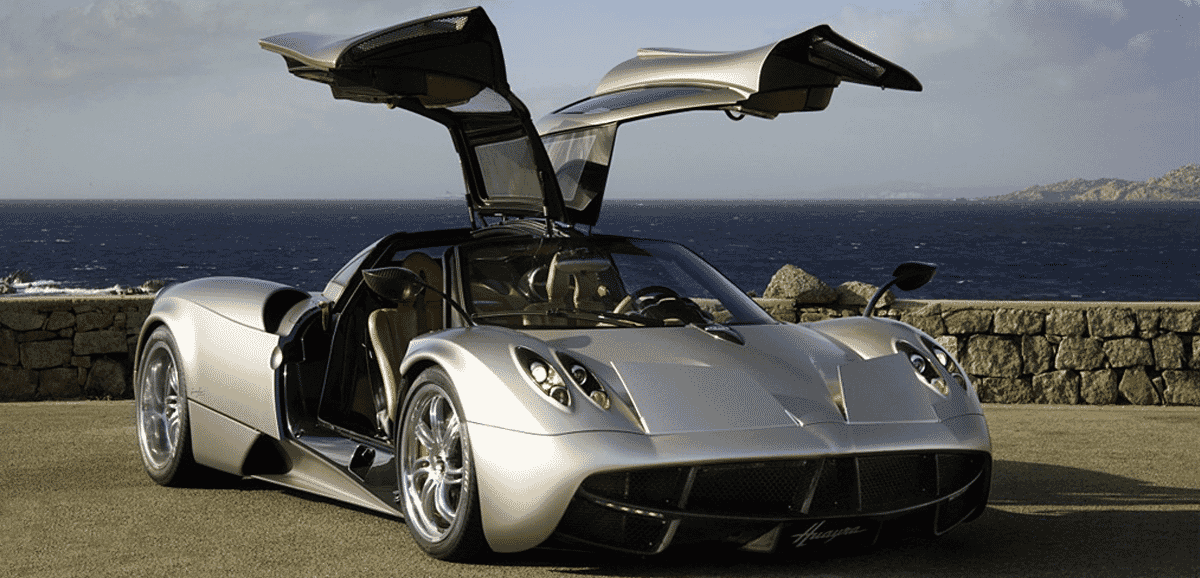 Pagani Huayra (2011)
Horacio Pagani is not a man to shy away from drama when it comes to the design of his eponymous supercars. So it was no surprise when the Huayra, successor to the storied Zonda, arrived with gullwing doors to add to an already insistent presence. Distinct upside was that less supple drivers could arrive at their five-star destination and exit with some decorum. Harder to park undercover, but you can leave that up to the chauffeur.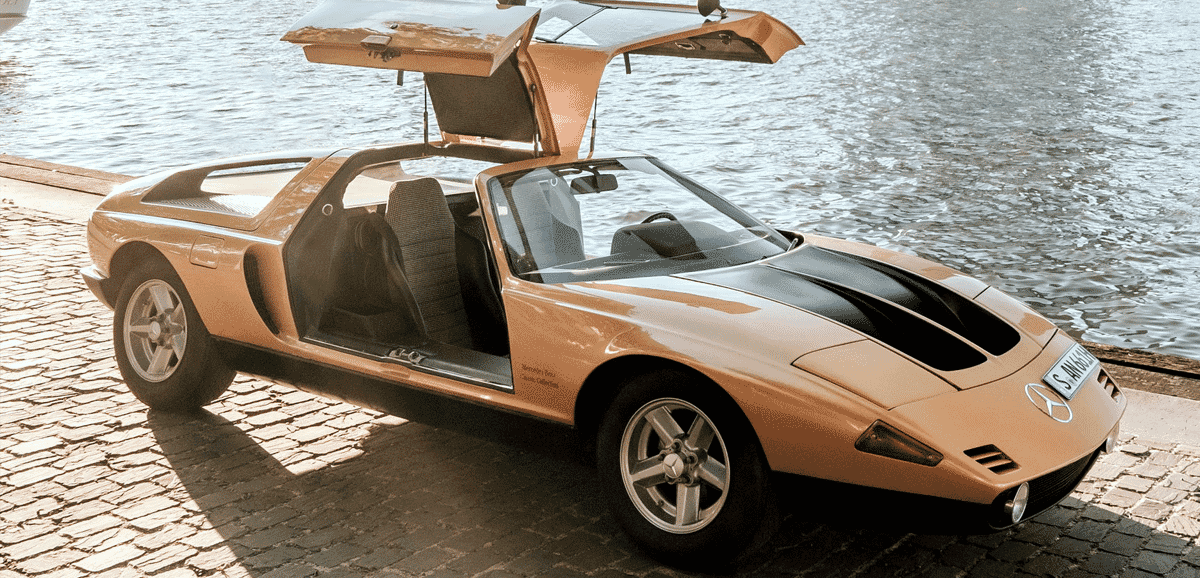 Mercedes Benz CIII (1970)
Just 16 of these remarkably forward-looking experimental sports cars were produced by Mercedes-Benz, the result of a search for alternative fossil-fuelled technologies. Design - in-house by Bruno Sacco - looked production-ready, with signature gullwing doors ready to welcome well-heeled clients. Some versions were equipped with rotary engines and top speeds of 186 mph were reported. A plan for limited numbers to be made commercially was, sadly, shelved.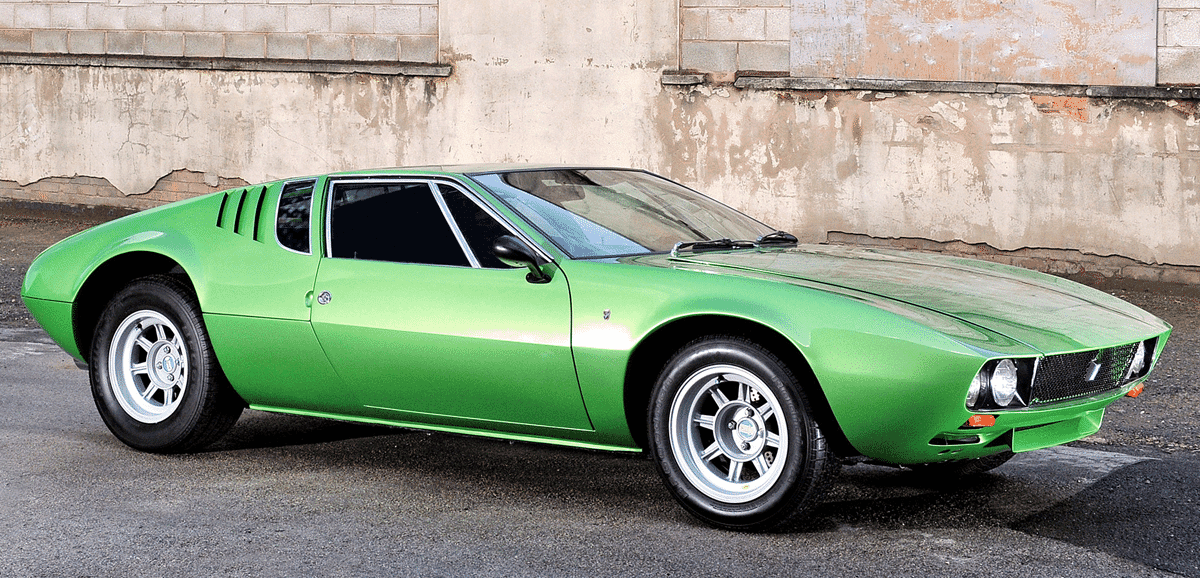 De Tomaso Mangusta (1967)
Gullwing doors of an unusual kind graced Giorgetto Giugiaro's gracefully angular design for tiny Italian sports car specialists De Tomaso. While passengers entered and exited through conventional doors, the mid-mounted rear engine and luggage compartment were accessed by an extravagant gullwing arrangement. This added drama, but also expense and weight. Top speed of 155 mph was for the brave.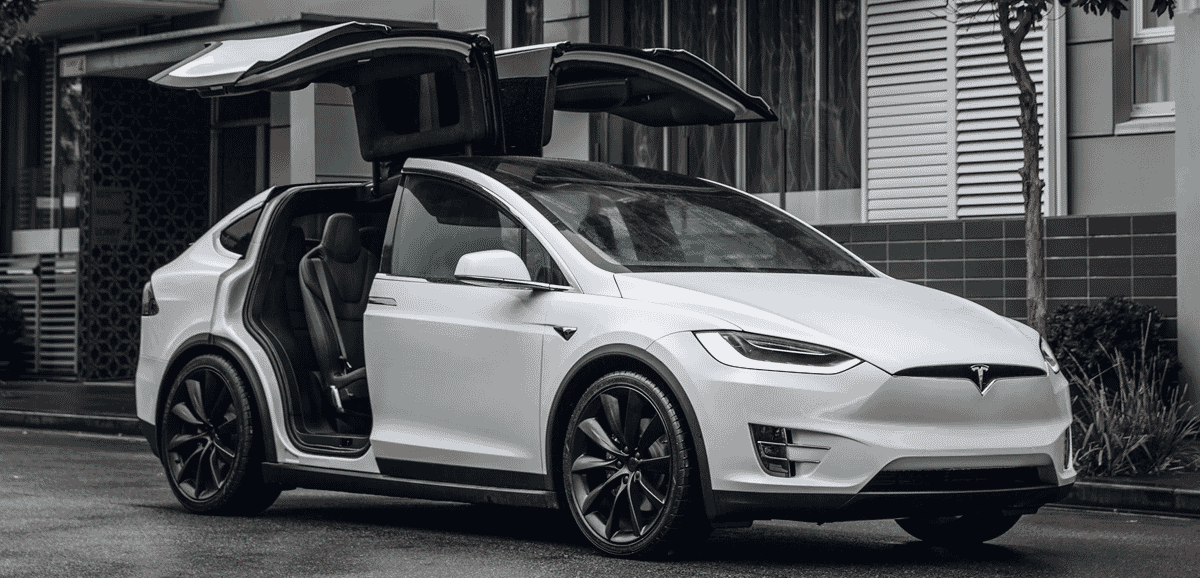 Tesla Model X
Looking for gullwing doors on your next electric SUV? That'll be Elon Musk's department - and you can place an order for a Model X right now if you have around £100,000 to spare. Disappointingly, it's just the rear passengers who get the gullwing treatment, but drivers can comfort themselves with knowing that they have more than 760 bhp at their disposal, which gives them wings of a different kind.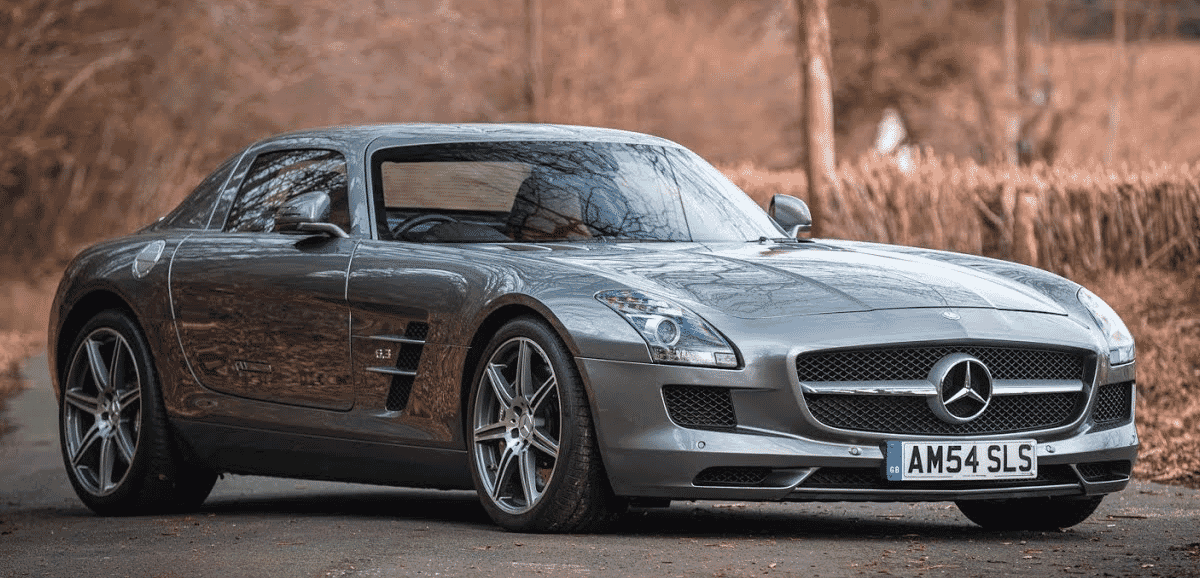 Mercedes SLS AMG (2010)
They finally got around to making a proper successor to the 1954 gullwing pioneer and AMG, the Mercedes-owned performance gurus, made sure to honour the venerated ancestor. The SLS was respectful homage rather than clumsy copy, though the doors this time were design features rather than dictated by the chassis. Performance was up, though, with 196 mph possible, courtesy a thumping V8. Classy.
Get your fix of all things automotive at The Garage.
---
---