From heritage icons to inspirational designs from ambitious start-ups, the electric motorcycle market is bristling with excitement. If, as one maker mischievously suggests, battery power means death to petrol, then as far as bikers are concerned that may be no bad thing. The instant thrust that electric provides means your new silent motorbike will outpace all but the very fastest fossil-fuelled machines, plus you won't wake the neighbours when starting up for your Sunday morning blast. Legacy makers are getting in on the act too, as you'll see in our pick of the 10 best electric motorcycle brands now.
Best electric motorcycle brands in 2023
Zero Motorcycles
Reaching for the stars from their base in California, Zero Motorcycles was founded by a former NASA engineer which can only be a good thing in our book. Zero have had battery-powered motorcycles on the market since 2010, so have more experience than most in working out what it takes to switch bikers from petrol to electric. Zero's remarkable SR/S shows off the results, with superbike looks, 125 mph top speed and an impressive 300 mile range. Off-roaders are eye-catching, too.

LiveWire
Harley Davidson's electric motorcycle brand has made a strong start with LiveWire One, featuring café racer styling from America's renowned purveyor of boulevard cruisers. Fast-charging capability can mean full charge is reached in as little as an hour, or just plug your One in at home overnight, ready for the Sunday morning exhilaration that this striking machine promises, with 60 mph coming up in just three seconds. Range of 150 miles isn't the best, but Harley's long-standing reputation counts for a lot in this emerging market.

Energica
Ambitious Italian start-up Energica specialises in electric motorcycles and only electric motorcycles, with experience built up over ten years including participation in battery-powered MotoE series. On the road, Energica's Experia is claimed to be Europe's first "green tourer", with two-up saddle and ample storage options aimed at trans-continental travel. Acceleration is swift - just 3.5 seconds to 60 mph - and a top speed limited to 112 mph. Range of around 150 miles less impressive than competitors, but fast charging compensates.

Arc
If you're looking for hand-built British excellence in a battery-powered motorcycle, look no further. Arc modestly describe their sole offering, the futuristic Vector, as "the world's most advanced motorcycle". Thing is, those who've ridden it are inclined to agree, with one such dazed biker describing it as "a bullet train on a magnetic rail". Vector is the brainchild of a former Jaguar Land Rover designer and 270 mile range is just part of the story, with a 125 mph top speed. Each one is effectively bespoke.

Piaggio
Long-established all-Italian firm can claim to have invented the scooter with its Vespa models, still in production after more than 75 years. Now the company has embraced the battery-powered future with Piaggio One, its first ground-up electric scooter. Aim is to provide urban two-wheeled electric transport and performance is modest with a less than 40 mph top speed, but you'll be having too much fun to notice. Minimalist form-follows-function styling is classic Piaggio.

Evoke
Beijing's Evoke Motorcycles have already impressed with their Urban series of electric motorcycles, and their 6061-GT tourer takes things to a whole new level. First, take a deep breath and just look at it: styling is straight off the set of 'Bladerunner' with performance - think 125 mph top speed and 3.5 seconds to 60 mph - to match. Best of all is the class-leading range of up to 400 miles, courtesy technology developed with iPhone maker FoxConn. And yes, we would like one.

BMW Motorrad
You wouldn't expect Germany's finest two-wheel specialists to slouch behind the pack when it comes to going electric and BMW doesn't disappoint. Frankly radical design of CE 04 is result of putting battery pack as low to the road as possible to aid handling, with the result that this electric commuter "flows, almost swings, through traffic", as one seasoned reviewer put it. Design includes a dedicated cubby hole for your full-face helmet, too.

KTM
Austrian off-roaders KTM have come up with an electric bike that's true to their uncompromising spirit with the Freeride E-XC. Aim is that you'll be able to ride your E-XC just about anywhere - and KTM do mean anywhere - while the company have reduced weight by providing an external charger ready to be plugged in when finally you need to rest after all that off-roading. You won't have too much time for coffee, biscuits and a nap: full charge is reached in less than two hours. We'd suggest it's ideal for impressing on the commute, too.

Triumph
Britain's biggest motorcycle maker can trace its pioneering history back to 1902. Striking all-electric TE-1 isn't quite ready for the showroom yet, but very much reaches into the future with some impressive partners involved, including Williams Advanced Engineering, best known for association with Williams Formula One team. Twenty minute charging is promised and more than a little speed, with champion racer Brandon Paasch describing the TE-1 as "unbelievably quick, it pulls like crazy".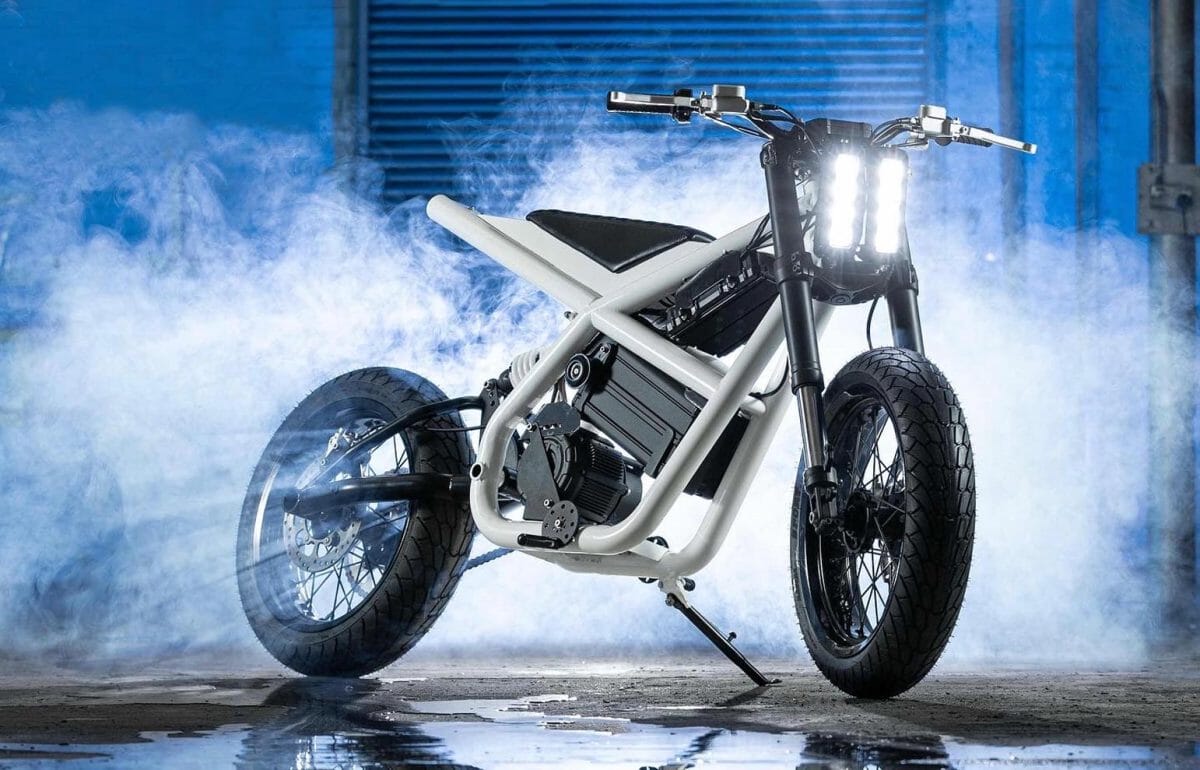 Untitled Motorcycles
London and San Francisco-based custom bikers Untitled need no encouragement to come up with something special. Their one-off UMC-069 Death To Petrol - yes, really - is a sleek little beast aimed, say Untitled, at answering a radical question, "can the basic rules for designing a motorcycle be ripped up?" With all components proudly visible in a form-follows-function minimalist design, the UMC-069 suggests the answer is "most certainly, yes!" Aimed at urban travel, there's a modest range of 60 miles and a removable battery pack. Really quite brilliant.
Get your fix of all things automotive at The Garage.
---
---