Project name: Big Barn | Location: Glen Ellen, California, USA | Completed: 2020 | Architect: Faulkner Architects
Located in Glen Ellen, in California's Sonoma Valley, Big Barn was designed as an homage to the many barn-like houses that are dotted throughout the area. It was built for a San Francisco family as a retreat from the city, reusing the site of a 1950s ranch house, while staying true to its surroundings and the structures that had gone before it.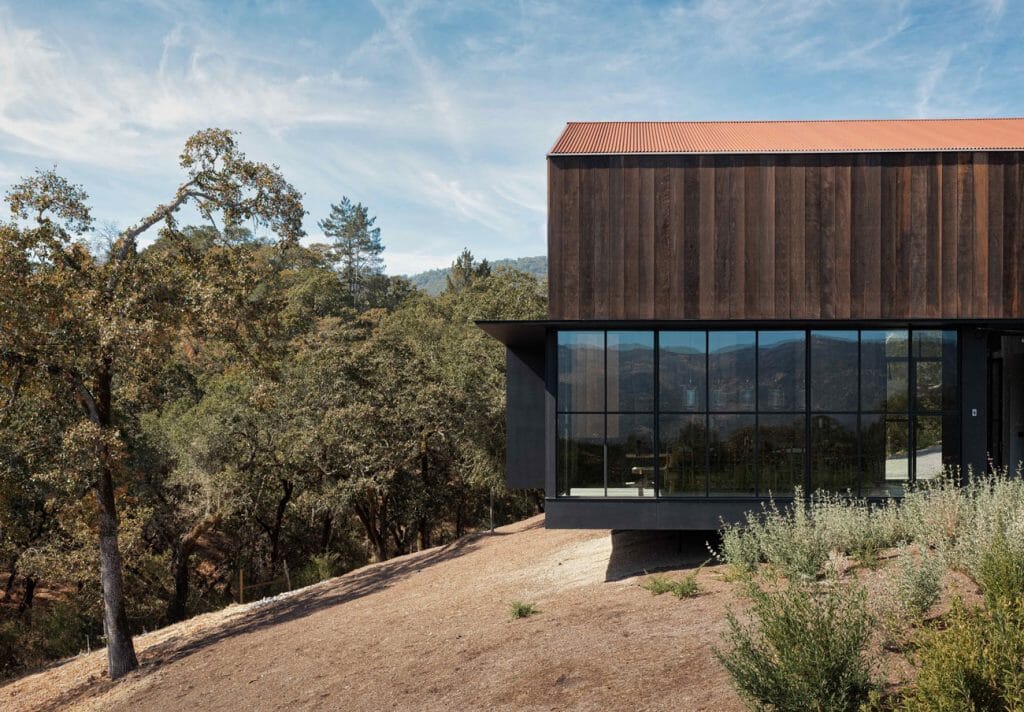 While clearly modern in design, the house references traditional barns in its silhouette and with certain design traits. The upper section of Big Barn doesn't have any windows, with a large roof that angles skywards, giving a feeling of space and openness, similar to what you'd find in a working barn. Furthermore, a vertical shutter can be opened on one side of the property, which aligns with the front door on the other end, allowing a breeze to past through, providing natural cooling. 
Built into a hill, Big Barn is cantilevered, so the south end appears to float over the ground beneath it. The large glass panelling featured on this side combines with the reclaimed redwood exterior to provide an interesting contrast with the natural landscape around it. This only furthers the dramatic affect this contemporary build has on its surroundings. 
---
---
Other materials used on the project include corrugated Corten steel on the exterior as well as black steel for the sash windows. Inside, California oak was used exclusively for the floors, walls and ceilings, once again referencing typical barns which tend to make use of a single material for their build. 
Photography by Joe Fletcher.
For a more urban take on a California retreat, check out The Sanctuary.
---
---