To commemorate the launch of INSTRMNT Watches online at OPUMO, we caught up with founders Ross Baynham and Pete Sunderland to discuss the secrets behind one of Britain's most innovative and exciting design studios.
Telling the time as it is, Instrmnt watches boast a unique and inventive blend of utilitarian design and modern minimalism. But despite the fusion of philosophies, Instrmnt Watches remain exquisitely clean to reflect the mantra of the brand; 'the creation of minimalist, high-quality goods that are accessible to all.'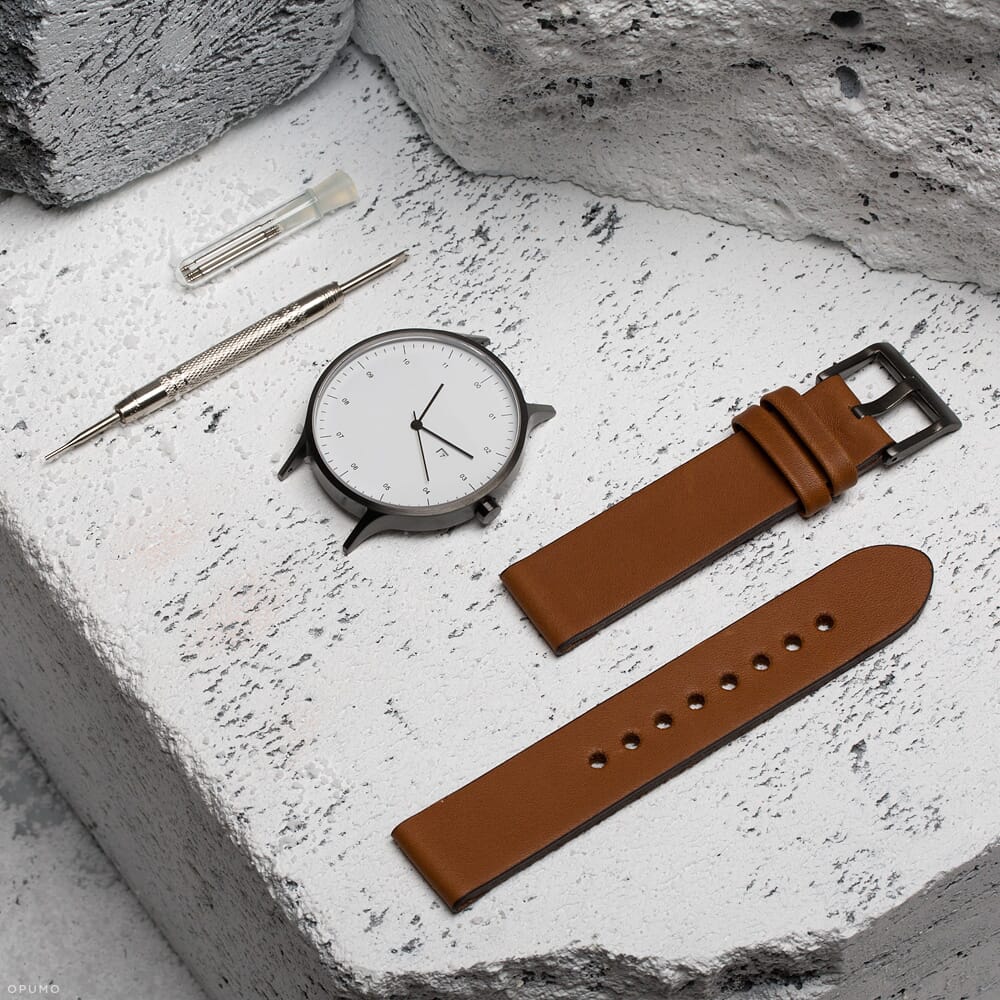 "It was a great deal of hard work and a huge learning curve but generally a very positive experience", founder Ross Baynham recalls from starting out Instrmnt Watches in 2014.
Despite their tender age, Instrmnt boast a formative and distinct style that has propelled them above the parapet of like-minded minimalist watchmakers, and that is testament to Ross and Pete's natural and personal approach to design.
"We were, perhaps selfishly in fact, designing for ourselves from the very beginning so we had a clear idea of what we wanted in terms of function, aesthetic and price point. And I think having such focussed constraints actually made things easier for us, especially when it came to dealing with suppliers and manufacturers."
Instrmnt were conceived, quite simply, as easy and efficiently as that. Knowing that start-up capital was the biggest obstacle to overcome, the pair started a crowdfunding campaign on Kickstarter, along with the hopes of dreams of streams of burgeoning brands. But despite their initial premonitions, Instrmnt excelled – surpassing their original funding goal nearly five times over.
"We did in fact have a few early reservations about how crowd funding was perceived outwith that world, but they quickly evaporated when we launched and realised the capabilities of Kickstarter," Baynham explains.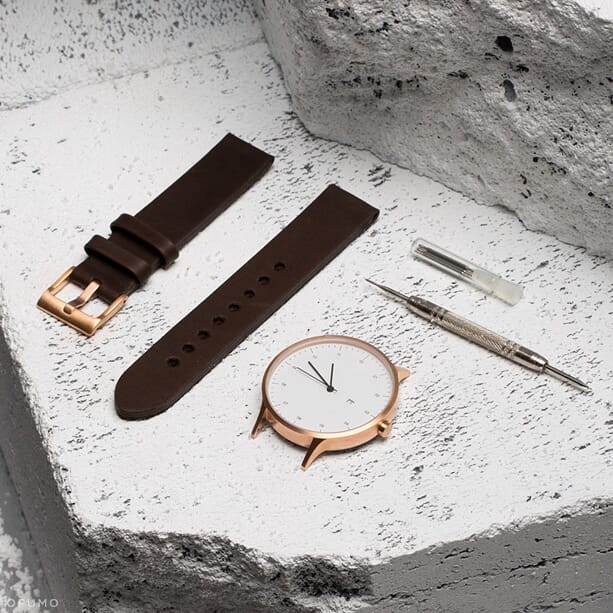 "On one hand it is a powerful tool for introducing your product to market but it is also a surprisingly effective way to make contacts in the business world. A couple of very well respected stores and businesses got in touch with us during that early period, and we're still working together today."
Riding the wave of success, Instrmnt instantly released their first collection, spearheaded by the 01-A Watch. A design which represents the stripped-back sophistication of the brand, influenced by traditional mid 20th century design to remain timeless, incandescent to trends:"We said we wanted to know the time and the date and that's it. When designing a simple product, small details make a huge difference and it is important to show constraint. Simply we try to make multiple small, but considered, decisions in terms of aesthetic and function instead of attempting to draw attention or show off."
But in spite of their exquisite selection of watches, it is the brand's packaging that perhaps sets them above and beyond the competition. Every Instrmnt watch is displayed in its very own rectangular case, with the watch deconstructed inside and separated to punctuate the Instrmnt identity of details and innovation. The level of detail implemented in the creation of the packaging cannot be overlooked; as it presents the new owner of the watch with a greater sense of loyalty and companionship; which, in essence, is what owning a watch is all about- sentimentality and devotion to its design.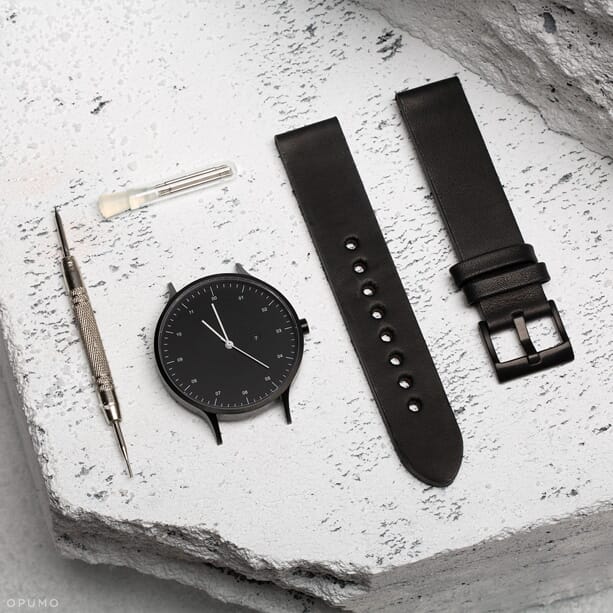 "The packaging originally derived from practical reasoning; we wanted to create a box of standardised size so that it could be stacked, packaged, posted through letter boxes and so on. But in the end it grew in to something much more satisfying when we realised opening a package up to the disassembled parts of the watch connected the customer to the product in a totally new way," purrs Baynham.
"We didn't realise how important the layout would become in the overall aesthetic and memorability of the product, but it is certainly quite iconic now."
The iconic reputation of the Instrmnt watch forms just one side of the brand's multi-functional identity, having achieved worldwide acclaim for their Freddie Grubb collaborative Speed City Bike, previously featured on the OPUMO Magazine, alongside a new venture exploring interior and spacial design as part of opening their first physical store in Glasgow's Merchant City. So with an exuberance for new challenges and a natural intuition towards innovation, I ask, what makes a good design? "Consideration and attention to detail" according to Baynham.  "The best advice I could give for a designer or a brand is to know your market and design things with the end user in mind. What you do after that depends all on who you are trying to appeal to."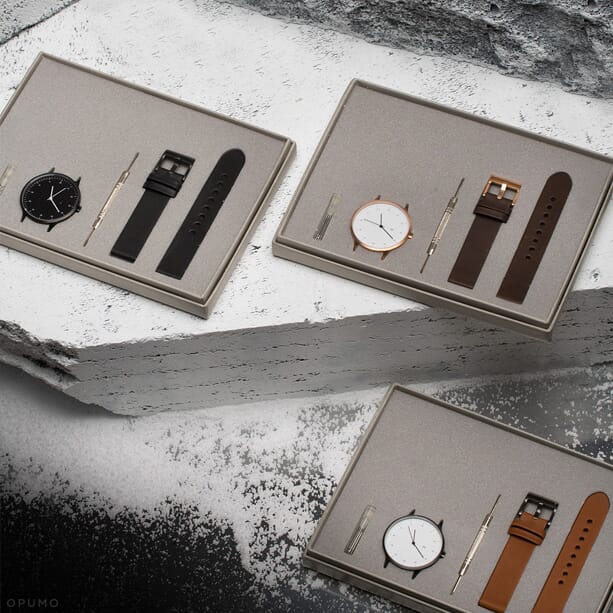 With the rise of stripped-back minimalism, simplistic timepieces are seemingly on vogue across all levels and price points of watches. With the market becoming increasingly populated with subtle designs, which Instrmnt specialise in, how does the brand stand out? It's quite simple; Baynham and Sunderland are trying to take the much-loved minimalism to new levels of detail.
"Because we don't class ourselves as solely watchmakers, it gives us a lot of freedom and allows us to really build Instrmnt as a design studio, which make great watches as a part of that. We try to attain a level of quality in componentry, finish and presentation that isn't seen very often in the market we move in."
Experience Instrmnt's dedication to design by viewing their latest collection online now at OPUMO.
Follow INSTRMNT online: Twitter – @instrmntlimited & Instagram: @instrmntlimited.