If you've ever attempted to purchase cookware for a new kitchen, or simply tried to improve the quality of tools in your current kitchen, you've probably found that stocking up on high-quality kitchen essentials is a lot more difficult than it should be. But, if you want to clean up your kitchen, get rid of the assortment of pots and pans that you have accumulated over the years and make your home look better in the process, then you're going to want to get to know Crane cookware.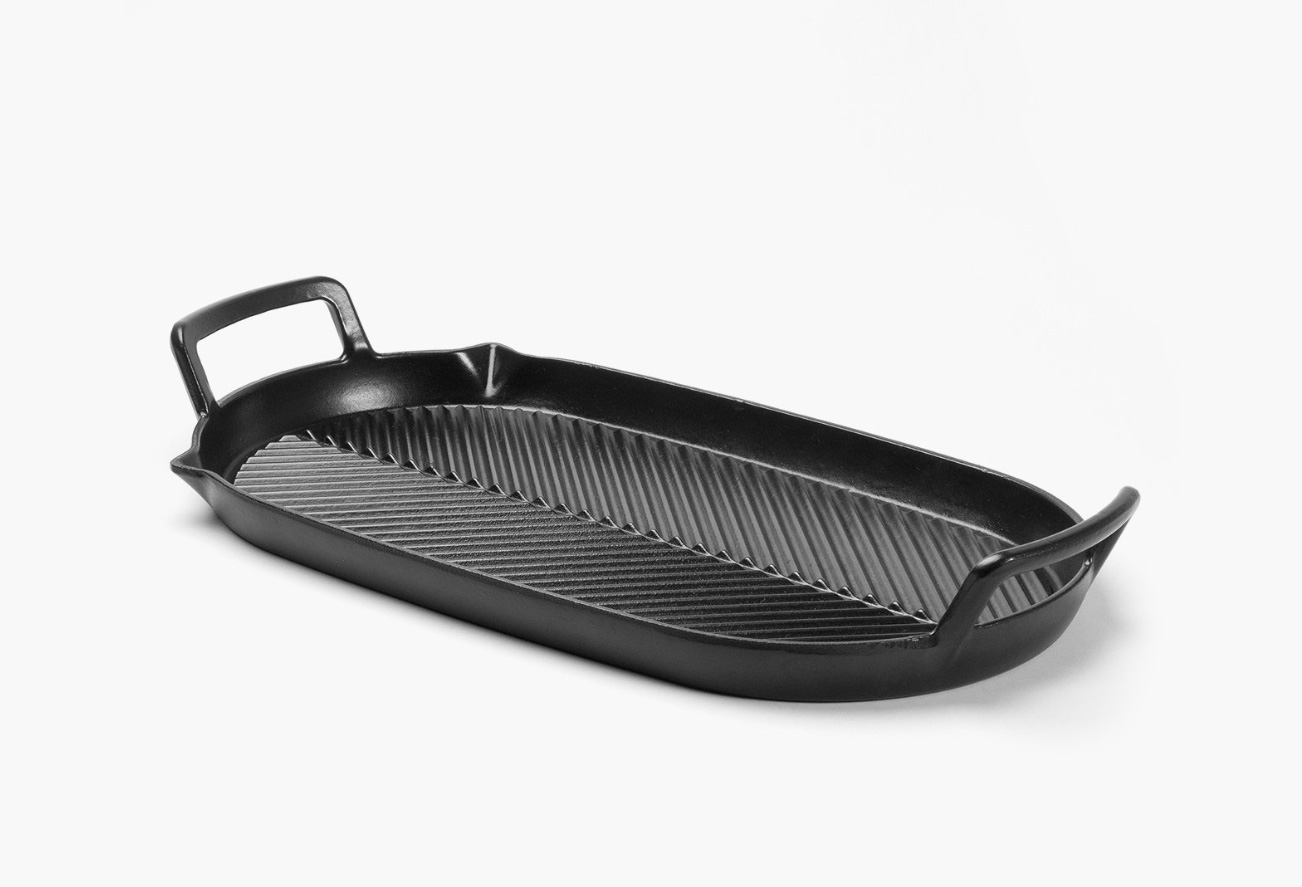 Like the high-quality kitchenware it so effortlessly produces, Crane strips back the ritual of cooking essentials down to its bare essentials. They specialise in professional cookware and accessories that you can actually use in the home. Find out why by reading the full Crane cookware review below.
Comprising of four kitchen essentials – a sautee pan, casserole dish, griddle and frying pan – the Crane cookware collection is made in a foundry in northern France from vitreous enamelled, sand-cast iron, meaning it can be used in the oven as well as on the hob. Which is just one example of Crane cookware's versatility.
Another example, is that Crane has made all the pans (including the C1, C2, C3, C5 & C6) the same diameter – no matter their function. Which means a single lid fits the entire range. Great to avoid the rush of running around the kitchen to find a lid that fits. Or even better, when trying to find a suitable and presentable piece of cookware to serve from.
Crane manufacture everything to a truly incredible standard, designed for high-performance cooking in any environment. Not only does the collection's textured black enamel surface make for better braising, roasting and caramelising, its minimal design aesthetic also means it looks good on the kitchen table.
When taking a closer look at Crane's cookware, it is clear that the brand's professional cookware is incredibly well-made. As mentioned, the formulated matte black enamel finish makes for a truly elegant cookware set, that will suit any kitchen. While, the high-quality enamel construction also protects from thermal damage and heavy knocks, accomplishing a nearly indestructible design.
Here are the key points to consider when it comes to the Crane cookware review:
Sustainability is at the forefront of Crane cookware, as if lifelong durability wasn't enough. So Crane use up to 30% recycled materials, including scrap iron in every single product.
The beautiful enamel finish, with its smooth texture, improves the cooking pans' resistance to thermal shocks and scratches. It also makes them incredibly easy to clean
All Crane cast iron pans are suitable for all hobs
All Crane cookware pans also have ergonomic power grip handles for easy use
Plus, all Crane's cookware comes with a ten-year warranty from Crane
 Now you've been fully acquainted, you can shop the full Crane cookware collection at OPUMO.
Or alternatively, you can gain a little bit of kitchen inspiration by checking out some of our favourite interiors on the OPUMO Magazine.