If there's one thing you can guarantee with a new fashion season it is that military style will influence what we wear in some way, shape or form. This AW15 is no different.
We are not advocating outlandish camouflage print in terms of outerwear, instead this season lends itself to heritage-inspired, subtle nods to military attire- particularly traditional silhouettes from Peacoats to Bomber Jackets.
An incandescent trend, surviving successive autumn/winter collections and forecast to stretch its influence in further years, military style is a cold-weather wear essential.
The following Military Edit, number #11 in the collection, features the latest brands to land at OPUMO including Monitaly, Han Kjobenhavn and Uniform Wares. Perfect your utilitarian style with this masculine-inspired winter wear outfit.
Explore the entire Military Inspired Edit now available at OPUMO: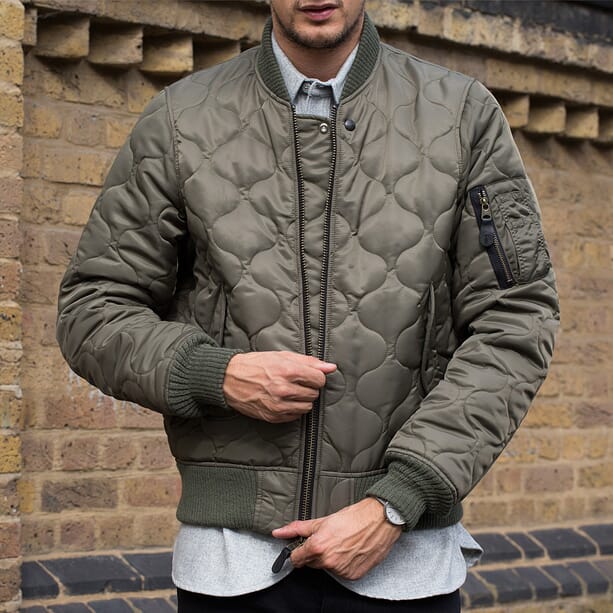 Men's bomber jackets have well and truly stolen the mantle as the undisputed outerwear style for 2015. Representing a vintage style with a clean, sharp modern silhouette the bomber is the go to style for any day that you are lacking style inspiration. Possessing the versatility to be styled against jeans or trousers, sneakers or shoes, the Monitaly MA-1 Jacket is the essential Bomber. Retaining the same utilitarian aesthetic as traditional 1950's designs, Monitaly update the flight jacket in to a contemporary piece through a soft satin quilt shell, complimenting 'Dumbell' stitch patterning and a rich olive green colour palette.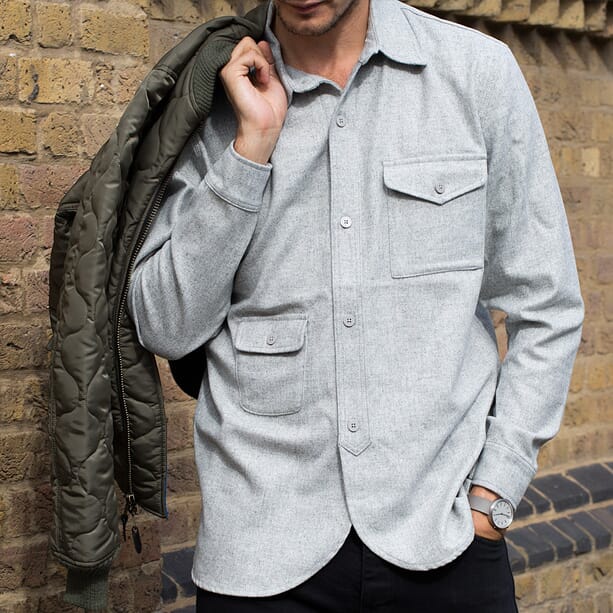 Han Kjobenhavn Grey Army Shirt
Shirting is often disregarded as just a layering piece come AW, but the right choice of shirt utilised correctly can enhance any outfit.  Focussing on fit, texture and colour this Army Shirt from Han Kjobenhavn is an exemplary choice. Based on a traditional 1950's design, the shirt is updated through a clean light grey colour and is crafted from a luxurious wool blend with accompanying soft finish. The midweight nature of the fabric makes it the ultimate essential, as the shirt offers both style and functionality to be worn alone or to be used as a strong layering base.
Han Kjobenhavn Lean Fitted Black Selvage Jeans
Despite not being the most enthralling purchase, a pair of black jeans will forever be an integral element to every outfit. Ensure you pick a durable, long-lasting style like these Han Kjobenhavn Black Selvage Jeans. Crafted from an exclusive Kaihara selvage denim that offers a durable and versatile aesthetic, the jean is worked with a special stretch element that ensure they provide the best look, fit and style of any jean around.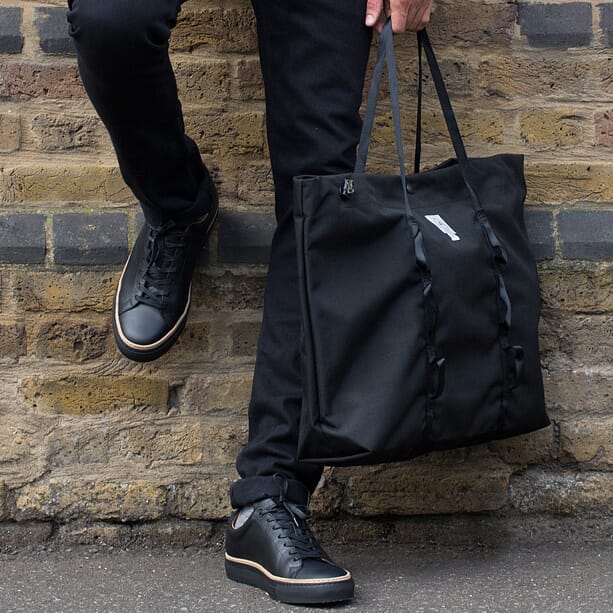 Epperson Black Large Climb Tote
2015 has bred the Tote Generation. Combining the casual portability of a classic tote bag with the ruggedness of traditional rock climbing gear, the Epperson Large Tote is a luxurious accompaniment to any journey. Handmade in the USA using a lightweight yet durable 1000-denier Cordura Nylon, the Epperson Tote is exceptionally spacious and features a slip pocket to secure smaller items that need to be in easy reach. Refined in a sophisticated all-black exterior, the bag will act as a strong statement accessory to any look.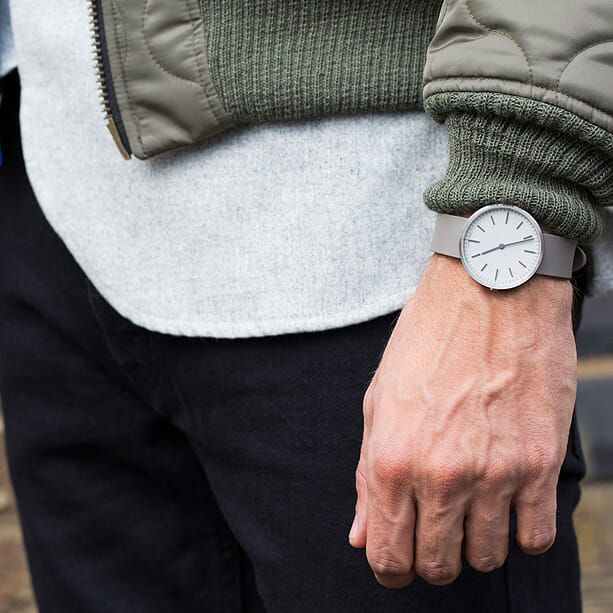 Uniform Wares Brushed Steel M37 Watch
Although the M37 is the smallest watch in the Uniform Wares M-Line collection, it boasts a masterful style. Just 37mm in diameter, the M37 is a delicate, intricate piece that offers a subtle sophisticated style. The cornerstone from which the Uniform Wares brand has grown, the watch is complete in a brushed steel finish and accompanying grey rubber strap ideal for everyday wear.
The entire Military Inspired Edit is available now at OPUMO.