Accessories are arguably the most important element of an outfit, especially at this time of year where the need for suitable accessories surpasses desire and becomes a strict necessity.
This season lends itself to statement styling when it comes to colourful accessories; adding texture, shade and framing to any attire.
The use of adaptable, versatile and most importantly vibrant colour hues is an ideal way to defy winter blues, adding a subtle personality that will tastefully break up an outfit.
Think clashing colours; juxtaposing different textures and hues for a sure found way to remain warm and suitably styled all season long.
For the ultimate inspiration, explore the entire #Edit 15 FT. William Fox to find out how to accessorise for the season: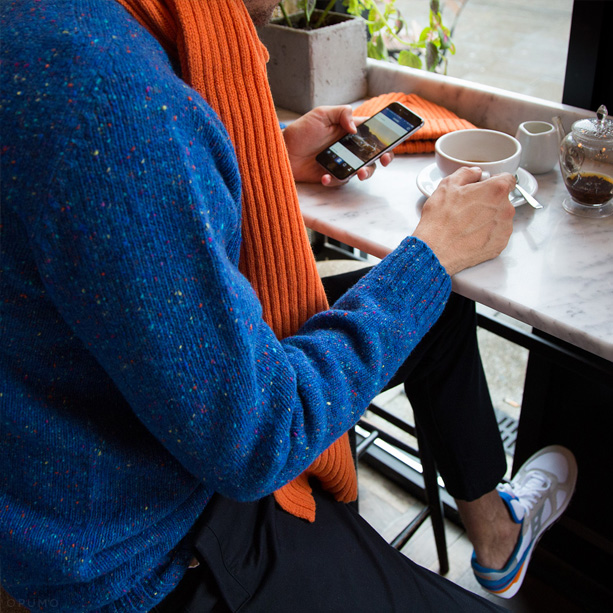 William Fox Blue Flecked Wool Jumper:
William Fox's crewneck sweater is a reliable foundation for building a functional winter wardrobe. An institution in sporting goods and tailoring, William Fox produce some of Britain's finest knitwear, with this wool jumper a prime example. Boasting a statement marled deep blue exterior with yellow, red and turquoise hues, the jumper will add depth and personality to a host of casual looks. The ideal layering piece to contrast colour and texture, the jumper is crafted from luxury Scottish wool for an insulating, comfortable fit.
William Fox Orange Ribbed Wool Beanie
Every man needs a reliable beanie to navigate the winter months. So often neglected as an after thought to mask a bad hair day or as the last layer to brave the elements- the beanie hat, however, can offer much more than just practicality. This William Fox Beanie is made from a soft, tactile British lambswool which provides exemplary insulation. The vibrant orange shade adds a statement exterior to this cold-weather accessory, acting as the ideal touch of colour to all your winter endeavours.
William Fox Orange Ribbed Scarf
It goes without saying that the scarf is one of the key winter accessories for men, but that doesn't mean you have to be so conservative in your choice. William Fox's latest creation is crafted from a rich and warm Scottish wool complete in a vivid orange colour hue which dominates their winter accessory range this year. The combination of a ribbed knit and imaginative colour hue make them the perfect choice for throwing in to any outfit, acting as a slimmer alternative to traditional woollen scarves. Coming soon to OPUMO.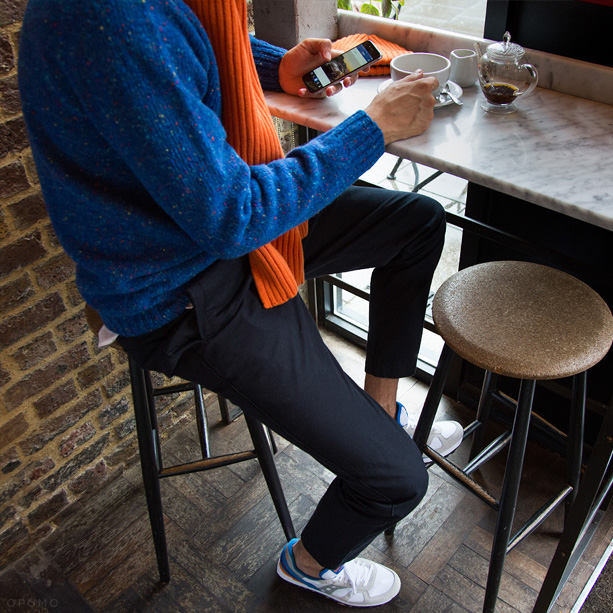 Folk Dark Navy Twill Drawcord Trousers
Quite literally combining the best of both worlds are these Twill Drawcord Trousers from Folk. Cut in to a contemporary slim-fit silhouette with an elasticated drawstring waist, traditionally found on sweatpants, these Drawcord Trousers effortlessly combine style and functionality for a supremely comfortable fit. Eschewing trends for a truly timeless appeal, these Navy Twill Trousers will be a sure found staple in your wardrobe, beyond this season and for the rest of time.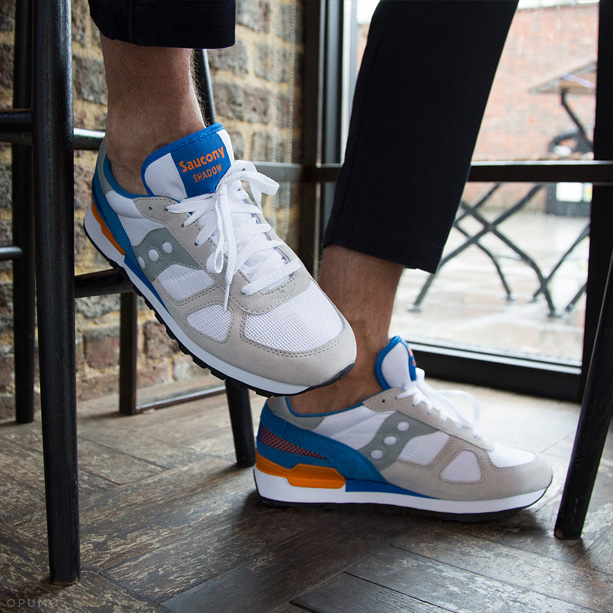 Saucony White/Blue Shadow Original Sneakers
If you haven't already guessed, orange is a resurgent colour hue this season. These white and electric blue sneakers from Saucony are beautifully refined with subtle grey and orange accents which compliment the clean white midsole and suede uppers for a contemporary, versatile style. Ensuring the iconic Shadow Original running credentials are upheld, the chunky outsole alongside the padded tongue and interior add extreme comfort and support that make every step as comfortable as the last.
Shop the entire Edit #15 – Winter Warmer FT. William Fox online now at OPUMO.