The ever-expanding influence exerted from the adoring eyes of Instagram has grown the platform to become a substantial hub for men's style inspiration. The success of which has catapulted certain users in to the ultimate portrayers of the aspired men's style. None more so than Fredrik Risvik.
Renowned for his clean colour palette across a range of minimal looks and sophisticated selection of accessories, Fredrik is one of the prophets behind the resurgence of Scandinavian style and influence.
Staying true to his assured aesthetic, Fredrik Risvik has taken the reins of our latest Edit #19 to assemble a range of luxe basics in to the ideal winter outfit.
Explore Edit #19 by Fredrik Risvik for the ultimate seasonal inspiration: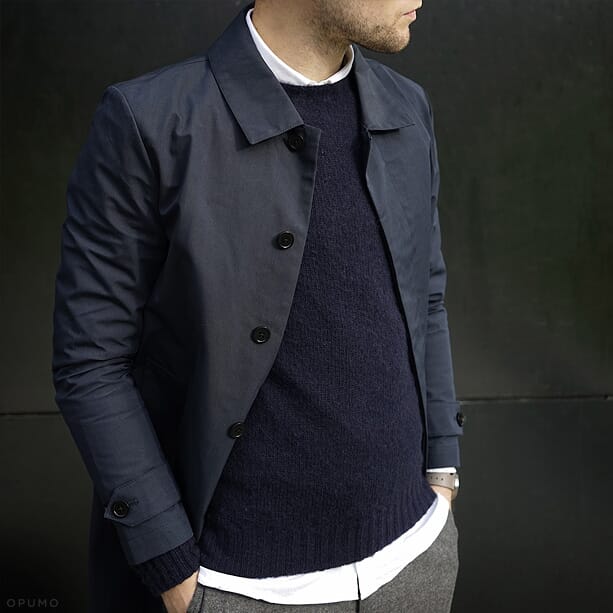 Gant Rugger Navy Laminated Coat
Anchoring the outfit, as all good seasonal ensembles should, is the coat. The Gant Rugger Laminated Coat accentuates minimal detailing to offer a simplistically sophisticated style, which lends itself for subtle, block layering. Boasting a discrete design, the button cuff lapels and no show front button fastening elevates this coat above the ordinary. Refined in an elegant navy cotton blend that is both wind and water repellent, the Gant Rugger coat will be an expert addition to any winter wardrobe.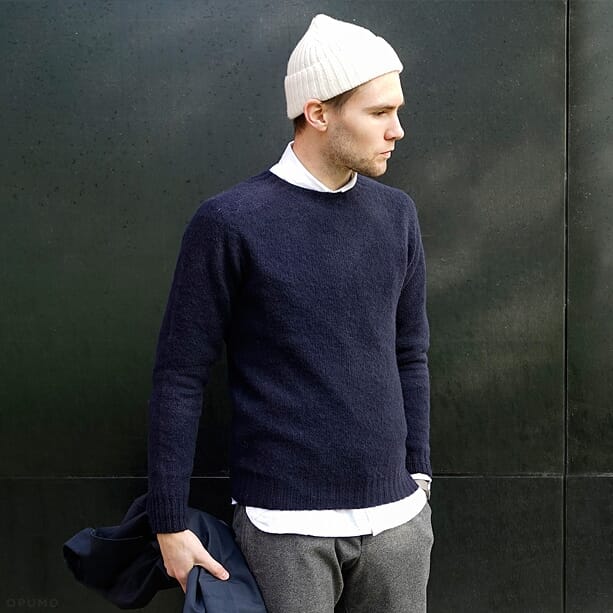 As atoned in previous Edit's, complimenting and contrasting textures through subtle detailing is the key this season. Remaining warm and suitably stylish as a consequence, your choice of knitwear provides the perfect opportunity to experiment with different feels, touches and texture, as displayed by Fredrik's choice of William Fox' Navy Wool Sweater. Crafted in Scotland from an insatiably soft wool, this William Fox sweater is a truly timeless piece of knitwear, with its traditional aesthetic and insulating exterior combining to create a true winter warmer. Complete in a rich, palatable navy hue, it is the ideal colour for stand alone wear or layered over your choice of collared shirt for a smarter style.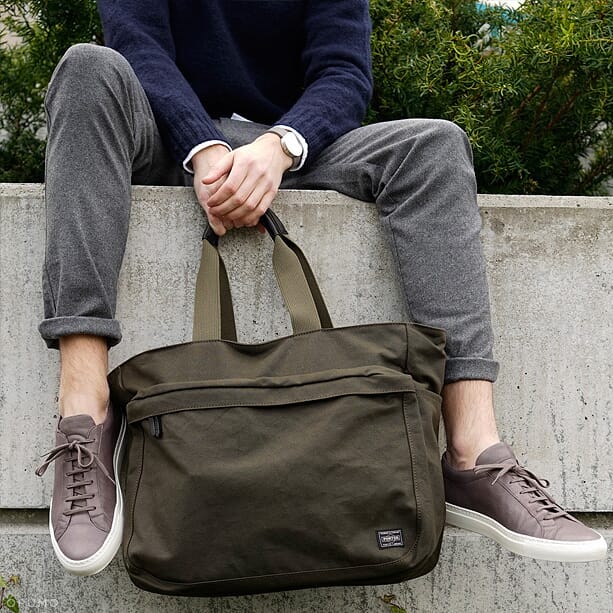 YMC Grey Slim Fit Wool Trousers
This season provides the perfect opportunity to make movements away from your beloved jean. Highlighting that there is no better time to experiment with jean alternatives than winter, are these Grey Wool Trousers from YMC. The traditional flat-front style provides a more causal feel to typically formal trousers, which means this particular pair can be styled across a range of casual looks, simply by adding a subtle turn-up to the trouser to display your desired choice of luxury sneakers. But as it is winter, and warmth has to appease style, the unique wool blends construction of these trousers offer insulation and durability throughout the season.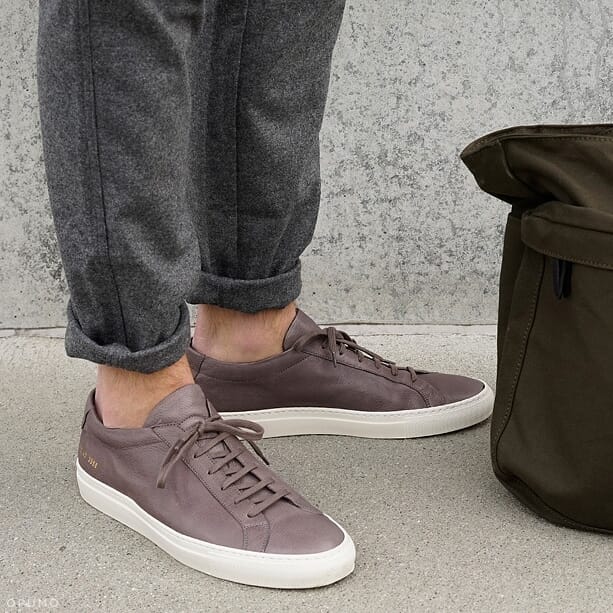 Common Projects Limited Edition Achilles Low Dark Grey
A truly beloved believer in the effortless charm of Common Projects, Fredrik has a more than modest collection to boast. His latest editions are the Limited Edition Achilles Low Dark Grey, which handsomely punctuate the power of statement sneakers this season. Updated exclusively for AW15, the iconic Achilles Low silhouette undertakes a clean makeover in the form of an exclusive Dark Grey colourway which acts as a perfect autumnal shade to compliment a range of navy, grey, black and khaki colour hues. As with every pair of Common Projects, these Limited Edition Sneakers are handmade in Italy and are delightfully contrasted with a white vulcanised rubber sole to produce an understated, stylish look. Check out Edit #18 Statement Sneakers FT: ETQ Amsterdam for the ultimate sneaker inspiration.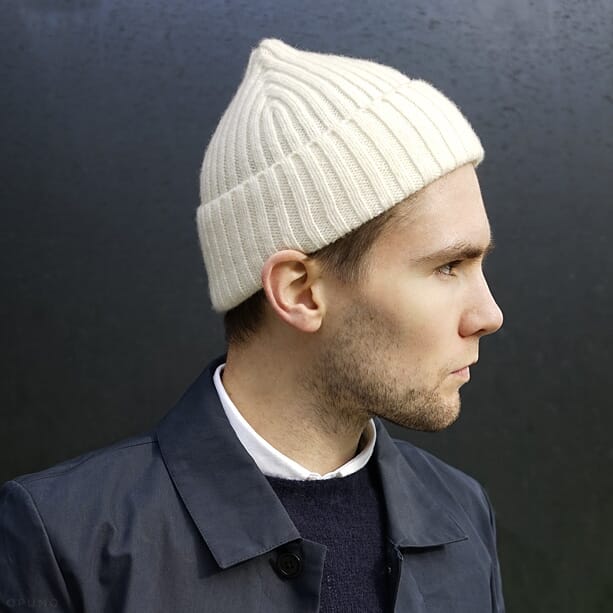 William Fox Cream Ribbed Wool Beanie
The beanie is the ultimate winter essential. Despite being so often overlooked and reserved for when the days' dip below a comfortable level of cold, or worse still, to mask a bad hair day, the beanie hat, however, offers much more than just practicality. This William Fox Beanie, made from supremely soft British lambswool, provides exemplary insulation alongside its neutral cream hue, which can be effortlessly incorporated in to any attire. To add a more relaxed, sports-sophisticate edge to the beanie, the roll top edge can be folded thicker to sit higher and create a cleaner, smaller peak on top of the hat.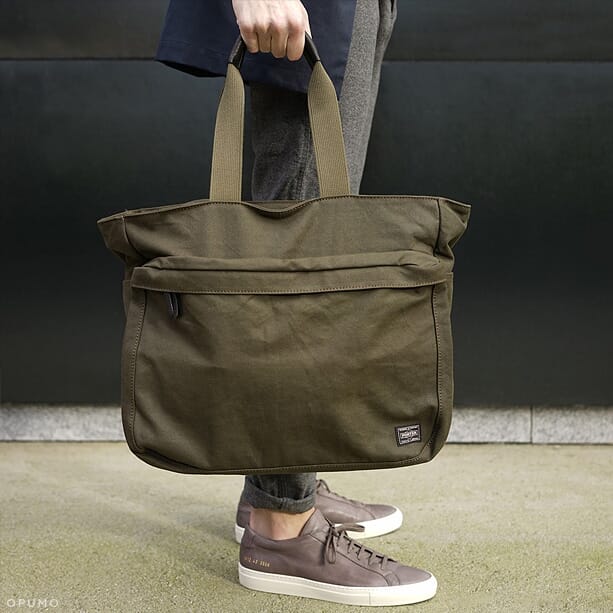 Porter-Yoshida & Co Olive Green Cotton Canvas BEAT Tote Bag
The Tote bag is undisputedly one of the emerging styles of 2015. Having appeared in previous seasons, this year has seen the solidification of the Tote bag as the ultimate essential.  With the ease of accessibility and the multitude of carry options, the tote is a stylish supplement to an outfit rather than a hindrance as some other bags pose. This BEAT Tote Bag from Porter-Yoshida exemplifies the stylish versatility of the brand, with the minimalist aesthetic complimented with a leather bound handle and subtle brand patch above the base. Inside, the Tote features a water-resistant rubber lining at the back which is in built with a zipped pocket to keep all essentials safe and secure.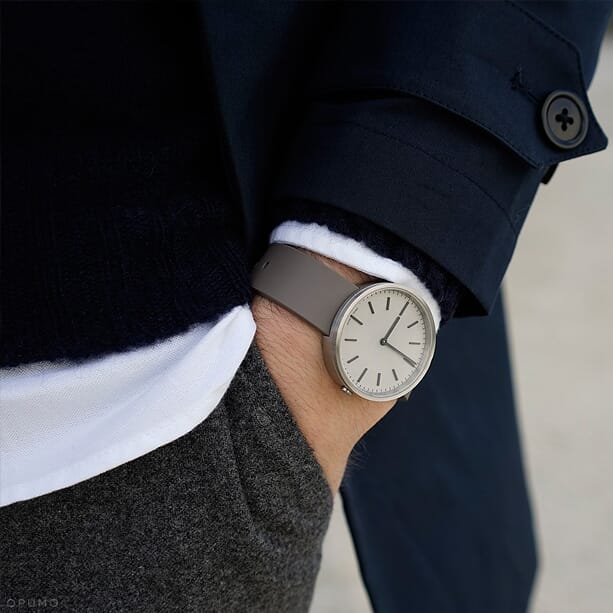 Uniform Wares M37 Brushed Steel Watch / Grey Rubber Strap
Complimenting the grey extremities of the outfit, the YMC Wool Trousers and the Dark Grey Common Projects, is the minimalist M37 Brushed Steel Watch from Uniform Wares. Refining the entire look with a simplistic and sophisticated aesthetic, the M37 watch is the last, well thought-out detail, that frames the entire outfit. Despite being the smallest watch in the Uniform Ware's M-Line collection, at 37mm in diameter, it is the signature style which has forged the brand's revered reputation. The quaintly brushed watch face takes on an untouched design and is handsomely complimented with the robust steel grey rubber strap.
Shop Edit #19 – By Fredrik Risvik online now at OPUMO. Follow Fredrik on Instagram here.