Introducing the undisputed colour of the season; grey.
Typically, grey creates a neutral background to act as an anchor for vibrant touches of colour, pattern and texture. That all still reigns true, but this season also lends itself to assembling different shades of grey in to one outfit.
Contrasting textures and differing shades of grey breaks up an outfit to create a clean, contemporary style that looks equally adept on dull, cloudy days as it does on the bright, sunny ones too.
Representing this, our latest Edit #20- Shades of Grey, provides the ultimate inspiration to master the art of shading this season: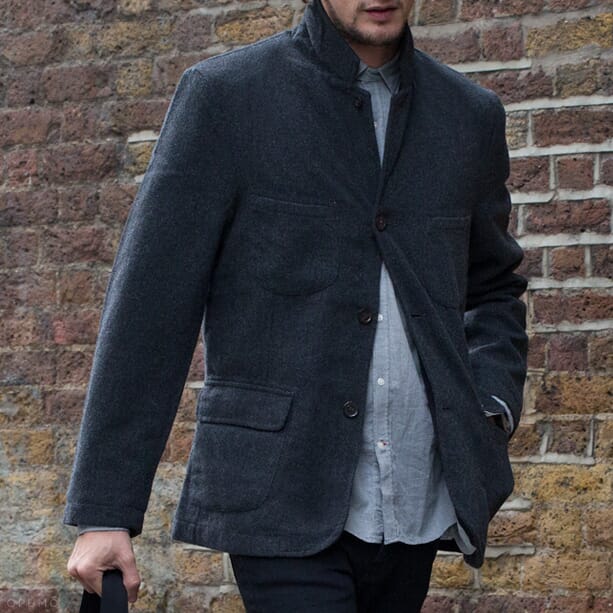 Universal Works Charcoal Grey Barra Jacket
One sure way to accomplish a suitable grey ensemble is to start with the jacket. Supremely suited for the season, the Charcoal Grey Barra Jacket boasts a warm wool blend construction and soft cotton body lining which makes it the ideal piece of cold-weather outerwear. Although possessing the relative warmth, the Barra jacket is an adaptation to the traditional Universal Works suit jacket, and so it's a thinner, more versatile option to traditional winter alternatives. An ideal winter layering piece, wear yours over an Oliver Spencer Shirt or your choice of William Fox Knitwear for an added layer of insulation.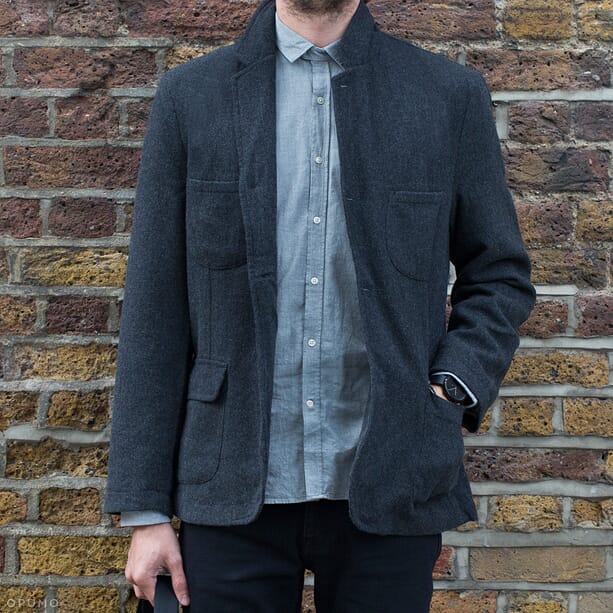 Oliver Spencer Clifton Grey Clerkenwell Tab Shirt
When matching two grey shades, its imperative to see how they contrast in shade and texture, highlighted with the light Clifton Grey of this Oliver Spencer Shirt and the rugged warmth of the Universal Works Barra Jacket. The subtle change in shade and texture is how to capture the ideal blend of grey shading in an outfit, with the Clerkenwell Tab Shirt from Oliver Spencer providing the ideal layering base to do so. A simple men's staple that exudes style and functionality, the Tab shirt should have a place in every man's wardrobe.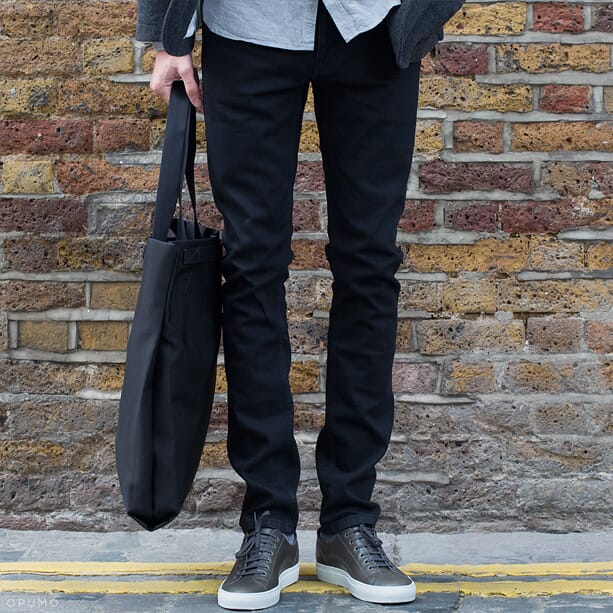 Han Kjobenhavn Black Slim Fit Selvage Stretch Jeans
All-grey ensembles are a big look and can be achieved, especially with a premium pair of trousers like the YMC Grey Wool, but for a more refined look, simply subdue the grey with a pair of black jeans. These Black Selvage Stretch Jeans from Han Kjobenhavn act as the perfect pair. Designed in Denmark, the jeans are created in a supremely comfortable slim fit throughout the waist and leg from an exclusive Kaihara denim that offers an extremely durable, versatile style. A pair that will soon become your new, dearly beloved jean.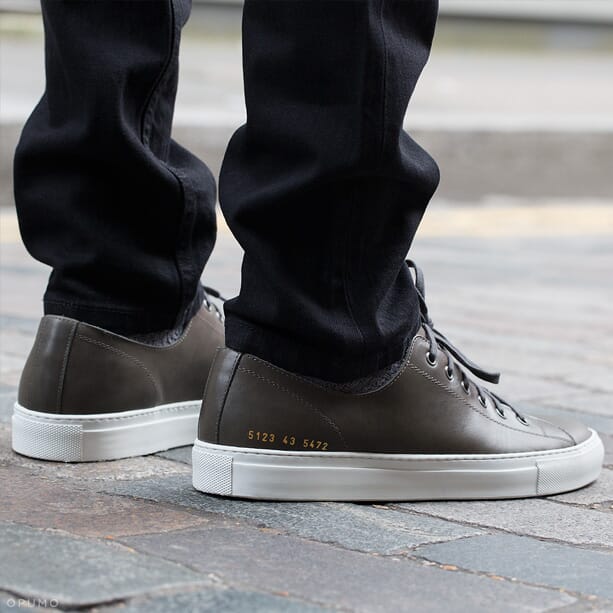 Common Projects Dark Grey Leather Tournament Low Sneakers
Subtlety supporting the grey contingent are these Dark Grey Leather Tournament Low Sneakers from one of the world's fastest growing brands; Common Projects. A brand new colourway for AW15, the signature Tournament Low Sneakers are complete in a dark grey leather, for an understated, sophisticated style. As with every pair of Common Projects, the Tournament Low Sneakers feature trademark branding, in the form of a numbered gold stamp heel representing the shoe's style and size. For alternative styles and colourways, shop the entire Common Projects collection here.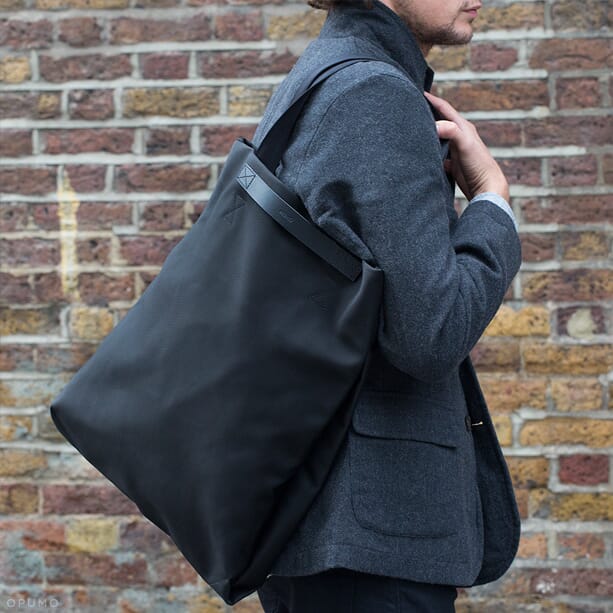 As already atoned in previous Edits, the Tote bag has well and truly taken over this year. But this Black MS Flair adaptation from Mismo, is no ordinary tote bag. Extremely versatile, the Flair boasts a multitude of carry options to suit your style. The long nylon ribbon handles make it easy to carry over the shoulder while the horizontally placed smooth leather bridle handles, can be hidden under the top fold, or used as a firm handheld option. Undoubtedly the on-trend style for the season, the Mismo Flair Tote Bag is refined in an elegant all black ballistic-nylon exterior for a unique textured finish.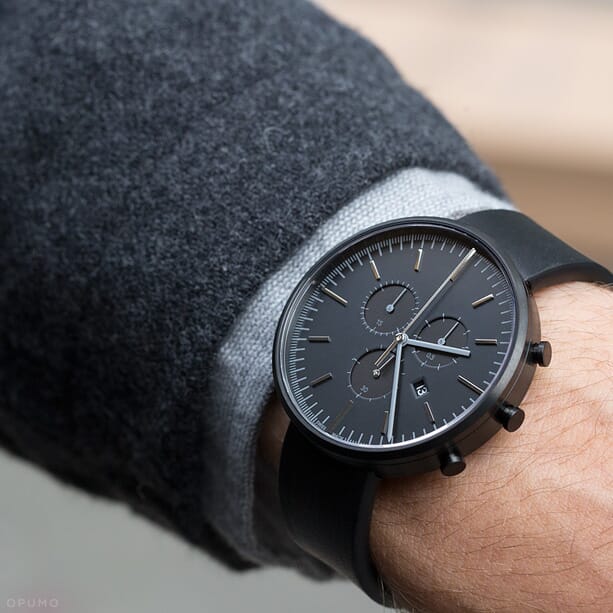 Uniform Wares M42 PVD Black Chronograph Watch / Black Nappa Leather Strap
Monochrome-inspired accessories add an astute touch of sophistication to any attire, with this M42 Watch from Uniform Wares a prime example. The largest watch in Uniform Wares iconic M-Line collection, at 42mm in diameter, the M42 is an accessory to make statements. Designed to emphasise the balanced symmetry of the movement cased inside, the M42 retains all the functionality required from a modern day chronograph.
Shop Edit #20 – Shades of Grey FT. Universal Works online now at OPUMO.