The Bomber Jacket has continued its recent resurgence to become a staple in every man's wardrobe.
An incandescent trend, surviving successive autumn/winter and spring/summer collections, the forecast is that the Bomber will exert its influence for years to come.
Traditionally identified by its short waist length, and complimenting knitted waistband and cuff, the bomber jacket has been reinvigorated in various forms. From the traditional MA-1 style, showcased by the Monitaly Flight Jacket, to more adaptable and contemporary reincarnations, such as the Dark Grey Bomber from Edwin- which takes the focus of our latest Edit #27.
Find out how to style up your bomber this winter by exploring Edit #27 below: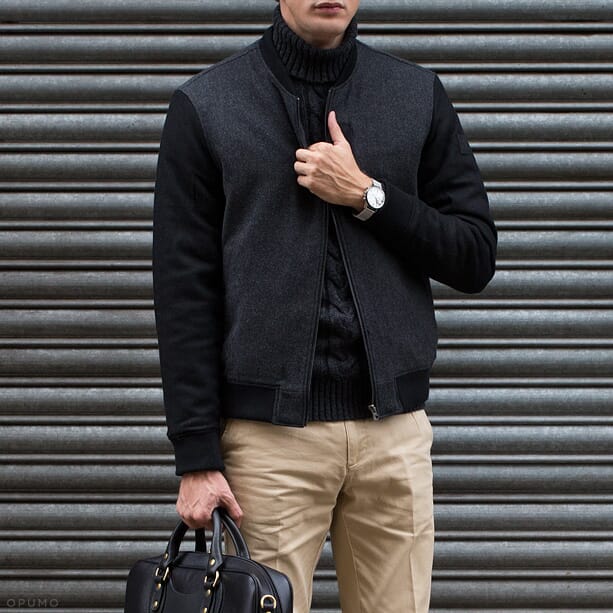 The Bomber Jacket is just one of many menswear pieces with a distinct military focus that continue to emerge with every new season. Similar to the Peacoat, the bomber has a timeless appeal to transcend style and trends, but unlike the Pea the Bomber boasts a versatility that can be incorporated within a whole host of looks, from Sports Sophisticate to more refined outfits, such as Edit #27. Crafted from a heavyweight wool blend for a warm and insulating fit, Edwin update the traditions of the Bomber to create this Dark Grey winter-ready edition. Complete with tonal black arms, collar and cuffs for a nod to a varsity-inspired style, the Bomber is complete with a simple zip fastening and chest pocket. Highlighting the versatility of the jacket, the Bomber can be simply styled with a pair of ED-80 Slim Black Jeans from Edwin or for a more sophisticated style alongside a pair Desert Khaki Chinos from Gant Rugger, as pictured.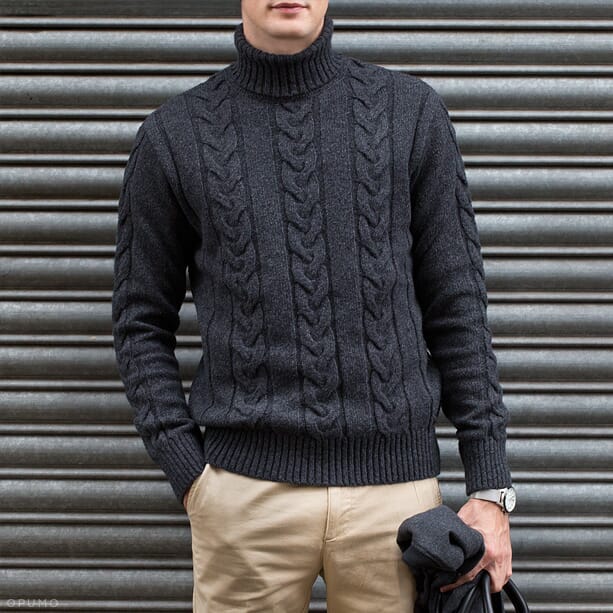 Edwin Charcoal Shackle Rollneck Sweater
Another strength of the Bomber Jacket lies in the fact it can be easily layered on top of shirts and tees for relaxed evening wear, or over chunky knitwear for added warmth and insulation. As displayed with the layering of this Charcoal Shackle Rollneck Sweater, also from Edwin. Peering over the traditional flight-jacket collar of the bomber, the Rollneck adds another well-thought out, warm layer to the outfit, while the classic cable knit design adds further texture and insulation. A contemporary take on the classic turtleneck silhouette, Japanese label Edwin use luxury recycled wool to create a unique soft-knit feel. A winter essential.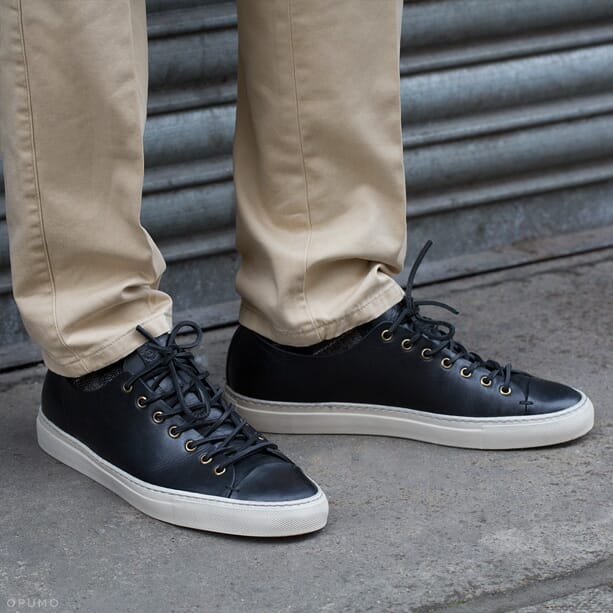 Buttero Black Leather Tanino Low Profile Sneakers
Revered for creating contemporary sneakers based on classic silhouettes, Buttero's latest creation, especially for winter 2015, are these Black Leather Tanino Low Profile Sneakers. The smooth shine of the of the black leather sneakers complimented with the gold eyelets combine to create a sophisticated aesthetic that will wear and age beautifully over time. A timeless choice for years to come.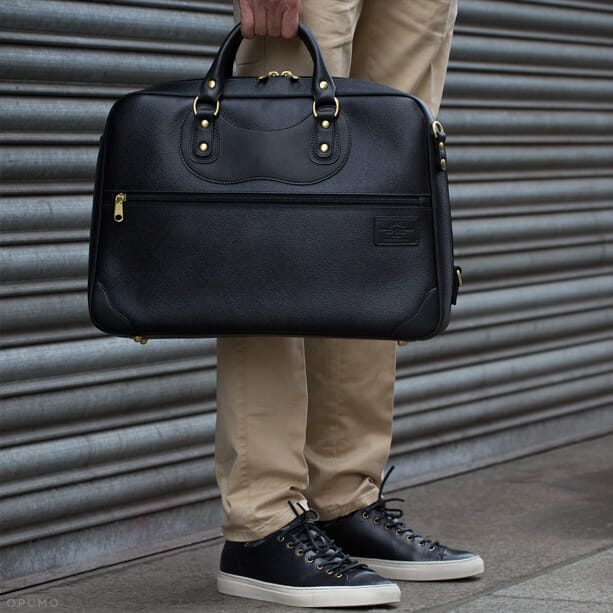 J Panther Luggage Black Leather Courier Ruc Case
Your choice of accessories should adopt a neutral colour hue so they can be easily styled amongst a range of different looks to suit your movements. The Courier Ruc Case from J Panther Luggage is the bag that does just that. Incredibly elegant, the black leather Courier Ruc Case is both versatile and functional, featuring a three-way carry system and a water-resistant shell. With the water-resistant shell a feature that cannot be overlooked as we head deeper in to the winter season.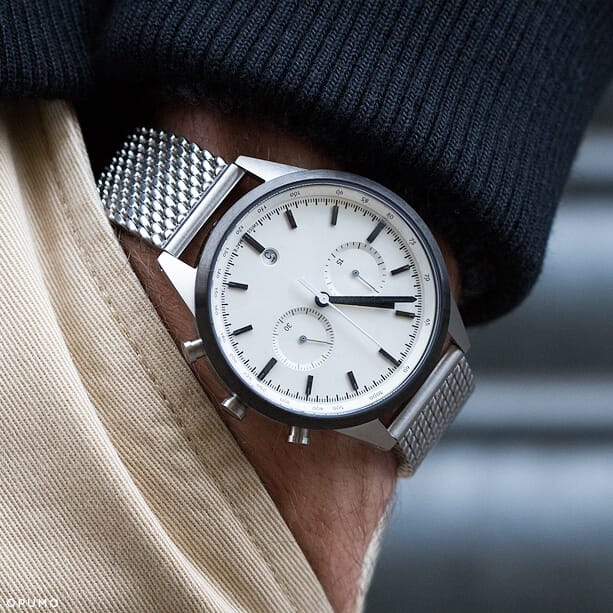 Uniform Wares C41 PVD Grey Chronograph Watch / Milanese Mesh Bracelet Strap
Adding a touch of detail and subtle sophistication to Edit #27 is the C41 Chronograph Watch from Uniform Wares. Unique within the Uniform Wares collection for its use of numerals and details, the C41 watch boasts an intricate tachymetre scale as a tribute to racing timepieces of yesteryear. An elegant yet minimal design, the watch is complete with a grey case and complimenting brushed Milanese mesh bracelet strap. The ultimate everyday watch.
Shop Edit #27 – The Bomber Jacket FT. Edwin online now at OPUMO.