"Wilderness is not a luxury but a necessity of the human spirit."
Integrating modern architecture with the verdant outdoors; the Living-Garden House by KWK Promes is an invitation to escape to a utopian world.
Formed on local traditions, the house take shape from the classic gables and the red-brick materiality synonymous with the Silesian worker settlements. But as with all good architecture, KWK Promes pay homage to tradition by creating something new and unique; pairing the classic material palette with a parallel construction to create a home of great balance and distinction.
The 'Living-Garden House' in Katowice, Poland, is anchored by the lounge on the first floor of the property that opens up the interior to the garden; while the upper level is designed to be a more intimate, private setting. The two combine to create a dichotomy where two worlds exist as one.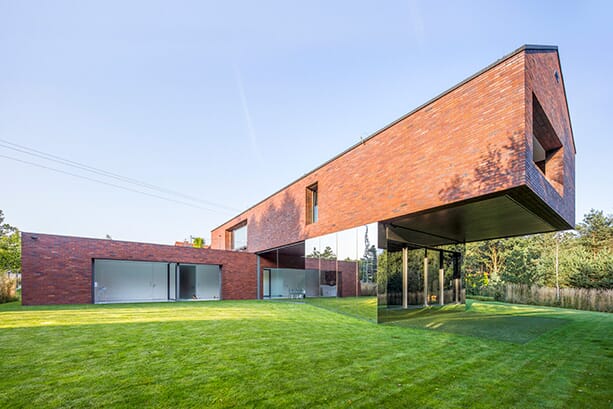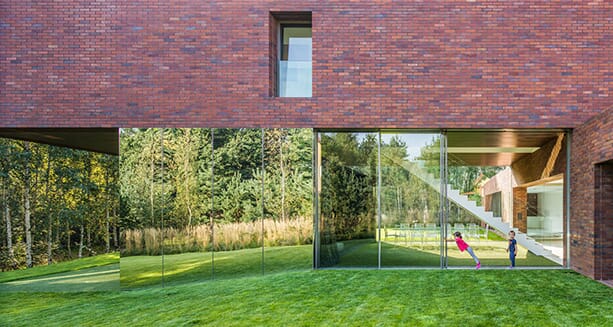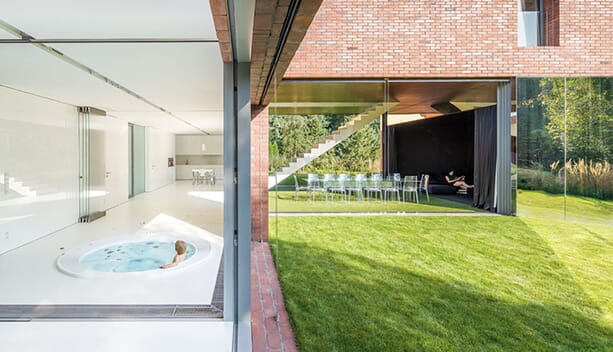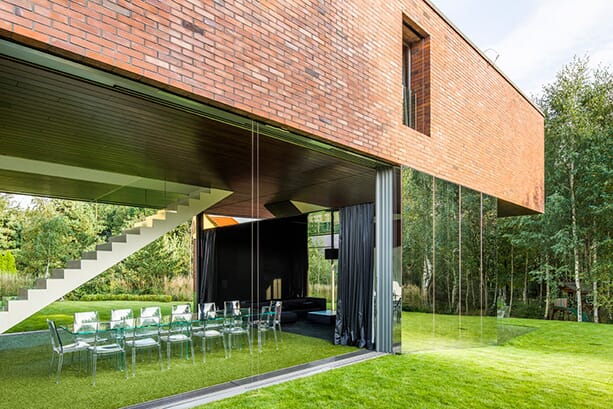 The two world's combine through their complementing visual aesthetic, for instance the use of glass partitions, mirrors and synthetic grass ensures the living room becomes the living garden, as the design team go on to explain: "We live in the garden during the day and enclose in the cocoon at night – an idea derived from the past. Our ancestors would harvest food in daylight whilst sheltering in the trees at night. Living-Garden restores the original order."
The two contrasting facades create a distinctive ledge shape, with the towering level of the house appearing to rest perilously on top of the other. The whole project is reinforced through concrete walls that are enclosed with stainless steel to create the imposing, de-materialisation effect.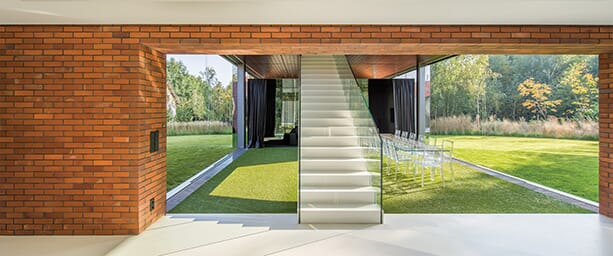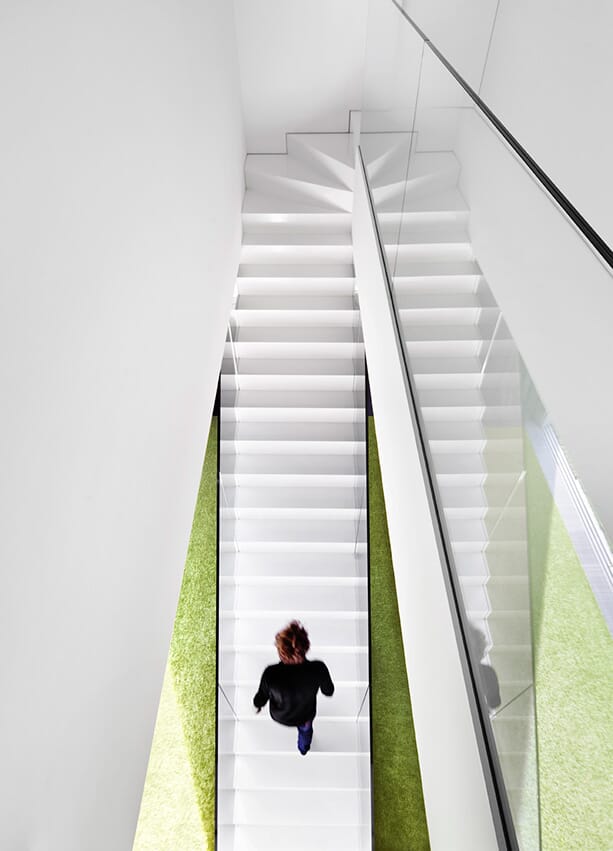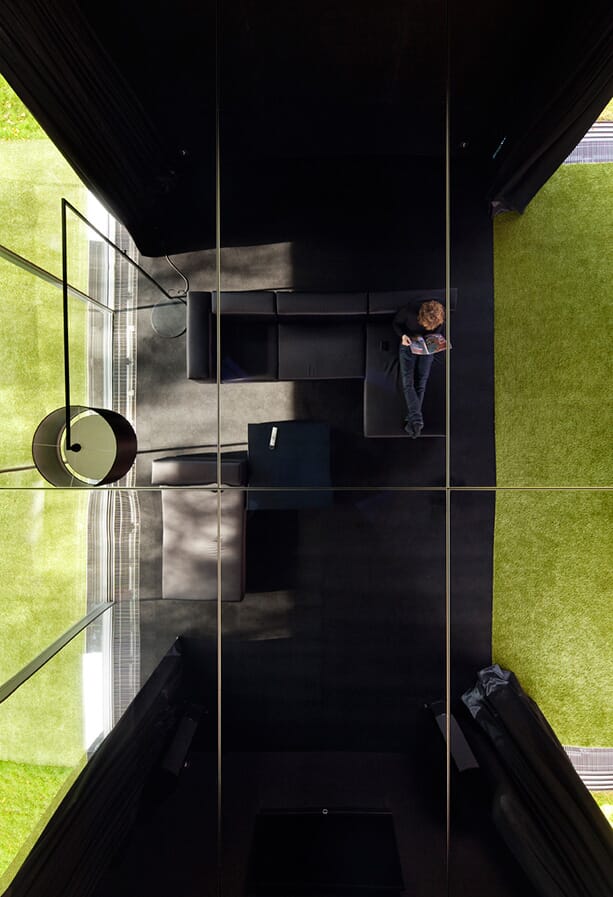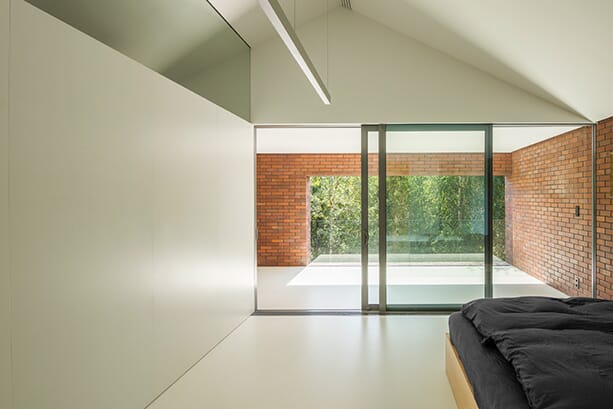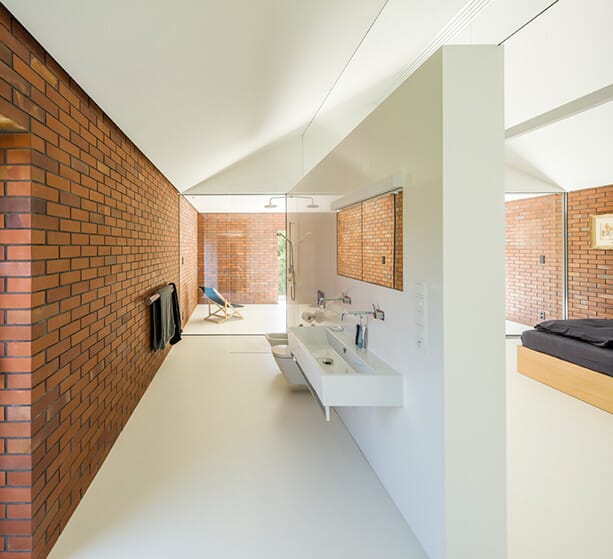 The relationship between outdoors and the interior does not stop at the aesthetic of the house, though. The property remains largely self sufficient and is registered as a Class A energy building. In the summer months, for instance, installation is not required as the overhanging ledge protects the ground floor from overheating.
Take a closer look around the property in the image gallery below and visit the KWK Promes website for more magnificent examples of modern architecture.
Images courtesy of KWK Promes & Jakub Certowicz.