The umbrella has always been the quintessential gentleman's fashion accessory. It's an opportunity, like the right tie, the right shoes and the right briefcase, to show the world who you really are, a marker of individuality in the daily grind.
How sad then to see its decline and fall: from a beautifully-made, personally tailored bespoke piece to keep you dry between cocktail bar and cab home to a mass-produced collapsible trinket that's barely fit for purpose, let alone for stepping out in style.
If you're thinking the time is overdue for a rethink, Jamie Milestone is way ahead of you. Jamie is the designer behind London Undercover, a brand dedicated to making a real art of otherwise everyday accessories.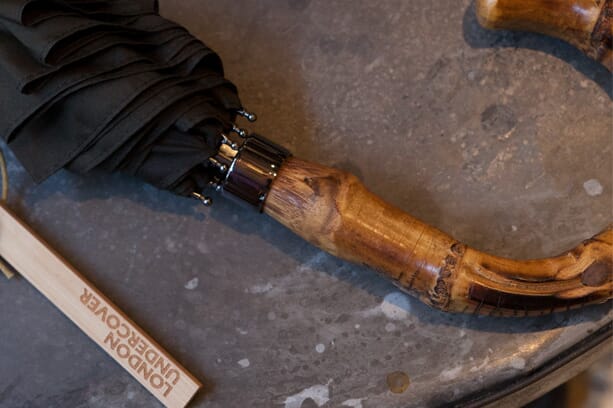 Jamie Milestone has always been consumed by the idea of Englishness, the real cultural touchstones of England. The original Mini? Certainly. The Routemaster bus? Perhaps. A red phone box? Without question. And yes, a classic umbrella, as brandished by Steed in 'The Avengers', and by city gents since time immemorial.
Welcome then to the umbrella redux, made by London Undercover's craftsmen the old-fashioned way: slowly and with care. These are pieces that will protect against the rain while providing a welcome complement to your personal wardrobe, whether furled up or deployed against the worst that the grey skies can produce.
London Undercover add more, though, much more. Discard the notion of limiting yourself to classic black, add a beech wood handle and shaft, hand-turned to perfection, and a double lining, if you so choose, in the best tradition of the finest umbrellas. There's a cane handle if you prefer: the whole point of these pieces is that each exudes a real personality of its own.
The crowning glory is of course the canopy. One of London Undercover's star turns is to leave the outside plain - in classic navy perhaps, or simple black - while treating the inside to a geometric print in the manner of a Japanese kimono. The colour on the inside is reserved for your eyes only, a personal indulgence when the weather turns foul.
There are collapsible models, a world away from their cheap high street cousins, and plainer fabrics, all made with the London Undercover twist on the classic item. Each umbrella feels as if it's been crafted personally for you, a bespoke piece in a mass produced world.
The latest collection of London Undercover umbrellas is now available here at Opumo.