Since its inception over 100 years ago, New Balance has garnered a reputation as a go-to for versatile, stylish sneakers that deliver on quality and comfort at an affordable price. The Boston-born brand is beloved by everyone from sneakerheads to suburban dads. Its fierce dedication to consistent quality means that comfort and fit are key priorities, so finding your perfect pair of kicks will be straightforward and stress-free. Simply follow our guide to New Balance sizing to find the right size for you.
New Balance sizing notes
New Balance sneakers fit true to size, so we'd recommend that for most sneaker styles you take your normal size. Some shoes may have specific sizing notes, so check each product page carefully.
New Balance shoes are made to fit directly out of the box, meaning that – unlike so many sneaker brands – they do not need to be broken in.
New Balance sneakers are offered in half sizes, ensuring that you'll find the closest fit possible
Choose the larger size if your feet are between sizes. You can adjust for a better fit with socks, insoles and lacing patterns.
New Balance offers one of the largest selection of shoes in extended widths, from X-Narrow to XX-Wide, making it even easier to find the correct fit.
Use the New Balance size chart below to convert your US or EU sizing into UK sizing.
To measure the length of your foot, place your foot on the floor with your heel against the wall and place a ruler parallel to the inside of your foot. Then place an object with a straight edge across the top of your foot, the edge touching the tip of your longest toe. Take the centimetre measurement.
To get the best fit, measure your feet in the late afternoon when your feet are at their largest due to normal swelling.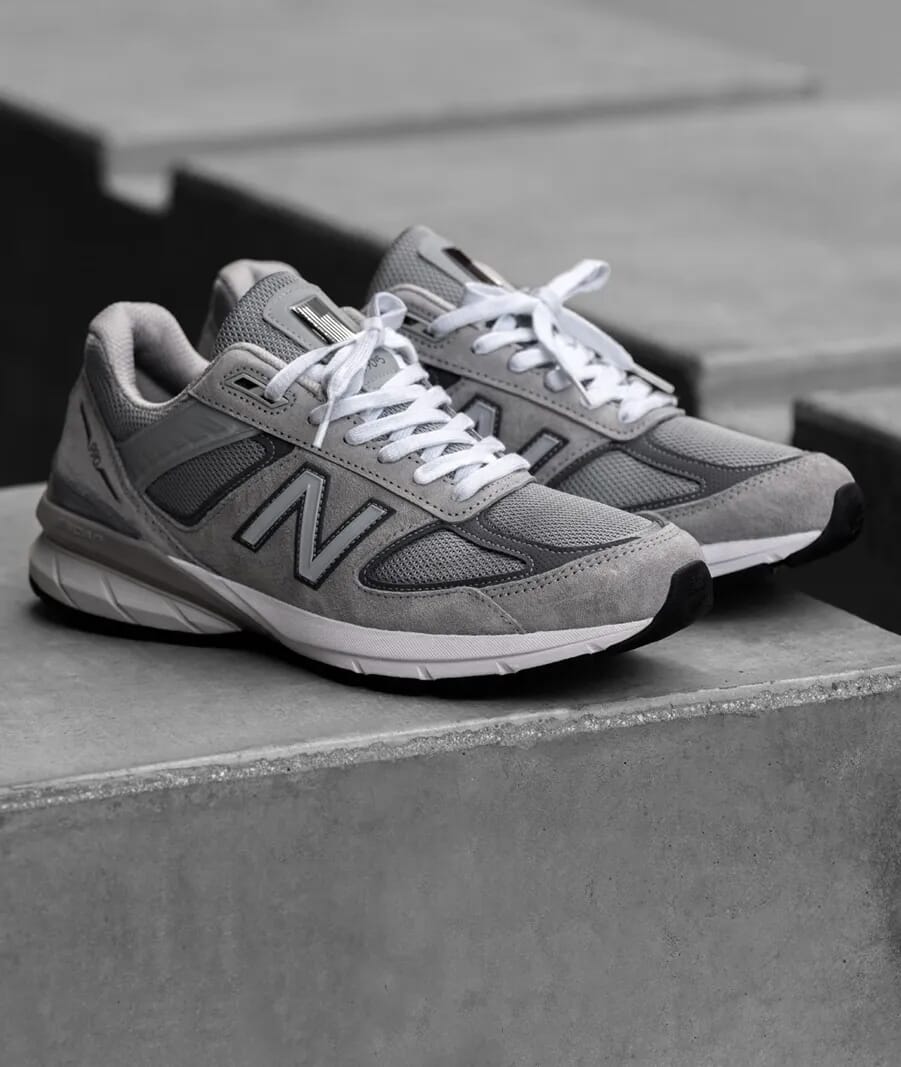 New Balance sizing charts
New Balance men's sneakers sizing chart
| | | | |
| --- | --- | --- | --- |
| UK | EU | US | Length (cm) |
| 6.5 | 40 | 7.5 | 25 |
| 7 | 40.5 | 8 | 25.5 |
| 7.5 | 41.5 | 8.5 | 26 |
| 8 | 42 | 9 | 26.5 |
| 8.5 | 42.5 | 9.5 | 27 |
| 9 | 43 | 10 | 27.5 |
| 9.5 | 44 | 10.5 | 28 |
| 10 | 44.5 | 11 | 28.5 |
| 10.5 | 45 | 11.5 | 29 |
| 11 | 45.5 | 12 | 29.5 |
| 11.5 | 46.5 | 12.5 | 30 |
| 12 | 47 | 13 | 30.5 |
| 12.5 | 47.5 | 13.5 | 31 |
New Balance women's sneakers sizing chart
| | | | |
| --- | --- | --- | --- |
| UK | EU | US | Length (cm) |
| 4 | 36.5 | 6 | 23 |
| 4.5 | 37 | 6.5 | 23.5 |
| 5 | 37.5 | 7 | 24 |
| 5.5 | 38 | 7.5 | 24.5 |
| 6 | 39 | 8 | 25 |
| 6.5 | 40 | 8.5 | 25.5 |
| 7 | 40.5 | 9 | 26 |
| 7.5 | 41 | 9.5 | 26.5 |
| 8 | 41.5 | 10 | 27 |
| 8.5 | 42.5 | 10.5 | 27.5 |
| 9 | 43 | 11 | 28 |
| 9.5 | 43.5 | 11.5 | 28.5 |
| 10 | 44 | 12 | 29 |
Men's shoe width chart
| | | | | | |
| --- | --- | --- | --- | --- | --- |
| 2A | B | D | 2E | 4E | 6E |
| X-Narrow | Narrow | Standard | Wide | X-Wide | XX-Wide |
Women's shoe width chart
| | | | | | |
| --- | --- | --- | --- | --- | --- |
| 4A | 2A | B | D | 2E | 4E |
| X-Narrow | Narrow | Standard | Wide | X-Wide | XX-Wide |
---
---