Nike's Air Zoom Alphafly NEXT% might just be the most controversial sneakers ever, and now - if you're quick - they're available to buy. These extraordinary looking running shoes are the commercial version of the prototype footwear that ultra-runner Eliud Kipchoge wore in Vienna last year to break what was thought to be an unbreakable record: the two hour marathon.
Let's be clear: these aren't sneakers you're going to wear for a shopping trip around town or for a smart casual lunch at the local pub. They're designed for one thing and one thing only: speed. From the two prominent "Air Zoom pods", as Nike calls them, at the front of the shoe to the substantial "Zoom X foam" at the rear, the Alphafly NEXT% does everything it can to boost the wearer's pace on the track.
In the world of athletics there have been rumblings of discontent about whether or not the Air Zoom Alphafly NEXT% constitutes an unfair advantage. Certainly when the Tokyo Olympics are eventually held, the Alphafly NEXT%, or its successor, is going to be the source of much heated discussion. 
---
---
Nike have incorporated the most hi-tech of materials into the shoe. Carbon fibre, more usually found in Formula One and on road-going supercars from the likes of Lamborghini, forms a full length plate underfoot. Resilient, flexible and strong, carbon fibre is another way to shave off those vital tenths of a second.
Uppers are of a fabric Nike is calling "AtomKnit", a super light and water resistant material. Choose from Nike black, lime blast or valerian blue.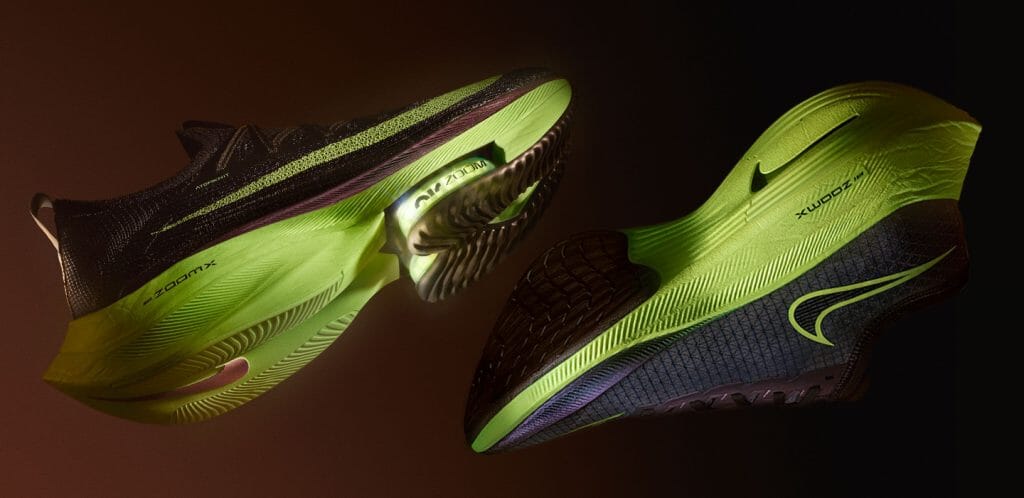 The result of all of the race lab design is a shoe like no other. If you do get your hands on a pair - and Nike are rationing supplies - and decide to wear them for a night out, you're certain to get attention. And in the unlikely event that you need to make a run for it, you can be sure of a fast getaway.
---
---