For classic car buffs, the words " barn finds " signal the discovery of something really special, undiscovered treasures in an unlikely location.
In the grounds of a dilapidated chateau in rural France, covered in dirt, old magazines, bits of other cars and with the occasional weed growing through a rusted wing, there's what just may be the ultimate among barn finds.
Almost a hundred distinguished cars, not driven since the 1970s, part of the collection of a high-flying businessman who fell on hard times, now re-discovered, and causing even the hard-nosed auctioneers brought in to value and sell them to gasp in amazement.
Pick of the bunch is a 1961 Ferrari 250GT SWB California Spider, formerly the property of French screen idol Alain Delon. Preserved partly because of the hundreds of car magazines piled on top of it, the black California has an auction estimate of 9 - 12 million euros.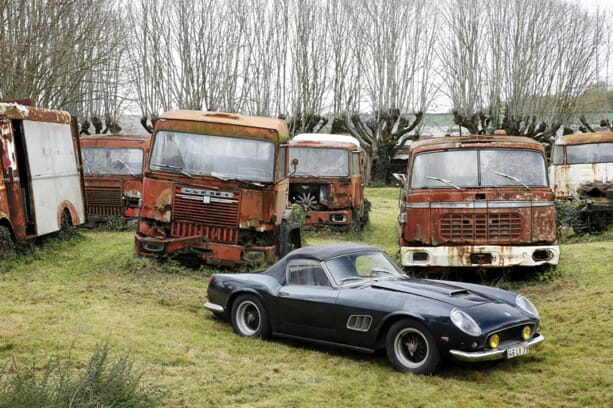 And that's just for starters. Collector Roger Baillon's vision was to build a museum for his cars, but he ran out of money as his businesses collapsed. His grandchildren are now selling the spectacular barn find collection through Artcurial Motorcars at auction in Paris on 5th Febrary 2015.
There's a 1947 Talbot T26 Gran Sport, one of only 25 cars of its kind, body panels falling off, but somehow complete, its swooping lines very much still evident. Underneath surface rust, a majestic 1920s Hispano-Suiza H6 has coachwork in the American style, designed to be at home in Beverly Hills.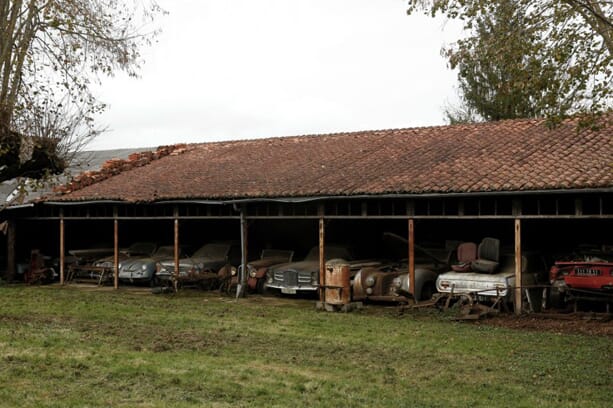 Key rare cars from great European makers such as Facel Vega, Delahaye, Maserati and Bugatti are all present and all exhibiting, as they like to say in the classic car trade, the patina of age.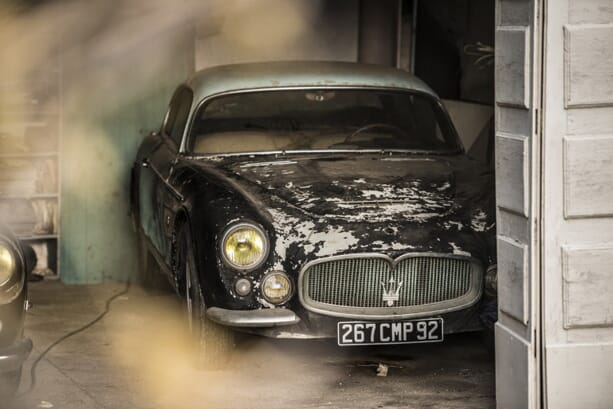 In the demanding world of high end classic cars authenticity, provenance and originality are what really count. This most extraordinary barn find has it all, and then some.