Words by Josh Bozin
Vitamins and supplements have become a way of life in the 21st century, helping busy individuals live their best lives. For Byron Bay lifestyle brand, BEAR - comprising of husband and wife duo Sam Leetham and Saasha Burns - helping people benefit from vitamins and supplements is their specialty, boasting an impressive portfolio of Essential Daily Vitamins and Superpowders made locally in Australia.
Sitting down with co-founder Sam Leetham, we discussed all things BEAR and how they are changing the world one vitamin at a time. You'll want to take notice.
How did the inception of BEAR come to fruition and where did the name come from?
BEAR started organically when my wife Saasha and I discovered a clear gap in the supplement market. Overwhelmed by choice, we didn't know which brands we could trust and which products would deliver real benefits. We started a journey of research and discovery and worked with a team of naturopaths, compounding pharmacists and medical professionals to develop a bespoke range of Essential Daily Vitamins and Superpowders that contain only the highest quality, simplified ingredients proven in efficacy, safety and stability.
The name BEAR derives from the fact that just like a wild grizzly bear who prepares for winter hibernation, we as humans need to support and strengthen sour bodies to maintain good health throughout the seasons.
What inspired you to create the BEAR product and its focused 'lifestyle' aspect?
My grandparents were both doctors and compounding pharmacists, so I've always had the concept of wellness in my make-up. During our process of research and discovery, we noticed that while people invest significantly in their skincare and grooming routines with brands they love, they were being forced to choose between mass produced supplements from a discount chemist that they actually ingest. It was this imbalance which really inspired the BEAR brand.
Through our research, we also uncovered that the big supplement brands have traditionally tailored their products to specific genders but on closer inspection, we found that most of these gendered products share the same formulation and ingredients. They might be labelled as a men's and women's multivitamin, but they are the same formula and once we had uncovered these tactics, we felt we had a responsibility to create a quality product which aligned to our customers lifestyles.
What was the moment that it all changed; when did things really kick into gear for BEAR?
I distinctly remember when, after nearly two years of development, we tried our final product samples. They were exactly what we had envisaged when we had founded BEAR. We had spent the majority of that two-year period searching and harvesting ingredients and relationships with farmers all over the world as we sought to bring together the best possible, most bio-available botanical ingredients for our formulations. It was incredible to see and feel the difference these ingredients could make on us and also on the lives of our community. At this point, we knew we were going to change people's perceptions of supplements and wellness more broadly.
What are the three most important things you've learned along the way?
Number one is pretty easy: Slow down. We live in a time when everyone is in a hurry. It's never been easier to start a business or a brand but I firmly believe it's also never been harder to build one that has longevity. By doing the opposite to what society now expects and slowing down your thinking and planning, you start to make considered decisions which allow the brand to be more successful and valuable to your community.
Following that: Success unshared is failure.  Always have people that you trust and respect involved in your journey.
And finally, never waste good wine with bad conversation. Life moves pretty quickly and if you don't stop to look around once a while, you could miss it. Sharing and celebrating your wins and achievements with friends and a nice vino is good for the soul.
Which project or period of your career have you enjoyed most thus far?
Developing and launching BEAR has been the absolute highlight of my career to date. I was fortunate enough to spend six years at Mercedes-Benz Australia/Pacific in their Marketing and Strategy teams but there is something unique about launching a new business. Taking an idea from inception through to execution has been an incredible journey – and now that we have a global presence across OPUMO, Net-A-Porter and Mr Porter, Barneys, Lane Crawford and David Jones, we've been able to craft a brand which genuinely makes a difference to the way people approach wellness all around the world.
What do you do to keep your ideas fresh?
Travel has always been a big part of our lives and we both have a constant collection of new destinations we'd like to explore. We use this time when we are travelling to really immerse ourselves in the city or country, experiencing new things, talking with new people and learning new customs. We find all of these experiences inform our plans and strategy for BEAR while also and perhaps more importantly, keeping us fresh.
Do you have any self-imposed rules that you live by which reflect onto BEAR?
We try not to anchor ourselves to many rules, but we do have a number of rituals which have become a key aspect of the BEAR lifestyle. When we are home in Byron Bay, we'll always start the day with a long walk with our Siberian Husky, Minnesota, along the beach and usually finish with an ocean swim. We then have an espresso and take our BEAR Explore Essential Daily Vitamin all before we even open our laptops. We find these rituals really centre and energise us for the day ahead. Every night just before bed, I also write a few learnings from the day in my notes – I really love reflecting on the year as a collection of insights.
What is it that drives you?
We're driven to create a brand of lasting quality and value. Our parents taught us to do everything with pride and in line with this philosophy, we want to create a brand that supports our community's wellness goals and more broadly, supports the environment around us.
BEAR has recently been officially certified as a B Corporation for our verified and positive impact on the planet – and we hold this commitment to conservation and sustainability at the core of our driving vision for the brand.
We are proud to be working closely with WildArk and the Great Barrier Reef Foundation to help protect and conserve the natural wonders of the world and the wild animals that inhabit them. BEAR donates a fixed dollar amount from each product sold and together, we hope to make a significant difference to species protection and conservation projects worldwide in the years to come.
What is the best piece of advice you have ever received?
Clint Eastwood once said, "take your work seriously but don't take yourself too seriously." I think that's about perfect.
Where do you see BEAR in the next 12 – 18 months?
We have just launched in Barneys and Revolve in the US along with David Jones in Australia as marquee retail partners and we're also building our team in the Byron Bay studio which is really exciting. We've also been working really hard on a number of new products which we can't wait to launch. I think people will be surprised but really love where we are taking the BEAR brand.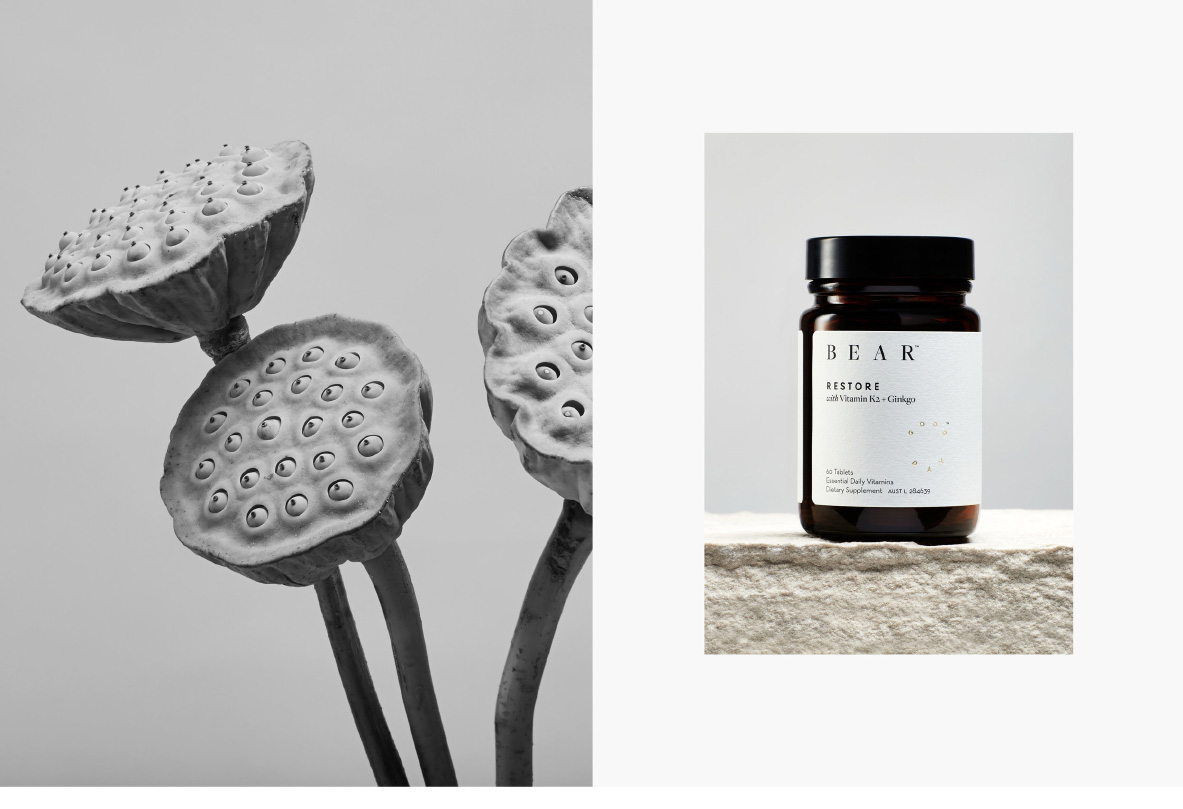 Shop and explore the latest collection of essential BEAR Vitamins at OPUMO.
Want more entrepreneurial insight? Check out our interview with Adam Lewenhaupt – founder of one the best new sneaker brands, CQP.