Shipping container homes have seen a huge surge in popularity in recent years and it's not hard to see why. Affordable, easy on the planet and oh-so-versatile, they offer a vast range of architectural possibilities — not to mention a whole lot of character. Scroll on for five shipping container homes that have caught our eye — from minimalist tiny homes to metal mansions. It's time to think inside the box.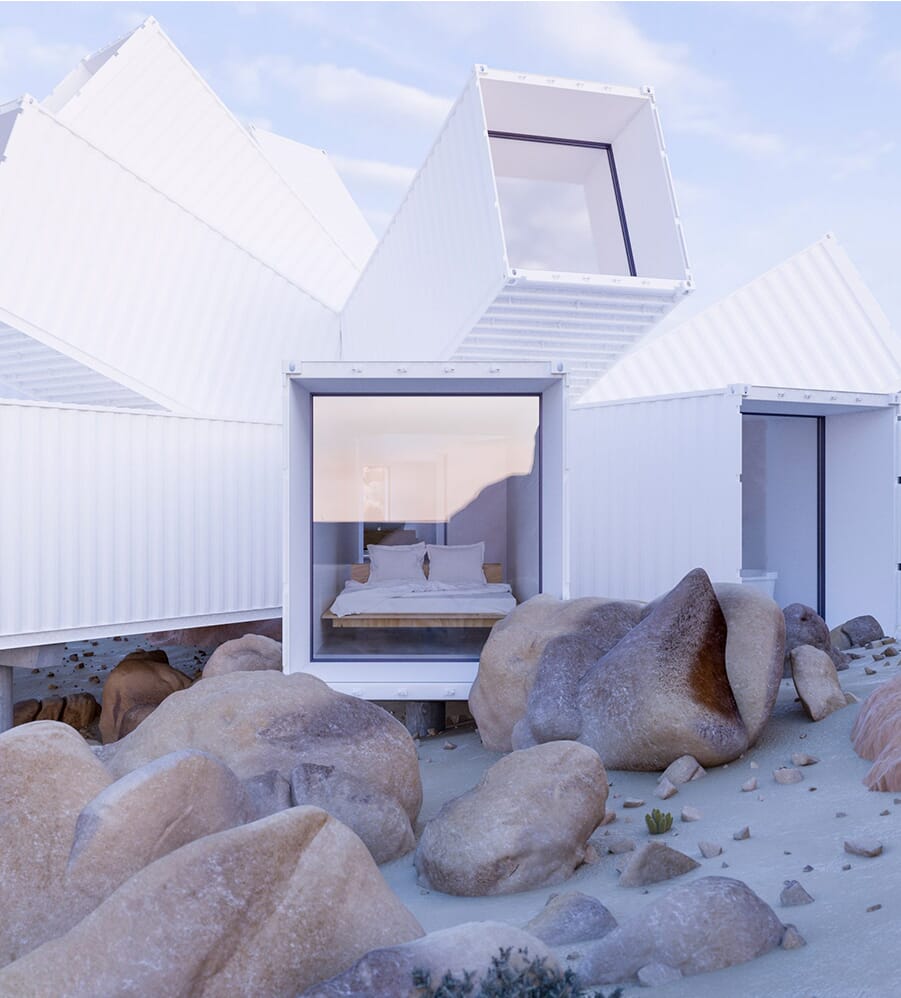 5 best shipping container homes
Joshua Tree Residence by Whitaker Studio
Whitaker Studio's Joshua Tree Residence in the southern Californian desert is still yet to be built but the cuboid forms of the splaying white shipping containers have already become a viral sensation. Designed for Chris Hanley — the film producer behind the cult-classic American Psycho — the striking bespoke home is set to span 2,000 square-feet and contain three bedrooms, a kitchen, a living room and a garage topped with a canopy of solar panels that power the house. Every detail of the exoskeleton-like house has been carefully considered. Whitaker Studio's founder James Whitaker has even accounted for the area's wind direction to use the house as a barrier and to create a private space for a hot tub to be nestled into the hillside. Each container is orientated to maximise views across the rocky and rugged landscape.
Courtesy of Whitaker Studio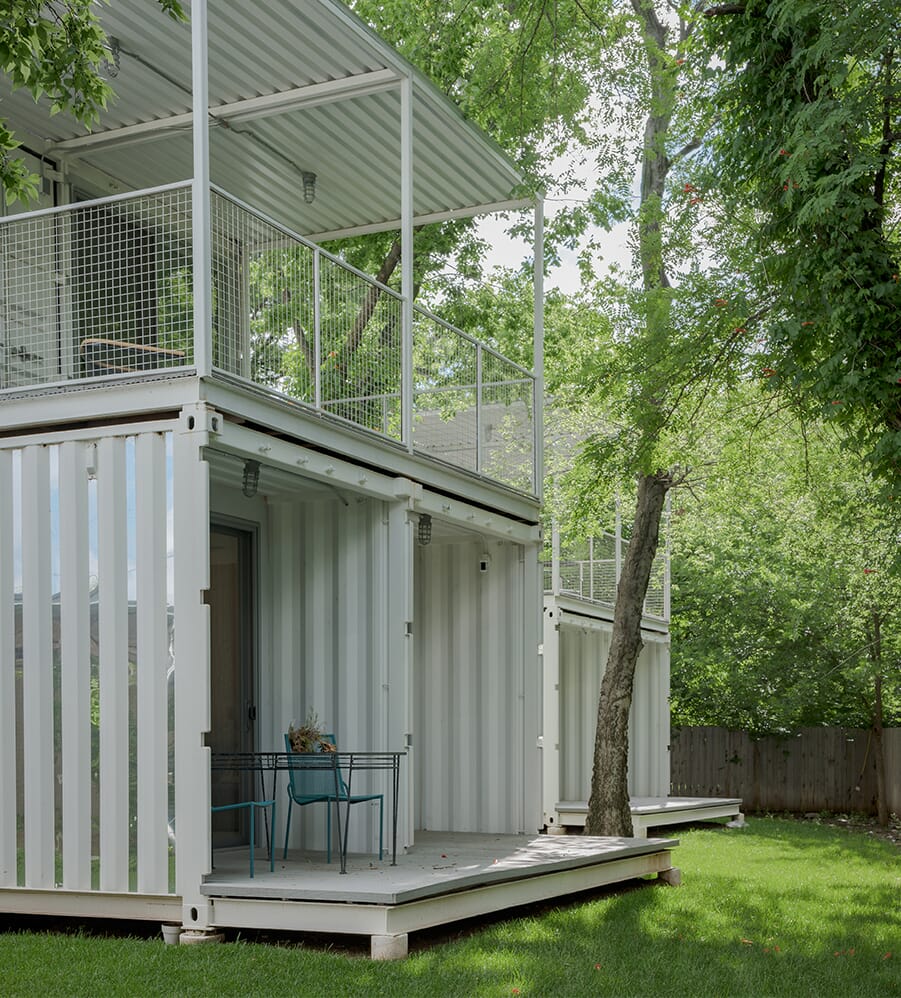 Squirrel Park by Allford Hall Monaghan Morris
Squirrel Park in Oklhama City was designed by international architecture firm Allford Hall Monaghan Morris as a response to the city's need to increase density in central residential neighbourhoods. The project innovatively transforms shipping containers into four two-bedroom homes on a single lot, reinterpreting the components of a traditional neighbourhood feel by encouraging outdoor living and human interaction through covered front-facing porches and shared communal spaces. The inviting interior contrasts with the modern, industrial exterior aesthetic of repurposed shipping containers. The project responds to Oklahoma's extremely hot and erratic climate: Mirrored strips on the containers' white-painted exterior reflect the hot sun's glare, the containers are reinforced with additional tube steel and the lifting hubs are also fully welded to imbed plates in the footings. Plus, an eight-person below-grade tornado shelter is incorporated into the site design as an answer to the region's susceptibility to tornadoes.
Courtesy of Timothy Soar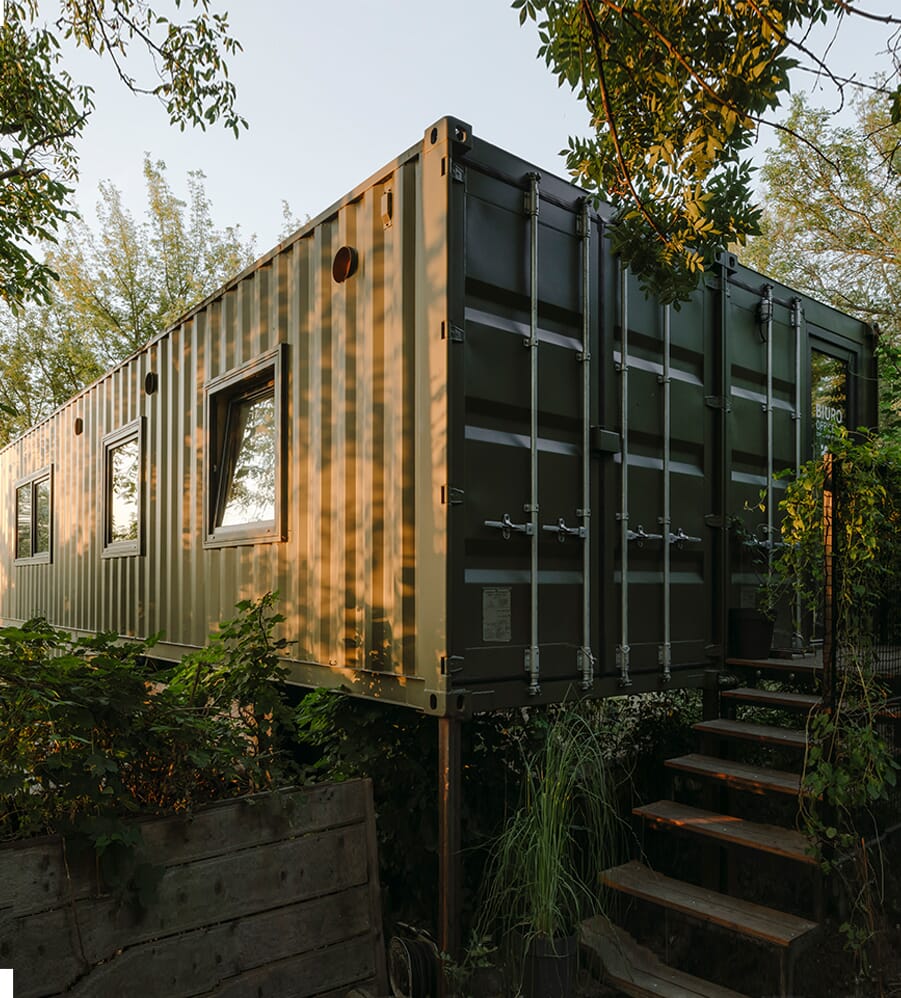 Portable Cabin by wiercinski-studio
Polish architecture studio wiercinski-studio designed Portable Cabin in Poznan, Poland. The versatile residential and work space is made from two cargo shipping containers and contains a kitchen, workstation, bedroom and bathroom with a bathtub. There was a real effort to create a sense of harmony between the cabin and its natural environment: The exterior of the thick sheet metal was painted a dim green colour to mirror the green surroundings, while large balcony windows in the living room look out across the river and an outside terrace attempts to bring the outdoors in. Interiors are minimalist and pared-back, making use of natural materials and furnishings in neutral hues. One of the key advantages of Portable Cabin is its mobility: thanks to its clever construction, it can be moved to adjust with the evolving needs of its owners.
Courtesy of Oni Studio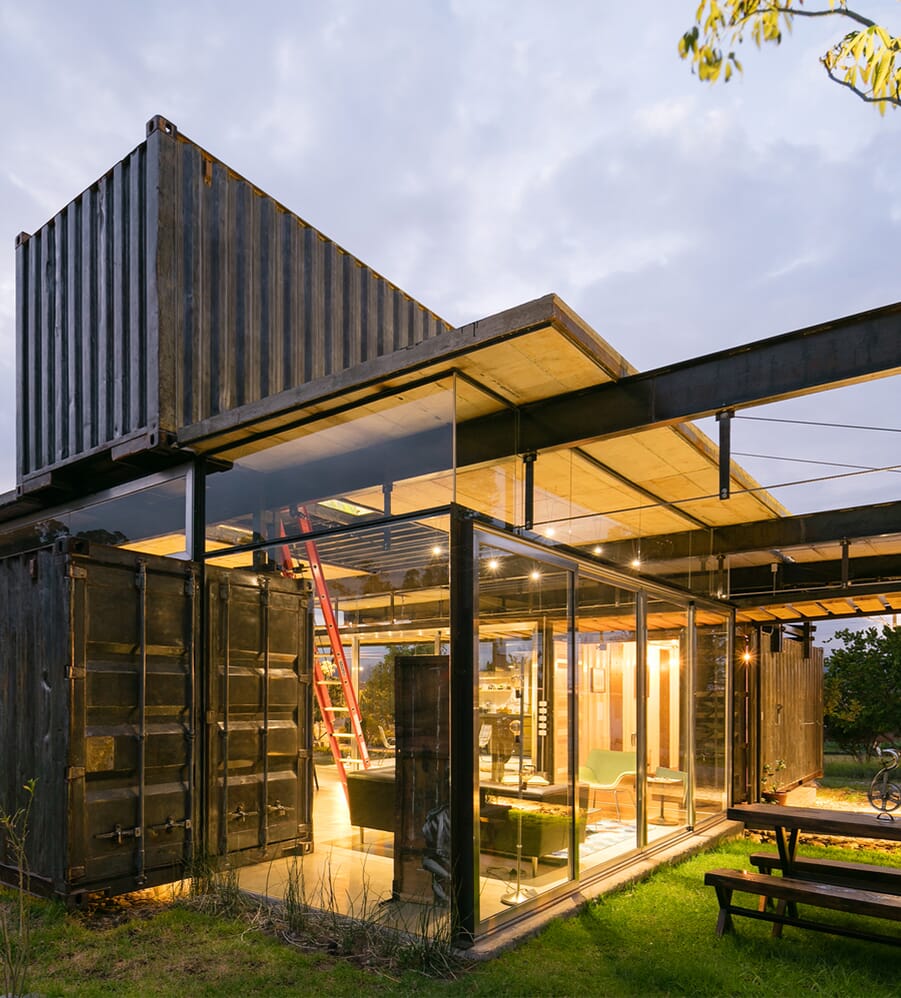 RDP House By Daniel Moreno Flores
Comprised of seven 20-foot containers as well as one 40-foot container, Daniel Moreno Flores' RDP House boasts a strikingly futuristic façade. It also manages to maintain an authentic, lived in feel: Complete with dents, scratches and blemishes, each individual container carries its own piece of history. The containers were intricately placed on the site to contain the enclosed spaces into bedrooms, bathrooms, storage areas and a living room. The spaces were left untouched to exist in their original form — only delicate calculations were formed to improve the ventilation and electrical features of the property. Function, construction and aesthetic were carefully studied across the entire structure — with the home itself built over four phases. The first step involved pouring concrete foundations to support metal frames, before steel beams were installed to span between the containers and to support the roof system. Finally, an astute pull mechanism was fitted to support the secondary roof systems and glass walls that span the voids in the containers.
Courtesy of Lorena Darquea Schettini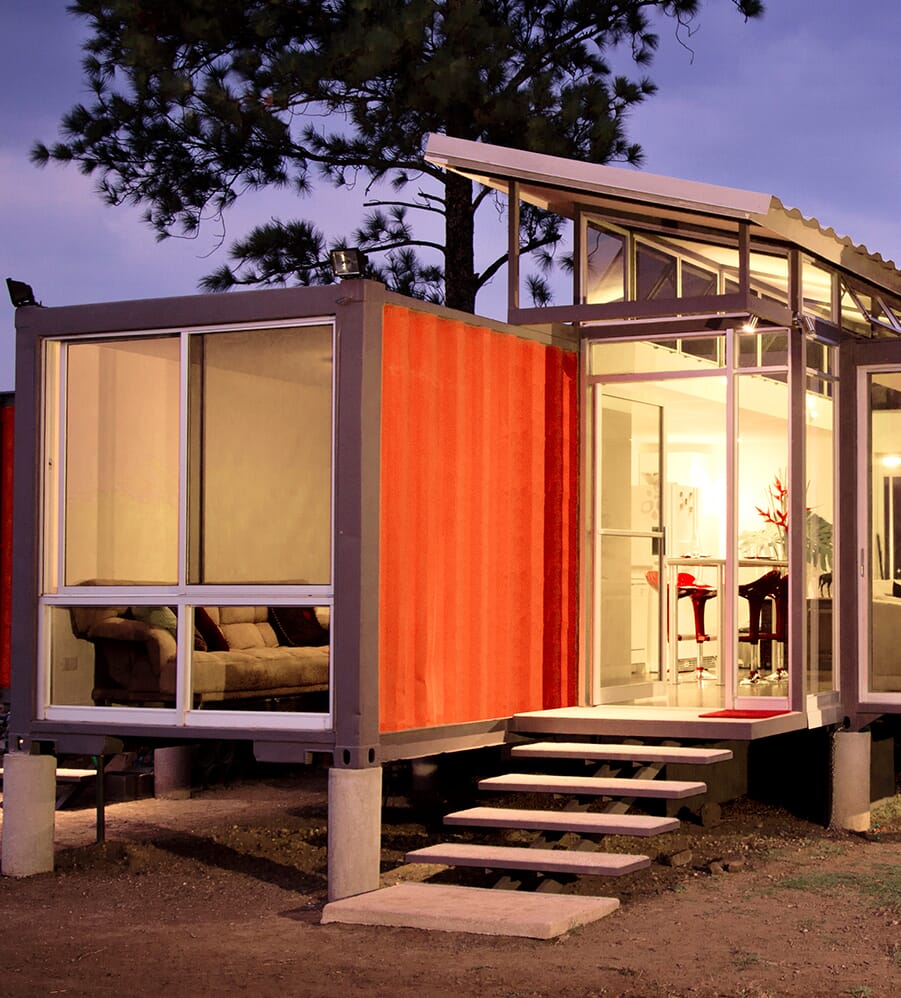 Containers of Hope by Studio Saxe
Studio Saxe's adventurous project Containers of Hope was built in San Jose, Costa Rica on an incredibly small budget of 40,000USD, using scrap pieces of metal taken from disused shipping containers. The containers are staggered and offer dual aspect views, meaning that the owners can enjoy both sunrise and sunset across the stunning Costa Rican landscape. A roof between the two sections of the home not only creates an internal sensation of openness but also provides a cross ventilation system, negating the need for air conditioning — a significant feat in San Jose's intense tropical climate.
Courtesy of Studio Saxe
These homes showcase the best of lake house architecture.
---
---