The history of great design has always been closely related to the design of cars. From developments in windscreen technology to streamlining and digital advancements in dashboard controls, cars are often treated to the latest design before we are. Patrick Redmond, founder of Rear View Prints has found an intersection where he joins his love of vintage design and the world of motoring. Rear View Prints creates high-quality automotive prints, whether that's the evolution of a famous model like the Volkswagen Golf, or a stylish bird's-eye-view look at one of the world's best racing tracks. It's the racing track prints that we're focussing on today. To bring each print to life, we're outlining a legendary race that happened at each of the tracks.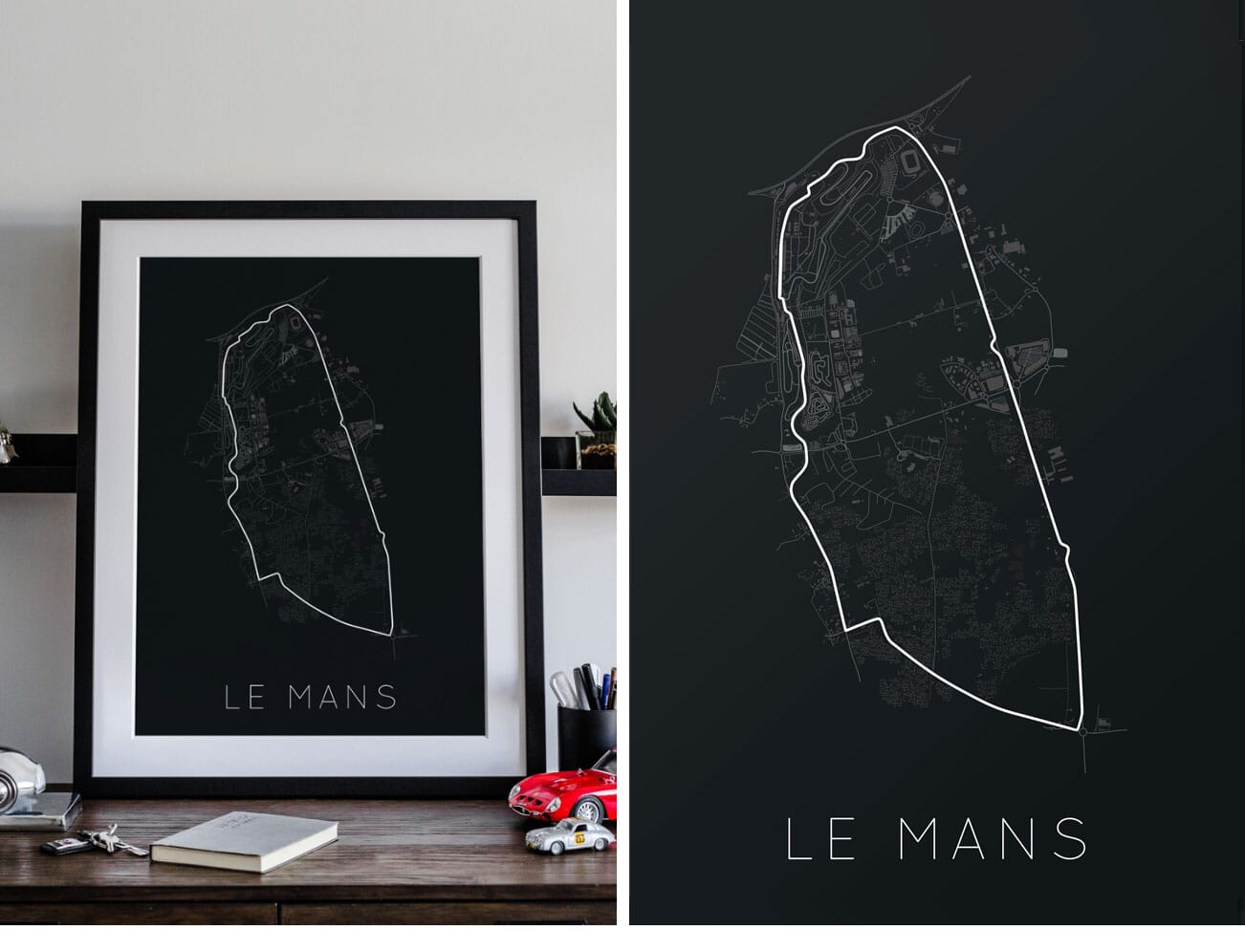 Two specific Le Mans races come to mind. While the 11th 24 Hours of Le Mans race, taking place in 1933, was decided in the final lap with just 9.5 seconds and 400 metres difference – one of the narrowest finishes ever – Le Mans '66 has gone down in history. This race is so famous that Christian Bale and Matt Damon recently starred in a film about the contest. Ford's racing director, Leo Beebe, planned to stage a dead heat by having the two leading Ford entrants cross the line at the same time, providing a legendary Ford photo. It turns out that due to the staggered start of the cars, the second car had actually travelled 20 metres more and was announced winner.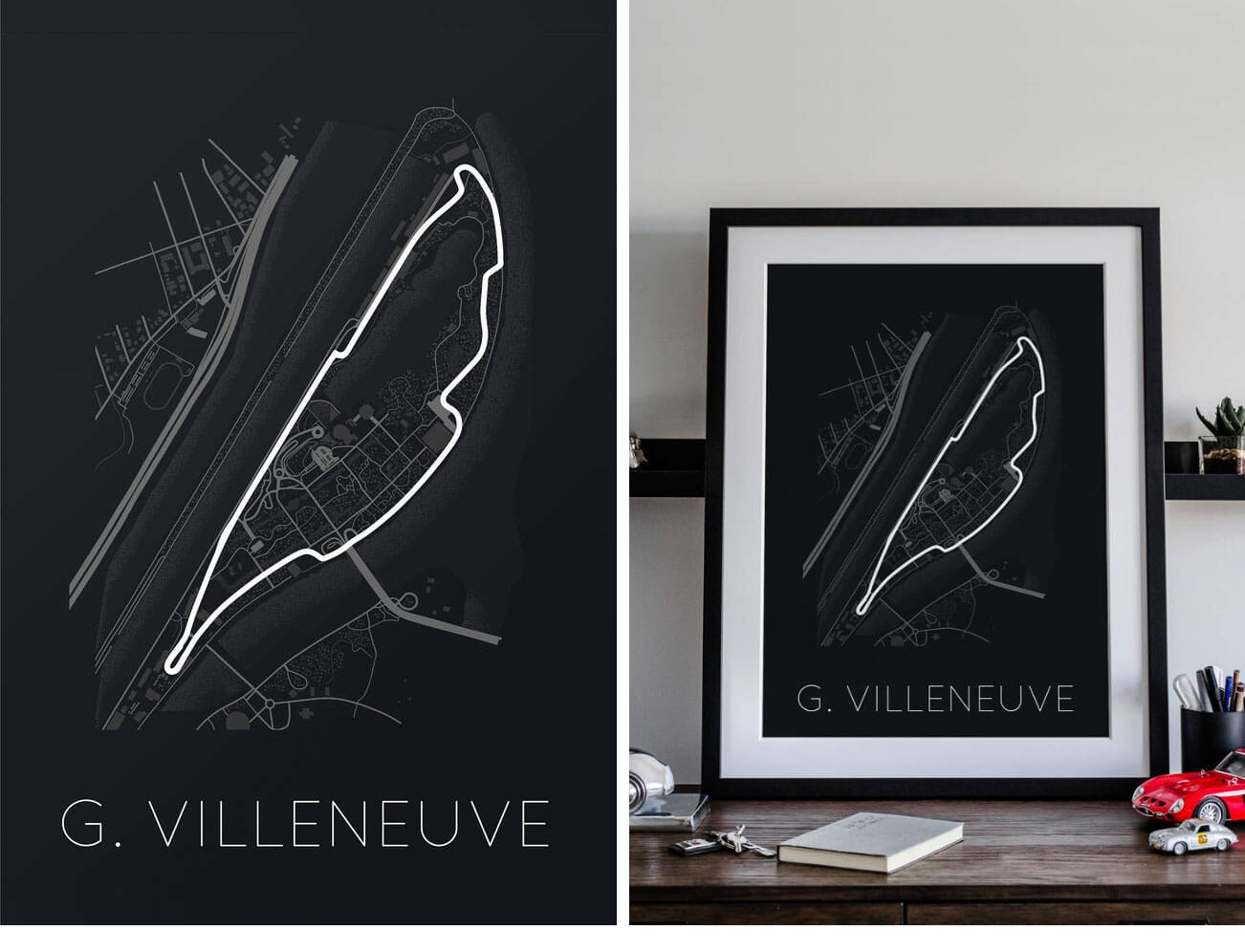 Located in Montreal, Canada, Circuit Gilles Villeneuve hosts the FIA Formula One Canadian Grand Prix. Famed for featuring one of the best examples of a 180° hairpin turn in competitive F1 racing, Circuit Gilles Villeneuve is a pulse-racing track. Lewis Hamilton set a lap record of 1:11.459 during qualifying for the 2017 Canadian Grand Prix, giving him pole position. This brought the British driver on level with Ayrton Senna's historical 65 career pole positions. After the race, Senna's family gave a replica of Senna's helmet to an emotional Hamilton who has been open about his admiration of Senna.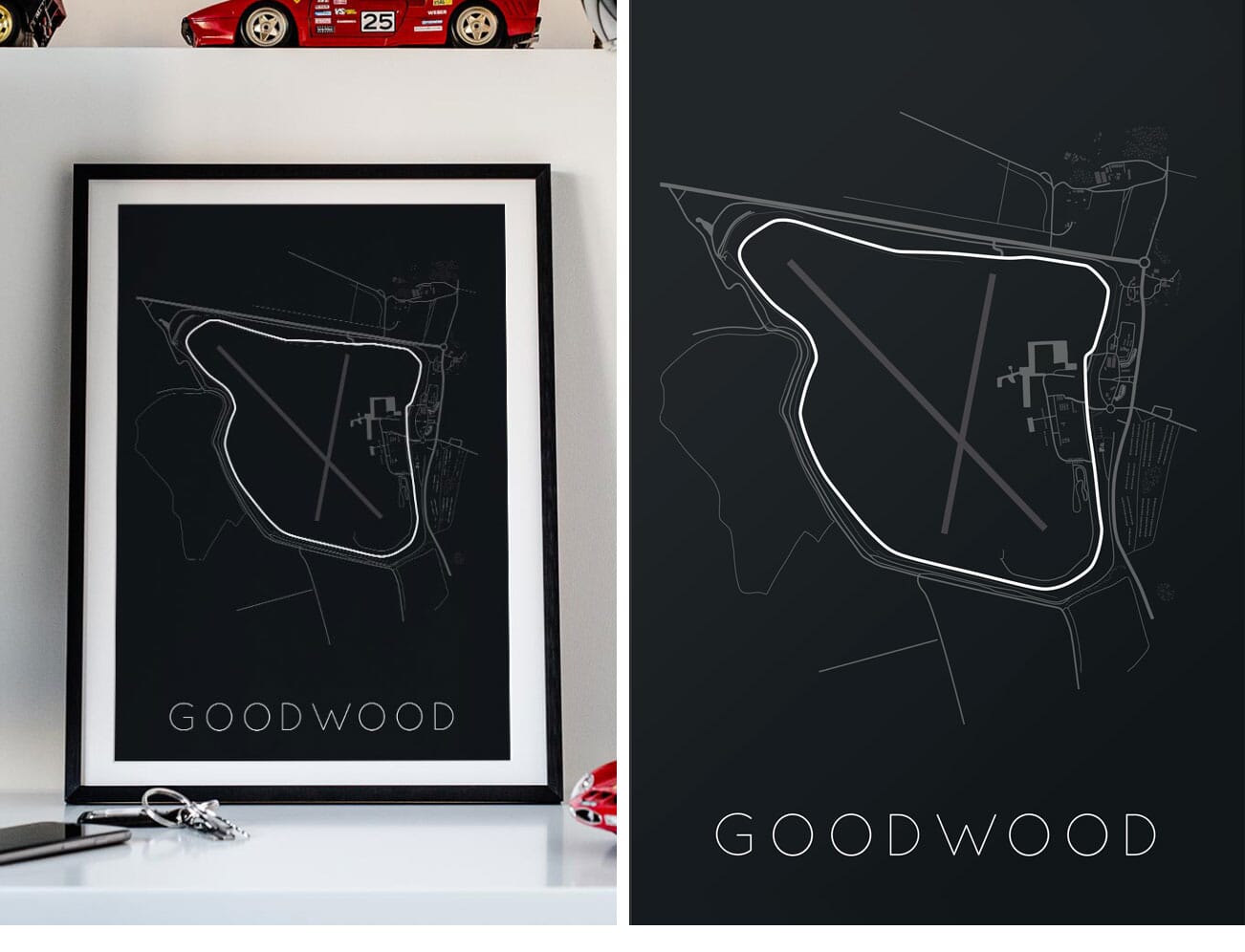 It's difficult to talk about Goodwood without mentioning Sir Stirling Moss. One of Britain's best Formula One drivers ever – many would argue that he is not just 'one of', but is Britain's best ever. Moss became synonymous with the Goodwood circuit after a prolific career at the track. We could look back to 1956 when Moss secured pole position, won the race by more than a minute and topped it all off by breaking the lap record. A great race, undoubtedly, but we prefer 1959. Moss showed grit by working his way from qualifying in fifth position to beating Jack Brabham and winning the Glover Trophy.
It may well feel that this article is becoming a celebration of British motoring history. We don't know whether that's down to our bias, or whether British racing history is so prolific that we can't help but celebrate it… Our legendary pick for Silverstone is the 2017 Grand Prix in which Lewis Hamilton made a dominant statement. Although Sebastian Vettel entered the round with a twenty-point lead over Lewis Hamilton, Hamilton started in pole position, led every lap of the race and set the fastest lap.
Suzuka Circuit is situated in Ino, Suzuka City, Japan and remains one of the few tracks designed as a figure eight. 1988 was a dramatic year for the Japanese Grand Prix. Ayrton Senna, who had come first in qualifying, stalled on the grid but thanks to Suzuka's sloping grid, he was able to bump start his car. From 14th place he began his climb to the top. Thanks to collisions, illness amongst other drivers, malfunctioning gearboxes and a wet surface, Senna managed to finish in first position. Not only did Senna overcome the odds to win the race, he won by 13 seconds and set the record for total wins in a season.