AMG are the Mercedes Benz in-house speed specialists. They are the precise German engineers who turn sedate saloons into snarling monsters. Today, Mercedes Formula One cars are branded "AMG" and there are those who believe AMG has been tamed a little too much.
Turn back the clock and the wild snarl returns. Enter the Lamborghini-rivalling 1986 Mercedes 300E AMG Hammer, a car which started life as a wafting cocoon for mid-level executives, solidly built and with little to disturb.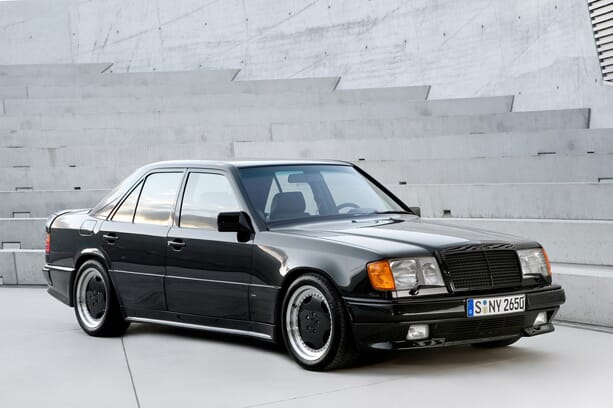 That all changed after a spell at AMG HQ, then still independent of the manufacturers in Stuttgart. The biggest change was shoe-horned under the bonnet: an off-the-shelf 5.6-litre V8 from the 560 SEC coupe, with bespoke AMG treatment.
Signed off by a single AMG engineer - as every AMG power plant still is to this day - the modified engine featured twin overhead cams and four valves per cylinder. Outside, an extensive body kit, boot spoiler and black alloys let you know the Mercedes 300E AMG Hammer meant business.
The result was explosive. With 375bhp at its disposal, this Merc could reach 60mph in five seconds and top speed was an extraordinary 186mph. Lowered suspension meant you could cope with the occasional curve on the Autobahn as that Lambo dropped, surprised, behind you.
Inside, little had changed. The W124 E-class, on which the Hammer was based, was one of the last Mercedes products that truly felt as if it had been hewn from a solid piece of granite.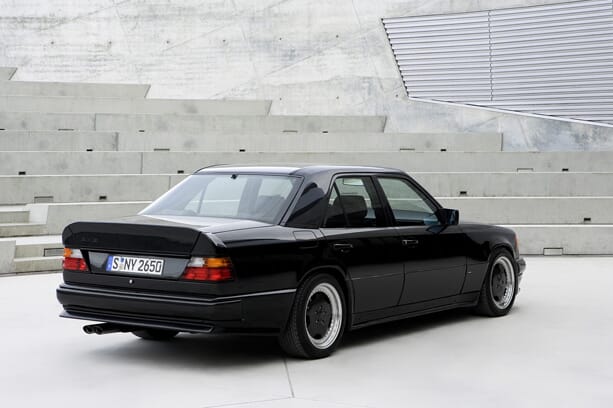 For the occupants that made the sheer speed of the thing all the more surreal.
These cars are super-rare, not least because its Countach-rivalling performance came at an eye-watering price. Driving one off the forecourt would cost you £50,000, against £30,000 for a BMW M5, its nearest competitor.
Find one though and you'll have a true original, a no-compromise saloon that will have you in Berlin by this evening.