Year: 2002 | Built by: Deus Customs Japan
Stripped to its barest essentials, this Yamaha TW225 is both less and more than a motorcycle. Think of it more as functional art. Welcome to the minimalist world of Suka-Tune, here expressed by the boutique modifier and fashion house that is Deus Customs Japan.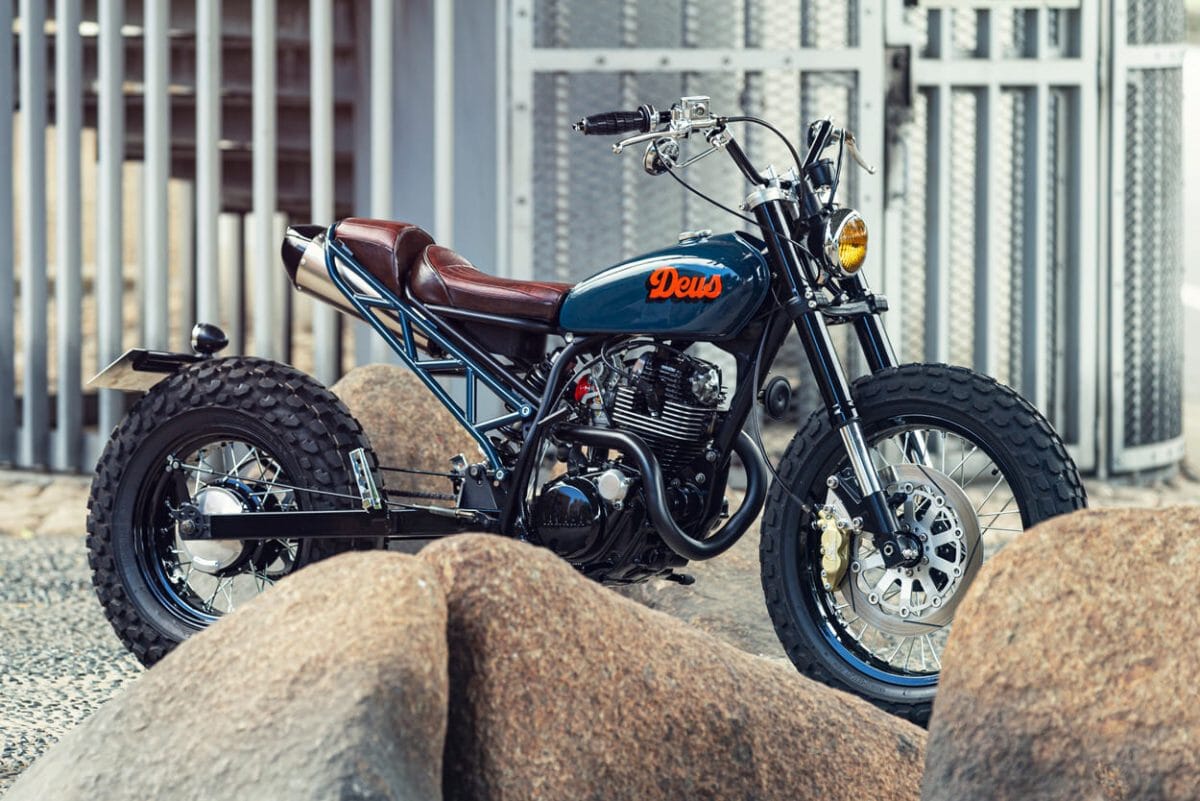 The Yamaha started life as a nondescript commuter. Deus's Tomoyuki Soeda decided that there were too many unnecessary bits and pieces and not enough in the way of individuality. Time to apply Suka-Tune, in the 1990s a brief and bright fad in the vibrant Japanese motorcycling world. The idea was to be able to see through the stripped-back machine. Indeed, "Suka-Tune" is derived from the Japanese word "sukeru": literally "see through".
The TW225 was the bike of choice for dedicated Suka-Tuners. Here, Soeda has, in classic fashion, made sure that the Yamaha's chassis, trellis-like custom rear subframe and indeed everything else is on display. The difference is that whereas the 1990s Suka-Tuners operated on a tight budget which essentially involved disposing of everything deemed extraneous, Deus have applied more than a little unobtrusive minimalist luxury.
It is the smallest of details that delight on this everything-but-ordinary Yamaha. The rear of the TW225 proudly shows off that bespoke rear subframe, quietly showcasing the intricate engineering necessary to support both rider and passenger. It's topped by two bespoke saddles, hand stitched in red with brown piping. The leather is a combination of smooth and distressed. Emerging from the subframe is an Italian-made tailpipe by GPR Exhausts, more usually found on superbikes. The rear number plate has its very own intricately made wrap-around bracket.
---
---
At the front end, the generous elevated handlebars are from a 1960s Honda CB450. There's just one instrument - a centrally mounted rev counter - and just the one rearview mirror, to meet the letter of Japanese law.  There are - of course - no mudguards. The new fuel tank is an old one, from a 1970s Yamaha trail bike. The deep blue colour is intended as a homage to that found on many early TW225 production machines.
This little Yamaha TW225 is a motorcycling celebration of the old modernist edict that less is more. Everything that might conceal is gone. And in its place there is something truly special.
Read more articles from The Garage.
---
---