We all owe a lot to G.H. Bass & Co. Since its conception in 1876, G.H. Bass & Co, founded by George Henry Bass, has been the producer of some of the finest handmade men's shoes around. But you probably already knew that. They do have a bit more about them than just having made a few nice shoes for a very long time, though. The brand is also responsible for introducing the very first men's loafer to the world.
It was in 1936 when the brand put a stylish spin on a Norwegian farm shoe designed for 'loafing in the field,' and playfully dubbed them Weejuns – the world's first penny loafer. Impressively, G.H. Bass & Co. still bench craft and hand stitch all of its shoes like they did back then with the first Penny Loafer, and they continue to combine classic construction with contemporary creativity to find new ways to marry the timeless with the modern day. You probably already knew that, too. So, here's something you didn't know.
As of this week, G.H. Bass & Co. is now available at OPUMO, and for its first drop of handmade men's shoes the Maine-based brand is showcasing all-time classics such as the G.H. Bass Suede Weejuns to the ever-popular Chelsea Boot and Derby Shoe. Take a closer look at a few of our favourite new arrivals below and shop the entire G.H. Bass & Co. shoe collection at OPUMO.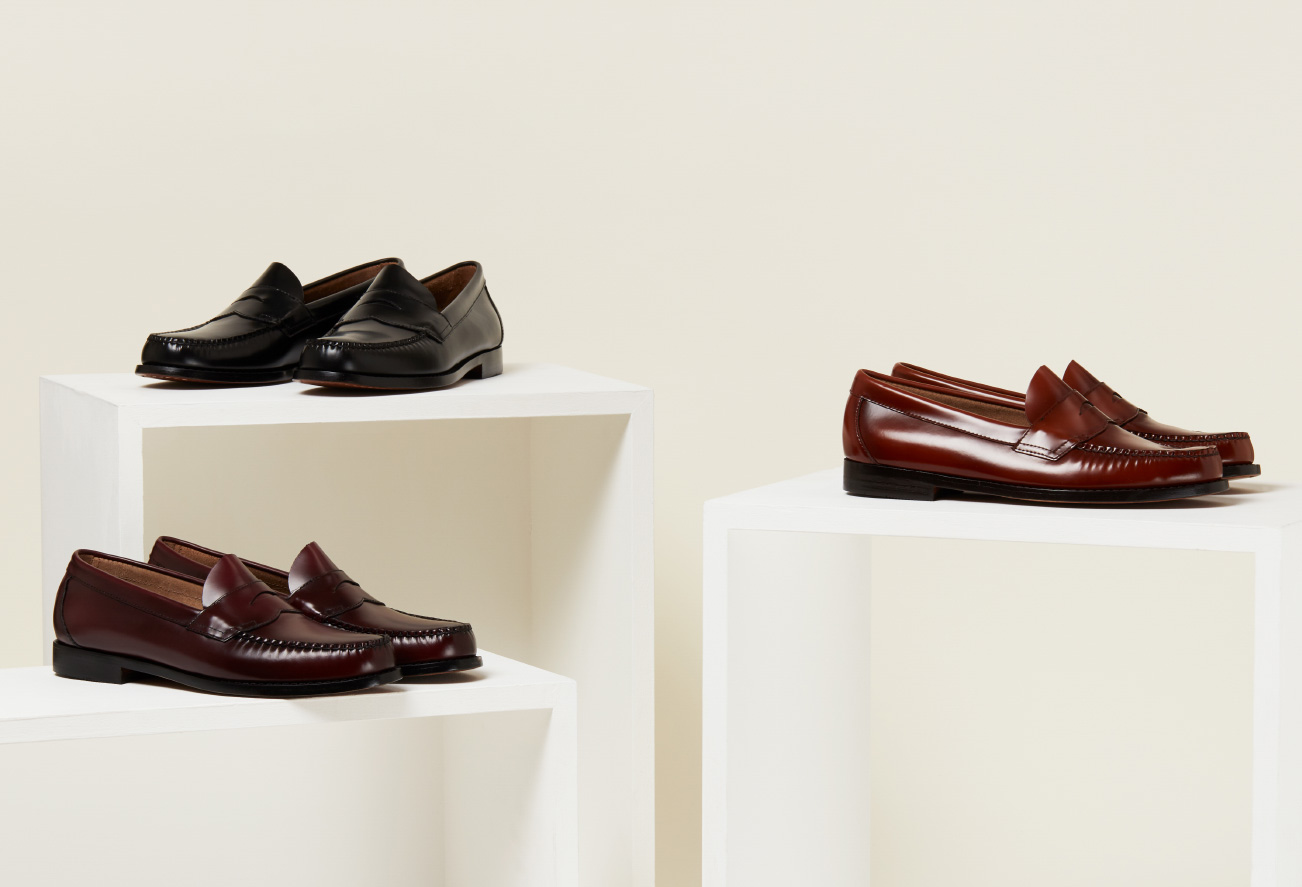 For a long time Chelsea Boots have dominated Autumn-Winter collections, but G.H.Bass seem to be on the same wave length as us, as the American heritage brand has released a summer-ready take on the men's Chelsea Boot. The perfect partner for both smart and casual looks, the Chelsea Boots are designed with comfortable tapered toes and elasticated side panels, alongside a comfortable leather sole that complements the tan colour hue. Best of all, the naturally polished leather details and dark tan suede uppers give the Chelsea Boots a natural look and feel.
If you're eyeing up a new pair of formal shoes for a summer wedding, or even just for work, and you don't like the idea of a lace-up shoe, then loafers are a good option in smart-casual situations. Like we've said, G.H. Bass are pretty much responsible for making loafers a thing, so you needn't look beyond them when it comes to finding the best summer shoes. The Layton Loafer, defined by its smooth polished leather uppers and fringed tassel front, is also accompanied by a full leather lined foot bed and a natural Blake construction on the outsole. Making it comfortable, contemporary and confident all wrapped up into one.
The greatest compliment that we can pay these G.H.Bass Derby Shoes is that they look just like a well-built classic Derby shoe should. No extraneous details, no hidden secrets, just a good strong traditional looking Derby shoe. In comparison to its more formal counterparts, such as the Oxford, the Derby is slightly more sturdy and rugged. This, makes it all the more versatile. As a pair of Derbies, such as the Suede and Leather G.H.Bass iterations, will work as well with a suit as they will with a pair of jeans. Serious shoes, but not too serious.
This Larson shows how G.H. Bass has added some real innovation to the loafer. The hardened Larson loafer has taken the classic Weejuns silhouette and added a decorative gimped edging and developed a thick EVA rubber midsole which makes it ideal for trickiest weather conditions. It's something that the traditional loafer has been missing for quite some time, so it's a welcome upgrade.
Although loafers are generally considered to be smart, well, smarter than sneakers and a little less formal than Derbies, you can get away with wearing them with a decidedly casual outfit, too. This is especially true of the G.H. Bass Palm Spring Loafers, which come in various light-coloured suede silhouettes. Beautifully crafted in reverse leather and accompanied by Italian-made horse bit, the lightweight loafers are finished with natural contrast stitching and the trademark leather outsole. Wear them with shorts, tailored trousers or cropped jeans. Anything, basically.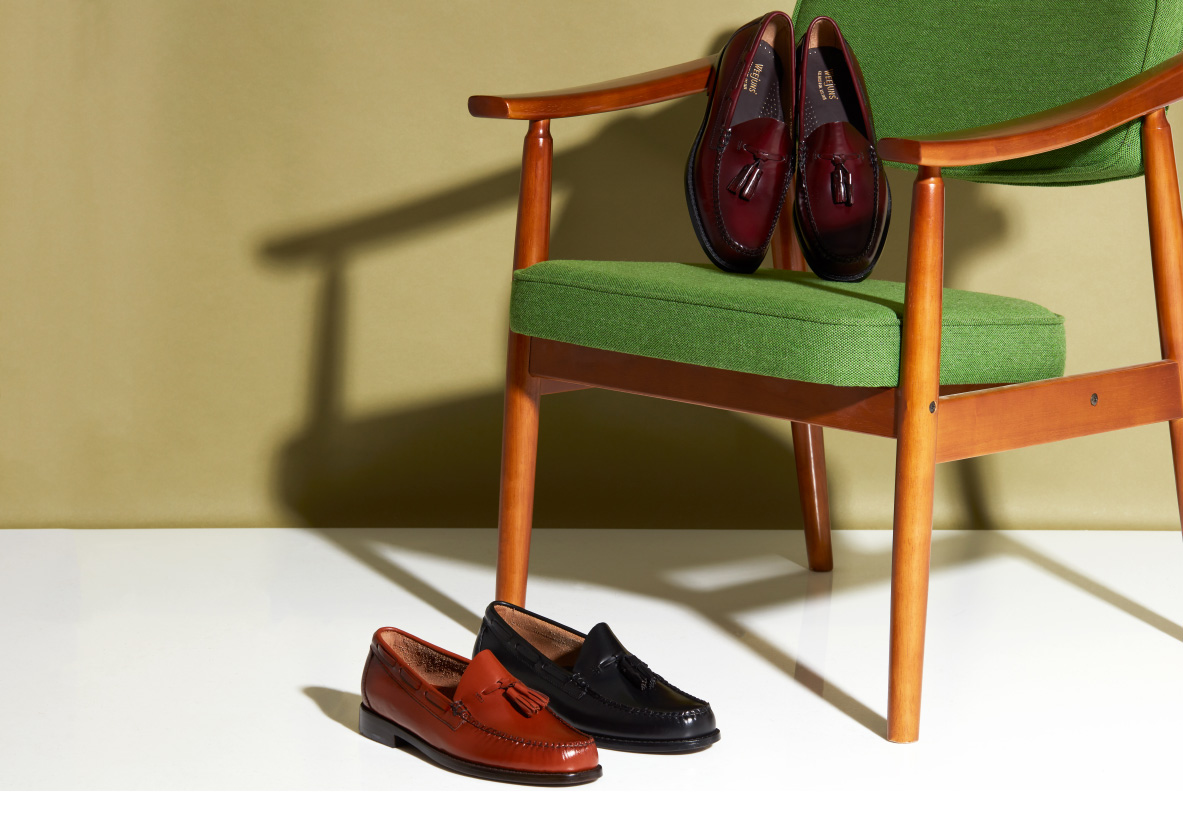 Shop the explore the entire G.H.Bass footwear collection at OPUMO.