In the ever-expanding world of modern art, with new exhibits and new names popping up on a daily basis, keeping up with what's new, what's best and simply what to be paying attention to is tough. But, that's where we come in. As part of our monthly series, Artist to Watch, we shine a spotlight on an artist that we believe is worth championing. Following on from the very first episode in the series focussing on the neon-art of Olivia Steele, we're now introducing you to the dream-like landscapes of Tishk Barzanji.
Predominantly focussing on the intricate details that often go unnoticed in everyday life, Tishk Barzanji unveils an immersive exploration of space and colour, delving into the topics of digital art, graphic design and photography. Which allows Tishk to transform the mundane into the extraordinary.
The London-based illustrator, who was originally born in Iraq, makes surreal, dreamy landscapes that represent the fast-moving nature of the world around us. The foreground of most of his work is dominated by strong, geometric lines and impossible architecture that has been created to show Tishk's dream of 'perfecting a world where there are no boundaries for space and colour, just everything colliding with free will.'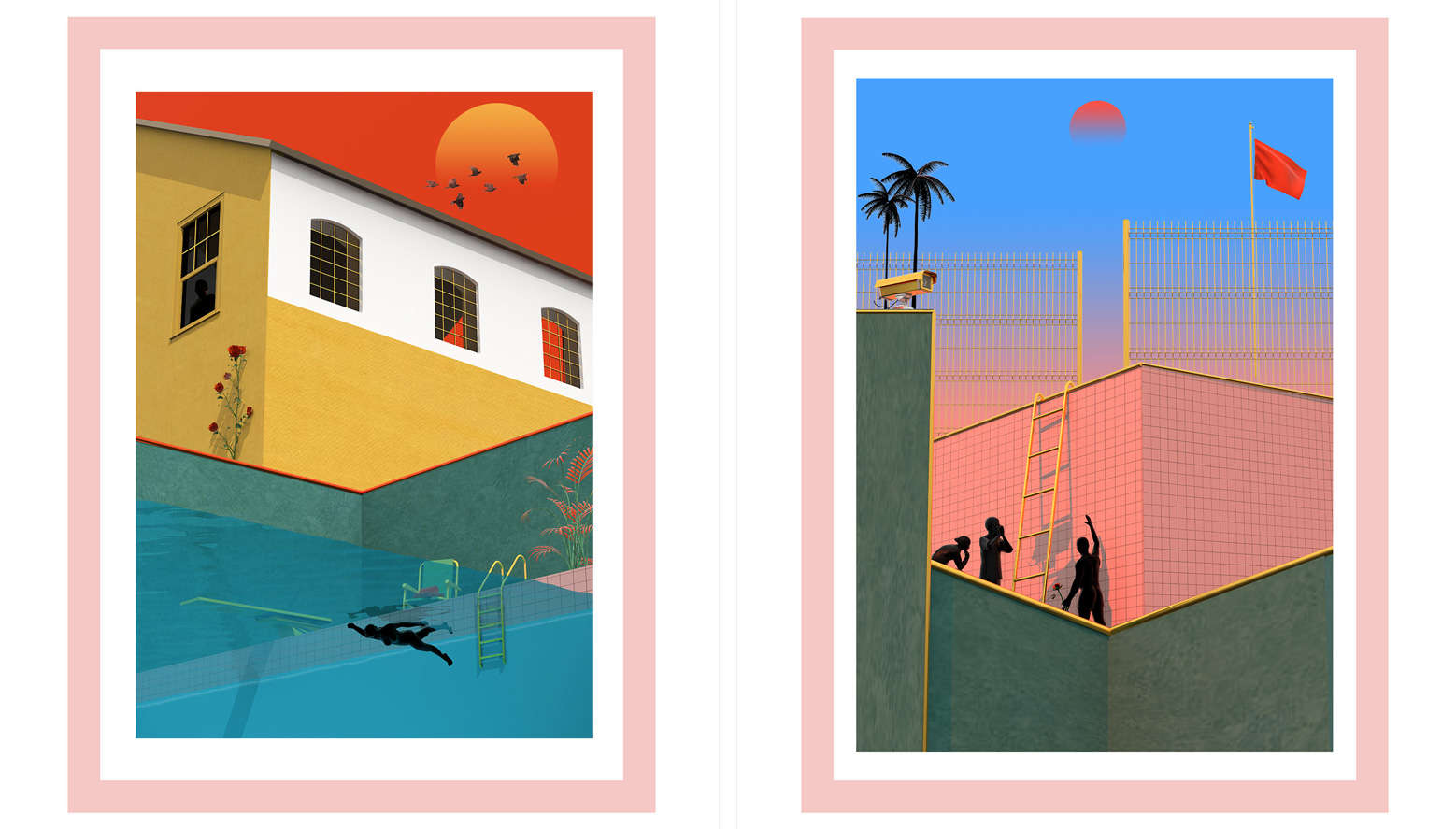 Channelling Mondrain, modernism and ancient history, Tishk's work takes inspiration from his experiences moving to London in 1997 and his work relates to the people he grew up with and the environment he was around during the late 1990's in East London.
"I base my work on a moment or period in my life, good or bad, when I felt lost," Tishk once explained to It's Nice That.
"A couple of years ago my anxiety was really bad, I couldn't leave my house and I couldn't really connect with people. I saw my life moving in front of my eyes. And so a lot of my work relates to that. I wanted to show the human side of isolation and anxiety."
Since overcoming this, Tishk developed an interest in spatial design and how people interact with the space around them. "The shapes of structure, for example of an alley way, can make you walk in a certain way. I wanted to create a world where there are no boundaries for space and colour, just everything colliding with free will," he explained.
The juxtaposition of colour and isolation is what makes Tishk's work particularly enchanting. We're all familiar with the feelings of loneliness and of anxiety, particularly in today's modern world, which is why the art work of the London-based illustrator Tishk Barzanji is easily relatable in the emotions it elicits as it is good-looking aesthetically. While generally minimalistic in its approach, Baranzi's expert use of pastel colours, shading and the constructs of his urban landscapes offer much more to the eye, which is followed by the aforementioned feels that offer an almost sombre undertone and familiarity to its landscapes. It leaves your mind open to investigate the depths of modern art that are not often explored.
Best of all, Tishk's Barzanji's latest collection of prints are available now at OPUMO. Shop the entire collection here.