Menswear has been moving at a considerable speed over the last few years, with collections growing in size, strength and ingenuity. In doing so, it has opened up a whole world of possibilities when it comes to what men can wear in comparison to what has been previously made available. And nowhere is this more evident than in the outwardly expanding selection of men's bags.
Given how repeatedly we use them, we want our bags to be especially well made and we want them to last. So it pays to pay attention to the quality of leather, the stitching and the silhouette; and since we wear them so often and get to know them so well, we want them to age beautifully over time too. The one brand that has played part in evolving the selection of men's luggage is Ally Capellino; the British label that uses specially developed materials and modern to designs to create some of the most luxurious accessories in menswear. Having just launched online at OPUMO, we saw it as the perfect time to introduce you to the Ally Capellino and select our five favourite bags from the latest collection. Whether you're looking for a hand in work or leisure, investing in one of these Ally Capellino bags is destined to lead to a lifetime full of devotion.

The tote bag has become a popular everyday luggage choice because of its simplicity and the fact that you can easily fill, remove and carry the bag with minimal fuss and maximum efficiency. Ally Capellino's signature tote – the Natalie – is back for the new season and features an updated British waxed cotton build. The simple, secure and understated tote features adjustable leather straps and a zip top fastening to add a level of luxury for work and light travel. But, best of all, the waxed cotton fabric is completely showerproof which ensures that the contents of your bag will stay safe, secure and, most importantly, dry day-in and day-out.
If you're struggling to decide between a briefcase or messenger bag, then the Jez Satchel from Ally Capellino might just be one for you. The small satchel with a large capacity is perfect for use as an over-the-shoulder satchel or a cycling bag, and it is incredibly durable courtesy of its crisp nylon construction. Fitted with a detachable shoulder strap and boasting a deceptively large capacity, it's got all the functionality of a messenger bag – but with the added formality of a classic satchel.
For so long the holdall has been tagged with the label of a 'man bag'; and that has produced connotations with that of a women's handbag. Which in reality, could not be further off the mark. As the Teddy Ripstop Holdall displays, modern holdalls and totes can be a decidedly distinctive and masculine accessory. Cut in a robust ripstop nylon shell that is strongly woven and tear-resistant, the Teddy possess a rugged, utilitarian feel courtesy of its strong neutral colour palette.
Ally Capellino's unique mix of quirky and quality design is on display in this luxurious Igor Backpack. The biggest backpack in the entire Ally Capellino collection, the Igor features a signature wide-top opening and a fully water-resistant luxe nylon body for added durability.  The bag's tonal design marries the textured nylon body with two large front pockets and leather buckle down flaps, while the soft leather base, padded shoulder straps and cotton lining add a touch of sophistication to the entire silhouette.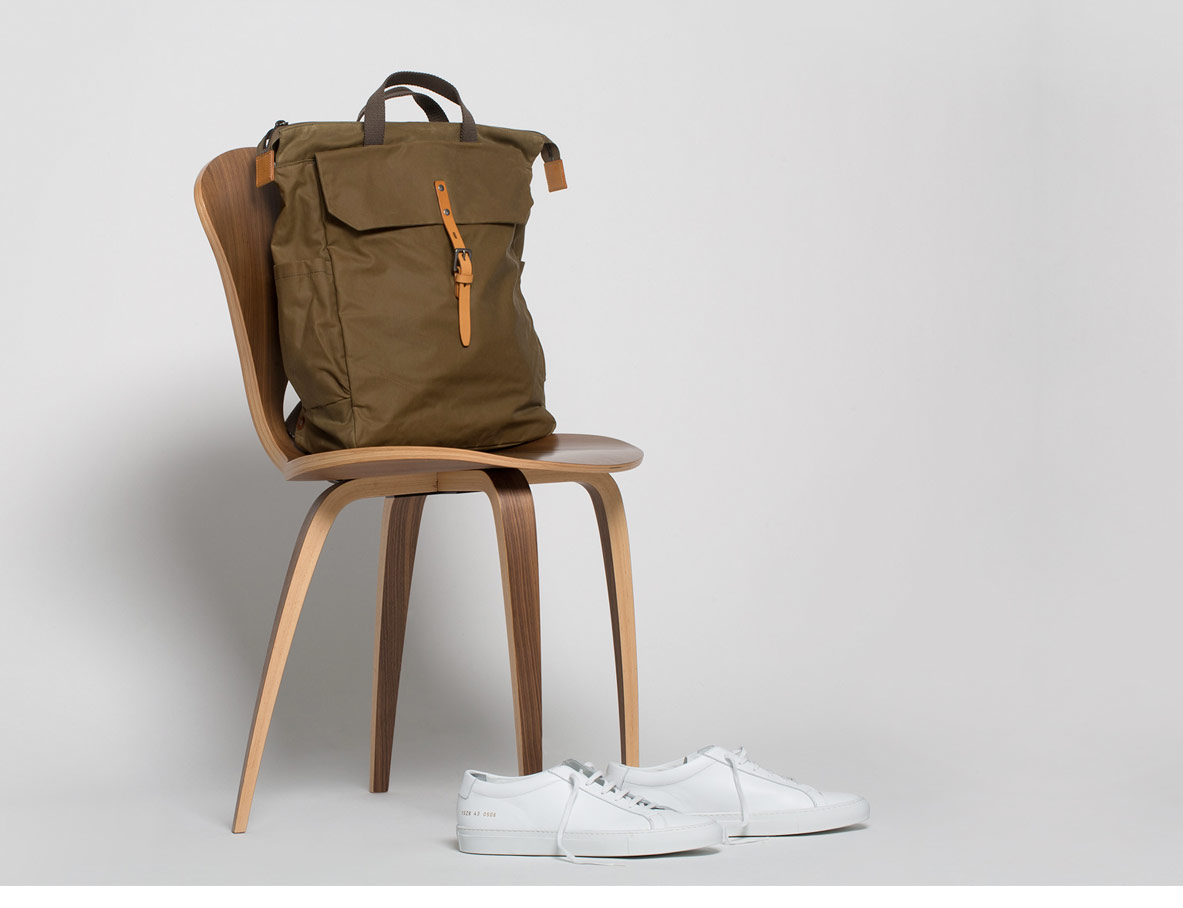 The Backpack is back, and it is the most versatile bag a man can own. For one, they're practical. They allow you to keep your hands-free at all times, which comes as a valuable commodity amongst the current popularity of smart-phones and cycling. And two, they're the most stylish bag of all. As it is the only bag that you actually wear, the backpack becomes part of your outfit. The Ally Capellino Ashley Rucksack, like its name – Ashely – is a spacious unisex rucksack that can be easily incorporated into any outfit courtesy of its muted neutral tones. Its minimal, modern design opens up to reveal a compartment full of multiple inner pockets – including space for a 15" laptop sleeve – as well as external zipped pockets for added storage.
Shop the latest collection from Ally Capellino at OPUMO.