Domestic coffee making has come a long way from a spoonful of dubious instant in a more-or-less hot mug of water. In an era of organically-grown, single estate coffee, a time when the coffee shop on the corner has highly trained baristas to cater to your every whim, your home set-up needs to be on point. There's a confusion of coffee machines on the market - from manual traditional operation to the latest hi-tech semi-professional designs - to tempt your taste and pocket. We've taken a look at the best of the best and come up with our favourite coffee machines to make your mornings that bit better. Oh, and ours is a double espresso, deep crema, please.
Types of coffee machines
There's so much to choose from here. Broadly you're looking for a machine that best forces water through compressed ground coffee. Beyond that the choices are wider than they've ever been and depend on your needs and budget. Here's a few:
Fixed pressure espresso machines pick out the pressure for you, to create that thick espresso crema. Generally pressure is set at around 15 bar. If you are a real perfectionist and enjoy setting that pressure for yourself, consider a lever driven machine that will adjust the pressure manually as you operate the lever and watch a pressure gauge. Both require you to pack pre-ground coffee into the basket yourself in the time-honoured traditional fashion.
Fully automated coffee makers come in a variety of shapes and sizes. The latest feature touch screen or soft touch technology to allow you to pick out your favourite coffee at the touch of a button. Some will connect to a voice-operated device, such as Amazon's Alexa, for coffee-making with maxiumum ease.
Bean-to-cup coffee makers have a container on the top of the machine for your chosen coffee beans. Aficionados insist this is the best way of keeping the full essence of coffee within the bean until it's needed. Most of these are one-button operation and are at the top end of the market, allowing for barista operation with the minimum of fuss.
Pod-based coffee machines are - as you can hardly fail to have noticed - increasingly popular, and with good reason. These use pre-filled capsules that simply slot into the coffee machine with one touch allowing for total simplicity of operation and a wide choice of available coffees. Eliminates the need for either beans or ground coffee.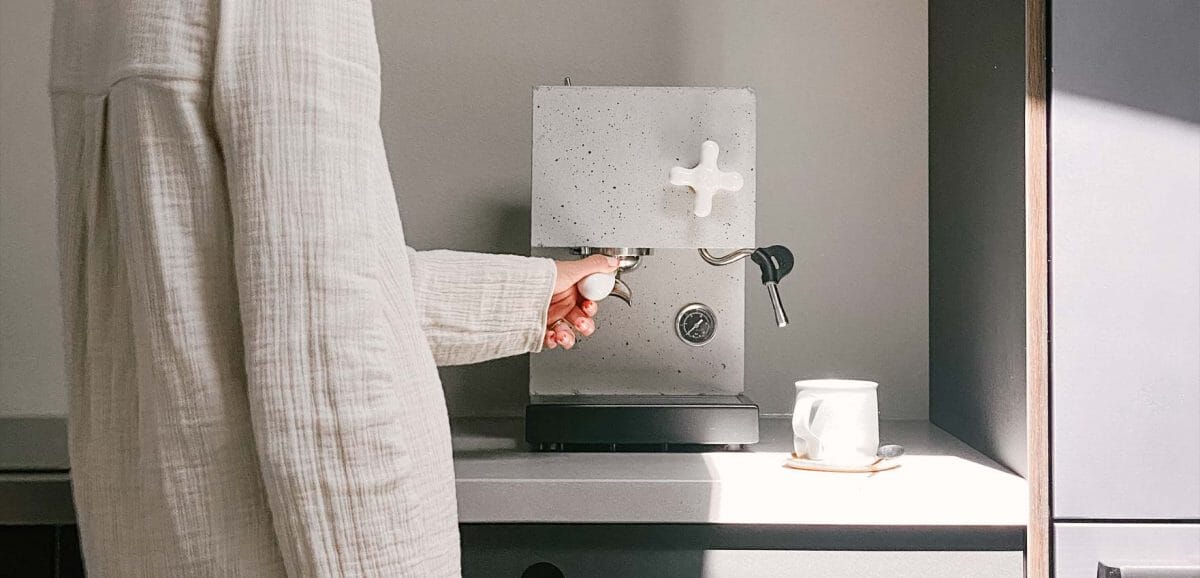 What to look for in a coffee machine
Think first what your household's daily coffee needs truly are - and how much manual input you're prepared to put in. It's all very well thinking you'd like a professional-style device, but does your morning routine allow you the time to pack the coffee perfectly in the appropriate basket while individually choosing the right pressure?
If time truly is of the essence, consider a capsule coffee maker for the ultimate convenience. Or, if you're a time-poor coffee perfectionist, take a look at one of the increasing number of bean-to-cup machines with full automation, meaning all you have to do is top up with coffee beans from time to time.
Espresso drinkers will be satisfied with a machine that does that and little else. Do think of whether you're going to need a frothing wand for those refreshing cappuccinos or lattes, though. Will visitors be asking for a different sort of coffee?
Finally, take a look around your kitchen and work out exactly where the coffee machine will fit in. Smaller, hi-tech machines are now available - and if you're a design-led minimalist, there are ideal machines for you too.
Best coffee machines to buy in 2023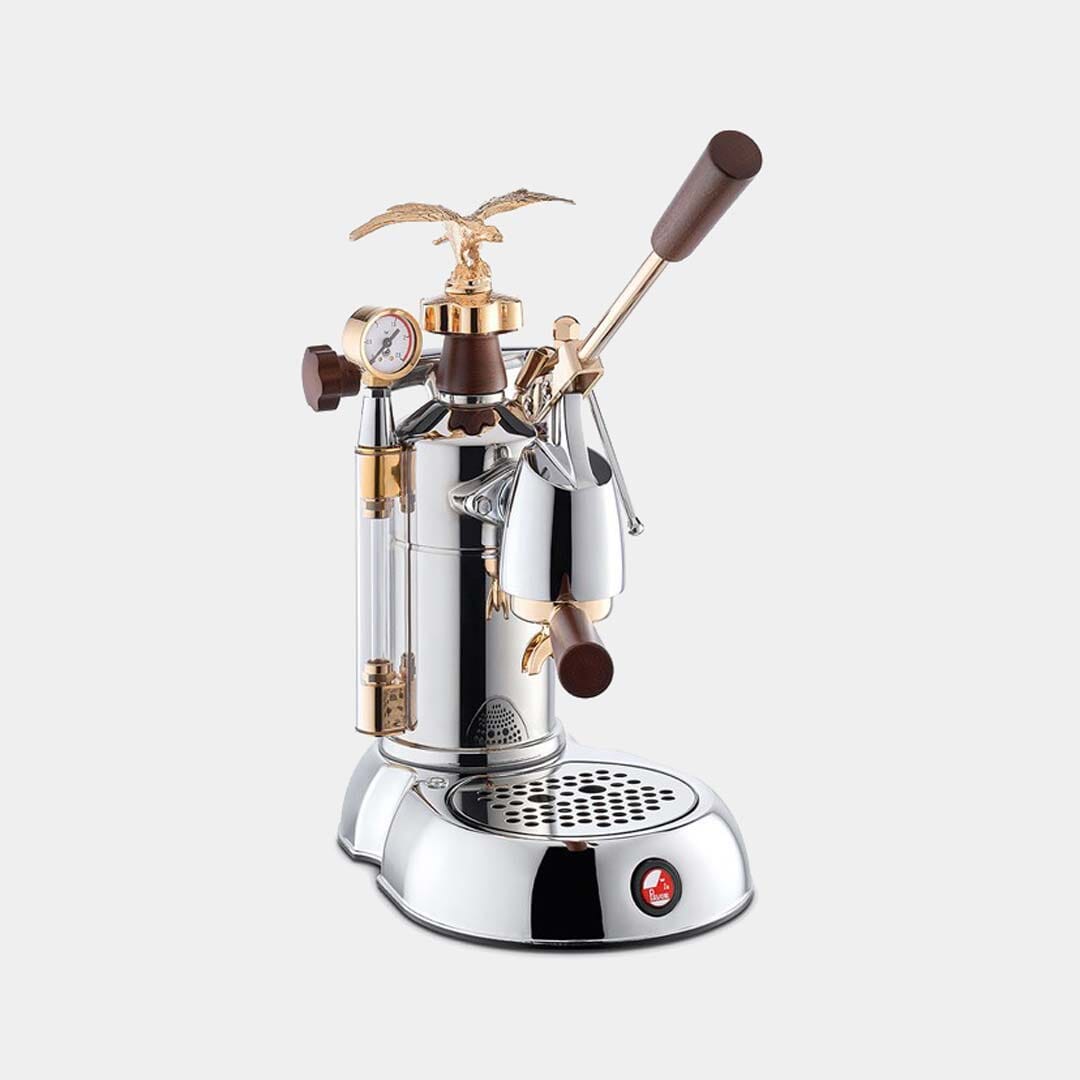 La Pavoni Expo 2015 Lever Coffee Machine Stainless Steel Gold and Wood
First, just look at it. From a company whose products are in the collection of New York's Museum of Modern Art, this 16-cup espresso machine is so much more than a coffee maker: it is an Italian expression of love for your morning shot of caffeine. Designed in honour of Expo 2015 in Milan, La Pavoni's classic manual lever operation allows you to adjust pressure and so strength of your espresso as you make it. Cappuccino? Frothing wand included. Will satisfy the most demanding domestic barista.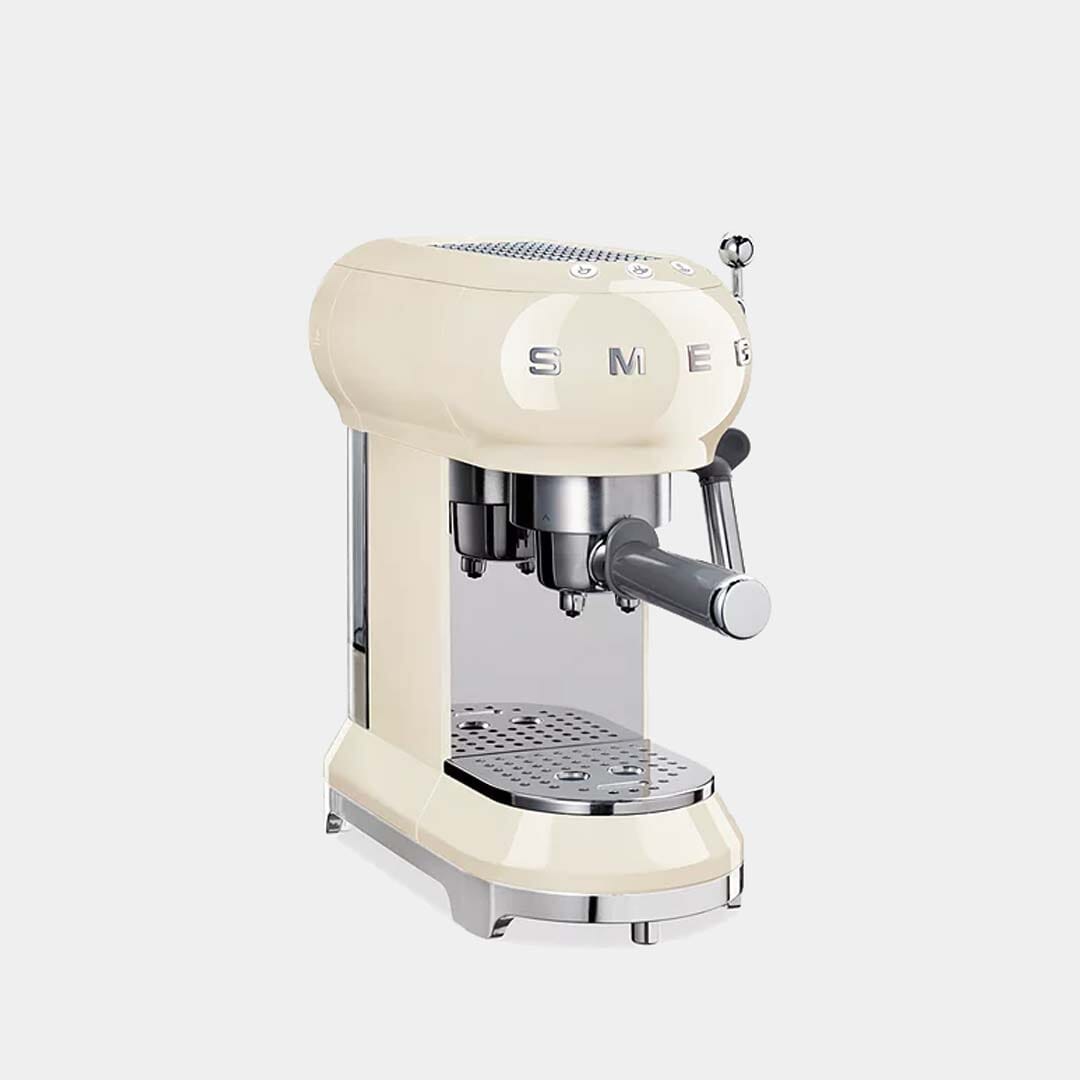 Smeg ECF01CR Coffee Machine Cream
Fixed pressure espresso maker by the stylish Italians at Smeg, designed to add flair to your kitchen along with excellent coffee. Pressure is set at an ideal 15 bar, uses pre-ground coffee or paper coffee pods. Espresso with the perfect, desirable crema is the result and there's an adjustable milk frothing wand for cappuccino, latte or latte macchiato. Fast heating through Smeg's Thermoblock system, cup-warming on the ECF01CR's heated surface.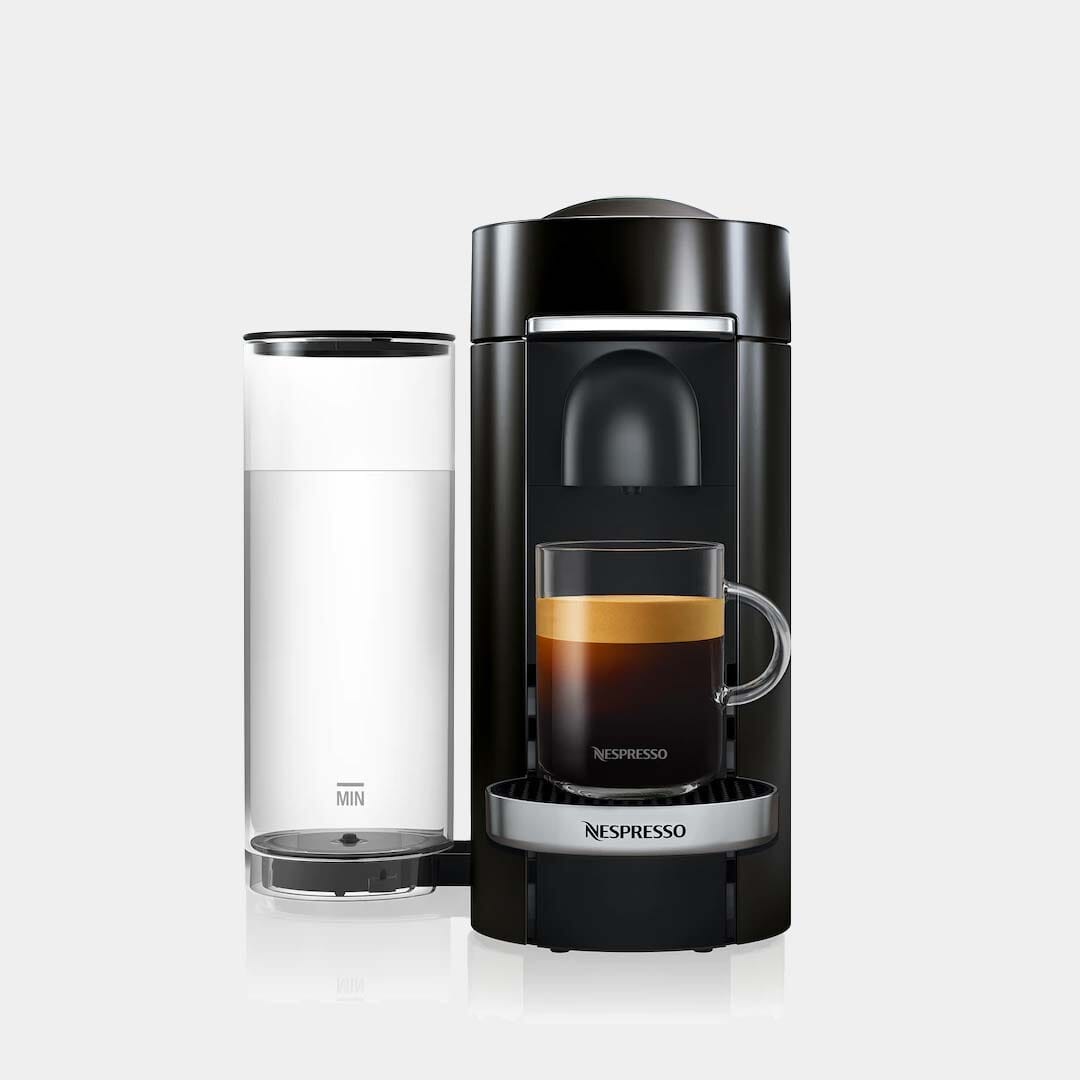 Nespresso VertuoPlus Coffee Machine, Piano Black
Slick, sleek device from the pioneers of ultra-convenient pod-based coffee machines, Nespresso's VertuoPlus will seamlessly add both style and superstar coffee into any kitchen. Pre-heating time is a mere 20 seconds, so this is very much a coffee machine for those in a hurry in the morning. Water tank is a hefty 1.8 litres and the used capsule container has a capacity of ten. Key additional convenience is the one button operation.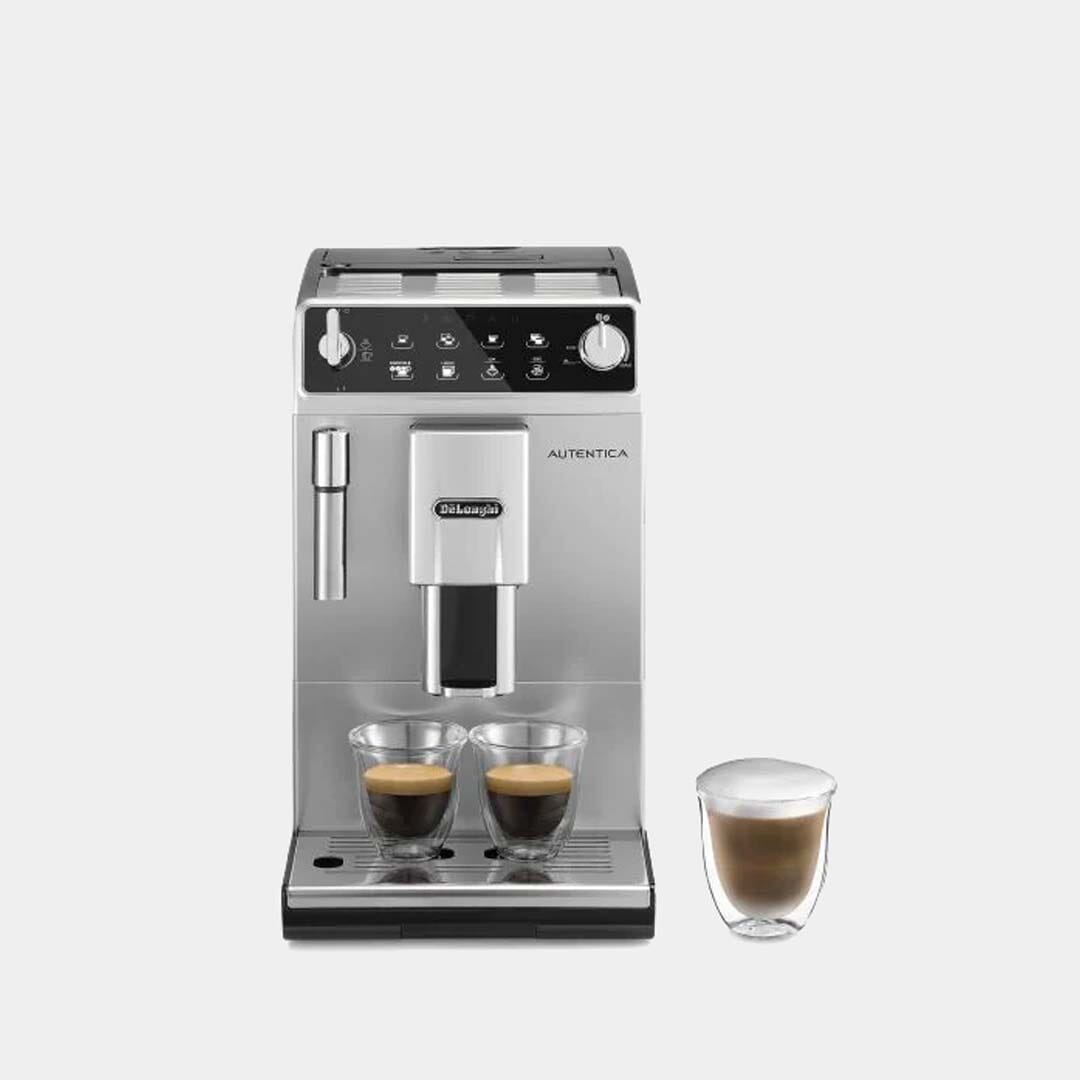 De'Longhi Autentica Compact Bean to Cup Coffee Machine
Aimed at the most demanding of coffee aficionados with the most compact of spaces, De'Longhi's neat device allows you to pour coffee beans into the top container, push just the one button and brew two espressos with the perfect crema at the same time. Fixed pressure is set at the desirable 15 bar. Width is just 19.5 cm making this one of the narrowest bean-to-cup machines on the market. Manual milk frothing included for those who'd like a cappuccino or latte.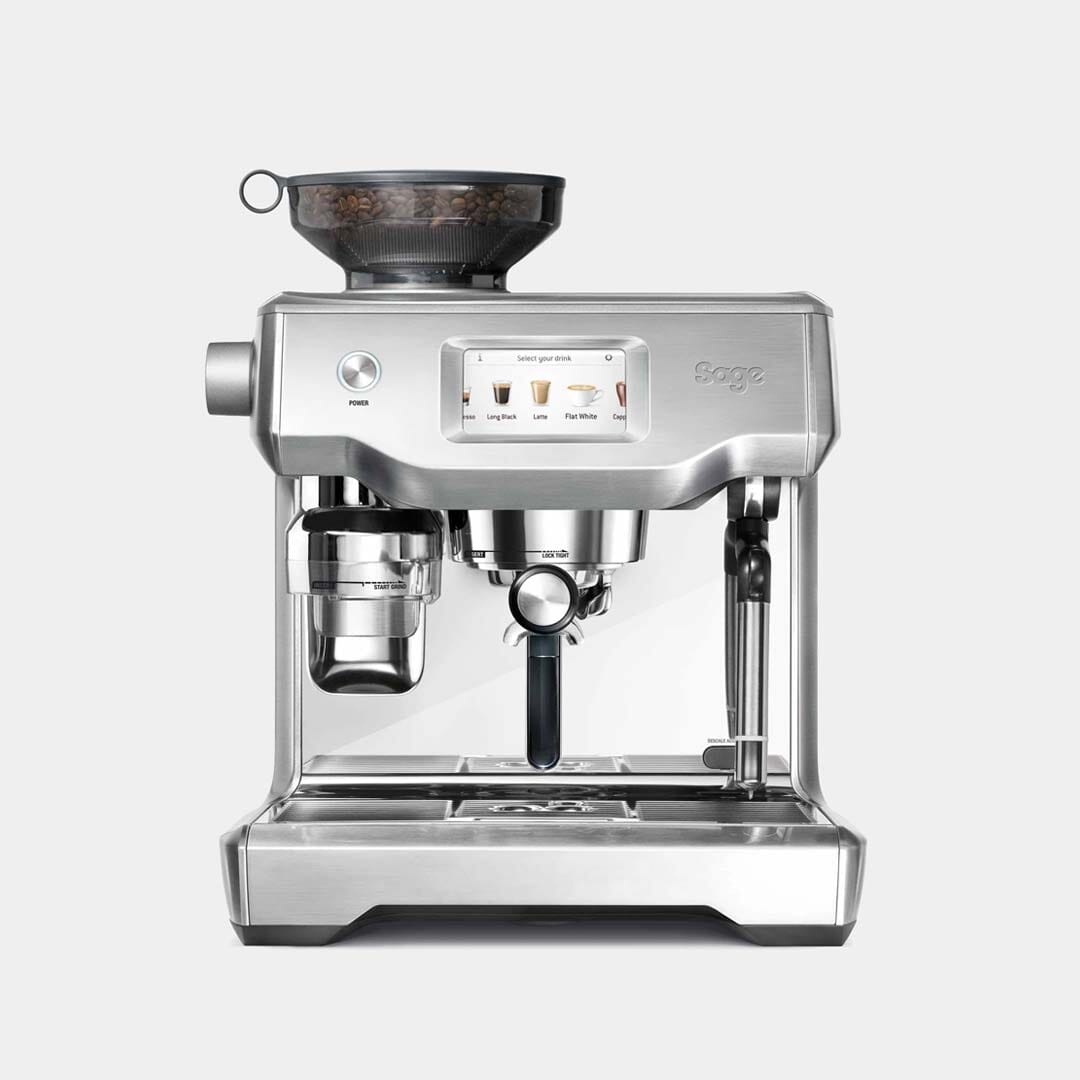 Sage The Oracle™ Touch
Sage takes domestic coffee making to the next level with this remarkable stainless steel bean-to-cup coffee machine. Simple touch screen operation allows for automatic selection of your favourite coffee - espresso, flat white, cappuccino among others - with custom programming available. Low pressure pre-infusion is followed by high pressure extraction in the professional manner, nine levels of milk frothing available. Automation combines seamlessly with tradition, all in the one impressive machine.
Illy X7.1 Iperespresso - Capsules Coffee Machine
Illy's two-stage process aims to take capsule coffee up a notch or ten, with a classy design referencing 1960s Italian design while incorporating advanced technology for maximum ease of choice in your coffee making. Soft touch buttons allow for volume and temperature of coffee to be controlled, 15 bar pressure is automatically set, X7.1 uses coffee master Illy's own Iperespresso capsules. Steam wand perfect for cappuccino, latte.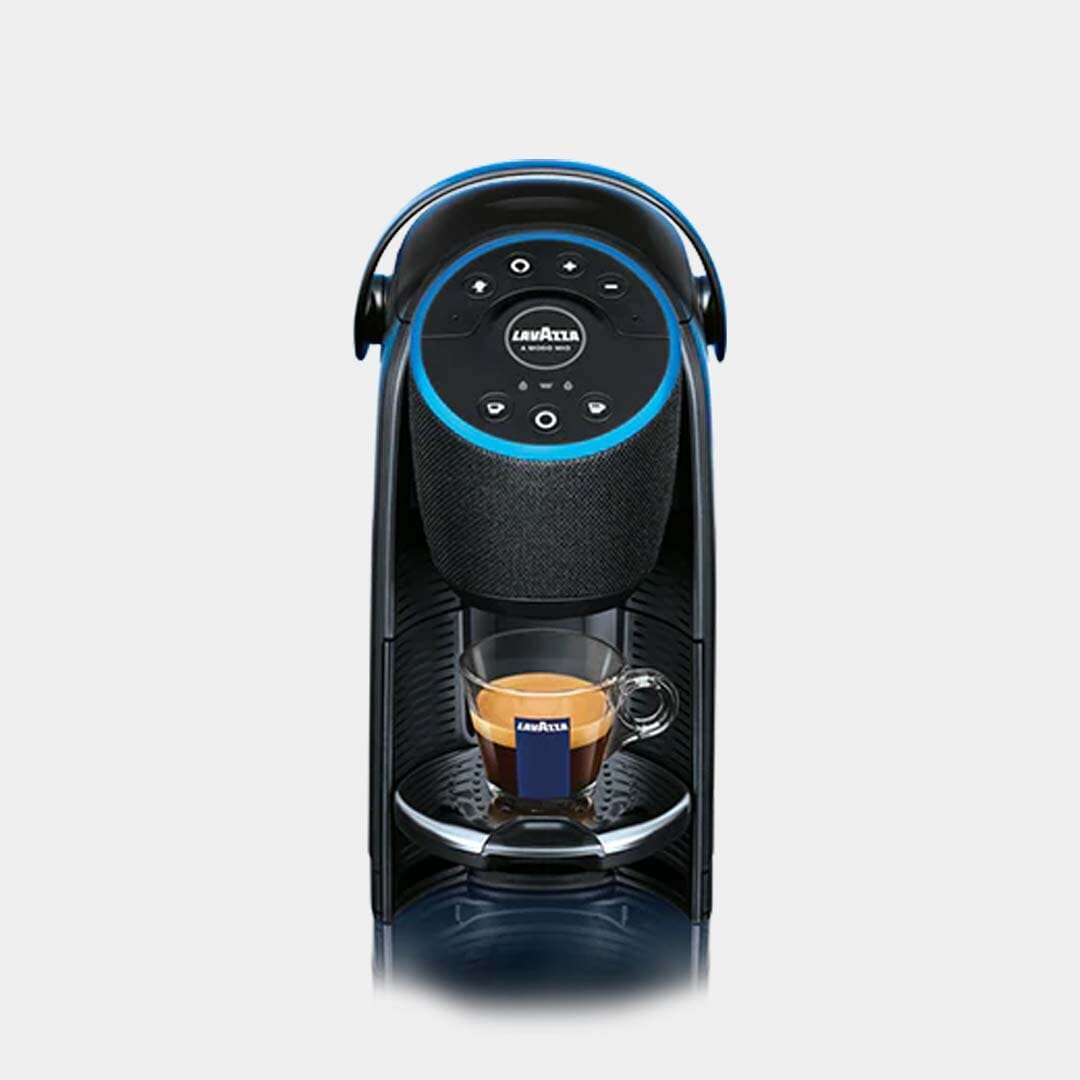 Lavazza A Modo Mio Voicy
Lavazza's proud past traces its coffee-making roots back to 1895, the company's A Modo Mio Voicy machine speaks, literally, of the future. Dedicated Piacere Lavazza app connects to your Alexa device, allowing you to set personalised coffee making requirements and then ask Alexa for a coffee just using your voice. The A Modo Mio Voicy uses coffee capsules, with a warm-up time of just 35 seconds, makes crema-topped espresso or long espresso to your taste.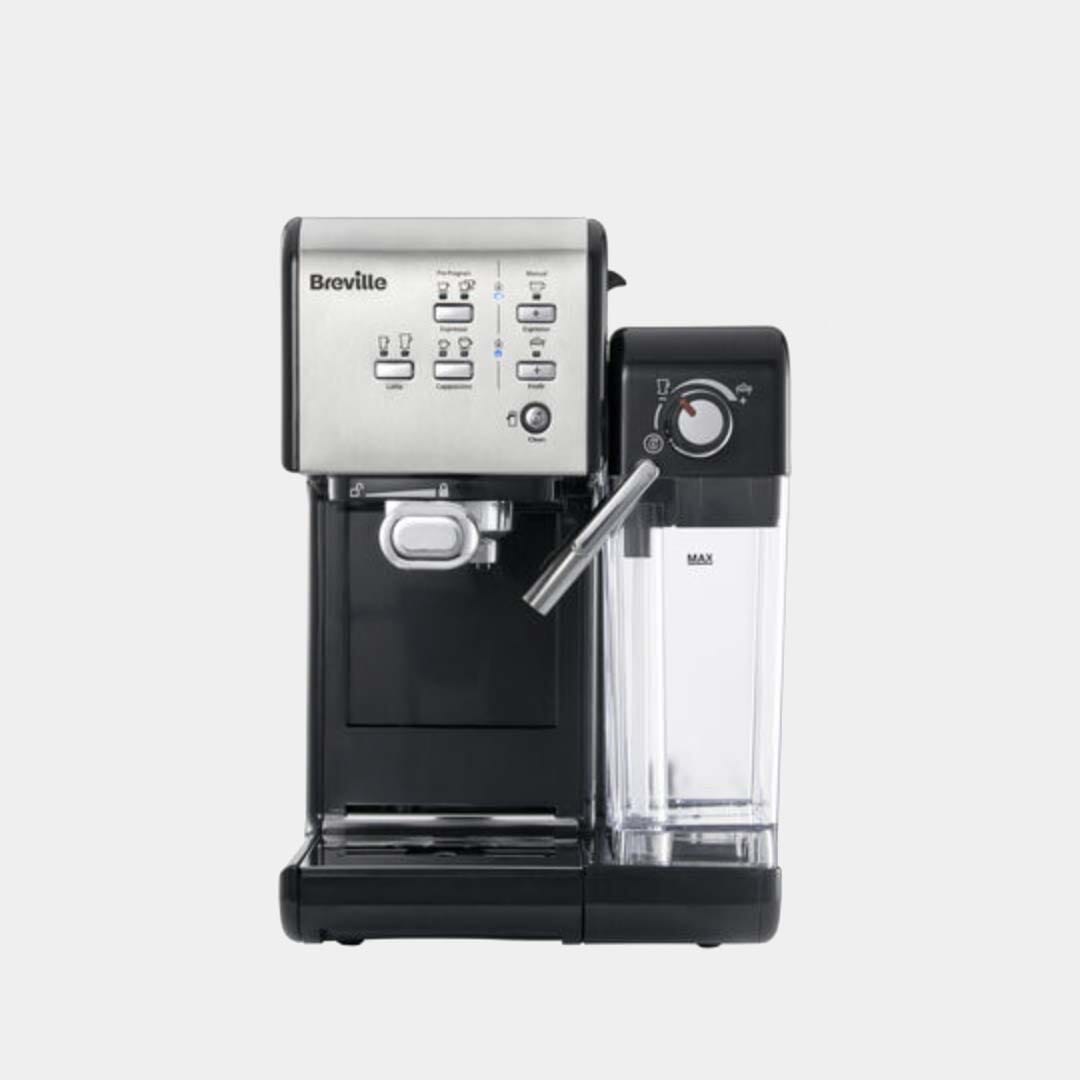 Breville One-Touch CoffeeHouse - Black & Chrome
Using ground coffee or paper pods, Breville's One-Touch Coffee House is designed to give you maximum choice of coffees, with a simple, automated one-touch operation. Espresso, cappuccino and latte options are offered, with automatic milk frothing and a pre-set 19 bar pressure, aimed at that all-important crema on your espresso. High gloss black and chrome finish will add distinct style to any kitchen, while allowing you to impress with barista-style coffee.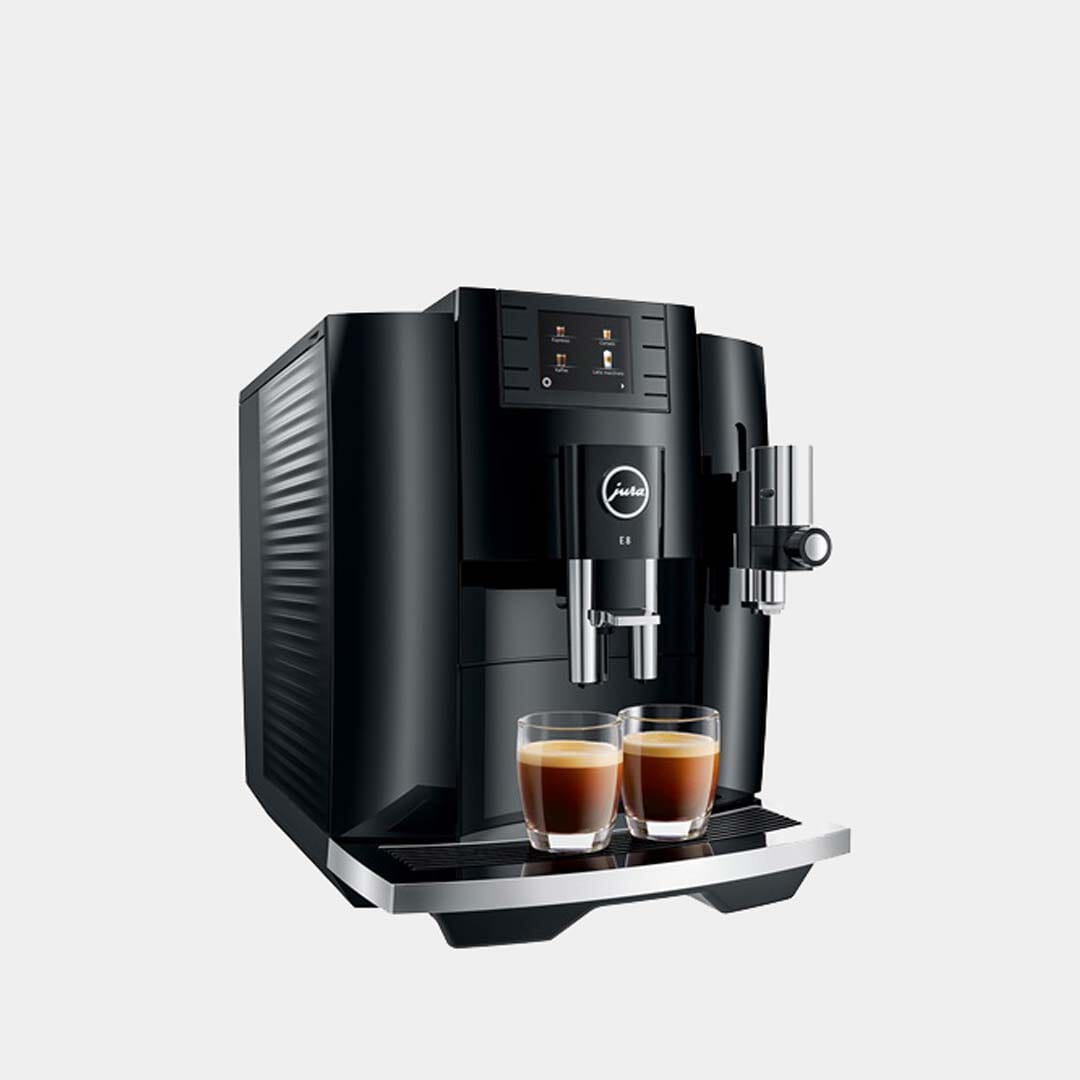 Jura E8
A Red Dot design award winner, Jura's bean-to-cup E8 lacks nothing in either slick style or high-end coffee-making abilities. Professional quality grinder keeps flavour in the bean until needed, touch screen operation features artificial intelligence to learn your favourite coffee style. An impressive 17 pre-set coffee options are available - from espresso through lungo barista to latte macchiato and everything in between. Ten levels of coffee strength available to choose from, too. One for the hi-tech coffee perfectionist.
For more stylish homewares, check out our pick of the best pendant lights right now.
---
---