Looking to spruce up your space? A pop of colour will do just the trick. Invest in a colourful rug to instantly brighten up a room and inject your interiors with the dose of character they need. From bold block colour designs to quirky multicolour rugs and intricately patterned pieces of walkable art, these are some of the coolest colourful rugs that have caught our eye recently. Scroll on to get inspired.
Best colourful rugs to shop in 2023
Nordic Knots Garden Maze
Nordic Knots is a Swedish family-run company that specialises in rug designs inspired by the nordic light, colours and landscape. In collaboration with British design studio Campbell-Rey, Nordic Knots presents Garden Maze, a statement-making rug characterised by verdant green tones that draws inspiration from the history of garden design and pays homage to the formal gardens of British gardener Russell Page. Playing with geometry and colour results in a unique portrayal of perspective. Ethically handcrafted in India from soft yet durable New Zealand wool, this rug epitomises Nordic Knots' commitment to craftsmanship.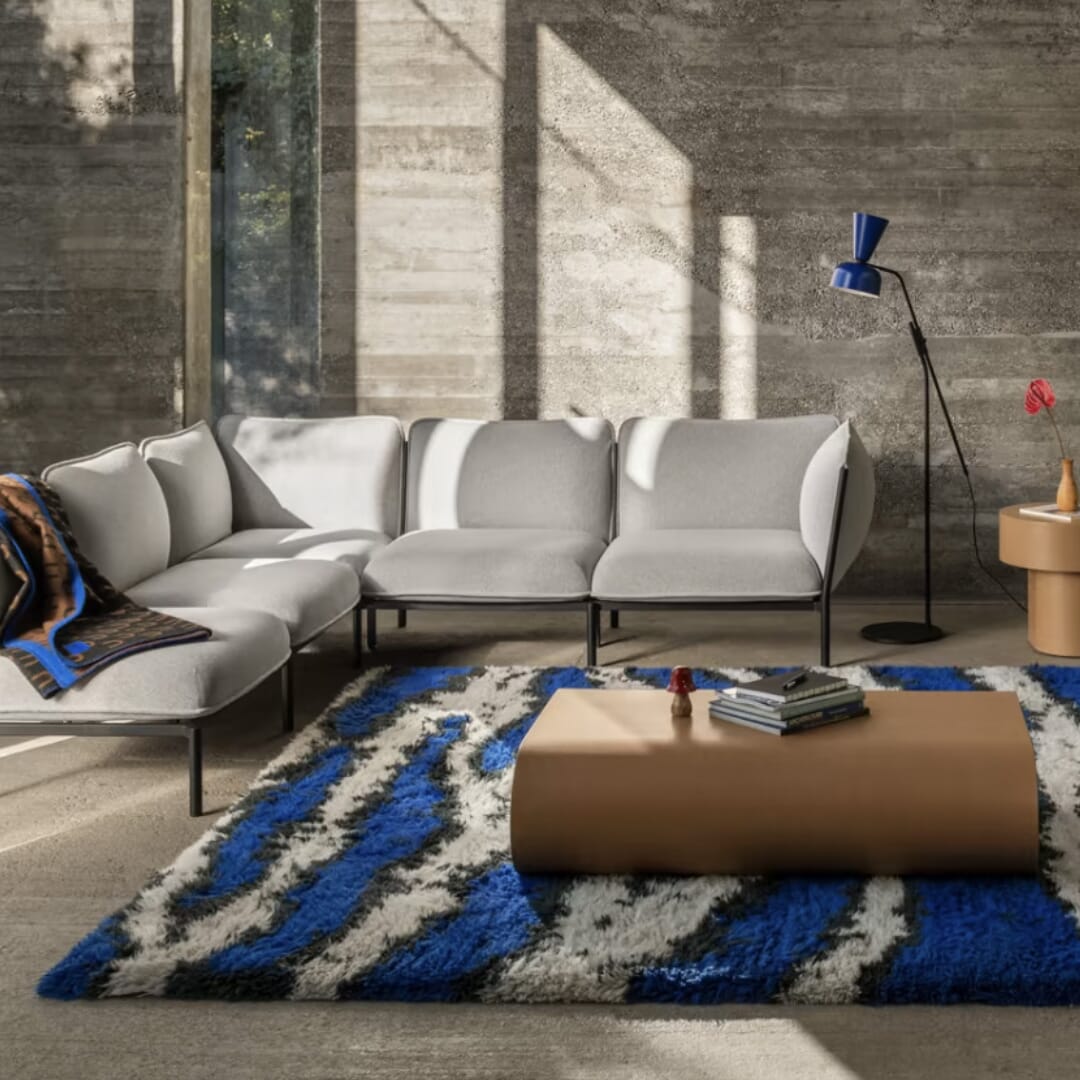 Hem Monster Rug by Siri Carlén
Swedish furniture powerhouse Hem is renowned for its impressive collaborations with ultra-talented designers. The label has partnered with everyone from Faye Toogood to Max Lamb, resulting in truly unique designs that are always guaranteed to spark conversation. One of Hem's more recent collaborations was with Swedish artist and illustrator Siri Carlén. She's responsible for the Monster collection, which features colourful rugs and throws adorned with playful striped and ringed patterns. The Monster Rug in ultramarine blue is a vibrant statement piece that will really make your space sing. It's hand-knotted by skilled makers in New Zealand wool for an unparalleled underfoot feeling.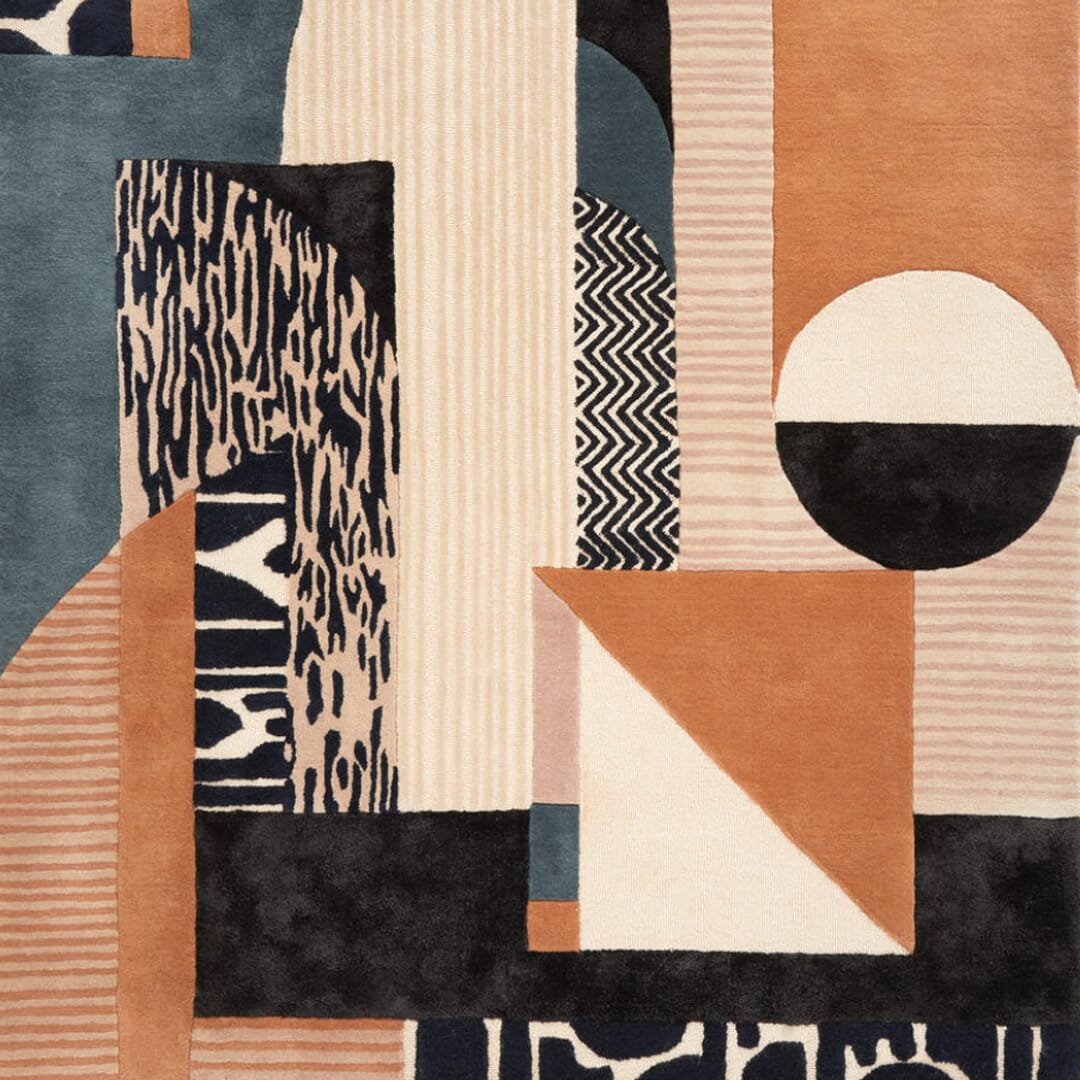 Soho Home Aron Rug
The Soho Home range is designed to mirror the look and feel of the iconic Soho Houses around the world. This particular piece, a richly patterned geometric rug inspired by 1920s Art Deco designs, is used in Soho House Amsterdam. With its soft hand-tufted wool blend construction, plus a tonal rust and navy colourway, it will bring a feeling of warmth to any room. Choose from four sizes.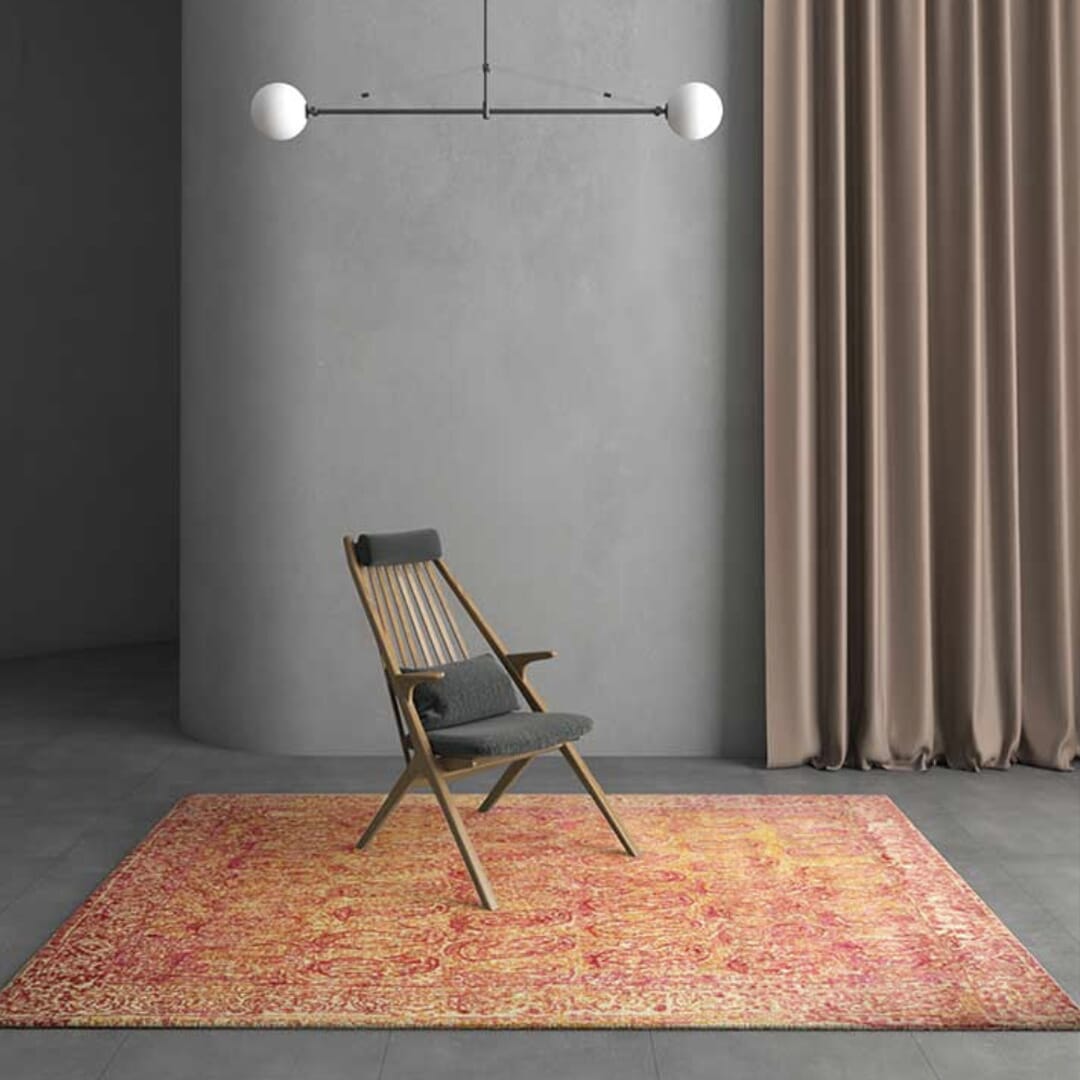 Jaipur Rugs Free Verse By Kavi
Based in Jaipur, India, Jaipur Rugs works with artisans all across the country to produce handcrafted rugs characterised by unique patterns and rich colour schemes. The company regularly partners with skilled designers, such as Kavi – a painter and rug designer who draws on the heritage of her childhood in rural India to inform her designs. Kavi's Free Verse collection is inspired by the marriage of hand and machine, two distinct design languages that come together in contemporary rug making. It's hand knotted from a luxurious blend of wool and silk.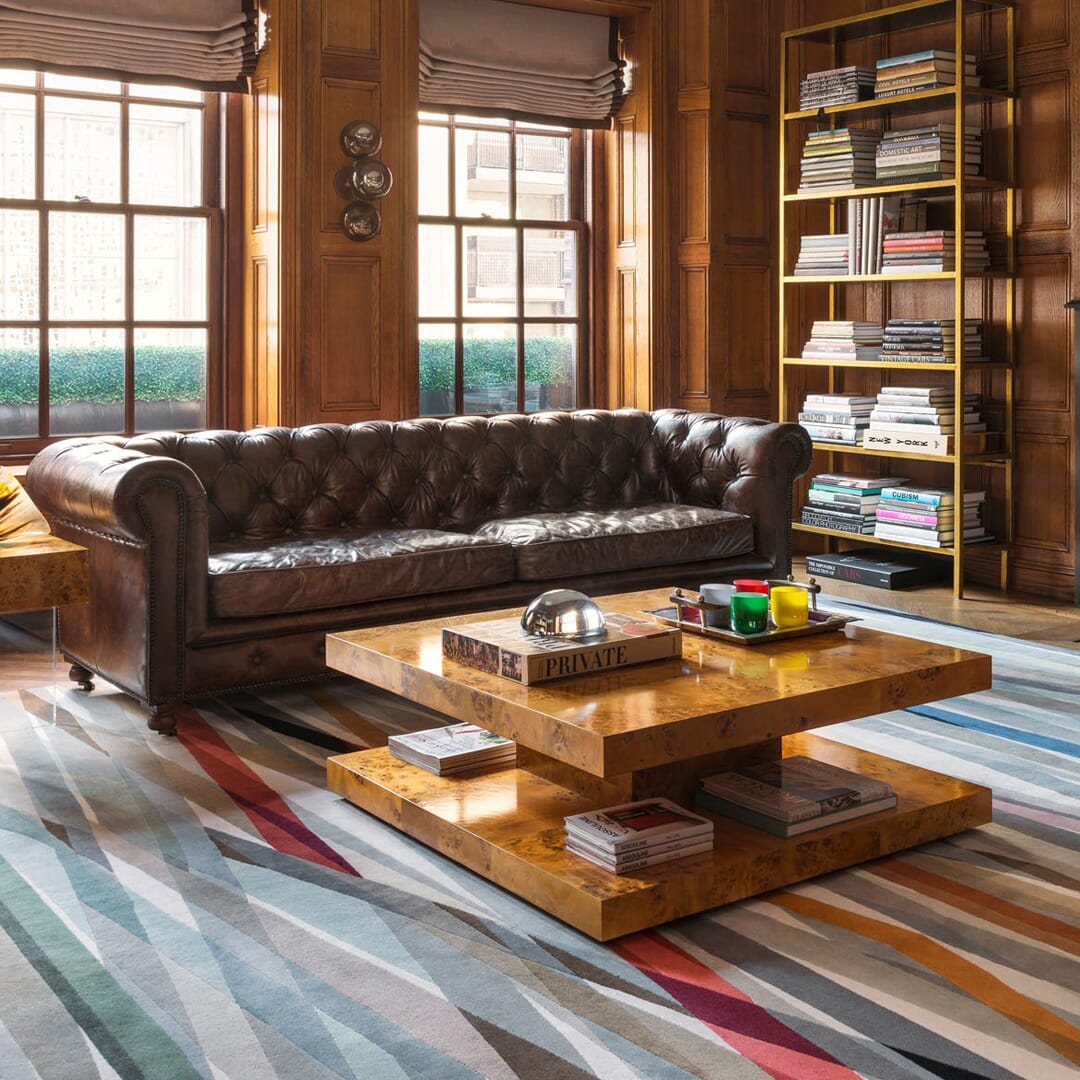 The Rug Company Carnival by Paul Smith
For over 25 years, The Rug Company has been combining the ancient craft of rug making with the creative brilliance of some of today's most talented designers, like Paul Smith. The iconic menswear designer is renowned for his signature stripe design, which is reinterpreted here on a rug as a vibrant and colourful layered pattern, inspired by the movement of carnival dancers. Painstakingly hand-knotted from Tibetan wool, the cut pile rug is a playful and luxurious addition to any living space.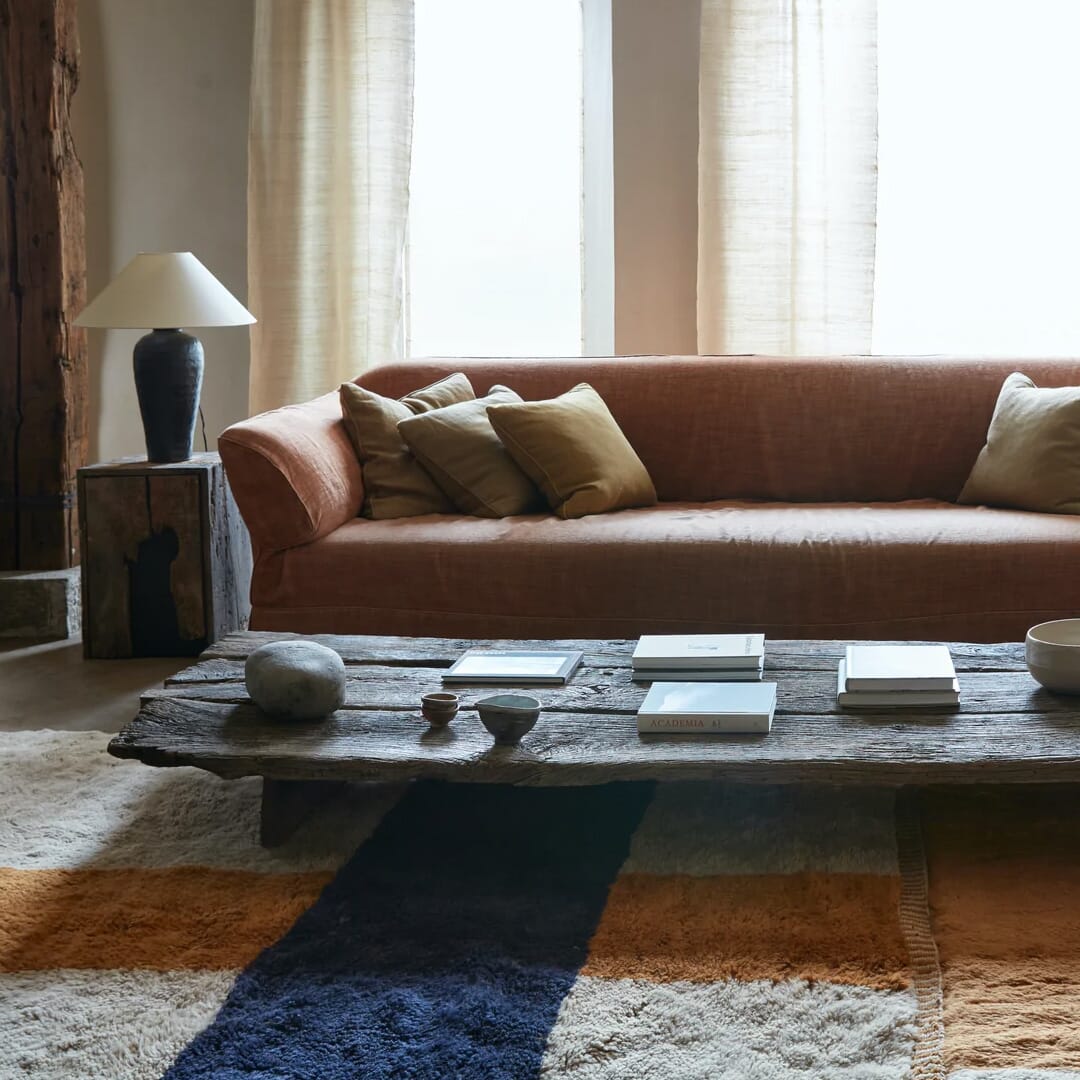 Beni Rugs 007
Beni Rugs celebrates the magic of Moroccan rugs, drawing on thousands of years of Ancient rug crafting traditions and taking inspiration from the rich colours, dramatic landscapes and unique architecture of Morocco. A community of shepherds, dyers, and weavers based in the Atlas Mountains work to source wool and handcraft each rug, like the 007 design from the Shape of Colour collection. Designer and stylist Colin King collaborated with Beni Rugs to create a series of limited-edition designs featuring custom-dyed shades and geometric shapes inspired by Marrakech and Tangier. Choose from a wide range of sizes.
Discover our pick of the best modern wool rugs on the market right now.
---
---