Add luxury, the easy way. A wool rug in a contemporary design is a simple way of giving your home a makeover. More than that, the latest modern wool and wool blend rugs are artworks in themselves, often designed in collaboration with leading artists. The result is a series of bold modern wool rugs that not only provide a deluxe feel underfoot, but are in themselves striking conversation pieces, too. Whether your choice is a cosseting deep-pile New Zealand wool rug in neutral tones, an intriguing trompe-l'œil design or a playful Scandinavian piece, your interior decor will have a new edge - and one that's moveable from room to room. We've scouted out the best modern wool rugs - but first a few tips.
Buying a wool rug? Here's what to consider:
First think out whether you're looking for a deep pile, shaggy, or flatweave rug, such as a kilim. Each have their benefits, but always bear in mind how much foot traffic there's going to be over the rug, if any. We'd always advise natural materials - wool or wool blend is ideal - and look out for sustainability, if that's a concern for you.
There are so many colourways and designs available at the moment that it's worthwhile taking a moment or two to decide how your chosen rug will fit in with your existing decor. Are you looking for a neutral shade that will quietly enhance just about any room? Or a bold design that will lift quieter decor?
You'll want to - obvious point and always worth making - measure up to make sure the rug will fit. Remember you may want to use the rug in different rooms to vary your decor, so it's worthwhile taking the tape measure to both sitting room and your master bedroom, for instance.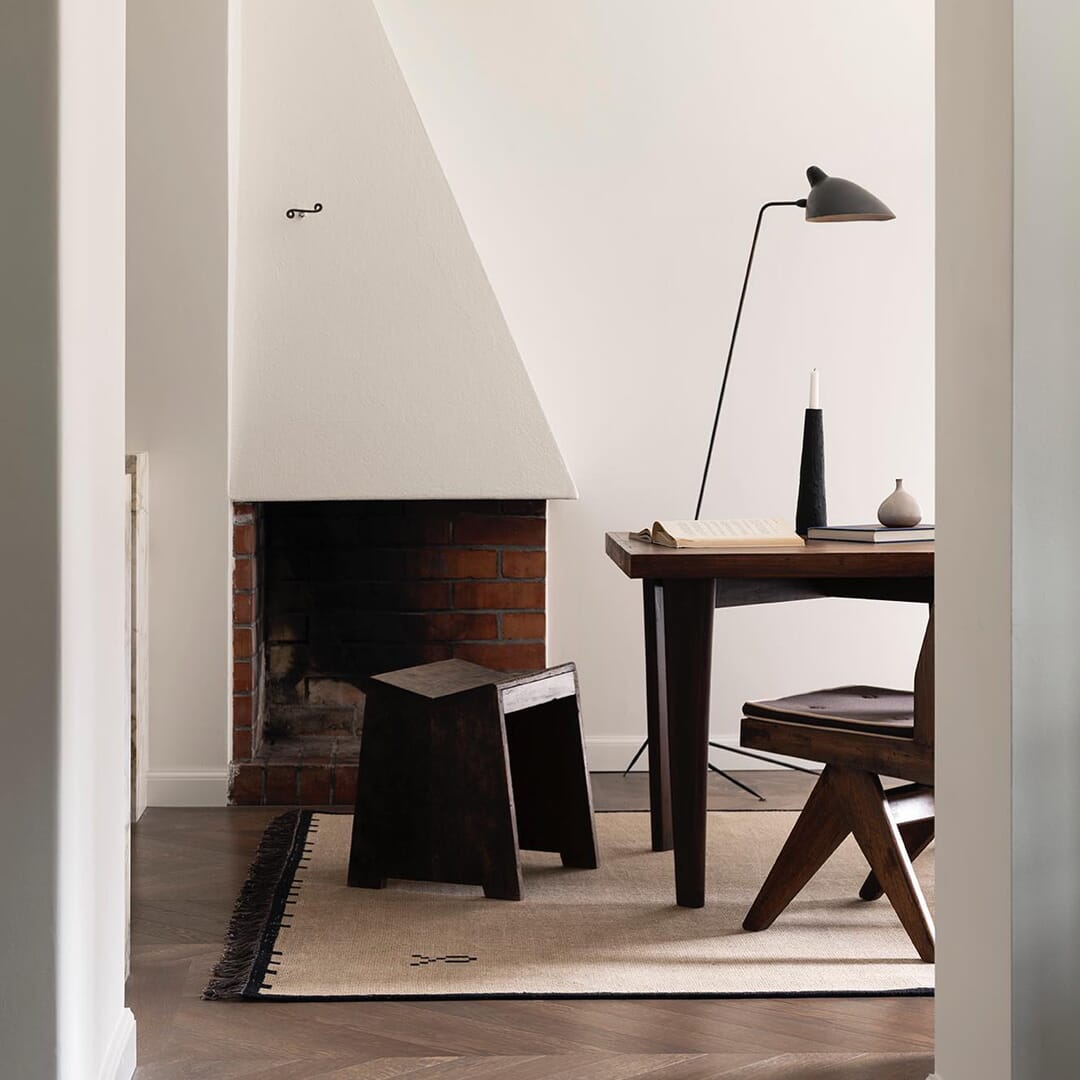 How to clean a wool rug
Wool and wool blend rugs are durable and designed to last, with the right care. Simple steps can enhance your rug and ensure that it will always look at its best.
Basics, first. There's no issue with using your vacuum cleaner on your new rug. Indeed, to remove any loose fibres left during the hand-crafting process, it's often a good idea to give your rug a gentle vacuum after you've rolled it out for the first time.
After that, the advice is regularly to vacuum your rug to remove any dirt and grit that can become embedded and damage the natural fibres. Avoid, however, using a rotary powered brush, as this vigorous treatment can harm the rug.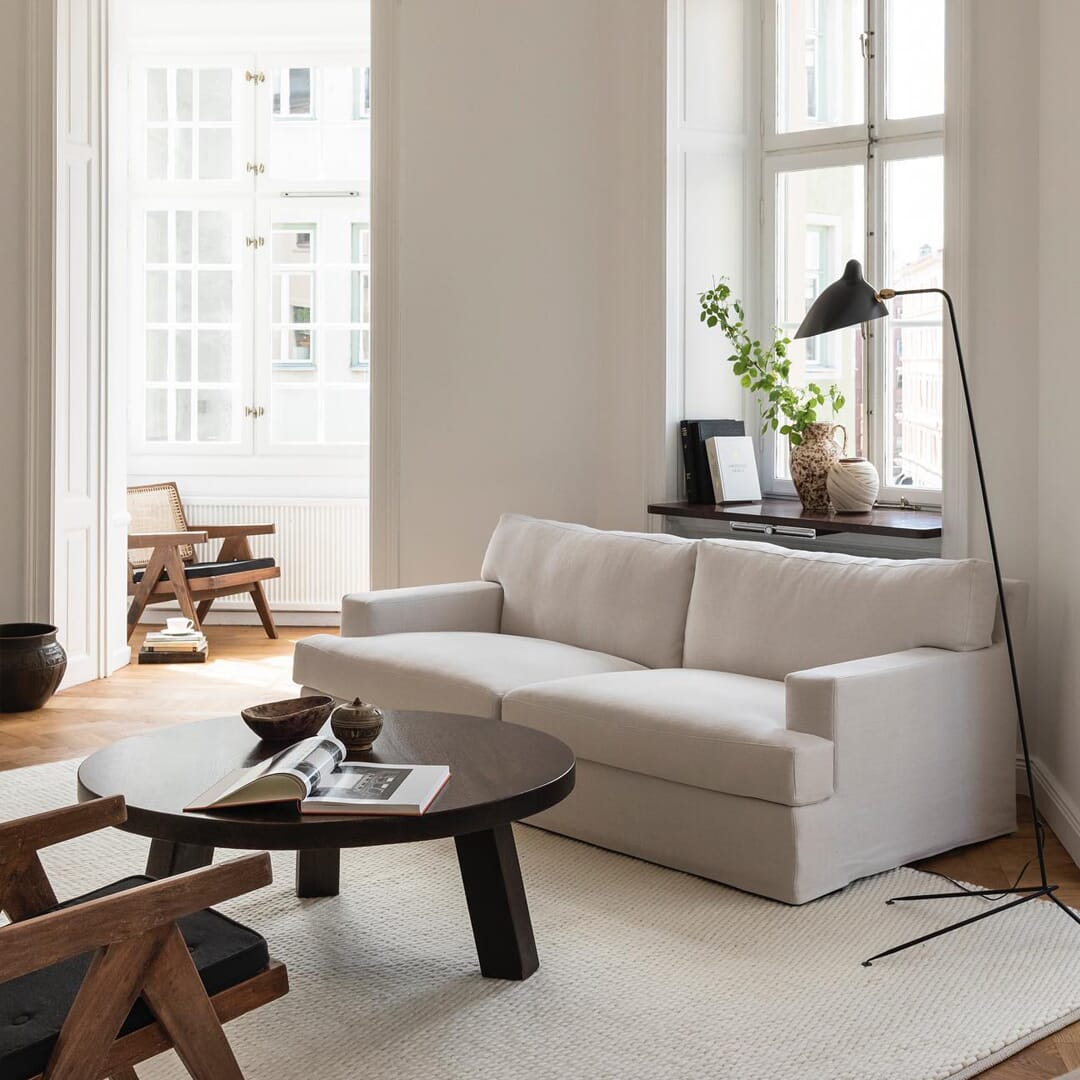 Loose thread or fibre? Simply snip it out with a pair of nail scissors. This avoids that loose thread starting a run which could cause visible and lasting damage.
There's always the possibility of a spill. Use water or - if you have it - carpet cleaning detergent and blot the spill as soon as you can. Don't rub, because that simply spreads the spill. Professional care should only be necessary once every few years, and it's worth it to protect your investment.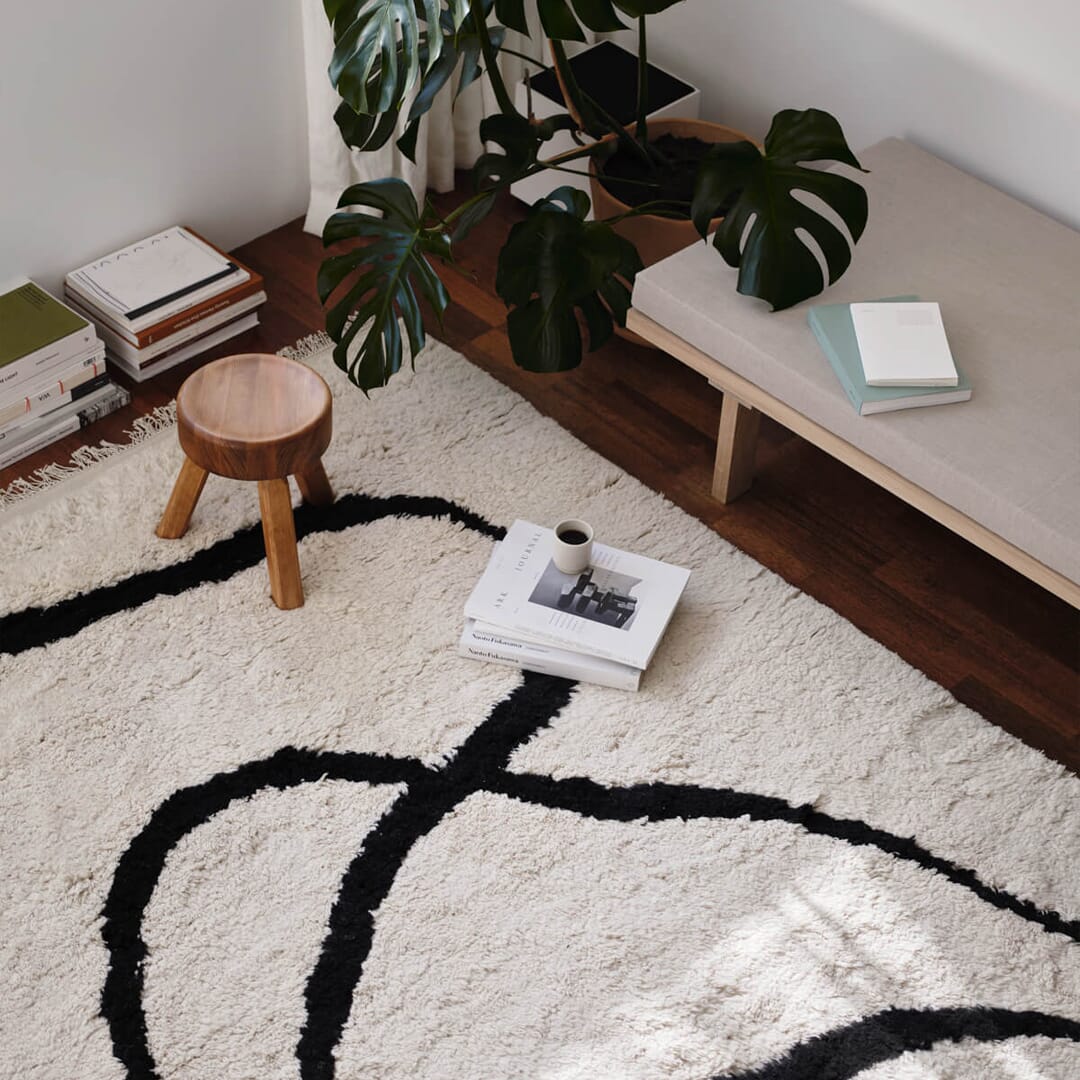 Best modern wool rugs
Nordic Knots Simple Object 18 by Carsten Beck Nielsen
The minimalist name says it all. Simple Object 18 is an impeccable piece of form-follows-function design, a Scandinavian artwork for your home. Swedish rug experts Nordic Knots have worked with Danish artist Carsten Beck Nielsen to translate one of his signature abstract pieces into a hand-knotted rug, constructed from New Zealand wool, hand-knotted and with a deep shaggy pile. As the artist himself says, "It's a different way of experiencing art in a home."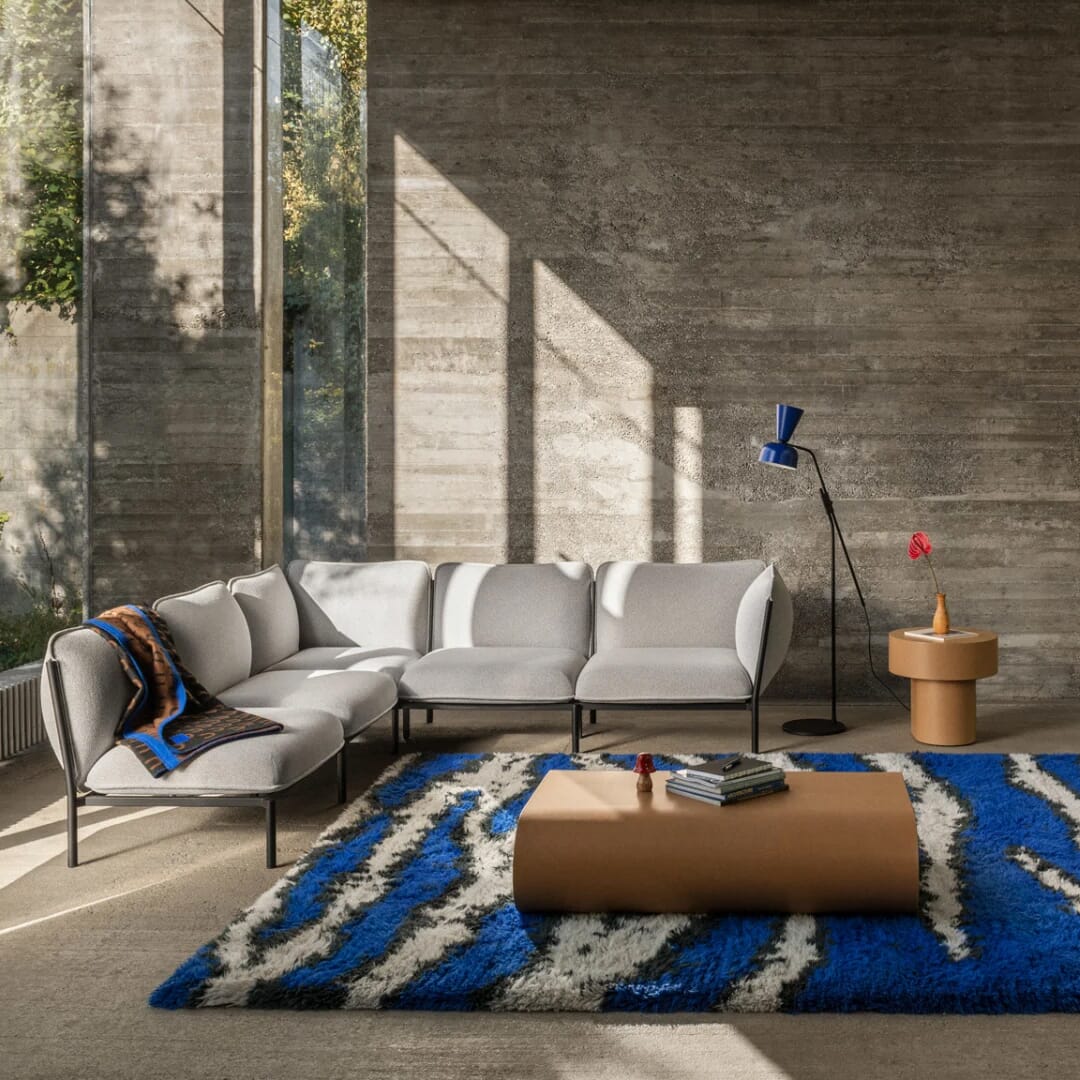 Hem Monster Rug by Siri Carlén
The vibrant, playful work of Swedish artist and illustrator Siri Carlén is shown off in an unusually deep pile rug for Hem, designed to bring Carlén's sense of fun into your home. "I'm obsessed with [nature's] marking and colours," says the artist, "but particularly fascinated by animal prints evolved to camouflage, confuse, or attract." The Monster Rug is deliberately shaggy, to evoke the idea of a - fictional, friendly - monster. Hand-knotted, New Zealand wool.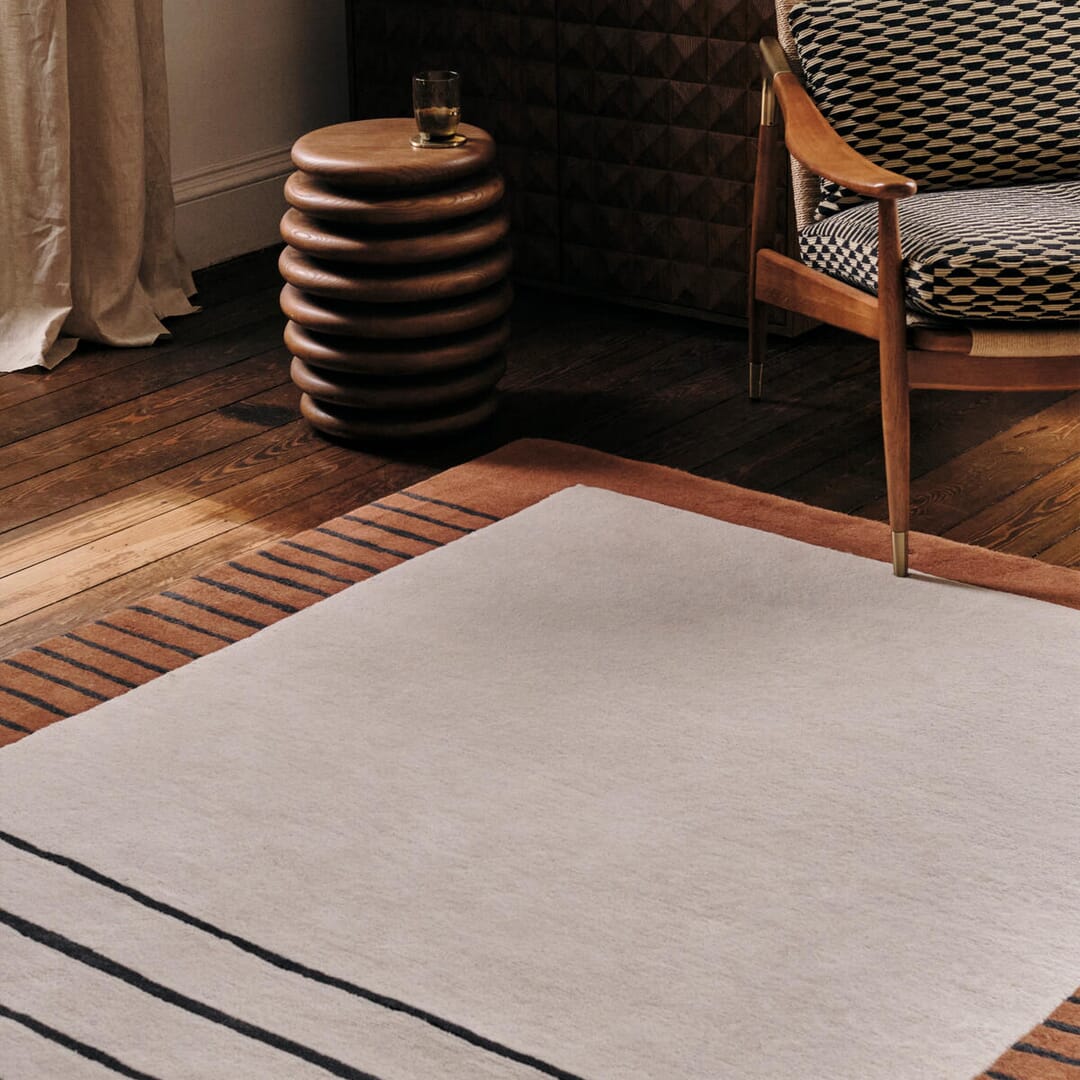 Soho Home Morin Rug
With inspiration from the acclaimed Soho House Amsterdam, the Morin Rug from Soho Home is a piece of bold Modernism for your home. One hundred percent wool pile is fully hand-tufted. The Morin Rug's creators say sculpting techniques were used to create the signature lines of this piece. Simultaneously geometric and audaciously asymmetric, this is a rug designed for display and use in a lounge area or in your master bedroom.
Made Camden Diamond Wool Blend Rug
Referencing the famously alternative culture of London's Camden district, this Made rug can instantly become a personal signature. An alluring geometric design is executed in a versatile monochrome colourway that's ideally suited to contemporary mid-century modern influenced decor. Construction is from a wool blend that adds 20% cotton to 80% pure wool in a flatweave structure. A new classic? We'd say so.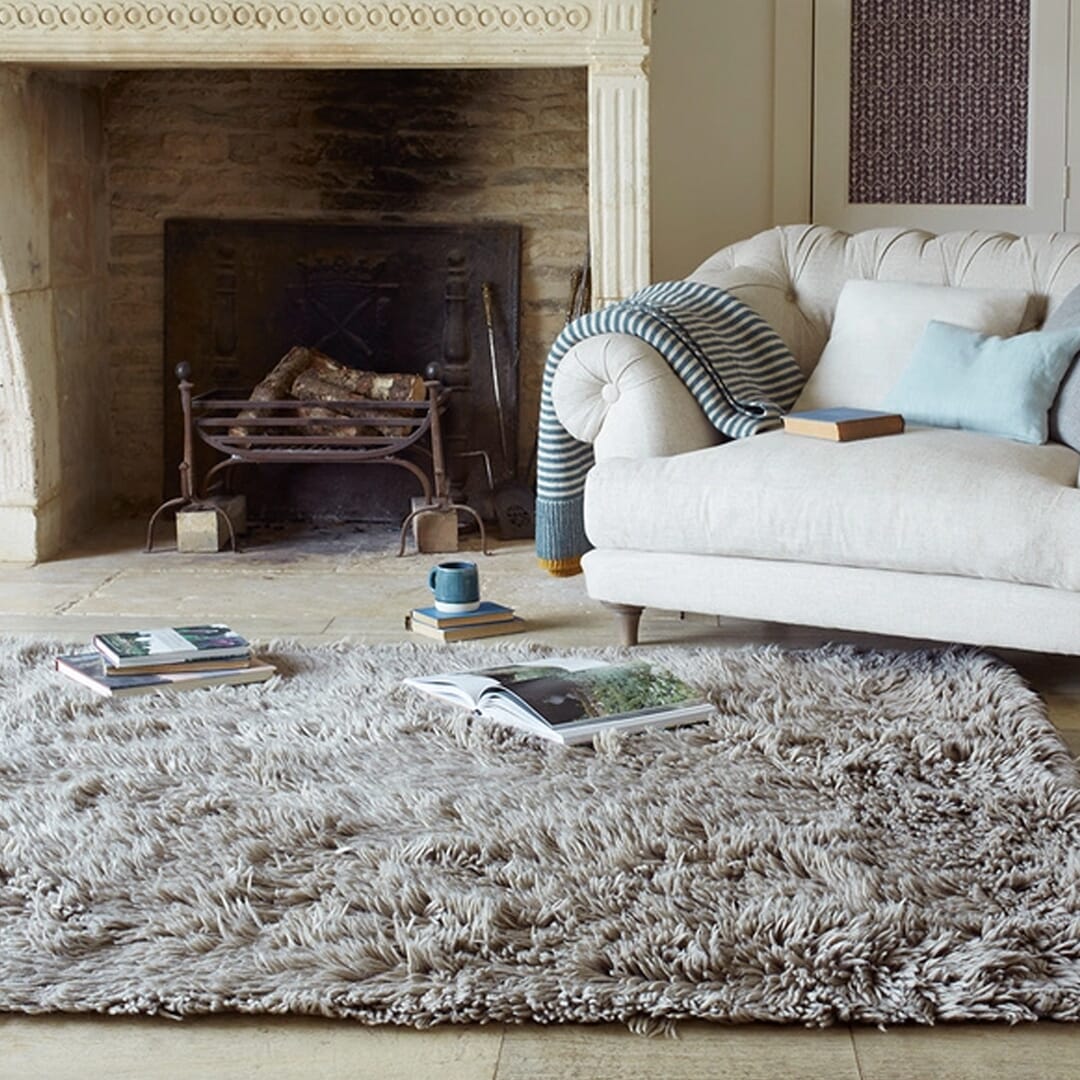 Loaf Wilder in Grey
This modern wool rug from Loaf offers super-soft luxury to transform your living spaces. Colourway easily complements contemporary decor, wherever you choose to place your Wilder rug in the home. Grey deep-pile is 100% pure New Zealand wool, cosseting both to look at and to sink your feet into. Backing is 100% cotton, hand-crafting of this essential piece is by highly skilled artisans in Panipat, India. The sort of rug that instantly becomes an essential decor piece.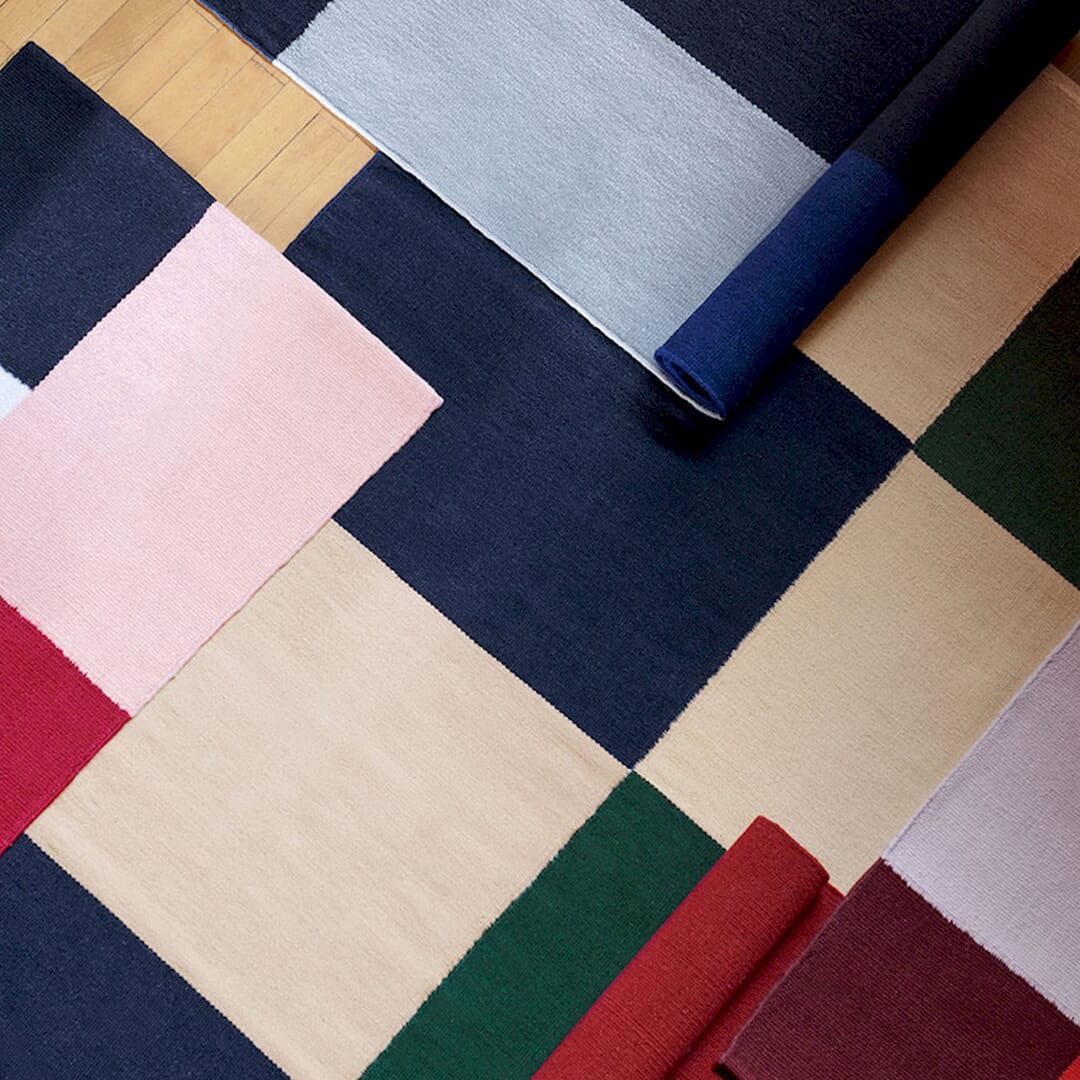 Ethan Cook Flat Works by Ethan Cook for Hay
The work of Soho-based Texan artist Ethan Cook draws on the abstract expressionist movement in its use of colour blocking to create the striking imagery that he calls Flat Works. Here, that work has been meticulously translated into a series of hand-woven kilim rugs for renowned design studio Hay. Hand-crafted dyeing and weaving process means each rug is different, effectively a one-of-a-kind piece that will add an instant artwork to whichever room you place them in.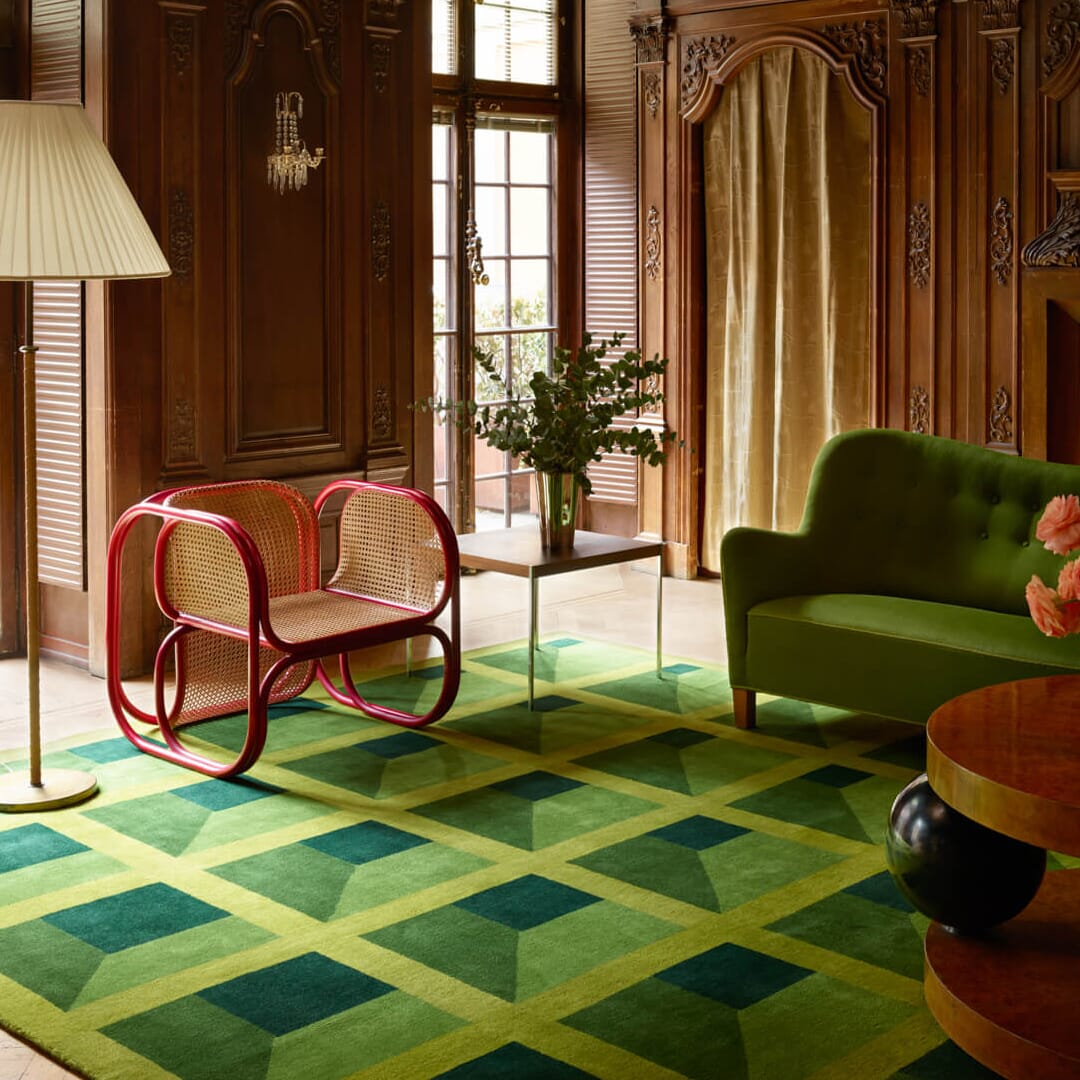 Nordic Knots Garden Maze by Campbell-Rey
Duncan Campbell and Charlotte Rey have taken inspiration from Swedish neo-classical Gustavian style to create this trompe-l'œil rug in the form of a garden maze for Nordic Knots. Specific further homage here is to the formal gardens of Russell Page, and crafting is hand-knotted plush, in 100% pure New Zealand wool chosen for both durability and softness. Artisan-crafted in Bhaodhi, India, in certified Goodweave workshops.
Spruce up your space with a velvet armchair.
---
---