Keen to get something off your chest? Why not wear it on your chest instead? The graphic T-shirt has a long and storied history, but you don't want to be wearing just any old words, any old designs. We'd suggest wardrobe essentials whose unique images and slogans can become key to your signature style. Part of the enjoyment of wearing unlikely phrases and opaque notions on your chest is the intrigue and conversation they encourage, so we've taken a look around to uncover the latest pieces from some of our favourite labels. Presenting our pick of the best men's graphic T-shirts to buy in 2023...
Best graphic T-shirts for men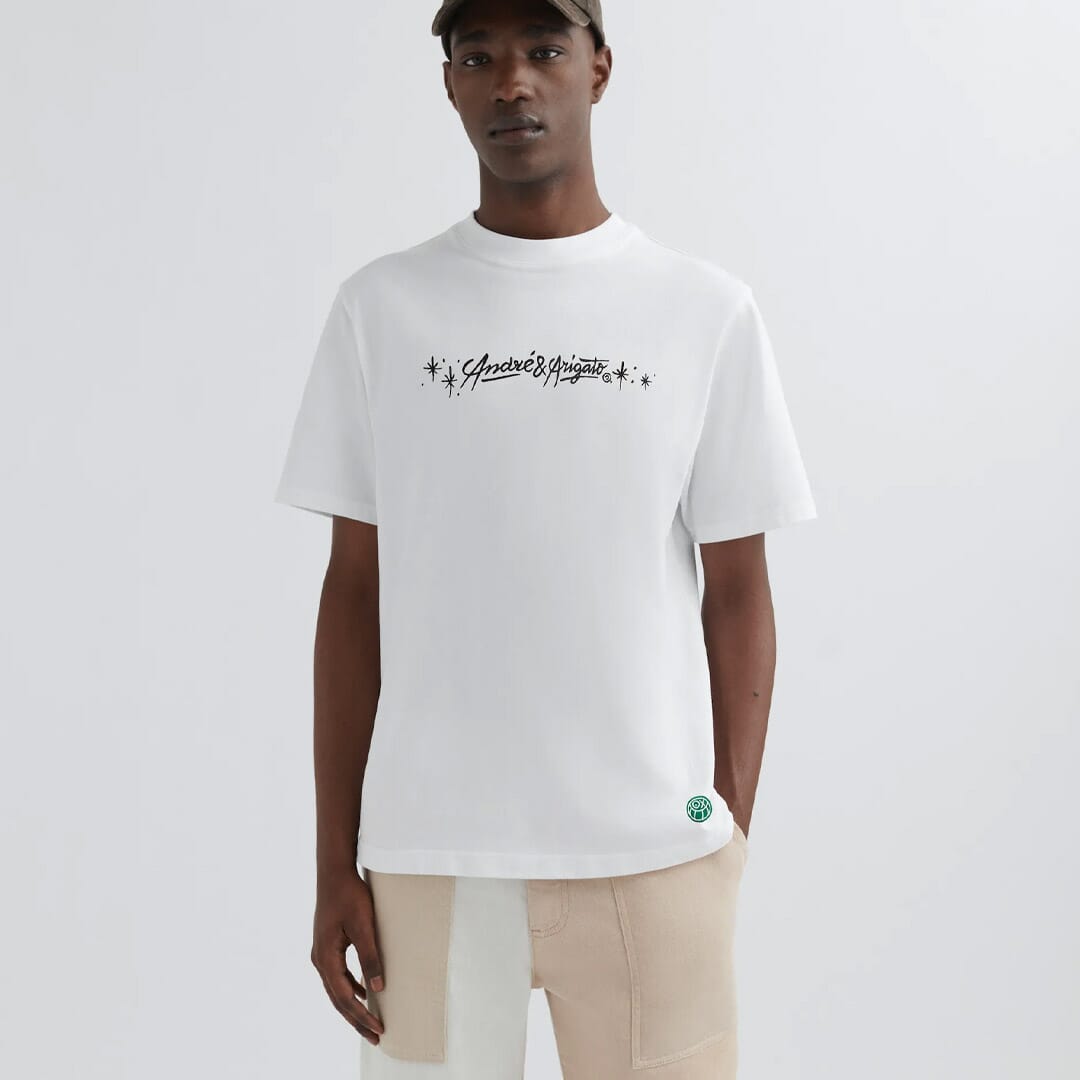 Axel Arigato x André Saraiva Logo Tee
Swedish streetwear powerhouse Axel Arigato never fails to impress with its cutting-edge designs. This time around, the brand has teamed up with graffiti artist André Saraiva to create a contemporary street art-inspired graphic T-shirt. It's crafted from super-soft organic cotton in a classic crew-neck silhouette and cut for an oversized fit. Team with baggy jeans and high-top trainers for a low key skatewear-inspired look.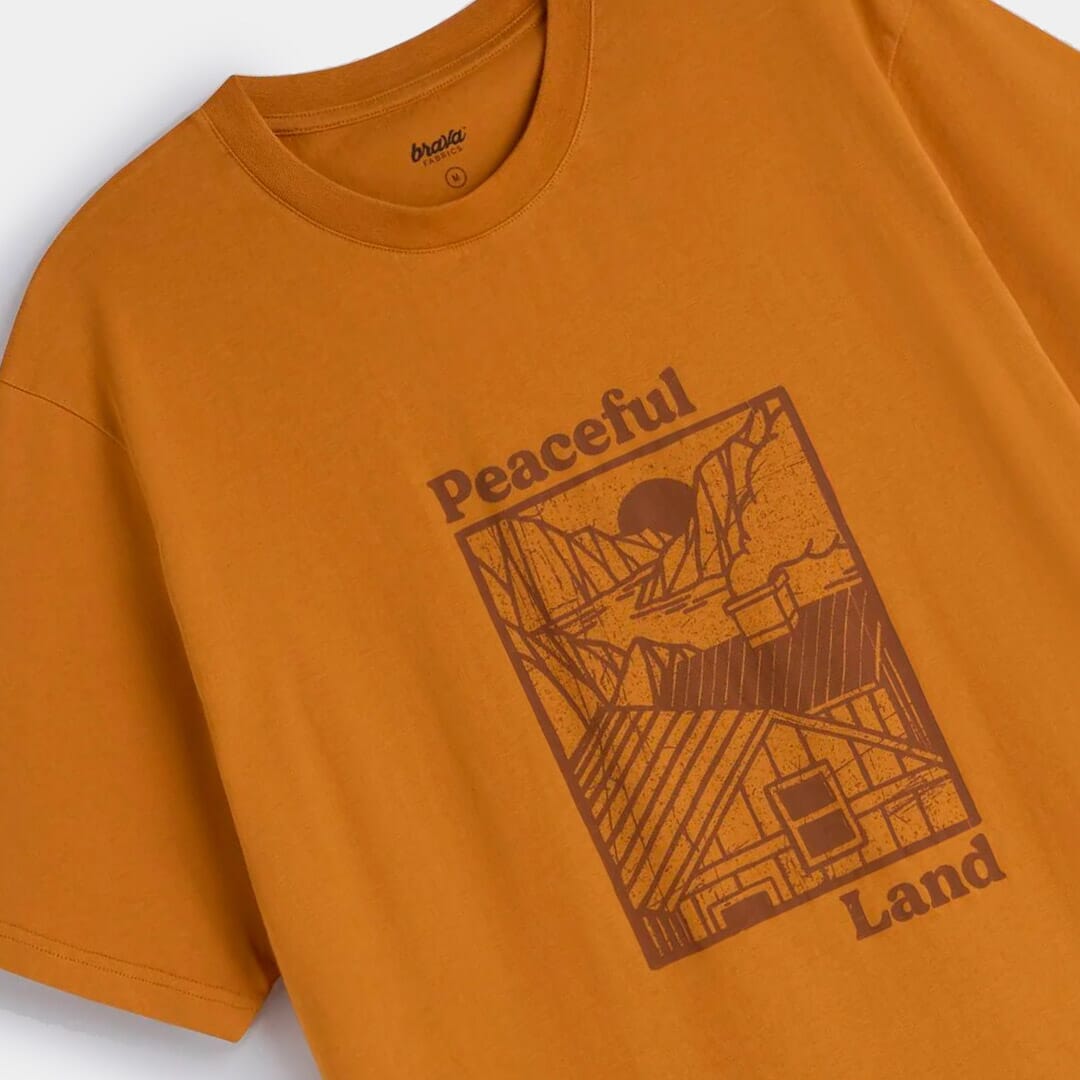 Brava Fabrics Peaceful Land T-Shirt - Pumpkin
Wear your love for the planet on your chest with Spanish sustainability-first label Brava Fabrics. The artwork on this graphic T-shirt is inspired by the endless landscapes of Greenland, the sort of peaceful outlook that perhaps you're dreaming of right now. As you'd expect from this conscious brand, construction is not only from 100% organic cotton but is transparent and under fair-paid conditions, in this case in Portugal, renowned for the quality of its clothing industry. Easily a new favourite.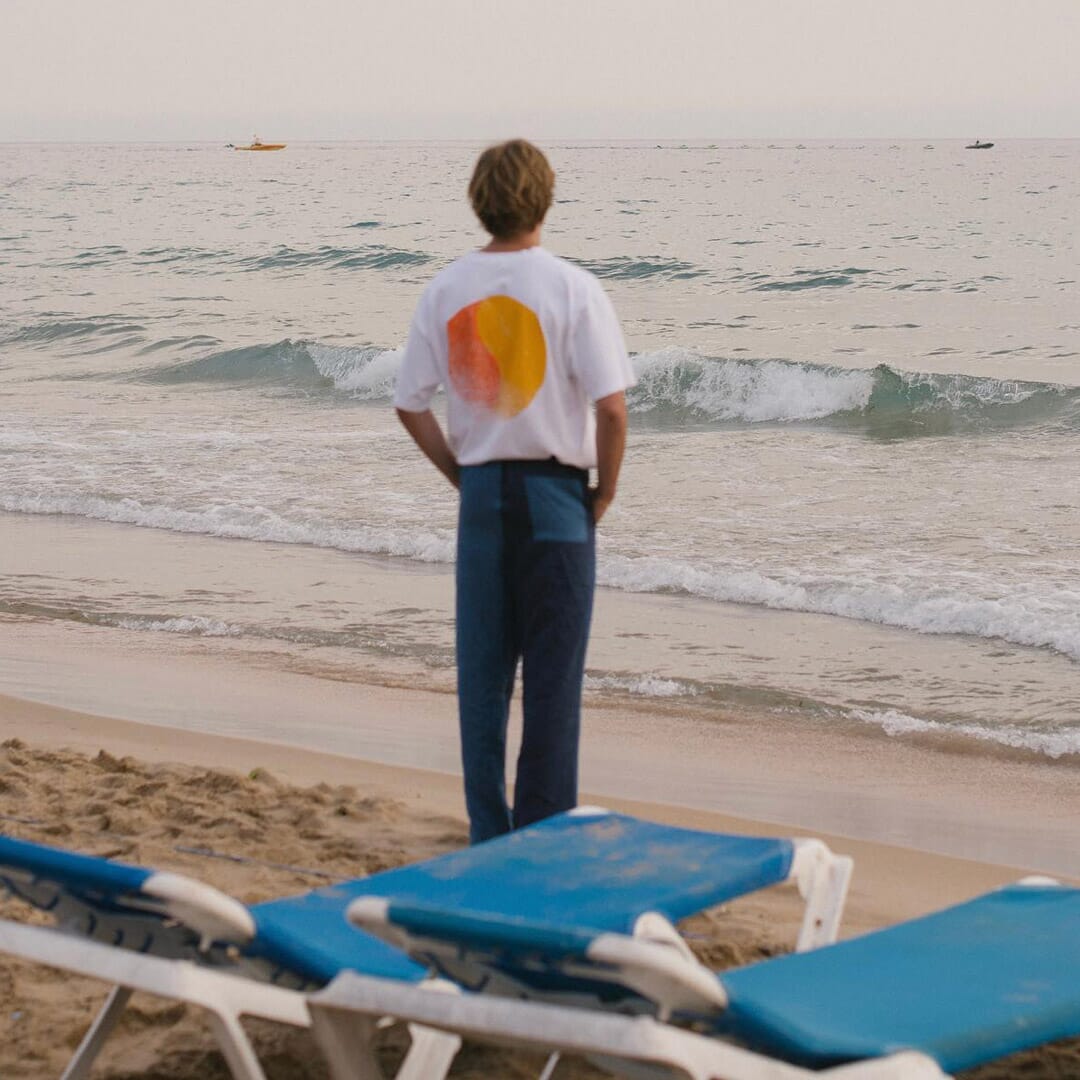 Neutrale Balearic Tee
Longing for the sunshine, beaches and languid life of Ibiza? Neutrale have the ideal solution. Their Balearic Tee - designed and made in Spain appropriately enough - features a pre-faded orange-and-yellow sun graphic, looking as if you've always owned this piece. Construction is from 100% organic cotton, fit is regular, result is that the Balearic Tee is a year-round reminder of warm, lazy days.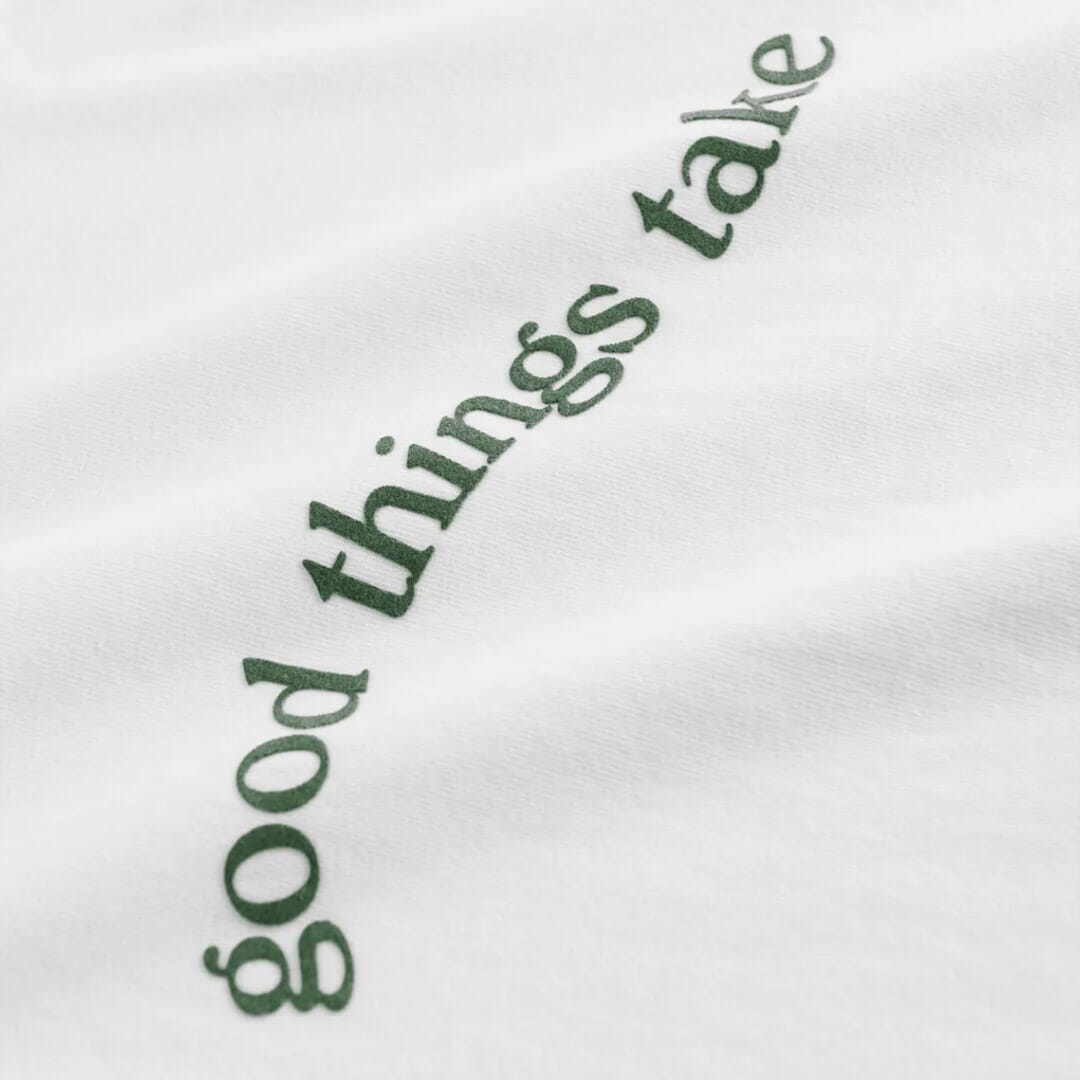 Forét Pacific T-Shirt - White/Dark Green
Slow down, you're going too fast. Danish outdoor specialists Forét want us to know that sometimes, there's no need at all to hurry. Perhaps, when we have big goals in view, most of the time. Wavy graphic is guaranteed to raise a knowing smile wherever you are, whenever you wear it. For Forét it's a guiding principle. Tailored in classic T-shirt style, with construction from 100% organic cotton.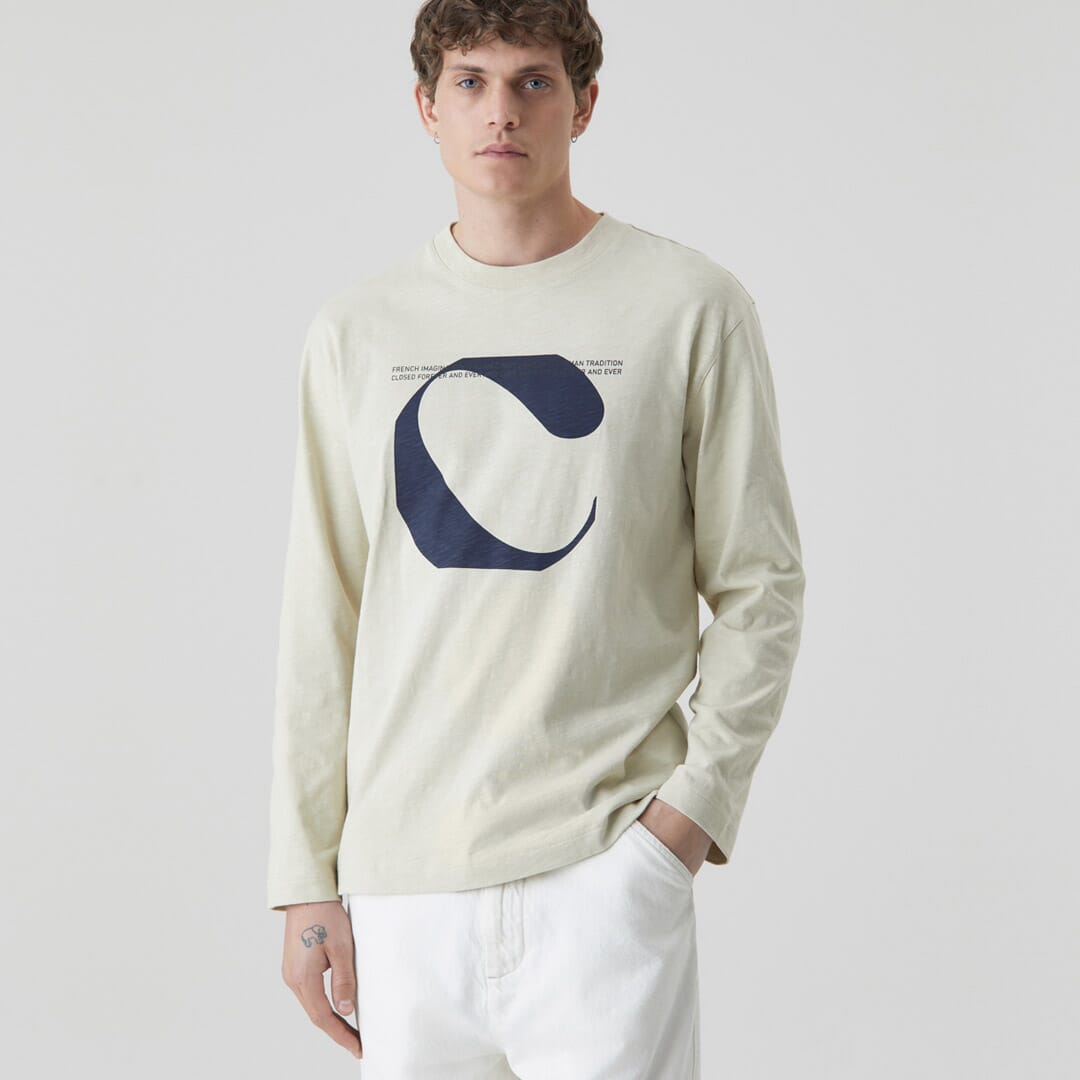 Closed Longsleeve with Print
Classic with a capital C. Closed are proud of being a collaboration between German, Italian and French fashion visionaries, and that's marked on their Longsleeve with Print T-shirt. You can, of course, take the wording as simply celebrating all and every pan-European collaboration. Or marking your own name. Or nothing at all, except an impeccable wardrobe essential, in organic cotton slub with deliberate imperfections to add character. So perhaps that, after all, is the C.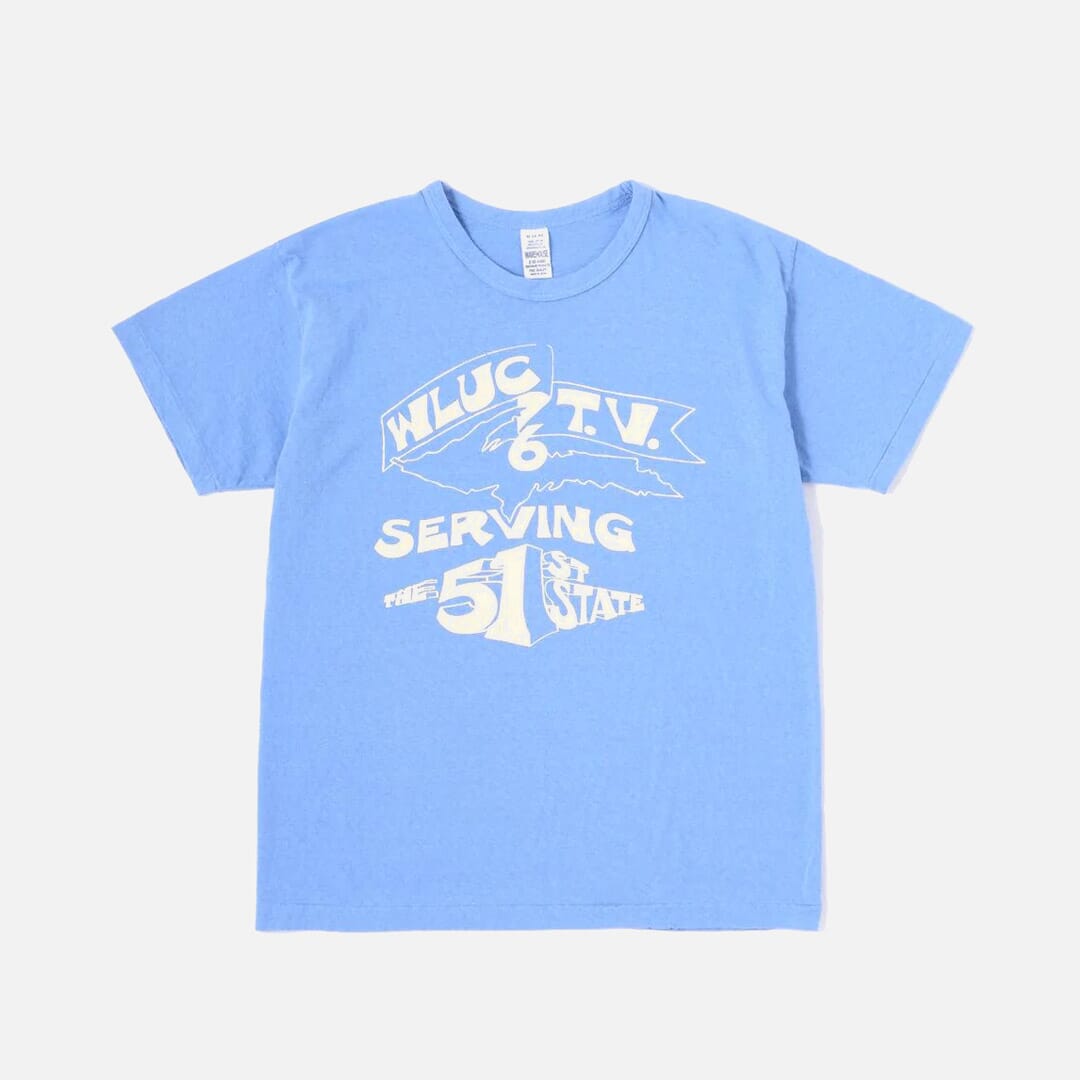 Warehouse & Co Lot. 4064 'Serving' T-shirt
A piece of history, lovingly remade by the exacting Japanese retro specialists at Warehouse & Co. Print is from the vintage archive of Michigan television station WLUC-TV, and forms part of a collection that Warehouse & Co have called their  "2nd Hand Series". Tailored in Japan with a deliberately loose crew cut collar as if the piece is indeed second hand, featuring straight-cut silhouette and no side seams for extra comfort.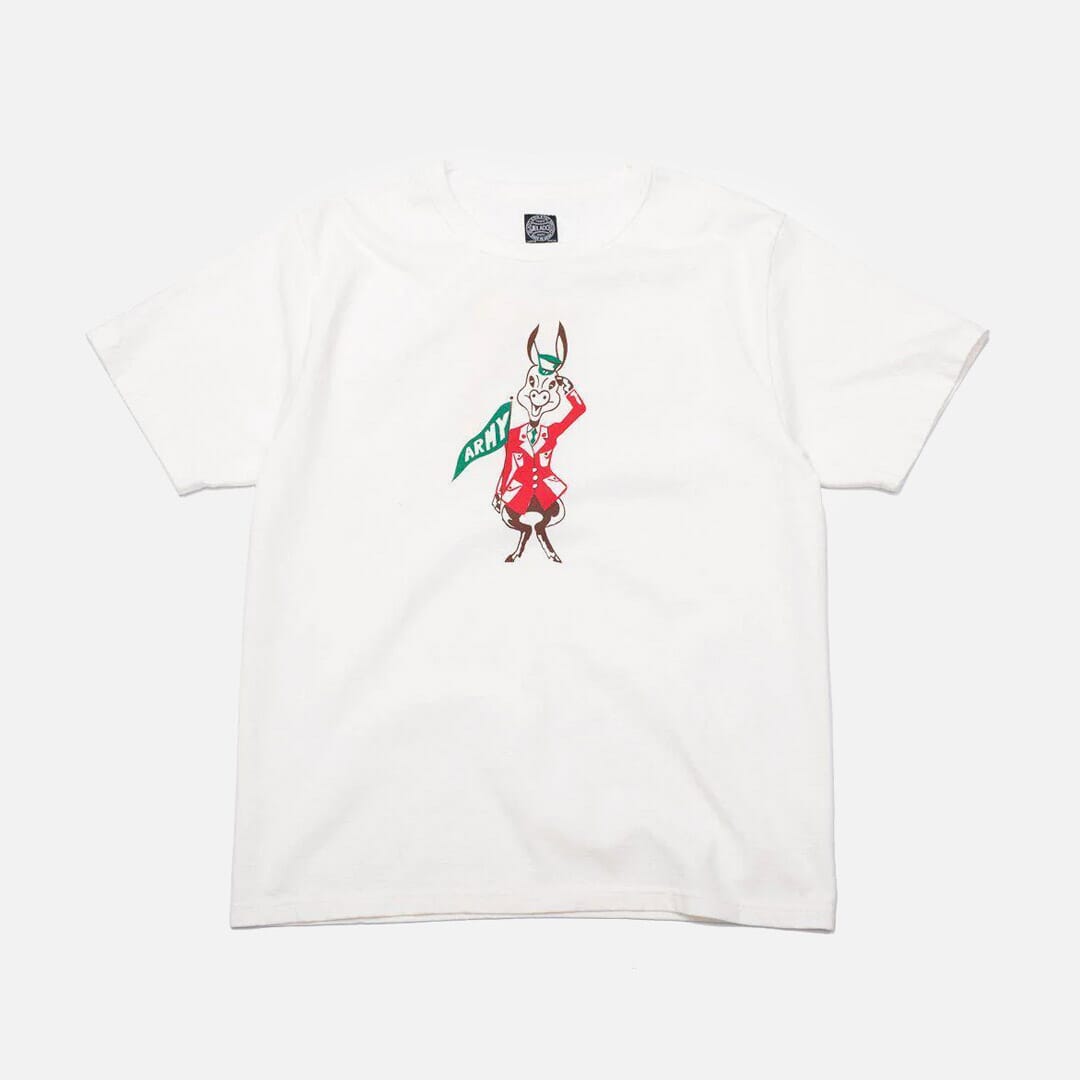 Jelado Army Print T-shirt
Authenticity comes no more authentic than Jelado's near-obsessive take on vintage pieces. Construction in Japan is from 100% cotton, with original decades-old knitting machines used in the weaving process. Result is a no-seam T-shirt, with round body and classic crew neck collar. Army graphic is designed gradually to fade with each wash, further to underline the new-old status of a remarkable piece.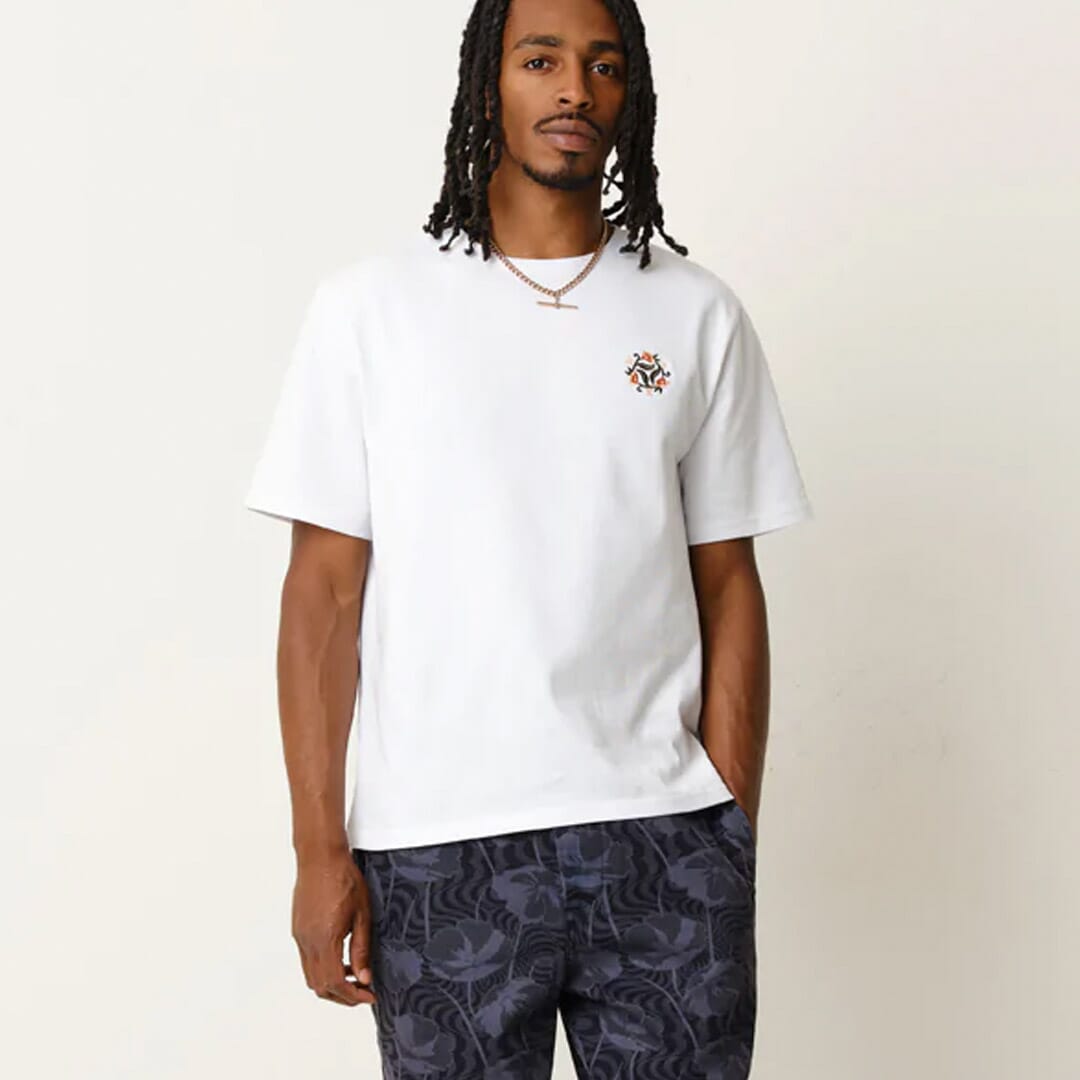 Wax London Dean T Shirt - White Crest
Trust Wax London - with their signature "Everyday Elevated" ethos - to come up with a subtle, yet striking men's graphic T-shirt. Wax crest to chest features linking floral design, concealing the letters that make up the name of this always-innovative label. Certified 100% organic cotton is used in construction, square cut fit is relaxed with deliberately dropped shoulder for added casual feel. An instant wardrobe favourite.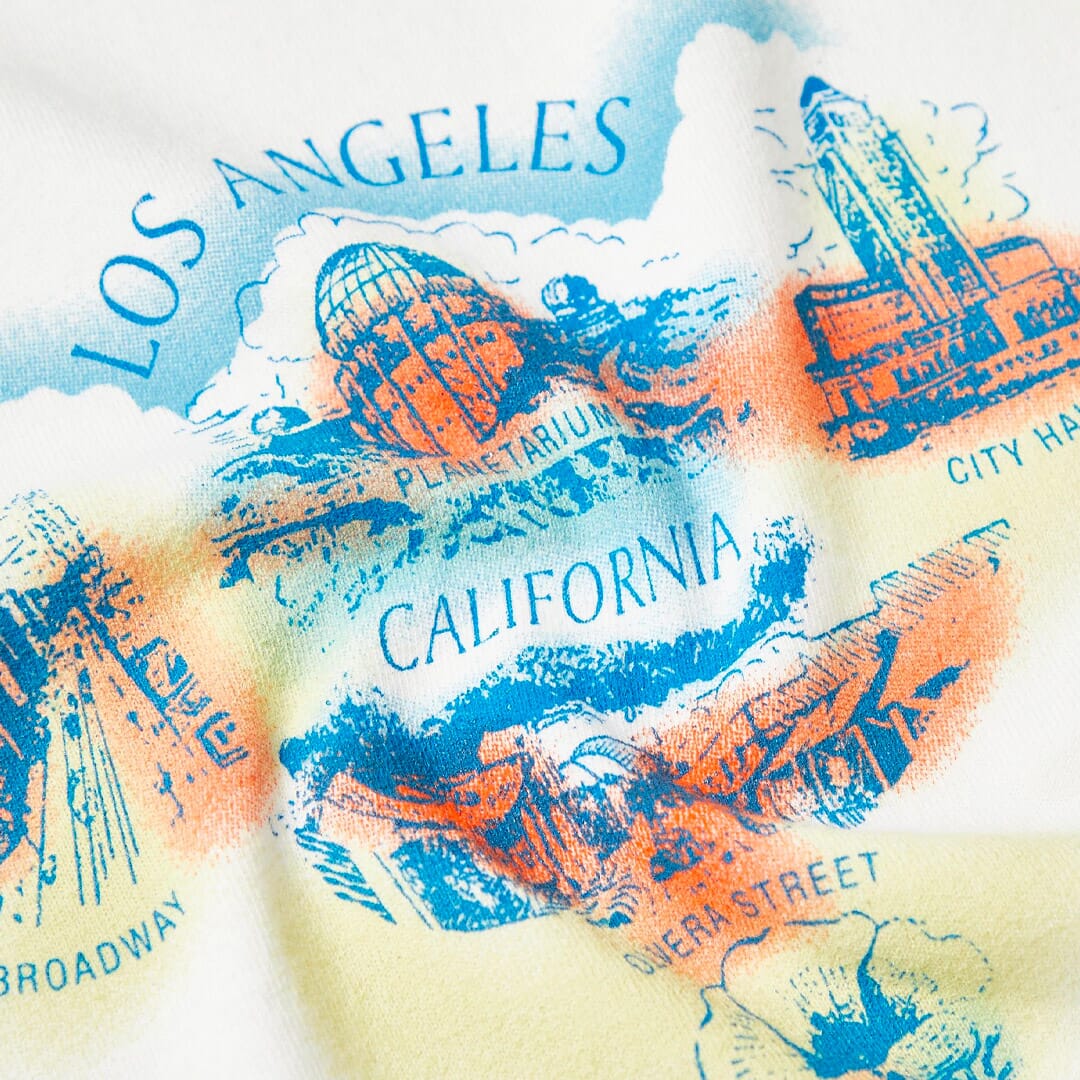 Bode Printed Washed Cotton-Jersey T-Shirt
Vintage Californian postcards are the inspiration for this meticulous piece of recreated Americana from New York's Bode label. Created by Bode's multi-award winning Emily Adams Bode Aujula, whose stated aim is add "storytelling and preservation" to American menswear. Construction is from washed 100% cotton-jersey, which gives the T-shirt a lightweight feel and a slight stretch to the classic fit for added comfort.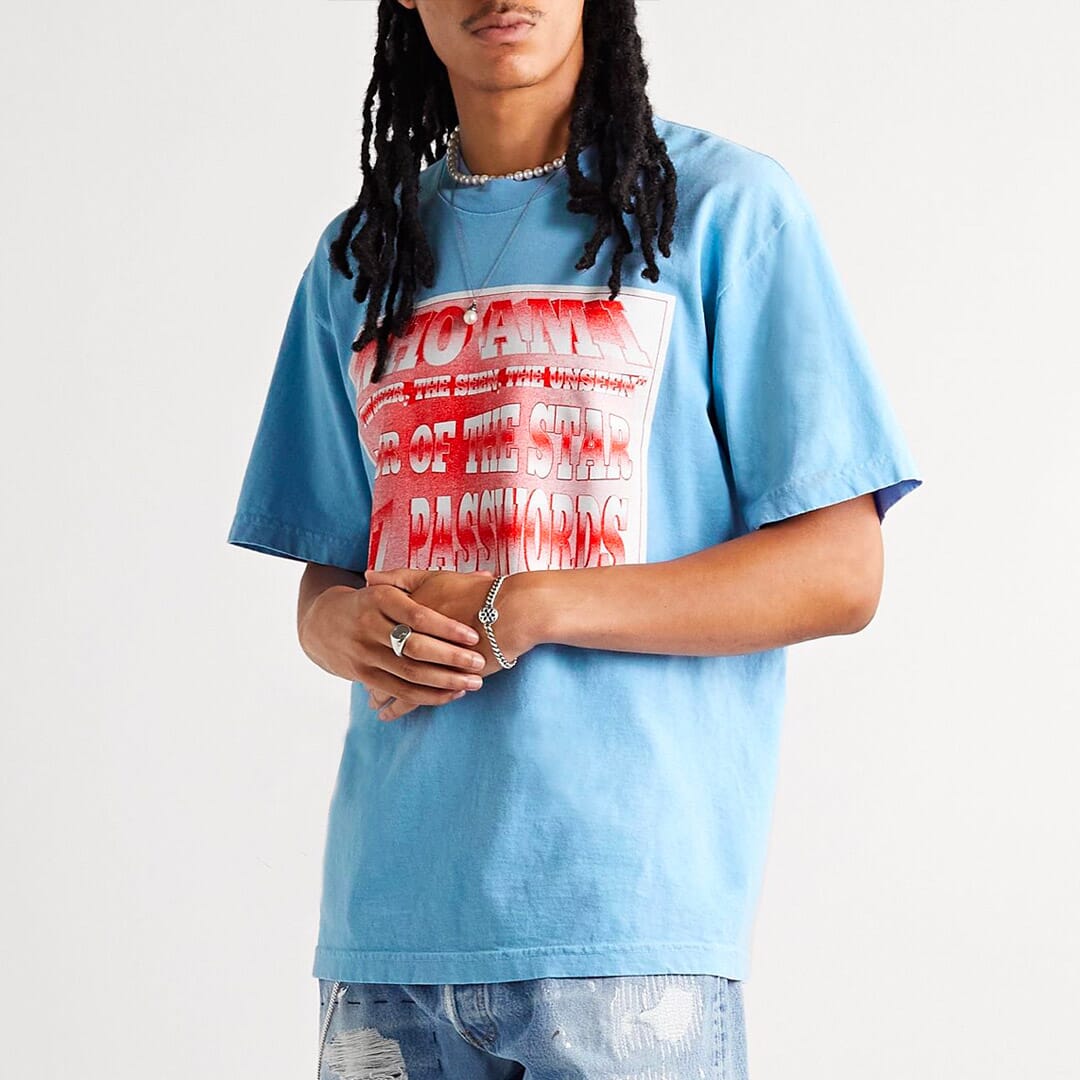 Come Tees Who am I Raver Printed Cotton-Jersey T-Shirt
Bold, striking graphics to front and back in a limited edition by a noted Los Angeles designer? You're in the right place. Sonya Sombreuil's Come Tees label produces only a small number of each piece they release, here with "Who Am I Raver" word sequence to the front and "Beautiful Dreamer" to the back. Printing is individual to each t-shirt so that each one is effectively bespoke. Construction is from 100% cotton and the T-shirt is designed for a relaxed fit. Next stop: dance floor.
Graphic T-shirts not your thing? Check out our pick of the best plain white tees for men.
---
---