Trends come and go, but the plain white T-shirt is forever. Arguably the most versatile garment in existence, a simple white crewneck tee is a sartorial no-brainer, a certified staple that you can always rely on. Sported by everyone from James Dean to John Travolta's Danny Zuko, it's an enduring wardrobe hero that looks great on everyone and will never go out of style. Invest in the best quality you can afford and you'll be rewarded with years of wear.
Ready to find your dream tee? Scroll on for the ultimate guide to what to look for as well as our pick of the best plain white T-shirts for men at the moment.
Table of Contents
What are the best fabrics for white T-shirts?
Material is often the most important thing to consider when purchasing any garment, but especially so when it comes to fundamental wardrobe building blocks like plain white T-shirts. If you want your white tee to stand the test of time, you should look out for high quality fabrics like 100% organic cotton, which is breathable, lightweight and has a relatively low impact on the environment. Pima cotton and the slightly pricier Supima (superior pima) cotton are also great options, renowned for their durability, which results from their extra-long staple construction. Lyocell –  a cellulose fibre that's derived from wood – is an eco-friendly fabric that's becoming increasingly used in the fashion industry for garments like pyjamas, trousers and T-shirts, thanks to its softness and durability. Keep an eye out for it if you're looking to make your wardrobe more sustainable.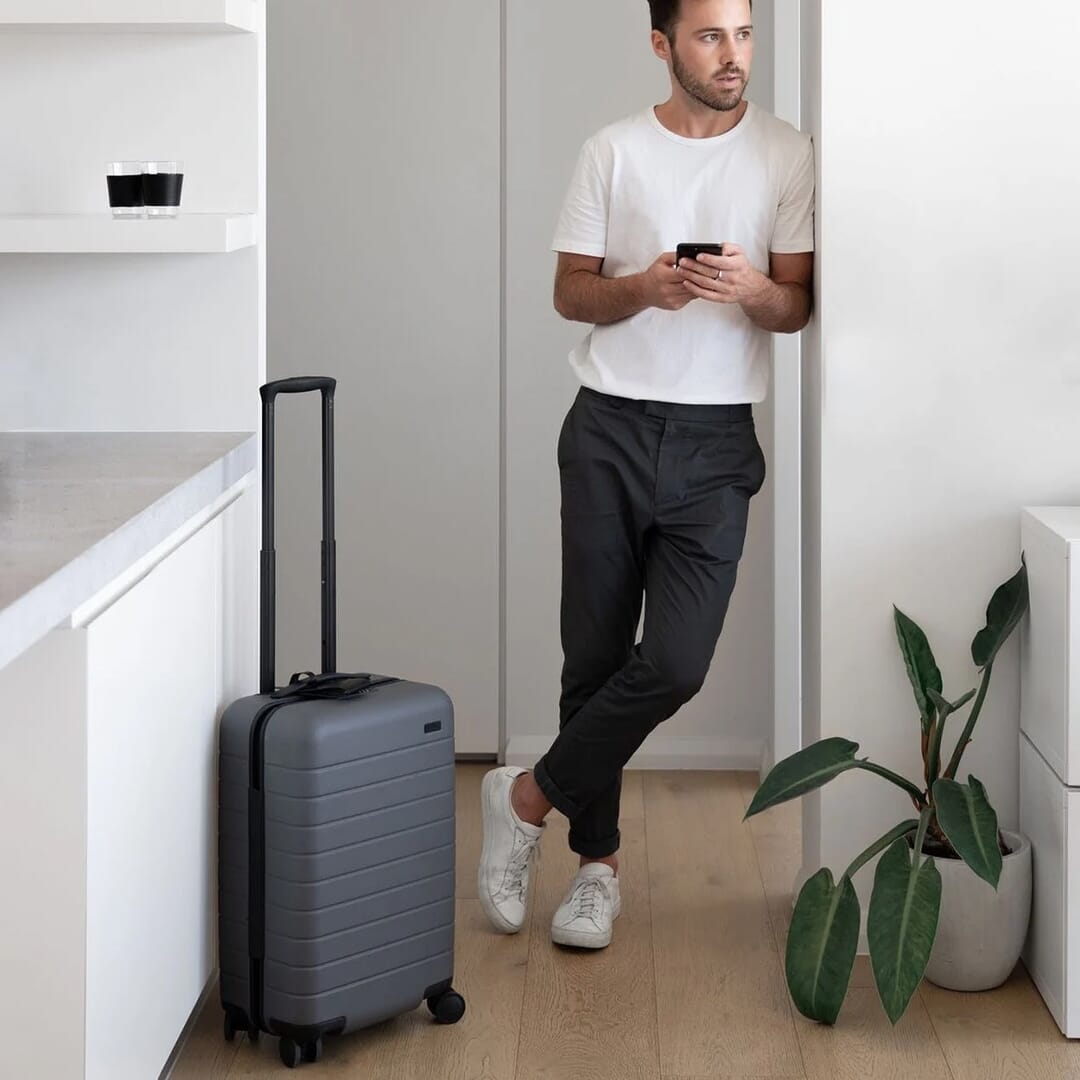 How should a plain white T-shirt fit?
Finding your perfect plain white T-shirt fit really comes down to a matter of personal taste. If you're after a tighter fit, opt for a tee that fits snugly around your torso, with the sleeve cutting the bicep in half. A looser fit might mean opting for a boxy cut, which has more width than length, or a T-shirt on which the seams fall below the shoulder. For a happy balance, find a T-shirt with a seam that sits perfectly at the end of the shoulder.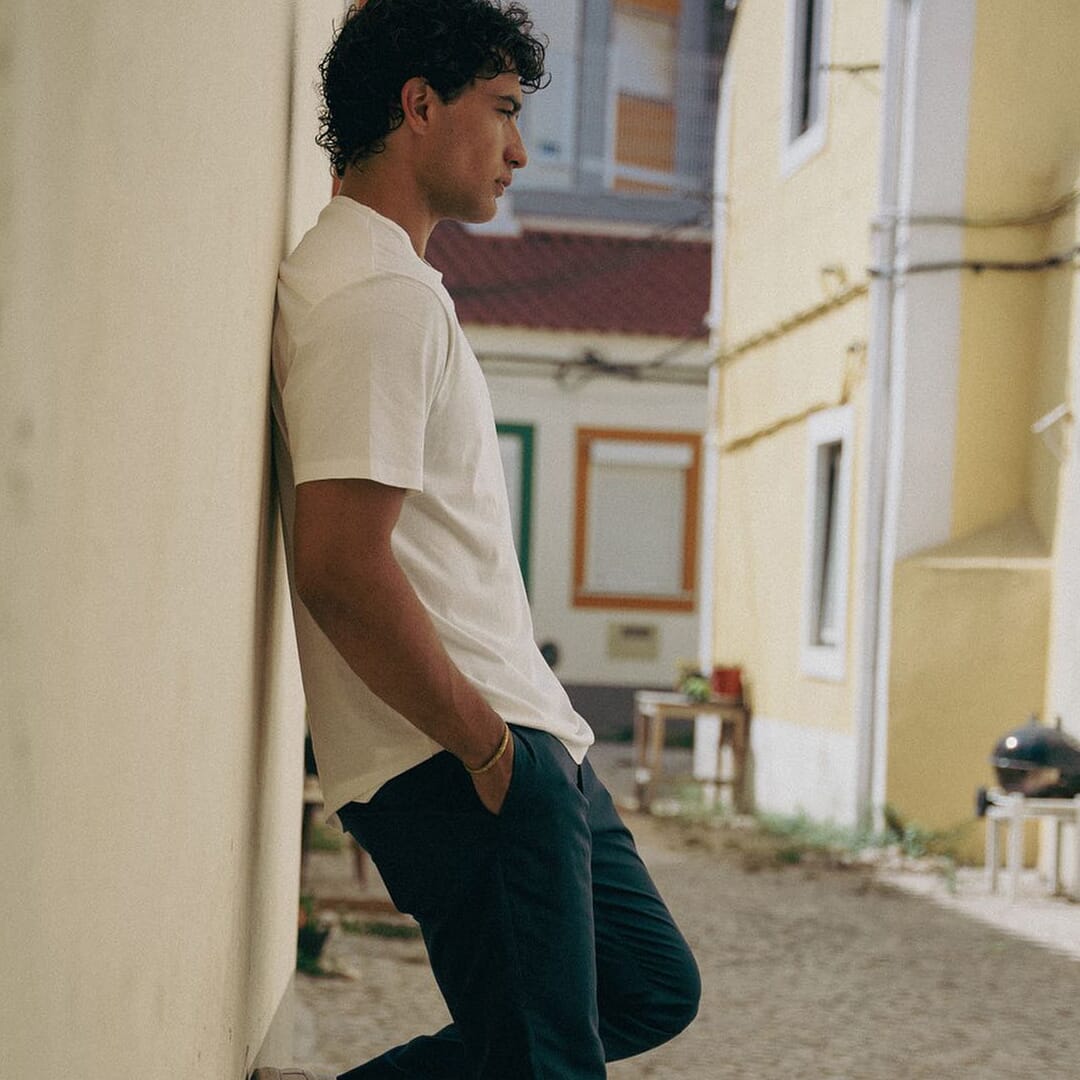 How to keep your white T-shirts white
Those prone to spillages, listen up. It goes without saying, but always wash your whites separately from colours and anything striped. For best results, a hot cycle will do the trick, but be sure to pay attention to your T-shirt's label to avoid shrinkage. To treat stains, pre-wash your T-shirt with a stain remover, using a gentle brush to work the detergent into the fabric. If possible, dry your whites outdoors: the sun will help brighten garments and aid in removing stains.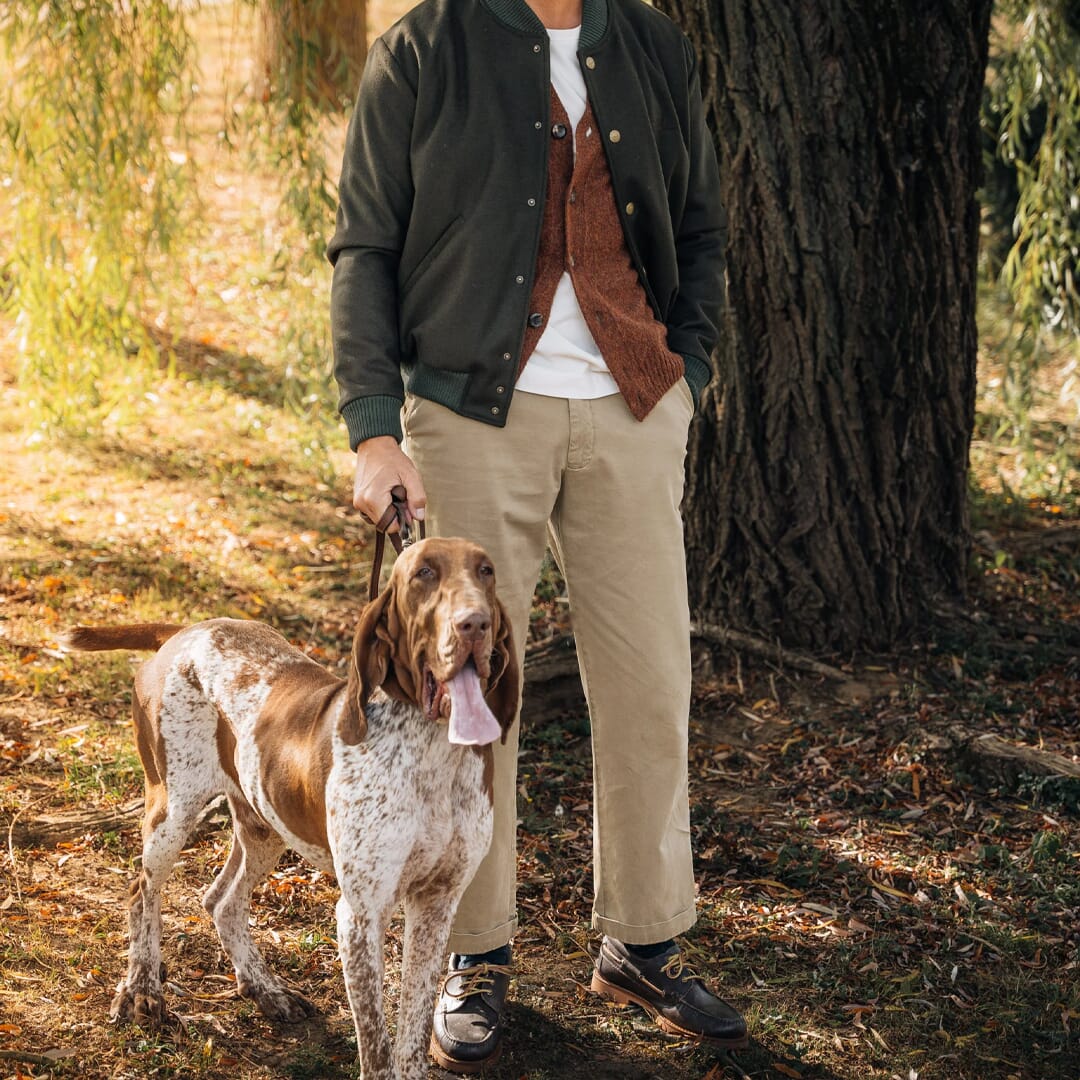 How to wear a white T-shirt
The best white T-shirts are inherently versatile, able to transcend trends, seasons and occasions. This is a piece of clothing that will look great with anything – dressed up or down, it's the perfect blank canvas upon which you can you build any outfit.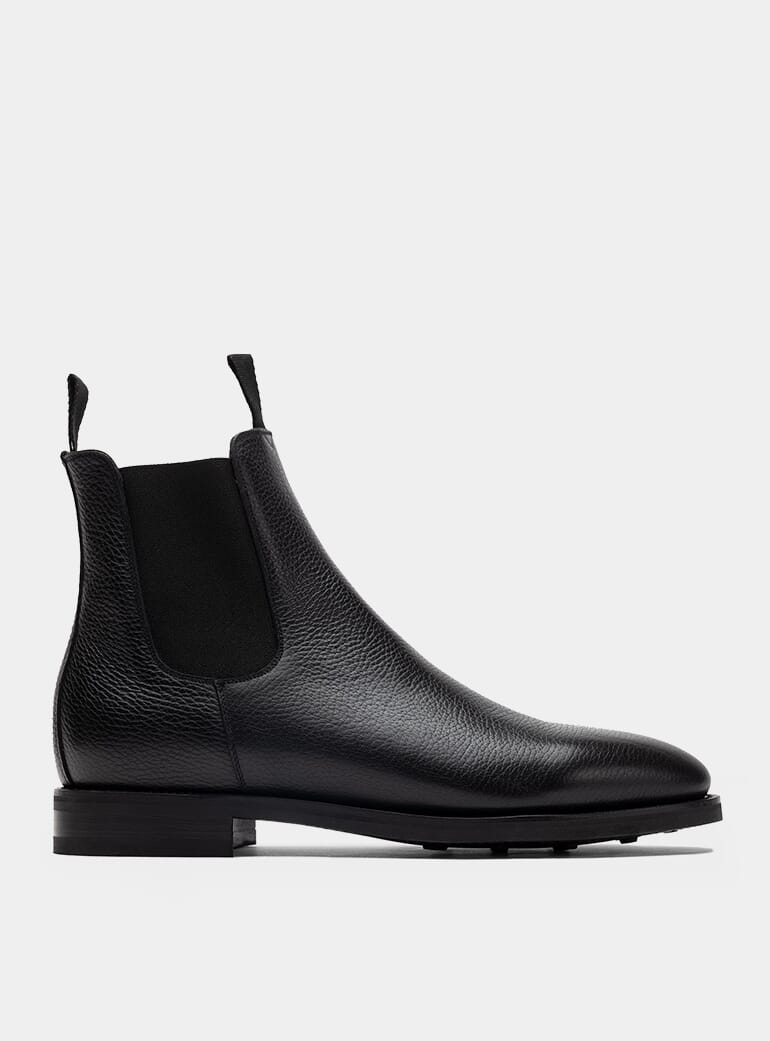 Look 1
For a classic casual look, you can't go wrong by teaming your white tee with a well-made pair of denim jeans and Chelsea boots. Throw on an overshirt or worker jacket for a utilitarian edge or add a bomber jacket à la James Dean.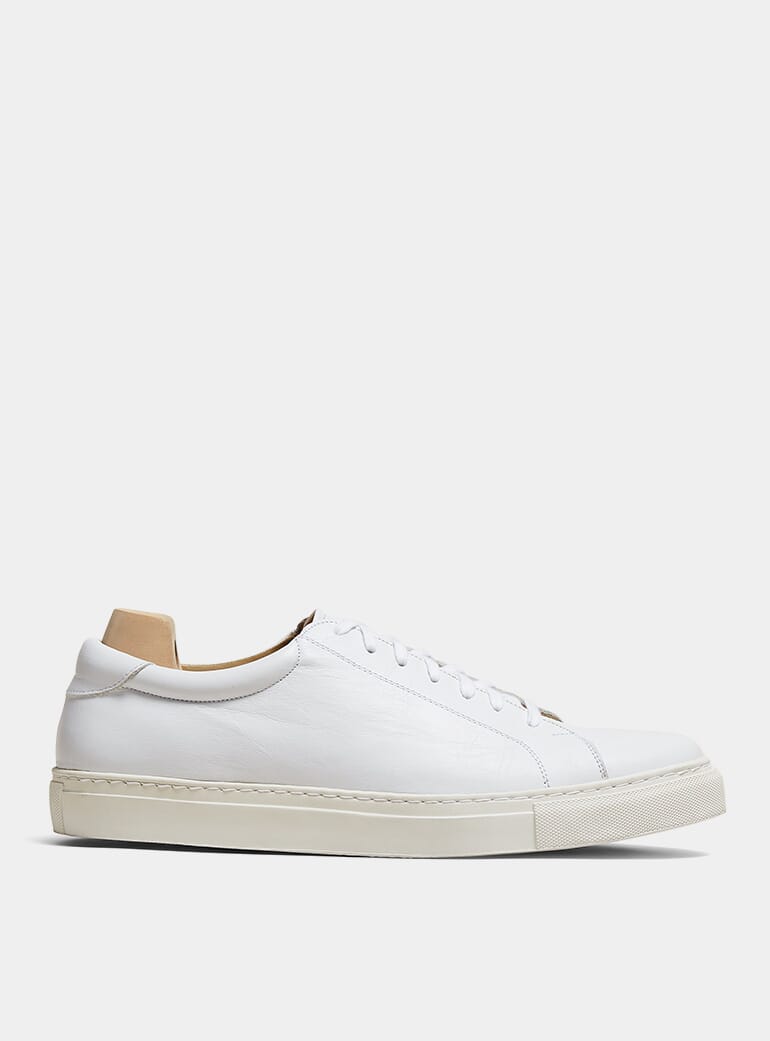 Look 2
Another styling option sees the humble white tee taken to new heights with sharp tailored separates or a suit. Tuck it in and throw on a pair of crisp white leather trainers for the perfect smart-casual balance that will see you stylishly from the office to after-work drinks.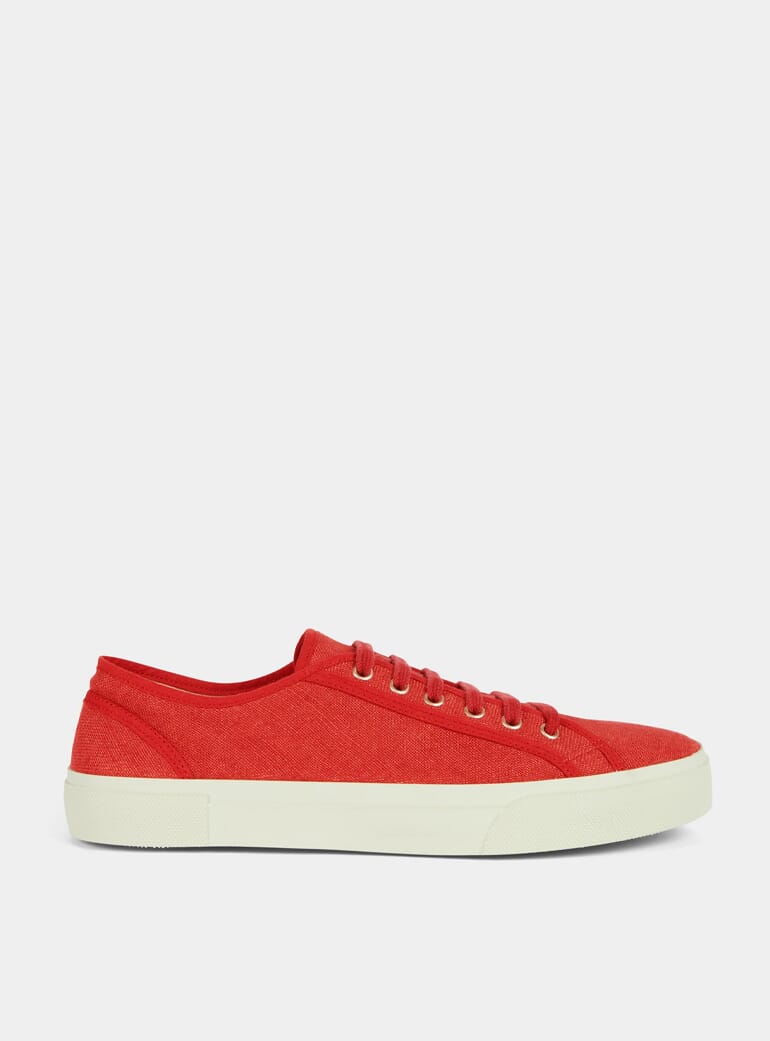 Look 3
White T-shirts also lend themselves perfectly to elevated sportswear looks. A pair of comfortable drawstring trousers or shorts, some canvas trainers and a heavyweight hoodie will complete a relaxed weekend-ready look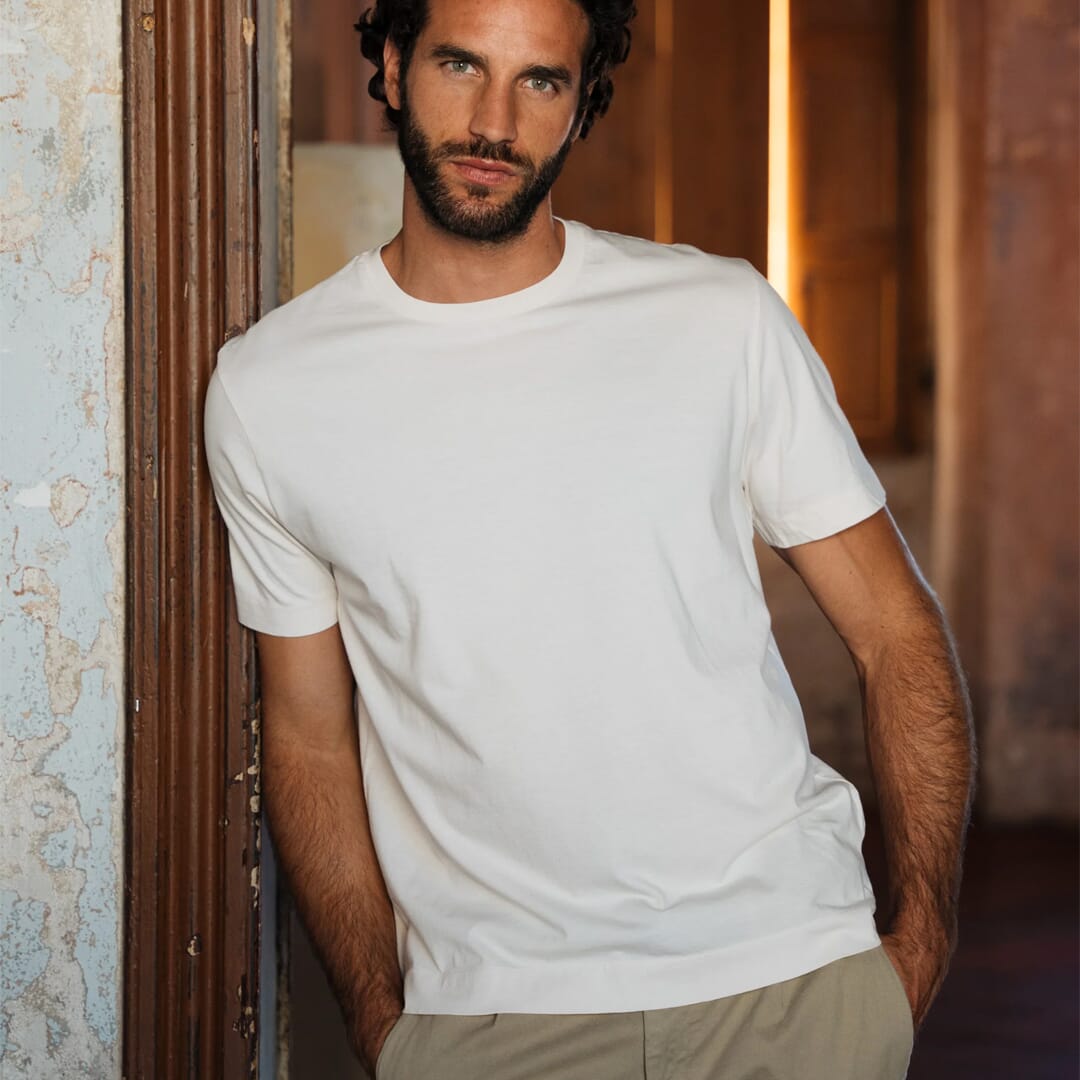 The best plain white T-shirts for men
Velasca Superlonga T-Shirt
Italian label Velasca is all about classic designs, made to last. This timeless white T-shirt, crafted in Italy from 100% cotton jersey, is just that. Its clean lines and comfortable fit make it the sort of piece you'll want to live in all year round.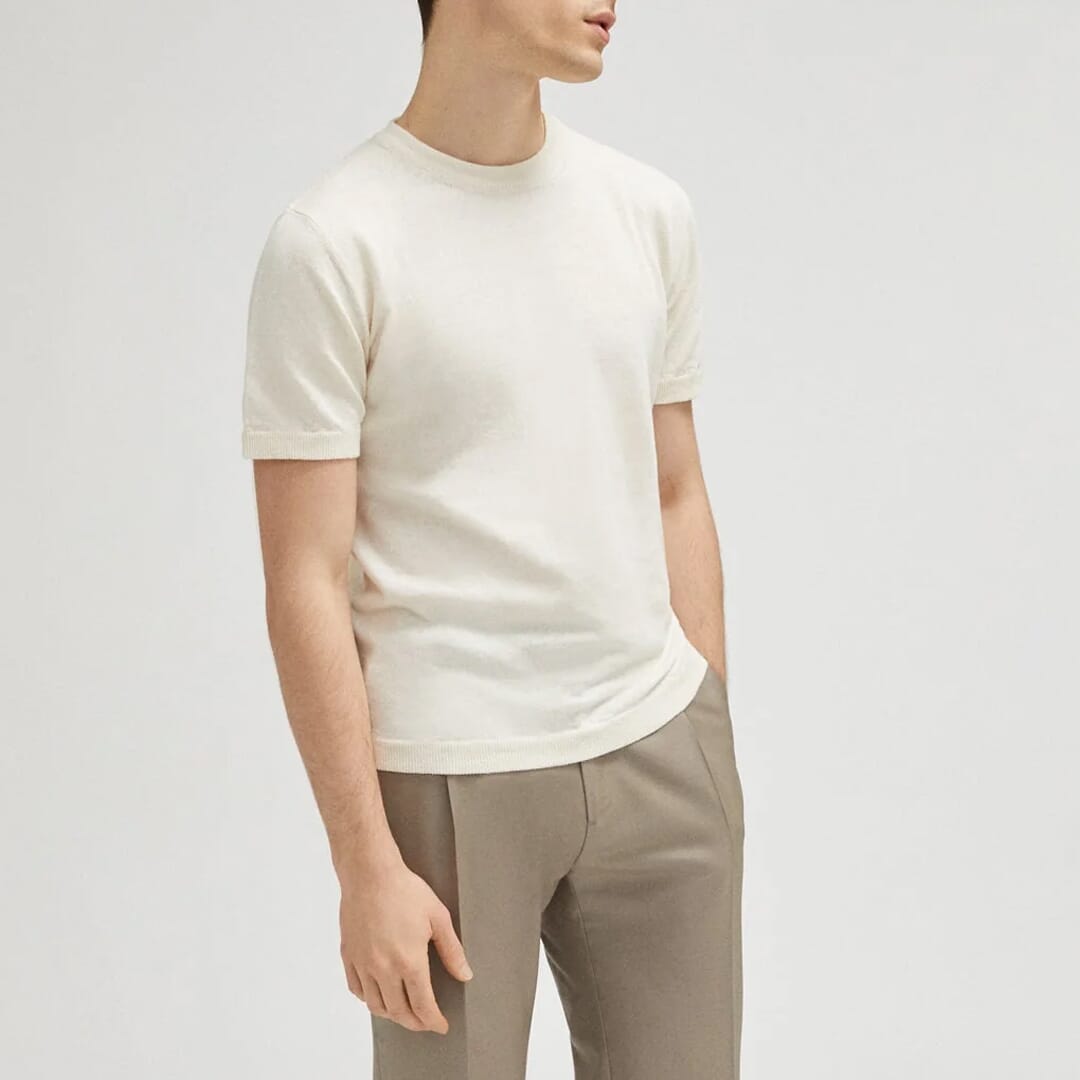 Artknit Studios Linen Cotton Knit T-Shirt
Crafted from a sustainable blend of 65% linen and 35% organic cotton, this luxurious Artknit Studios T-shirt is breathable, hypoallergenic and moisture-wicking, with a super soft, almost-weightless feel that makes it perfect for year-round wear.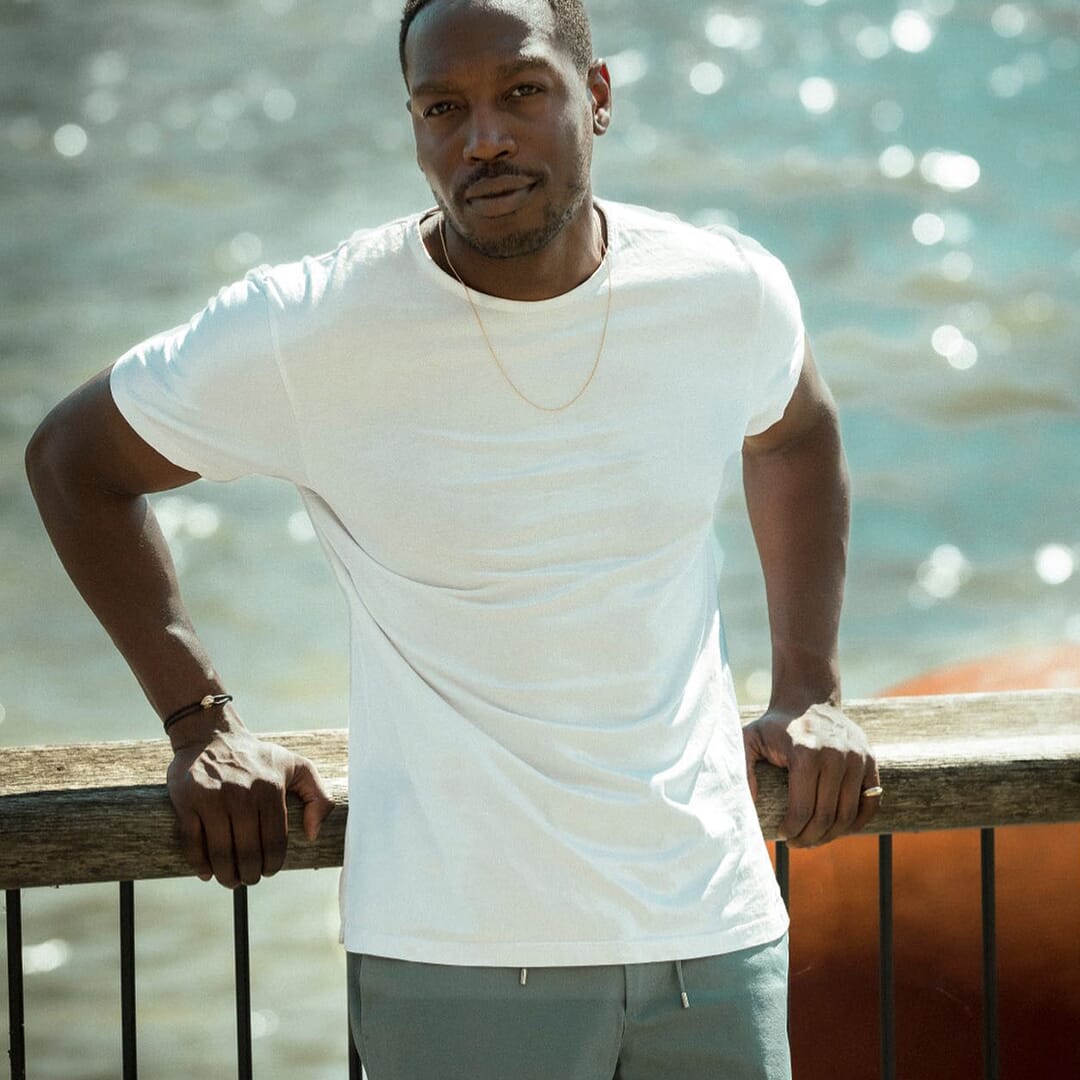 L'Estrange Organic Cotton Tailored Tee
Perfectly tailored for a structured fit, this is the ultimate T-shirt for those more elegant occasions. Wear it with belted tailored trousers and loafers for effortlessly sophisticated style. In classic L'Estrange fashion, it's made to last: crafted from 100% organic cotton, it's guaranteed to be a staple of your wardrobe for years to come.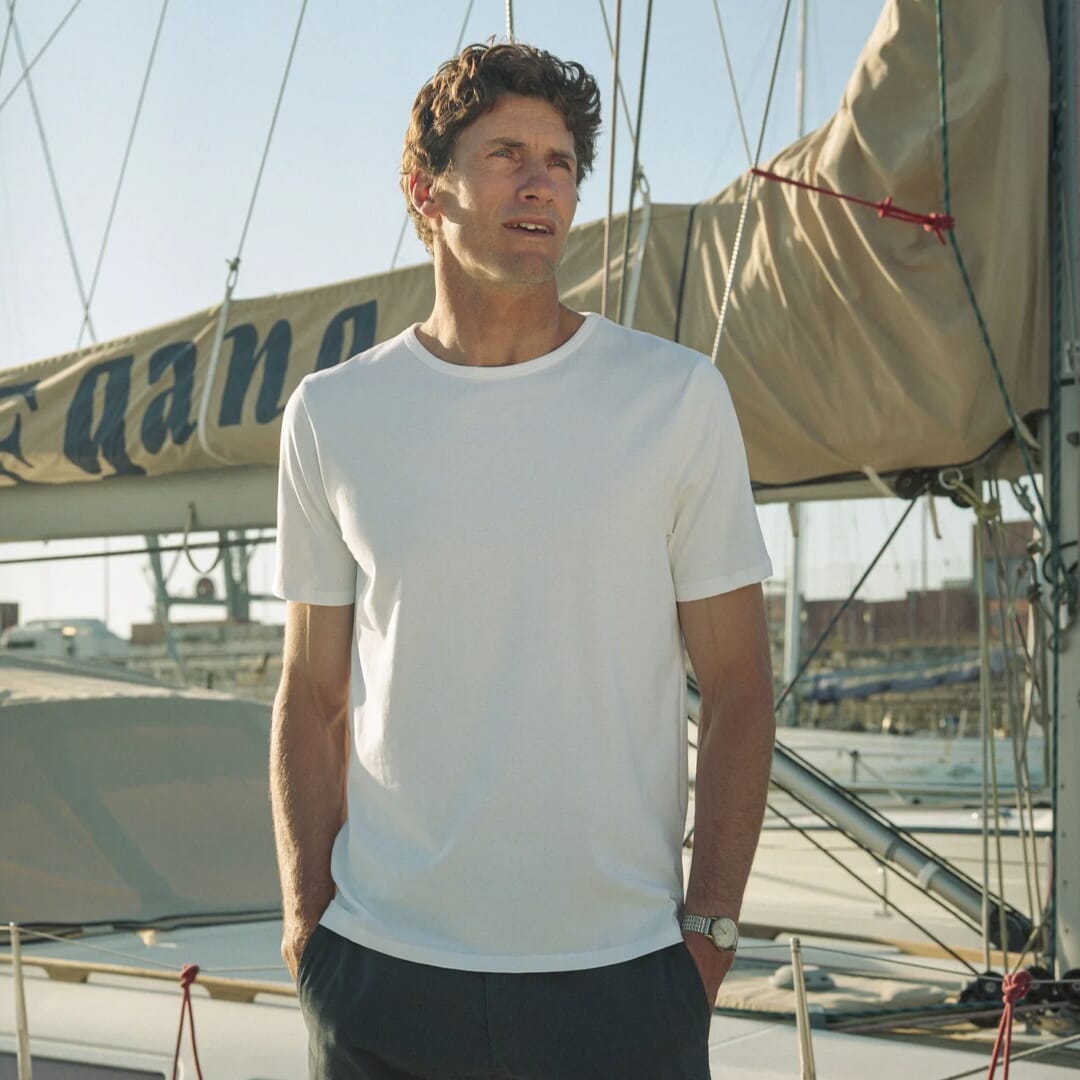 ISTO. Classic T-Shirt
Lisbon-based label ISTO. has perfected the art of the classic white tee. Its version, made in Portugal from 100% organic cotton, boasts a slim fit with a classic collar and a mid-length shoulder. What's more is the brand's commitment to transparency: it breaks down all the costs involved in creating the T-shirt so you know exactly the level of quality you're paying for.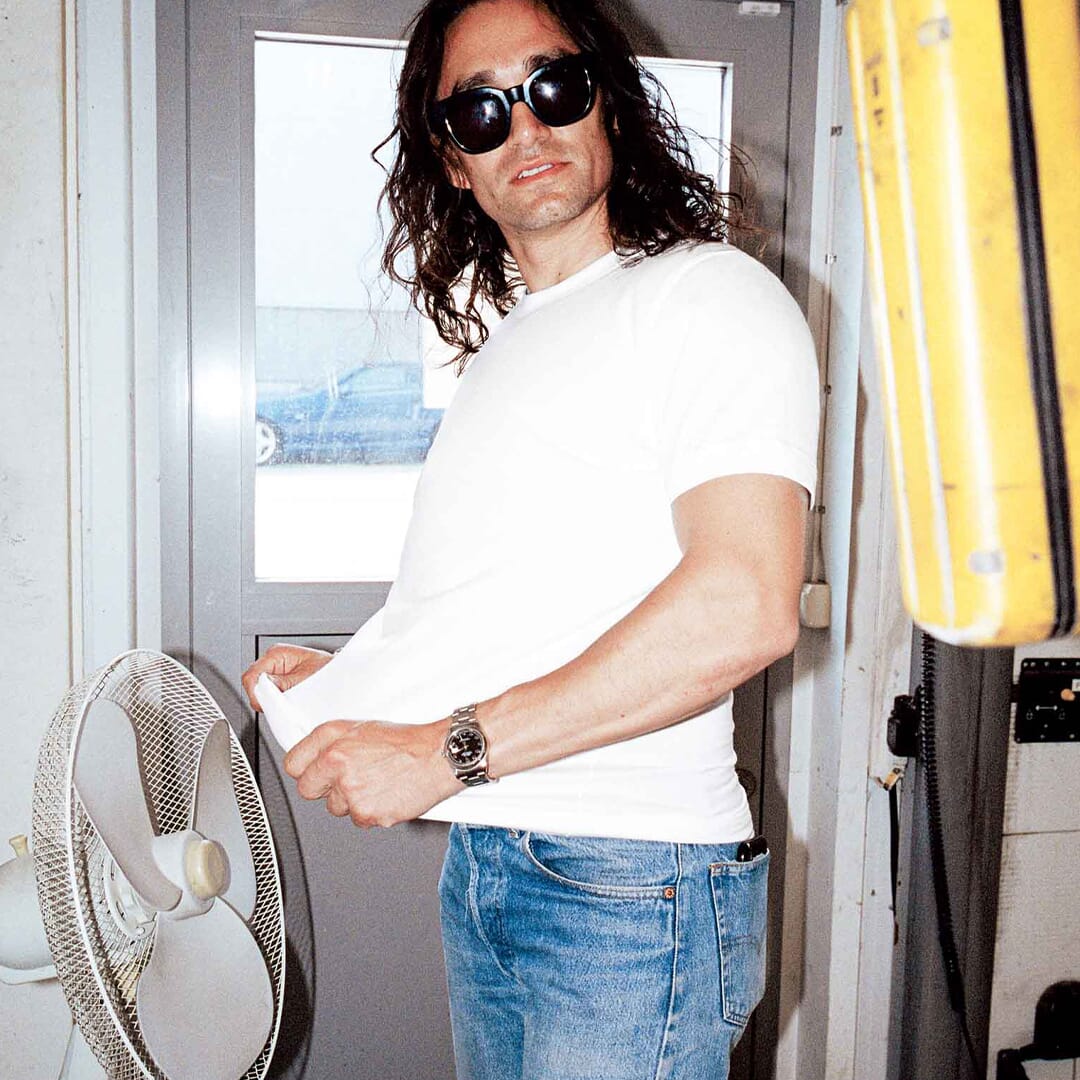 CDLP Mid-weight T-Shirt
Like everything Swedish essentials label CDLP makes, this plain white T-shirt is a step above your standard staples. It's sustainably crafted from a luxurious blend of pima cotton and lyocell, the combination of which results in a super-soft, silk-like feel and ultimate durability. Buy a pack of three to ensure you always have one to hand.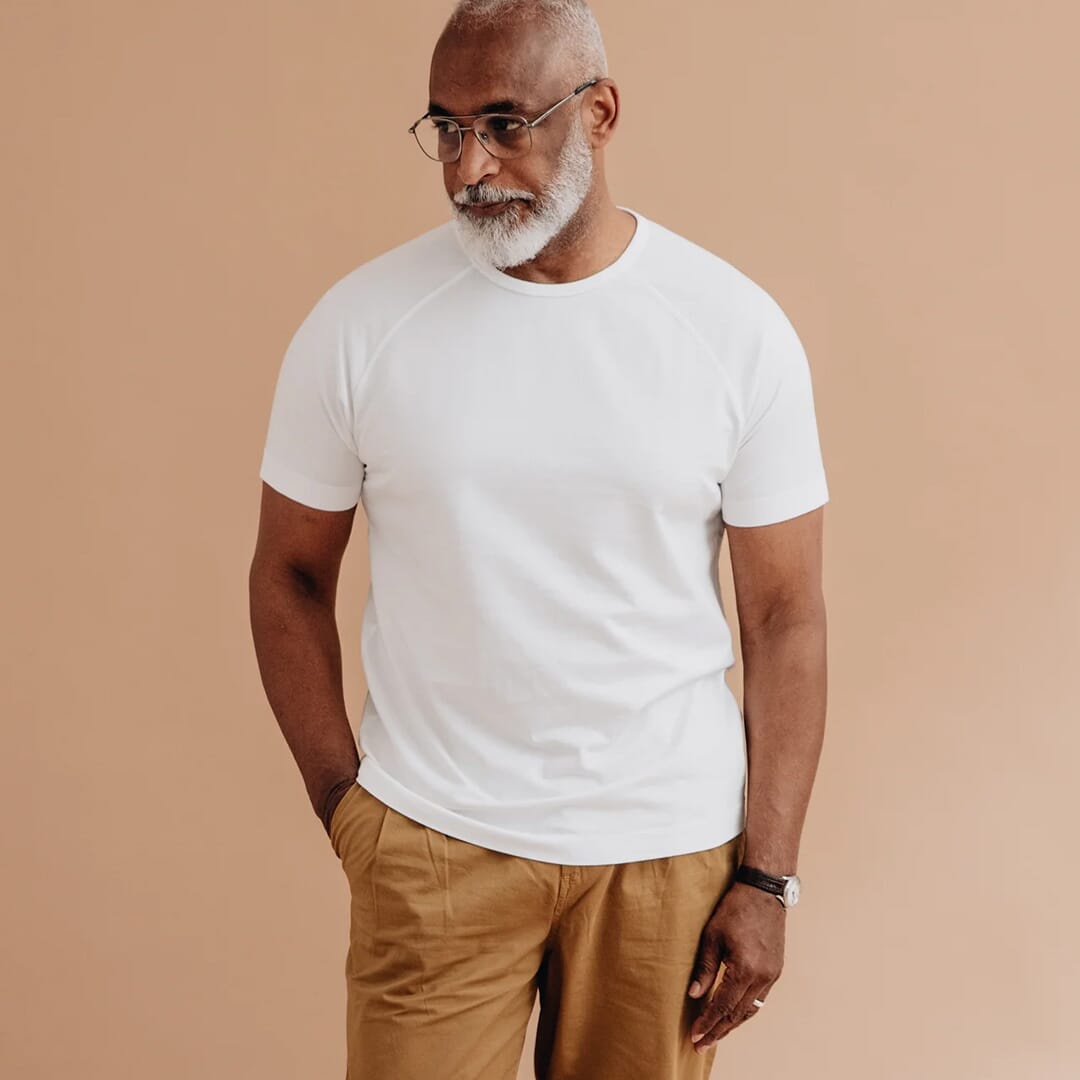 Form&Thread Raglan Tee
With a subtle fleece construction and 165GSM weight, this organic cotton T-shirt from London-based label Form&Thread is as comfy as they come. The clean-cut raglan sleeve adds a flattering silhouette that will suit any body shape. Wear it underneath one of the brand's signature overshirts for a relaxed workwear-inspired aesthetic.
ASKET White T-Shirt
Made from premium heavyweight long-staple Egyptian cotton jersey, this simple crew neck tee from Swedish masters of minimalism ASKET ticks all our boxes: it's soft, durable and elegantly understated. The straight-cut fit makes it a versatile staple that will work with any outfit, from jeans and trainers to a smart tailored suit.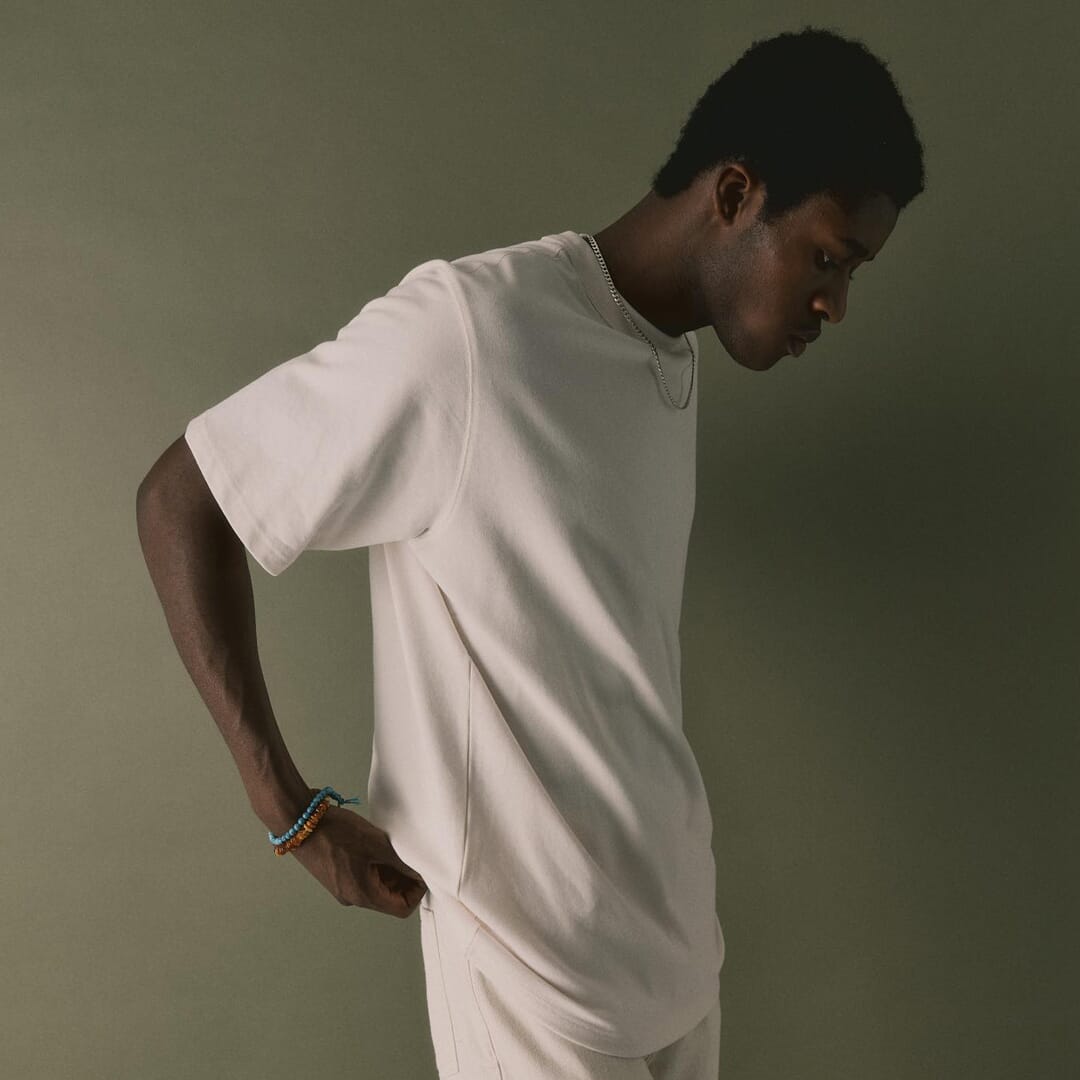 Wax London White Reid T-Shirt
Wax London specialises in well-made premium basics, like this simple yet ultra-versatile plain organic cotton T-shirt. With a loose fit and lightweight feel, it's ideal for everyday wear in the spring and summer months. Add a pair of chino shorts and high-top sneakers for a relaxed weekend look.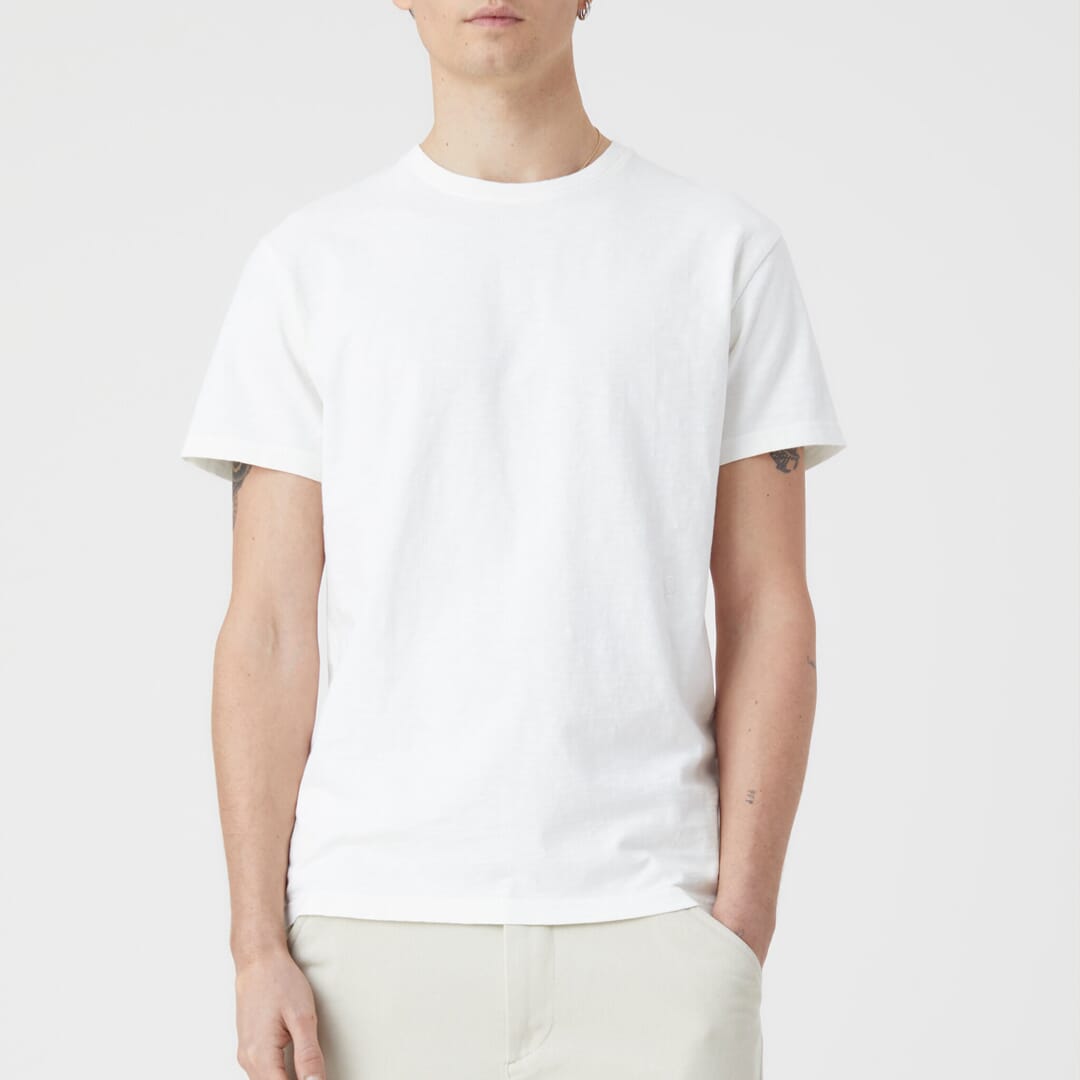 Closed Basic Organic Cotton T-Shirt
German label Closed is best known for its impressive range of jeans, but it's also a great go-to for other classic wardrobe staples, like the humble white T-shirt. This particular tee is crafted using organic cotton slub jersey, with intentional irregularities in the yarn that create a unique texture. It's the perfect companion for a pair of Closed's classic blue jeans.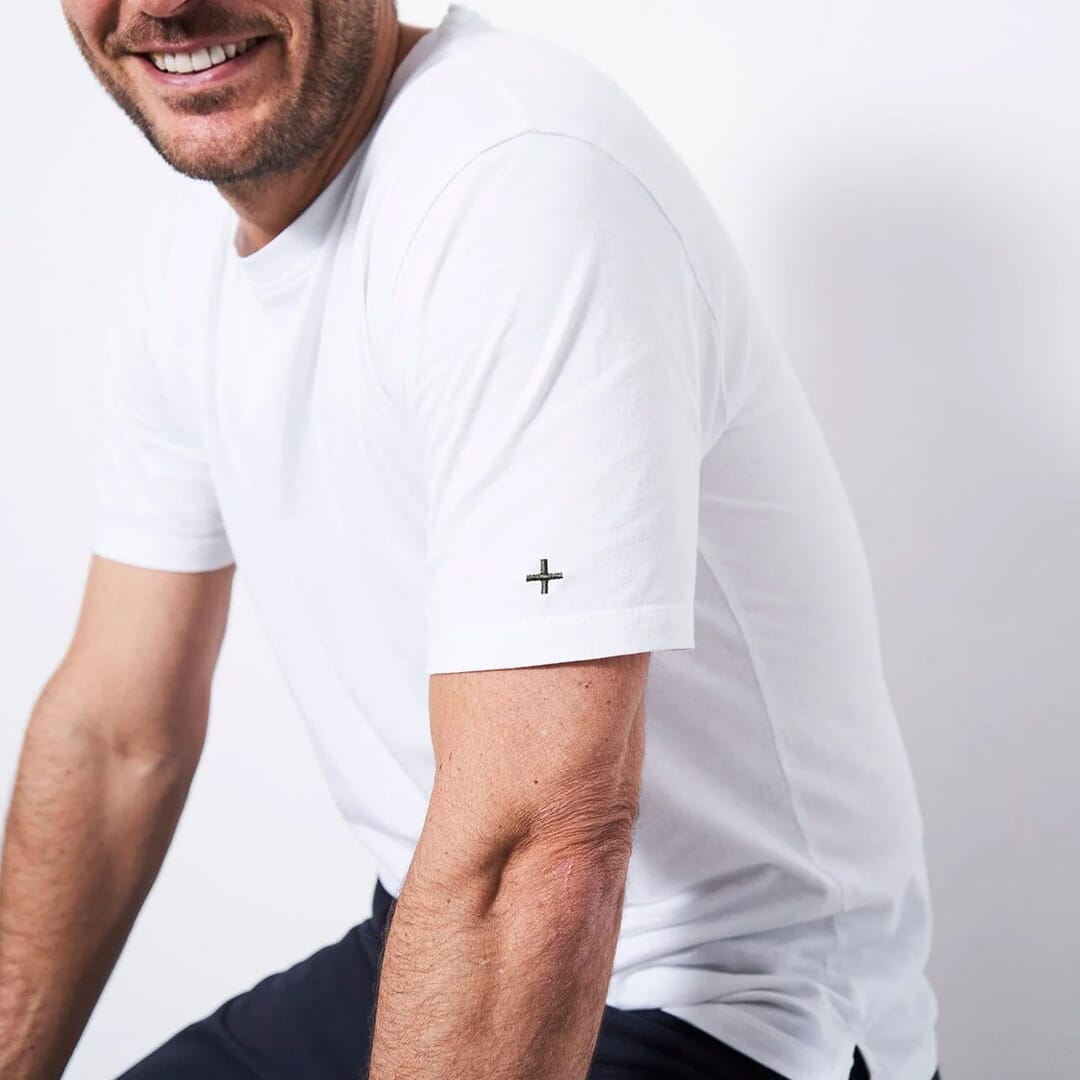 Neem The Perfect White T-Shirt
Founded as an 'antiseptic' for fast fashion, Neem fuses style and sustainability to create men's clothing staples that are ethically-made, comfortable and versatile. It's aptly named 'The Perfect White T-Shirt' epitomises the brand's approach. Crafted from 100% organic cotton jersey, it's super-soft, lightweight and perfect for layering, not to mention planet-friendly. Neem suggests you "wear often, wash infrequently, then recycle": when you've worn the tee out, simply send it back to the brand. They'll recycle it and offer you credit towards your next purchase.
Now that you've taken your pick from the best plain white T-shirts for men, keep up the minimalist momentum with the best of minimalist menswear.
---
---