The coach jacket, simply cut, ready for action whatever the occasion, should be a staple in every outerwear wardrobe. You'll find, we confidently predict, that yours will spend very little time on its hanger or hallway coat hook. It's a versatile, go-anywhere, do-anything garment. Bought properly, it'll last too, because this is fashion-free, seasonless piece that's at home whatever you team it with. Spoilt for choice? We've rounded up 10 of the best men's coach jackets, just for you.
What is a coach jacket?
The coach here isn't one you'd take on a day trip to the seaside, even though, given the breezy, blustery and showery conditions you might expect, it would be very much at home at your fish and chips destination. Instead it's a reference to polyester, snap-buttoned, straight-cut jackets worn by pitch-side sports coaches, especially in the US, to keep out the inevitable wind and rain. These utility pieces, usually with a draw-string lower hem and ribbed cuffs, became streetwear staples and now, reinvented by innovative labels, men's coach jackets are surefire essentials for every contemporary basics wardrobe.
How to wear a coach jacket
The key here is versatility. Of course you can wear yours in exactly the conditions the originals were designed for: supporting your local newly-hip non-league football team, for instance.  Or you might throw a coach jacket over a t-shirt for warmth at an evening barbecue or a pint in the pub garden. Team a coach jacket with an open neck shirt for a knowing take on smart casual for a restaurant night out. Once you have a coach jacket you'll wonder why and how you managed without one. Now the only decision is which of our 10 you'll choose.
Best men's coach jackets in 2022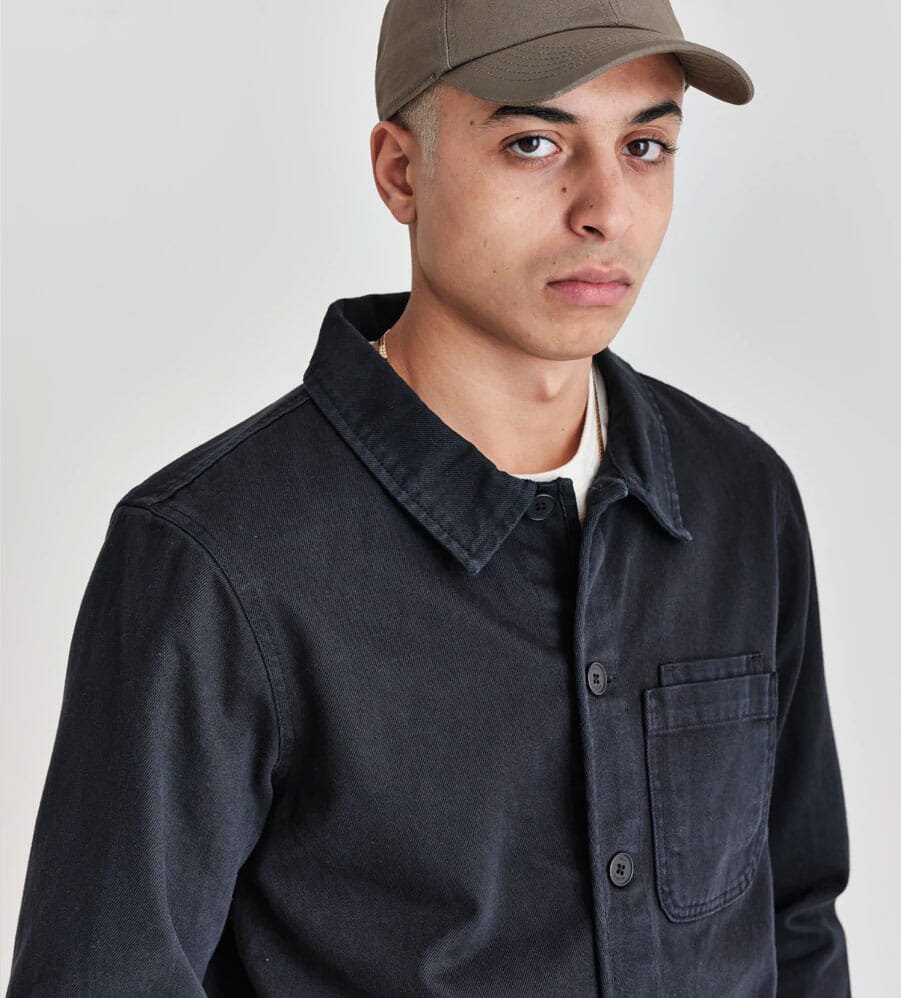 Wax London Chet Jacket Midnight
Designed for your lifetime, Wax London's classically cut Chet Jacket is crafted from organic cotton, in keeping with the sustainability ethos of this family run London-based label. Details count here, with buttons made from natural corozo nuts, an ethically sourced alternative to plastic. Dyeing process has lower environmental impact. Construction is designed to be durable enough for your adventurous life, wherever that - and the Chet Jacket - lead you.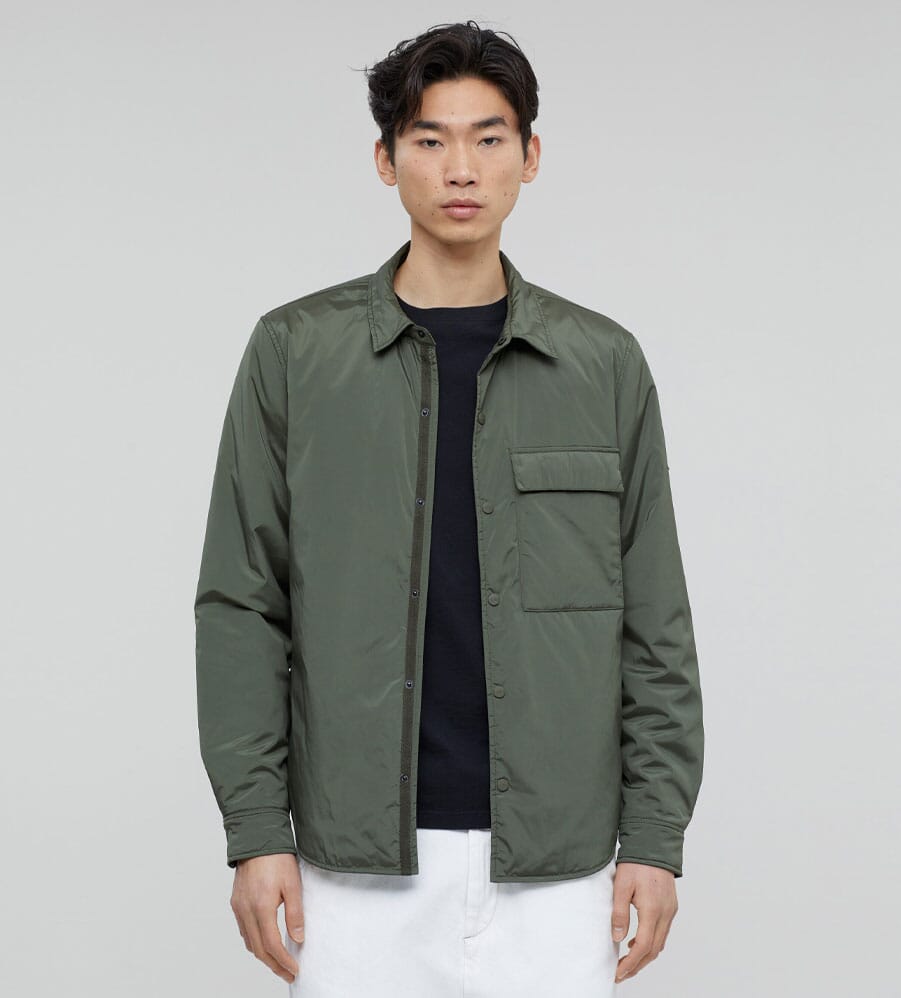 Closed Quilted Shirt Jacket
Decades in fashion have taught Hamburg-based Closed a singular lesson: always to continue to strive for innovation. That's exactly what they've done here: taken the men's coach jacket and added a twist to produce the distinctive and versatile Quilted Shirt Jacket. Water repellent technical fabrics give the Quilted Shirt Jacket its subtle shine, while closure is Velcro and tonal press studs. Chest and side pockets are buttoned. Your new wardrobe go-to.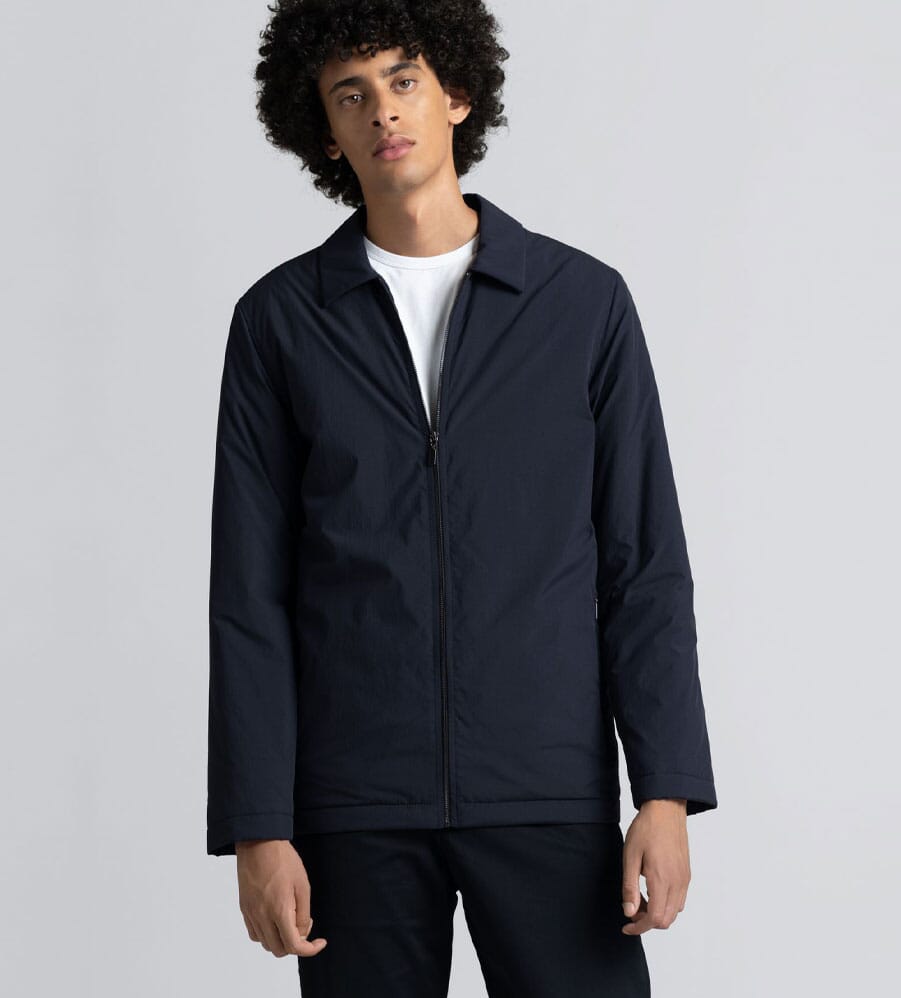 ASKET The Zip Jacket
Total simplicity in tailoring and execution mark out the impeccable Zip Jacket by the pursuit-of-less pioneers at ASKET. This is a piece that reads as if it's always been in your wardrobe, ready to keep your warm and dry whatever the occasion. The Zip Jacket really is that versatile. ASKET's transparency of costs and materials come built-in. Construction here is of super-lightweight recycled nylon, internal insulation fabric derived from recycled plastic bottles.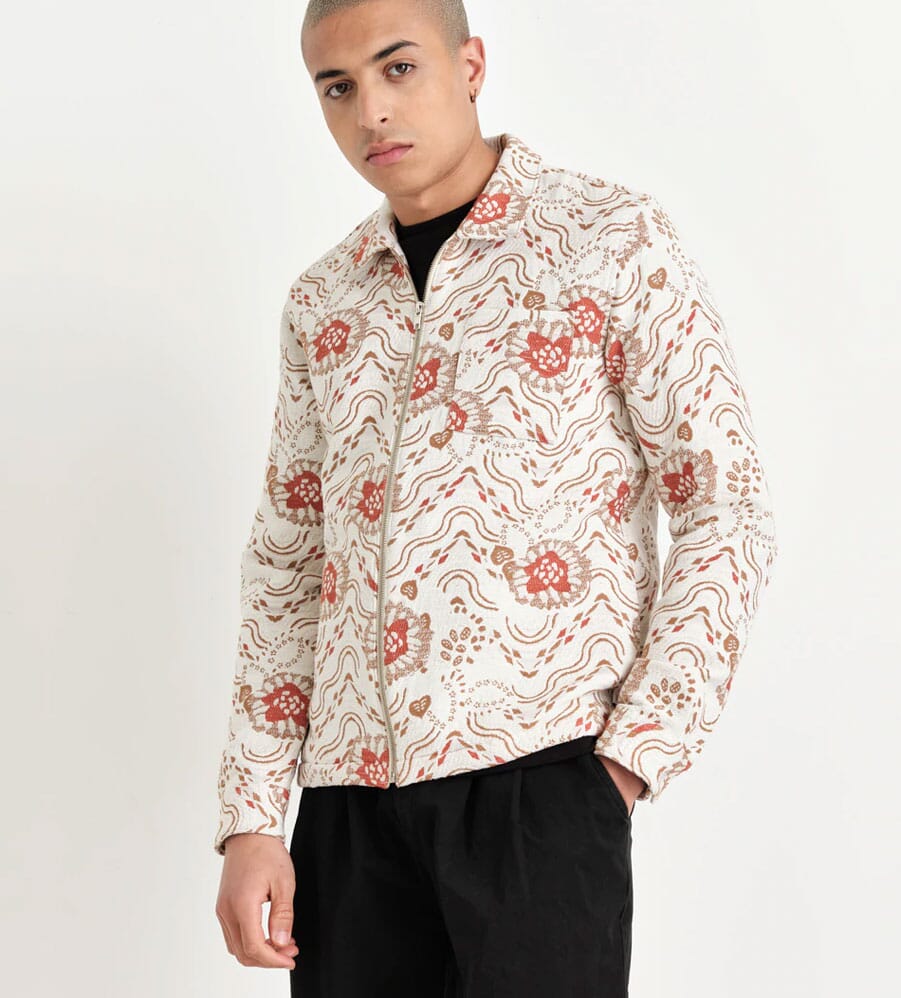 Wax London Chase Jacket Ecru Floral Jacquard
Most men's coach jackets are statements of quiet utility. Wax's Chase Jacket in Ecru Floral Jacquard is - magnificently - precisely the opposite. Here a precisely judged simple cut with double-ended zips, side seam pockets and subtle collar is constructed of recycled technical fabric with a confidently bold floral jacquard weave. This Chase Jacket has everything you need to give classic monochrome basics a real fashion kick.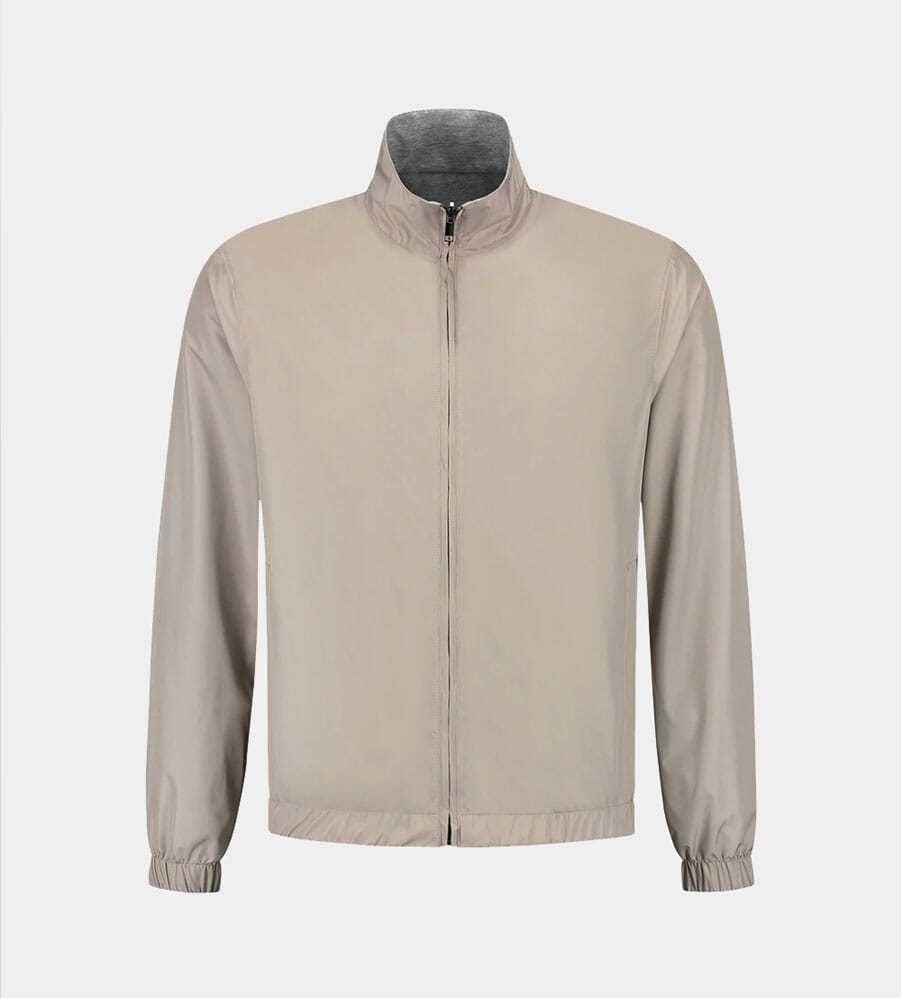 Aurélien Taupe Reversible Voyager Jacket
A supreme example of Aurélien's smart luxury ethos, their Reversible Voyager Jacket is an adaptable, deluxe addition to your essentials wardrobe. There's an extra-soft 100% cotton jersey side which reverses to a technical fabric alternative that's specifically treated to deal with wind and rain showers. Elasticated trims emphasise a deliberately loose, dressed-up casual look, while two front pockets complete a perfect picture. Tailored in Italy.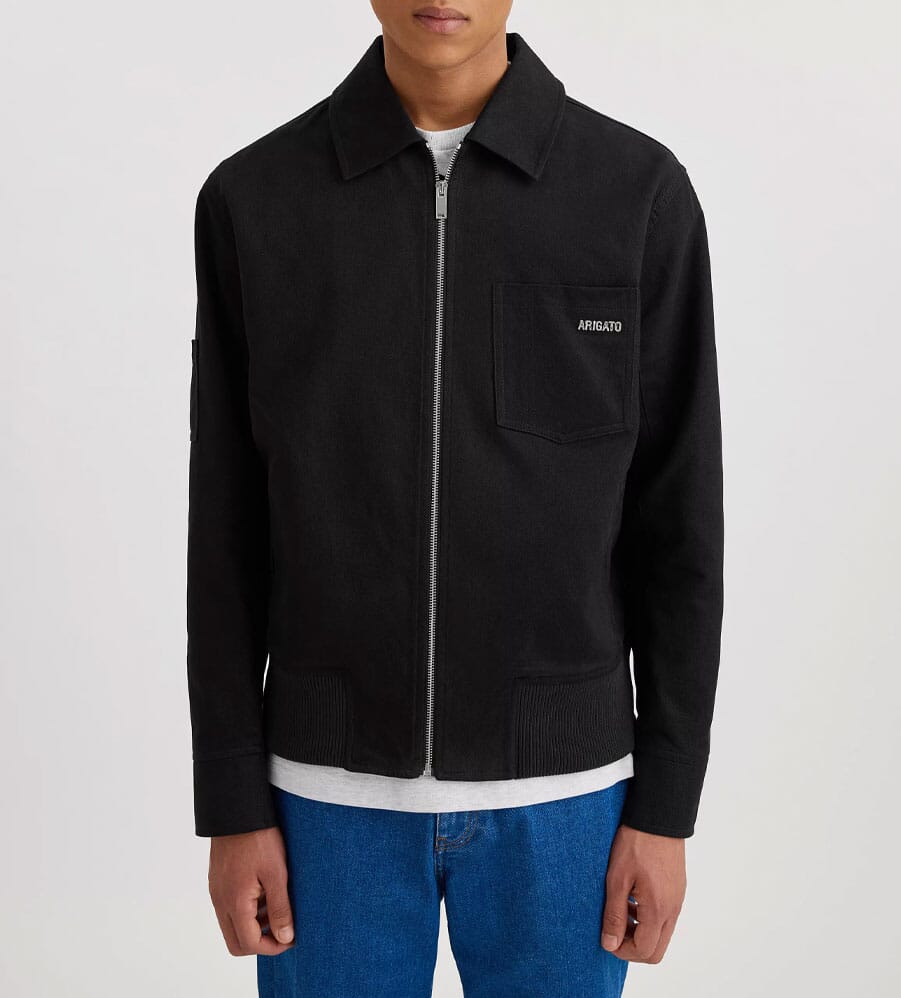 Axel Arigato Travel Jacket
Swedish form-follows-function simplicity expressed in one jacket. Axel Arigato's Travel Jacket is a minimal piece of tailored perfection. Construction is of 100% cotton twill with collar, and ribbed-knit detailing to the hem. Lining in technical fabric. Detailing extends to a silver 'Arigato' - "thank you" in Japanese - logo to the patch pocket to the front. Silhouette is unfussy and clean. Dressed up or down, the Travel Jacket is a throw-over go-to, whatever the season.
The chore jacket is another jacket style we can't get enough of.
---
---