A wingtip shoe is a reminder of how great shoes are. Don't get us wrong, we love a sneaker, but a handcrafted, Goodyear-welted shoe is a thing of beauty. The curation of material, timeless traditions, skill, style and art all come together for footwear that looks the part and makes you feel different. There's a reason why you feel a certain way in a suit and leather shoes. Clothes have that power and a wingtip falls into that category. 
That said, don't underestimate the adaptability of a wingtip. The visually interesting upgrade on a standard leather shoe will do a job beneath a pleated trouser as well as denim. Here's what to look out for with some inspiration on the best men's wingtip shoes to invest in.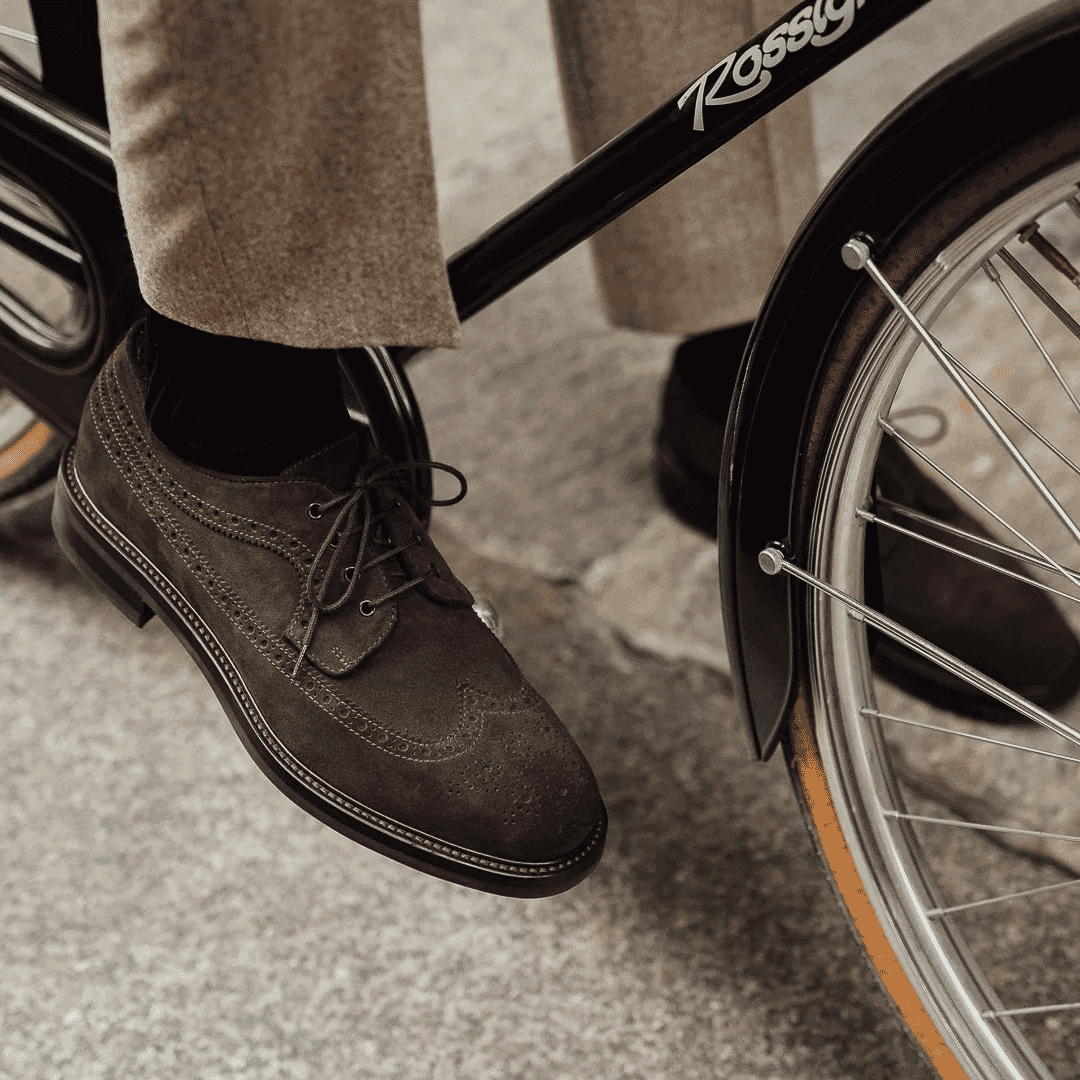 What are wingtip shoes?
A wingtip shoe, or a full brogue as it often referred to, is a shoe with a distinctive W shape on the toe. The W resembles the flap of a bird's wings and this distinctive front portion of the shoe can either be brogued (perforated detailing) or plain. Wingtips are thought to originate from Irish and Scottish brogued walking boots. The broguing allowed for water to easily pass through when navigating especially boggy terrain.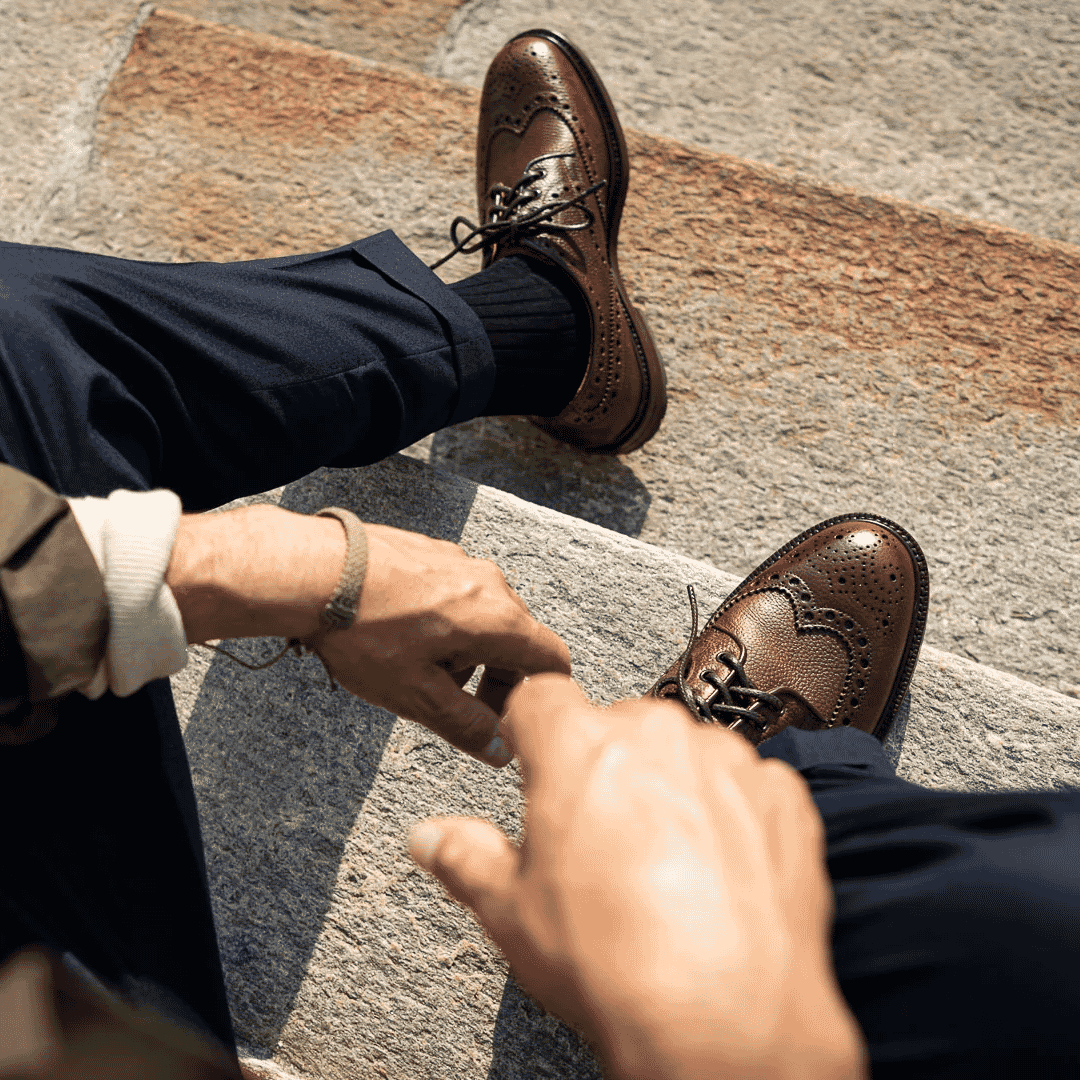 As is so often the case, pragmatic styles were soon absorbed into fashion and brogued boots and shoes soon became popular for everyday wear with tailoring. The toe cap itself is thought to have originated as a reinforcing feature and soon enough designers were experimenting with shape. The W shape stuck and the style remains popular to this day.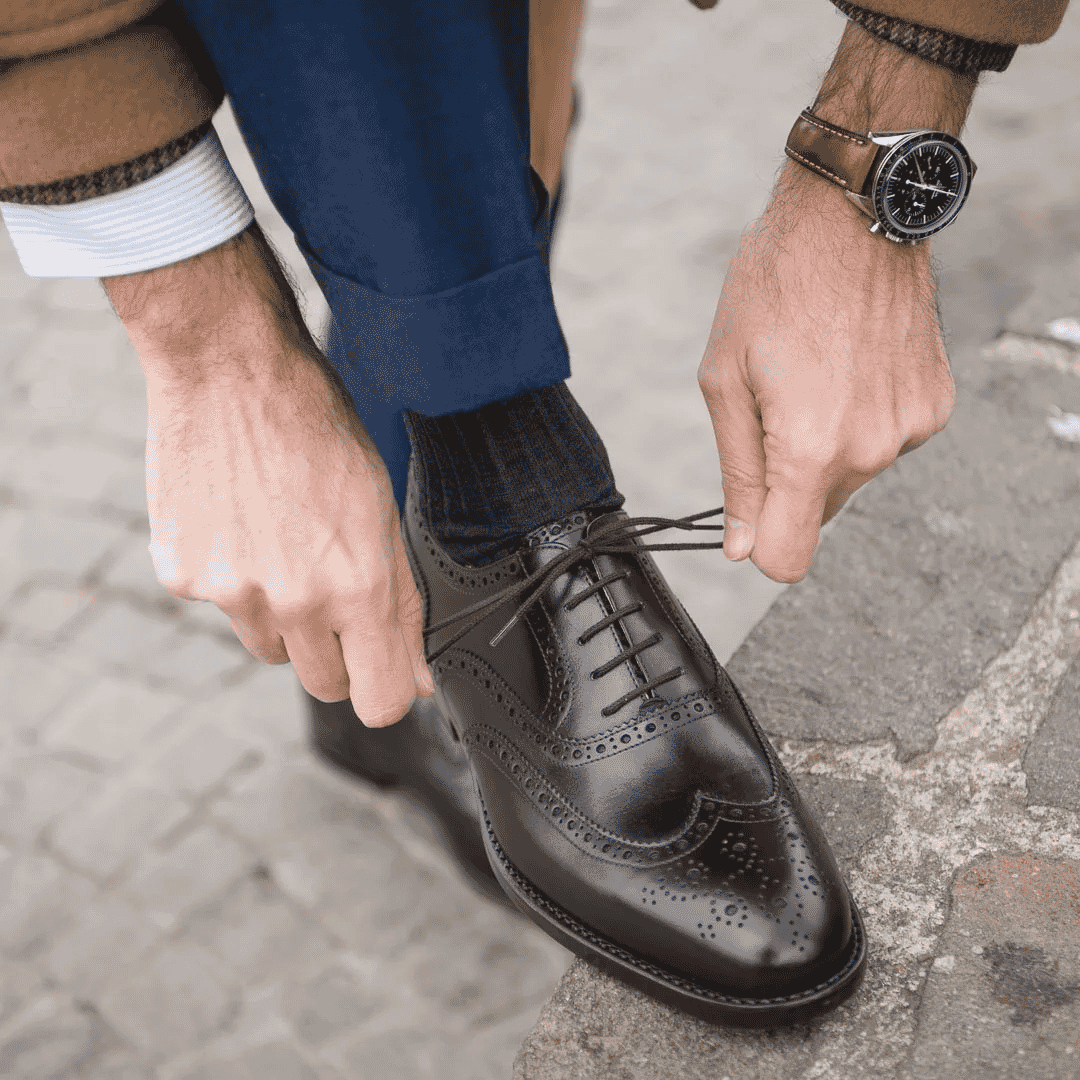 Types of wingtip shoes
Classic wingtip
The standard issue classic wingtip is typically a leather brogue with the aforementioned W shape toe cap. The wings usually meet the middle of the shoe and the shoe itself will feature broguing detail throughout. 
Austerity brogue
The austerity brogue is what purists will point out differentiates the wingtip and the full brogue. An austerity brogue features no broguing, but the same W shape on a classically styled leather shoe.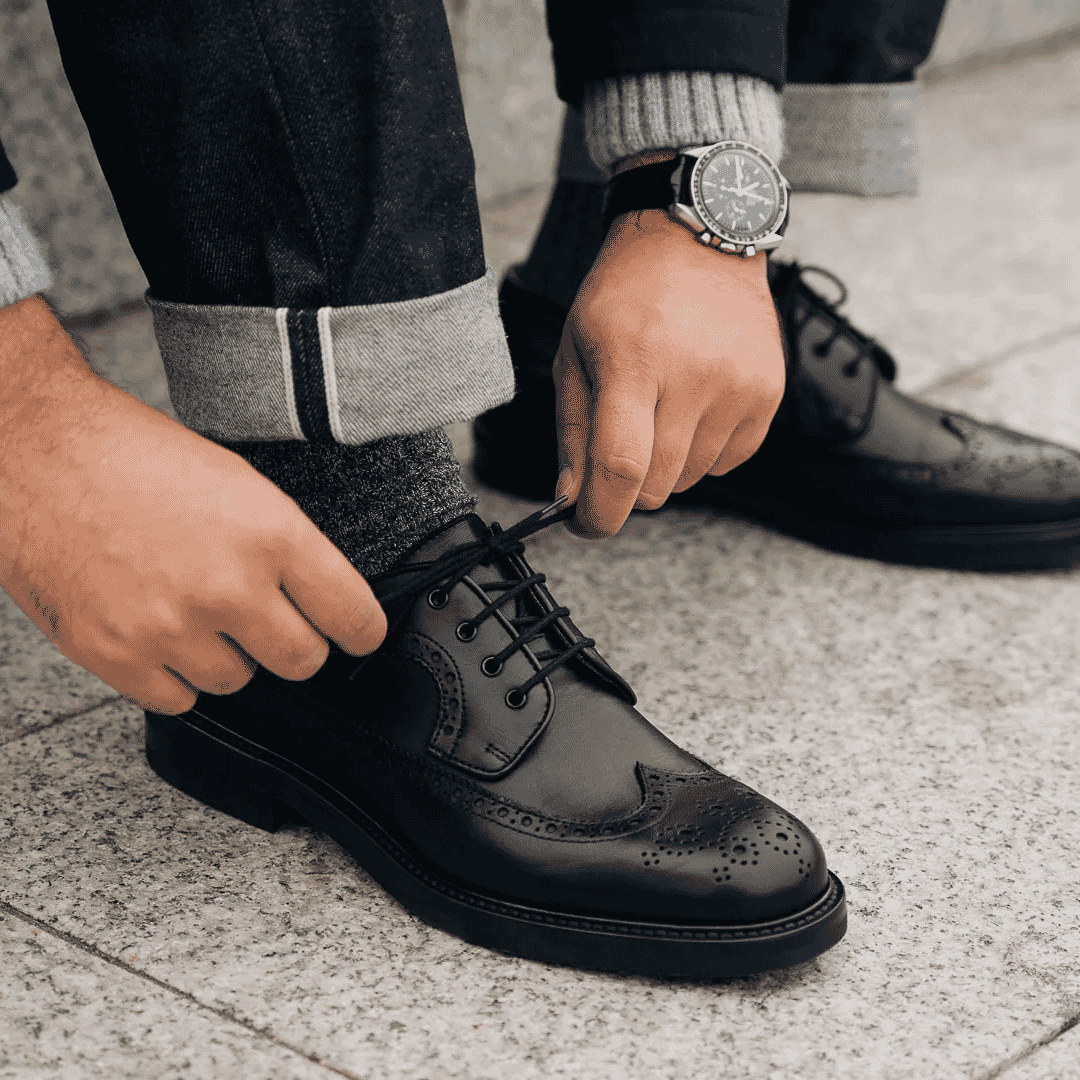 Longwing brogue
Longwings also affectionately known as American brogues feature winged toecaps that go all the way back to the rear of the shoe. Unlike a classic wingtip with wings that only go back halfway. The broguing detail tends to go all the way back too.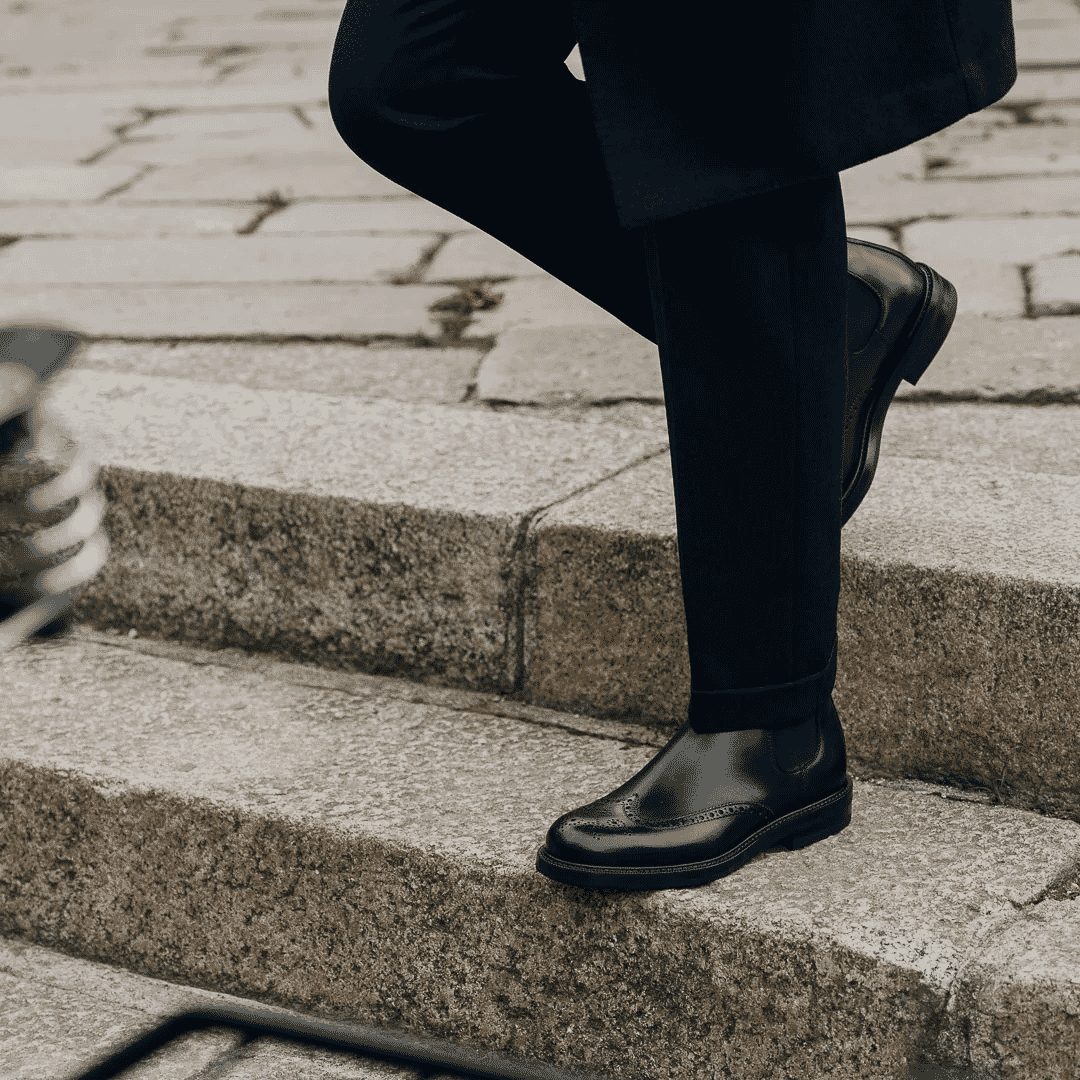 Wingtip boots
Wingtip boots as the name suggests are boots that feature the classic wingtip toe detail and broguing. 
Spectator shoes
Somewhat of an acquired taste but good to be in the know. A spectator shoe or brogue is a classic wingtip style shoe using contrasting colours.
Best wingtip shoes for men in 2023
Myrqvist Orust
We're big fans of these longwing Derbies from Myrqvist in a tantalising chocolatey dark brown calf leather. The punchy broguing is subtle and not over the top whilst the open lacing gives the pair welcome heft. A dark brown Derby is a friend to both Navy tailoring and denim. Storm welts and Goodyear construction mean they will last and see you through testing weather conditions. As with everything on this list, invest in shoe trees.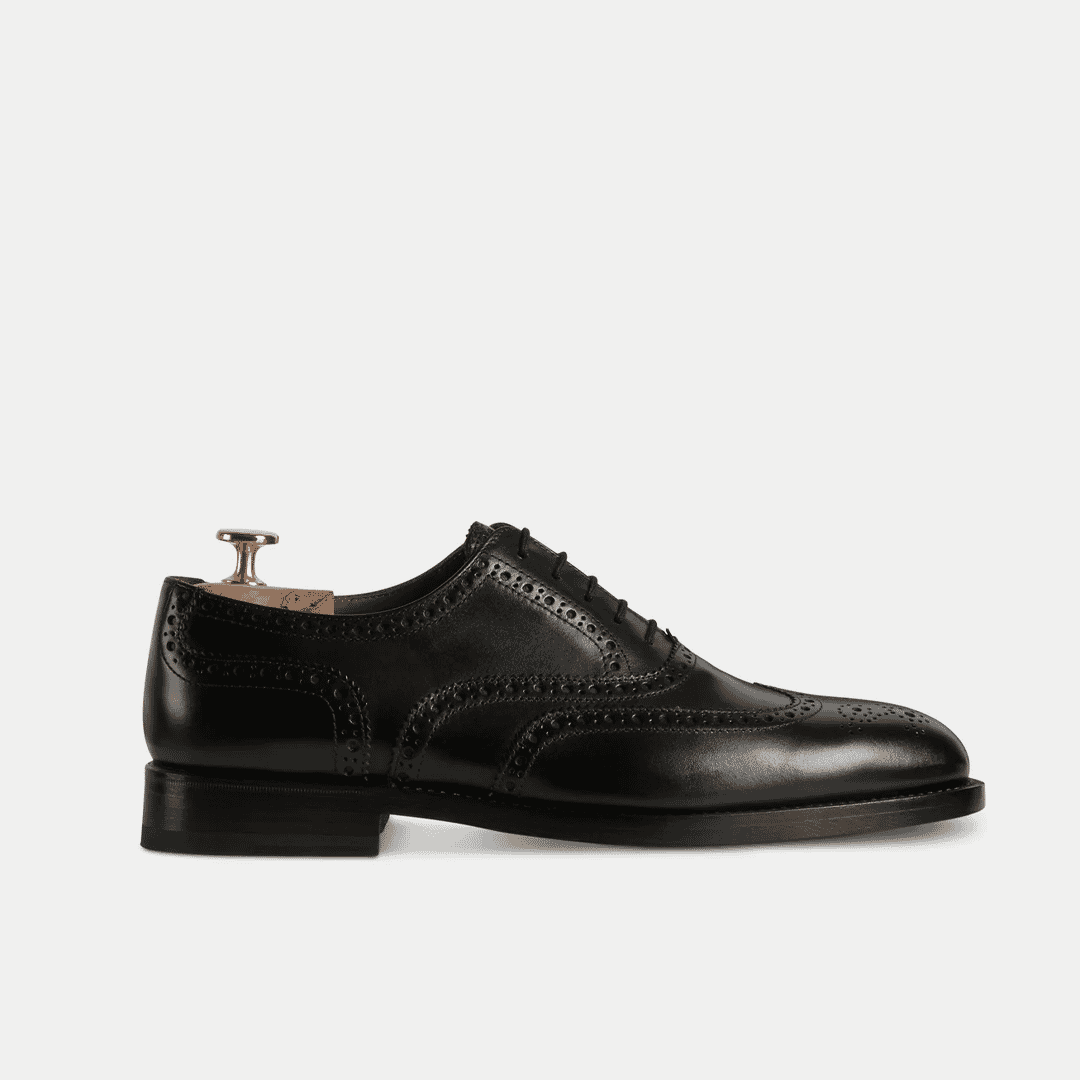 Velasca Trombee
After some black wingtip Oxfords? Look no further, Velasca have got just the thing for you. The Italian brand's Trombee are an unconventional artisan Oxford that feature a full-grain leather design with full broguing front to back. A narrower toe and leather soles make for a modern take on a formal classic. Blake-rapid construction means they are easy to resole too.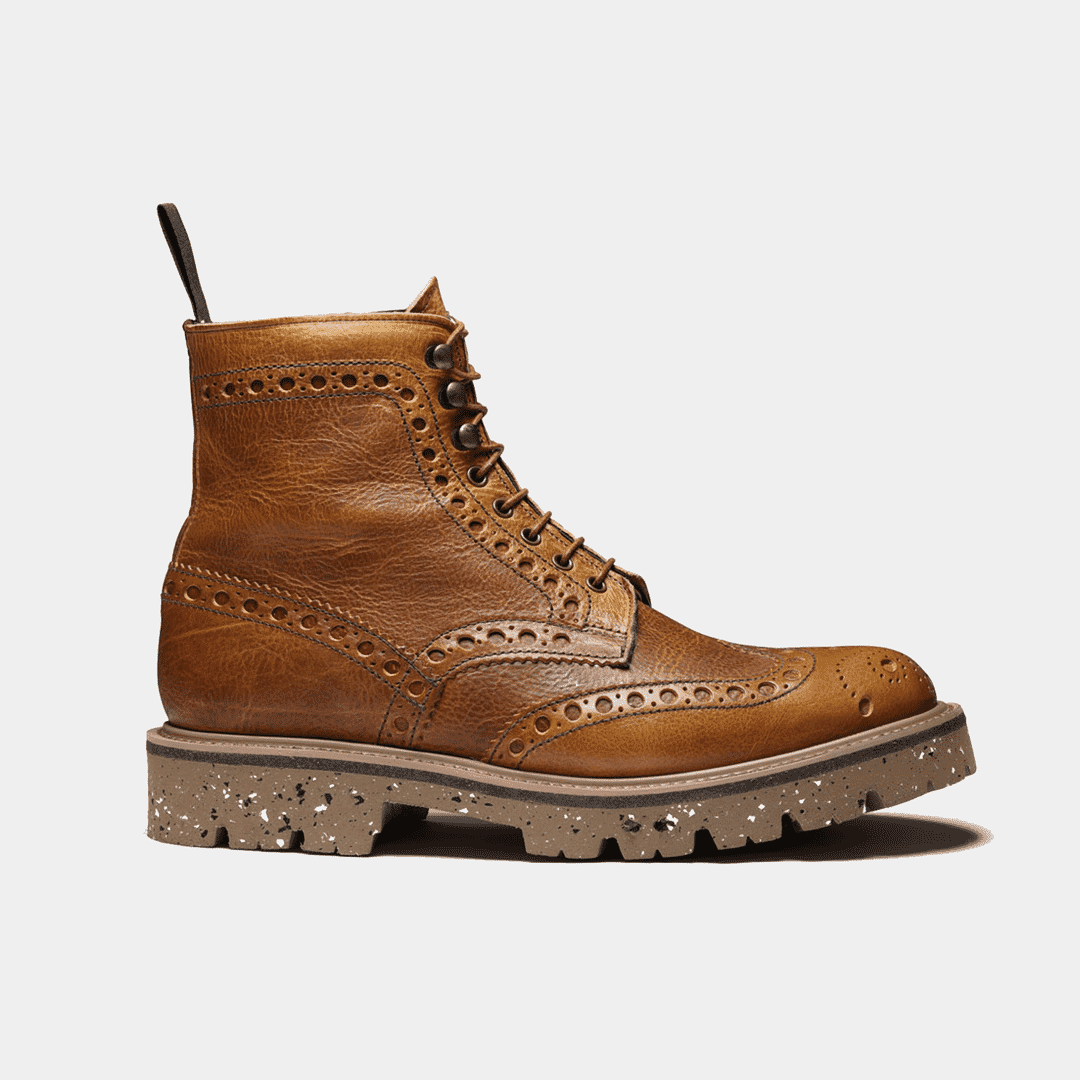 Grenson Fred Brogue Boots
Grenson have made quite the name for themselves as a forward-thinking footwear brand with Northamptonshire shoe country origins. Notable for its boots especially, the brand knows how to take the traditional and put a twist on it, bringing classic shoemaking to a new audience. These brogued wingtip boots are a fine example. Oversized detailing and a chunky commando sole are the twist, while quality vegetable-tanned leather and Goodyear welting are nods to handcrafted traditions and premium quality.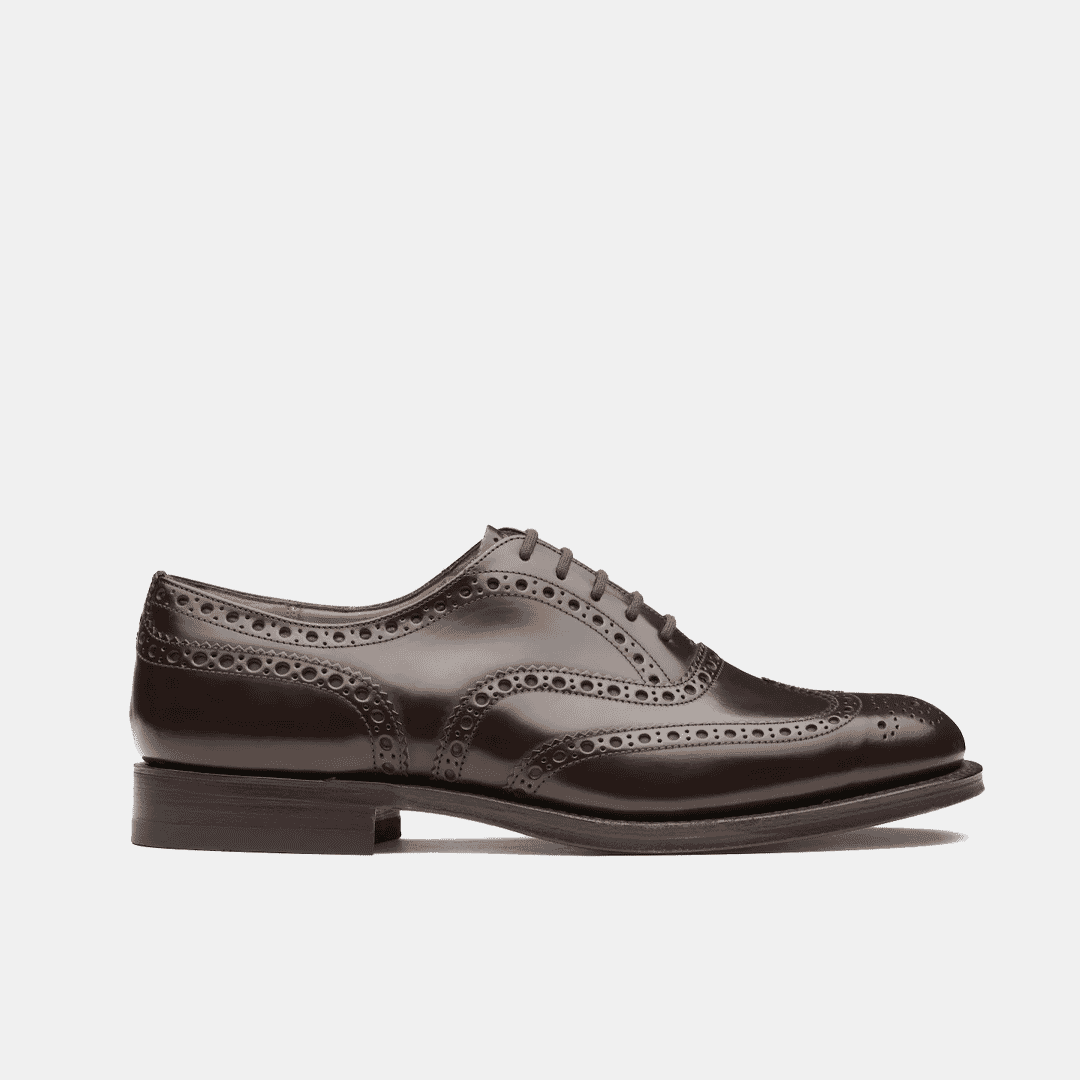 Church's Burwood Oxford Brogue
For a high-end fashion-forward Goodyear-welted shoe, Church's are part of the shoemaking upper tier. The brand's polished binder Oxford brogue in light ebony is a perfect example of a full brogue wingtip. The finest calf leather has in this case been given a special polished binder finish combining with a leather double sole and rubber heel for refined and classy durability. The finest tailoring up top should do them justice.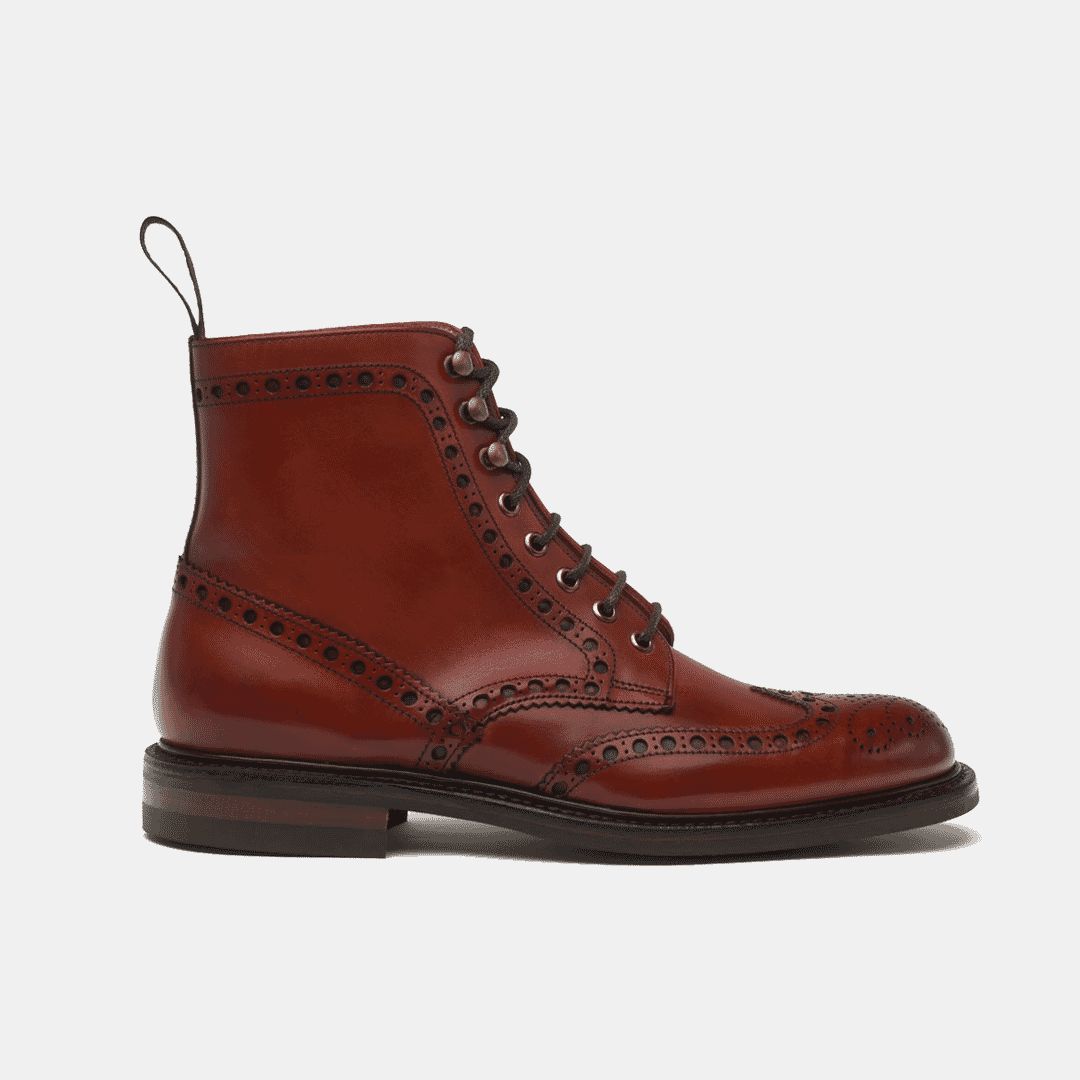 Cheaney Tweed R Derby Brogue Boot
A proper stompy countryside brogue boot. The 19th-century Irish and Scottish navigators of boggy ground would be proud. Classic Northamptonshire shoemaker Cheaney have crafted this Derby boot on one of their most versatile lasts making for a comfortable fit that doesn't look out of place in a dressed-up setting. Dark leaf calf leather provides a wonderful autumnal hue.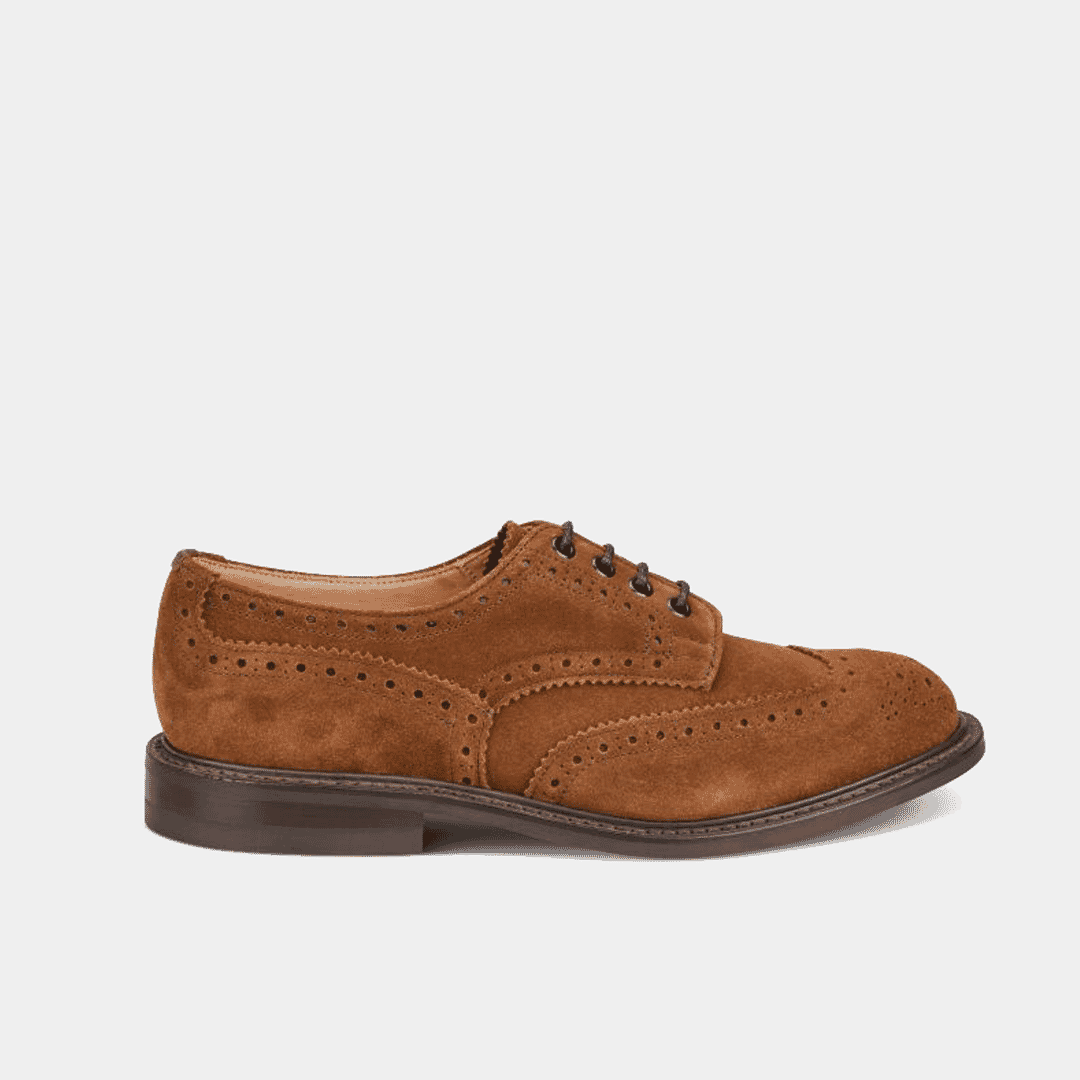 Tricker's Bourton Country Shoe
From country boots to country shoes. This pair from Tricker's are a heavy Derby that channel the same all-over broguing synonymous with traditional countryside footwear. The Bourton is as traditional as it gets, a genuine piece of Northamptonshire shoemaking history, and the preferred footwear for men all around the world. Storm-welting and a special full bellows tongue ensure weatherproofing whilst the option of leather or Dainite soles further solidifies the style as a working wingtip. 
Check out our pick of the best dress shoes for men.
---
---