Whether you're planning an alfresco feast or simply a long, languid afternoon in your garden or outdoor space, the right furniture is central to the experience. A fire pit can warm up a chilly summer's evening and make it last long into the night. A handmade parasol will keep you cool and add some style-led spice to a quiet garden corner. And why not add the indulgence of a hanging chair? We've come up with ten of the best outdoor furniture items to take your personal style under the sun – and the stars.
How to choose the best outdoor furniture
First, a few things to consider before you settle on your perfect outdoor furniture. Three of the most important: quality, quality and quality. You're buying pieces that should last summer after summer, rather than just for one season. Think of it as the difference between fast fashion and a sustainably-made, forever piece in your wardrobe. 
Like all good design, think also of the pleasure there is in the simple feel of the piece you're considering. Will it survive the repeated touch test or will your summer splurge simply be an impulse buy to be discarded? We've selected pieces to last and last, whatever your demands on them.
Finally, always make sure there's a secure place to store your treasured new outdoor pieces, or whether they'll do just as well staying in your garden or outdoor space. Some of our picks will work just as well indoors as out, so consider the versatility factor too. Now, which will be your chosen pieces to make your stylish home flow effortlessly outdoors?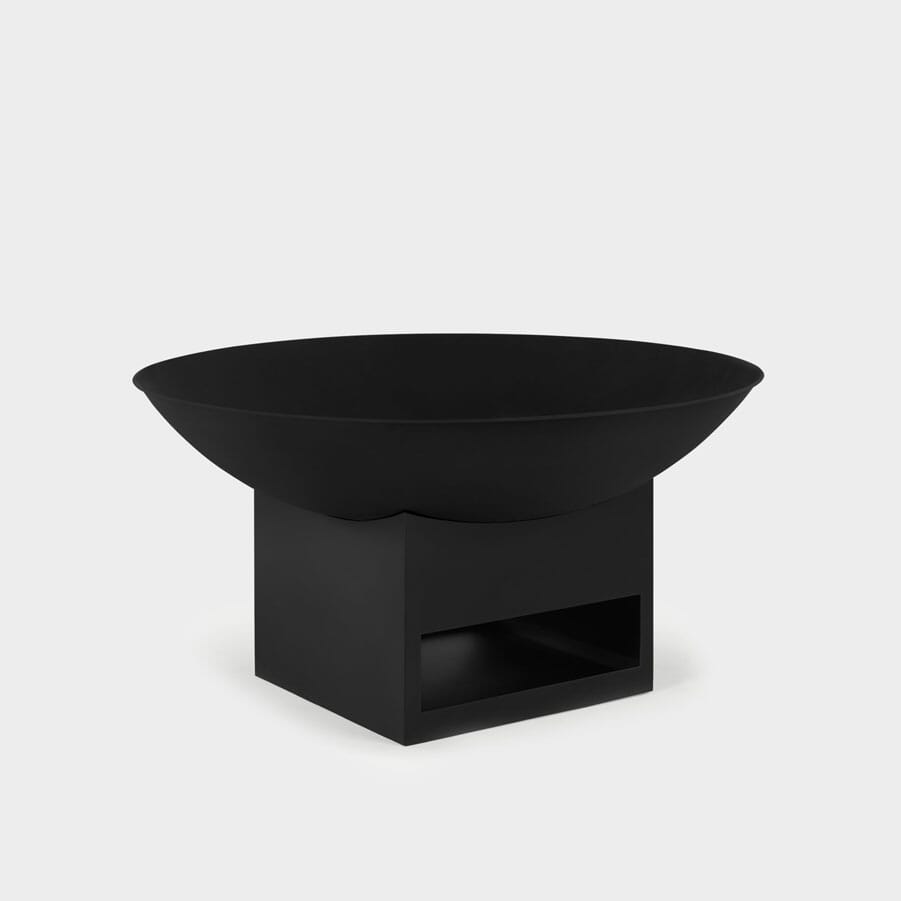 Best outdoor furniture to buy in 2023
Made Josper Fire Pit by Made Studio
In minimal black steel, the Josper Fire Pit is designed by the exacting contemporary furnishing specialists at Made to warm up the coolest of summer evenings. There's nothing like the light of a real fire to add warmth to the conversation around it. The Josper Fire Pit will acquire the patina of outdoor living, deepening its appeal. Simplicity, light and heat.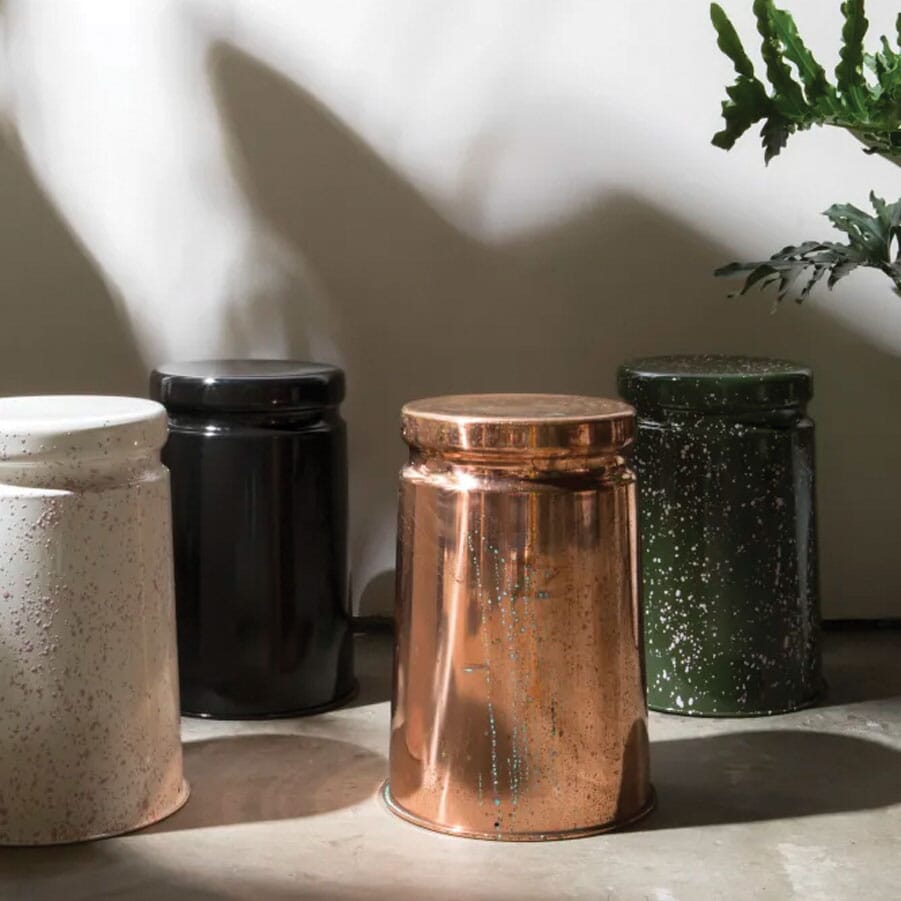 Hem Last Stool by Max Lamb
Designer Max Lamb favours uncomplicated, honest design. Designed by Lamb for Swedish furniture powerhouse Hem, the Last Stool is conceived to be literally just that: the final stool you'll ever need. It's crafted from a single piece of sheet metal so the stool is both strong and durable, with a lip to allow for easy lifting. You might say the Last Stool is as much sculpture as furniture. Perfect outside - and in.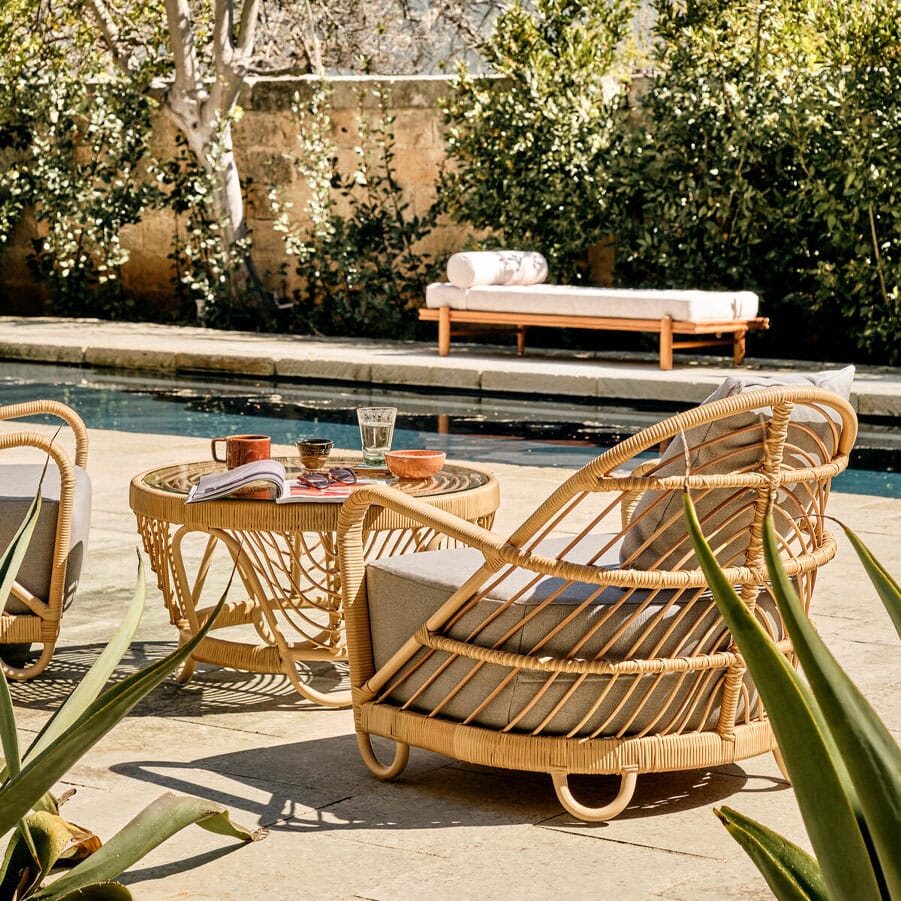 Soho Home Amaya Outdoor Chair
A touch of the Caribbean for your garden? The Amaya Outdoor Chair from Soho Home takes its inspiration from the luxury of Soho Beach House Canouan in St Vincent and the Grenadines. Metal frame supports weatherproof rattan style weave with deep removable cushions allowing for a relaxed dining - or reading and lounging - experience. Supply your own cocktails.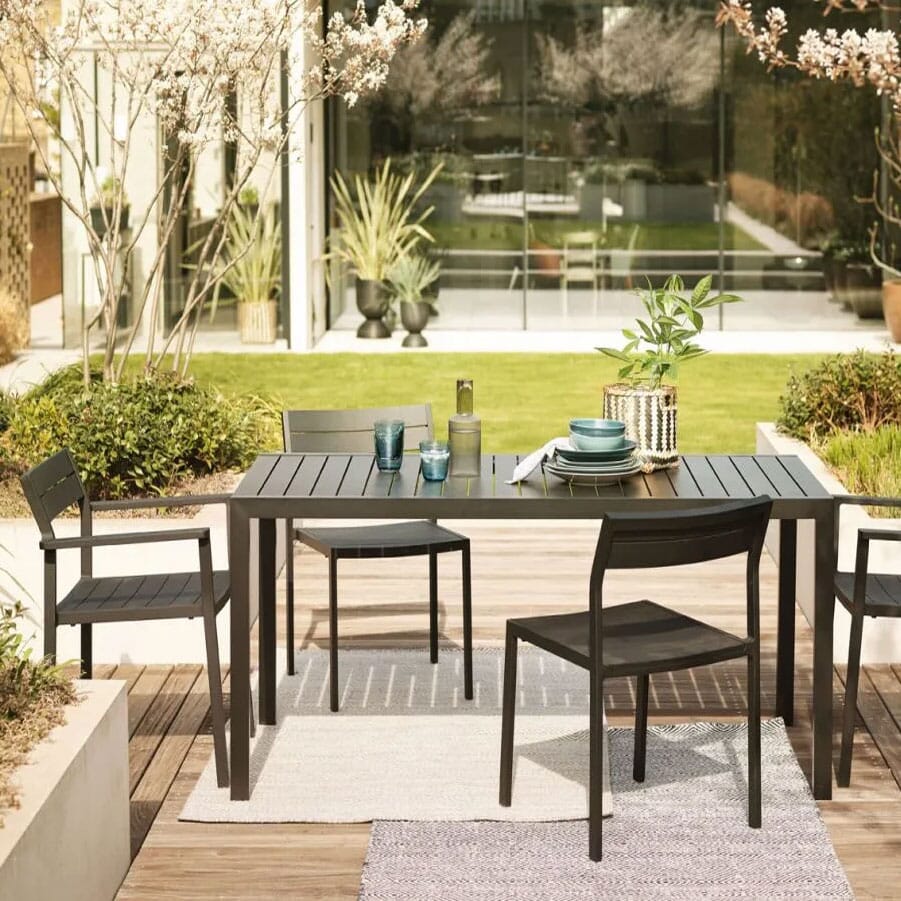 Heal's Eos Outdoor Dining Table by Matthew Hilton 
Design Guild Mark from The Furniture Makers' Company? Check. Distinguished designer? Check. Constructed from lightweight, non-rusting aluminium? Also check. The Eos Outdoor Dining Table from Heal's – designed by award-winning designer Matthew Hilton – will seat six with ease for your outdoor lunch and dinners, whether casual or more formal. Effortlessly stylish, an outdoor living essential.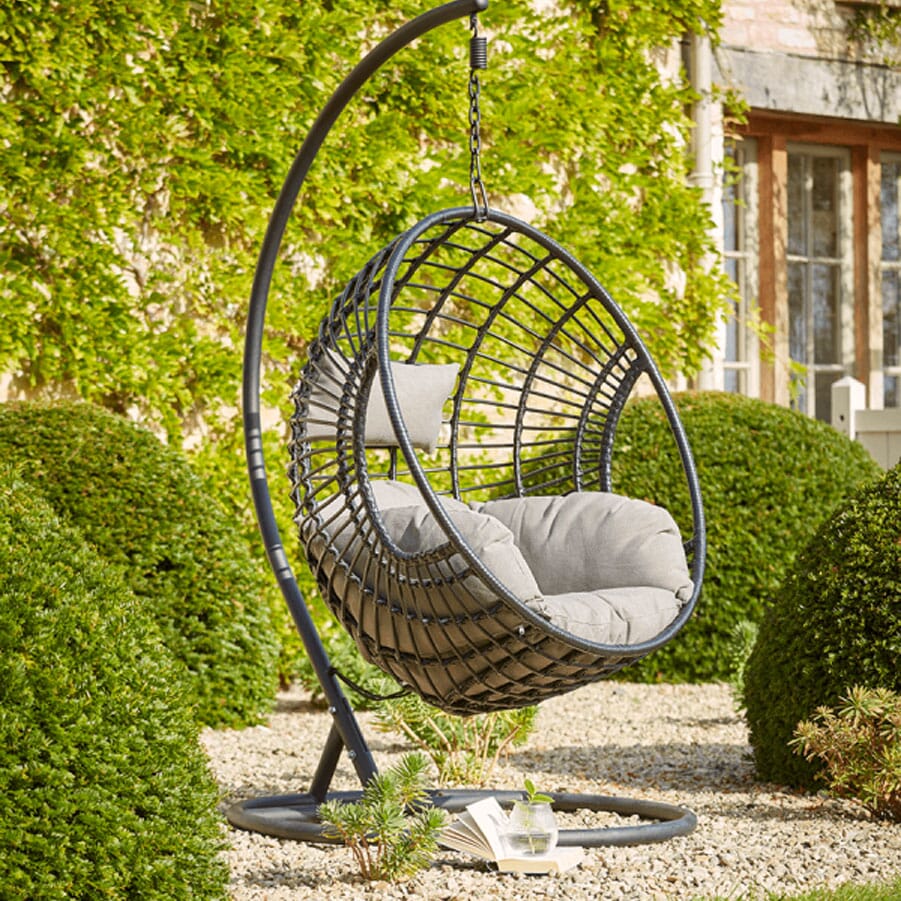 Cox & Cox Teardrop Hanging Chair
Inspired by a true design classic - Rohe Noordwolde's hanging rattan teardrop chair from the 1960s - Cox & Cox's Teardrop Hanging Chair is securely suspended from its own bespoke metal frame.  Rattan effect weave supports cossetting cushions, including one for your slumbering head. Swinging Sixties? We'd say so.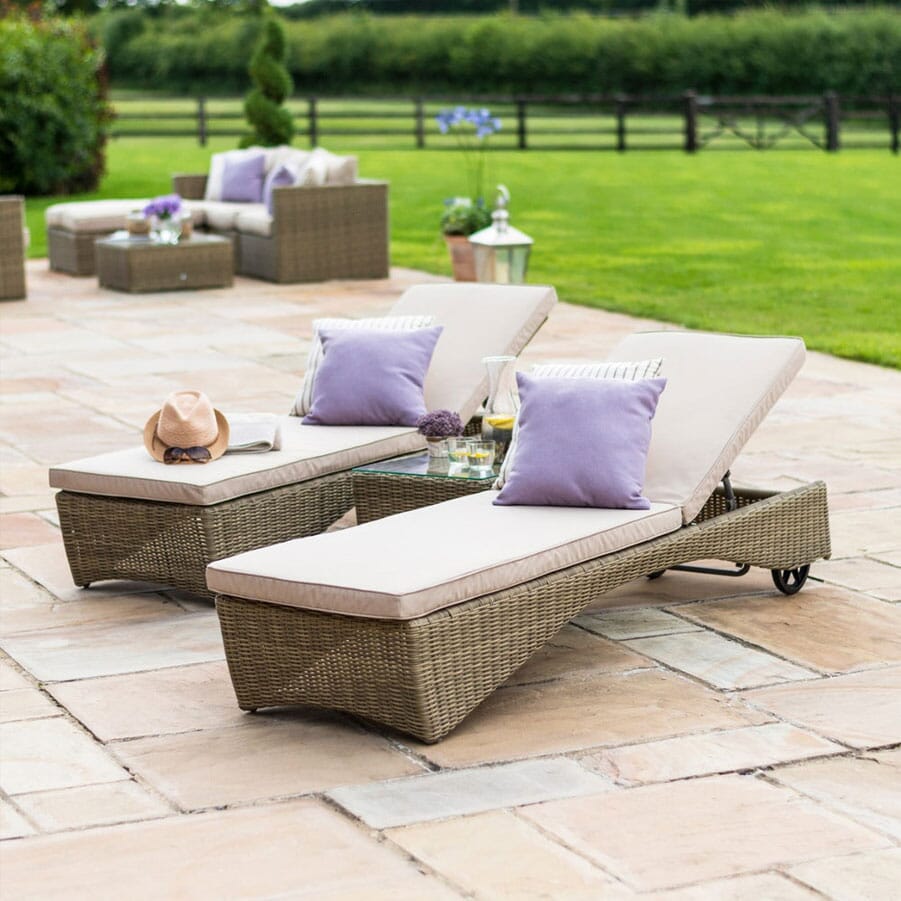 Harbour Lifestyle Winchester Sunlounger Set 
Time to turn your patio into the deck of a trans-Atlantic luxury liner. We're thinking First Class. Harbour Lifestyle's Sunlounger Set includes two loungers, equipped with deep cushions and adjustable backs for just the right lounging position, and a glass-topped coffee table for iced drinks of your choice. Destination: relaxed.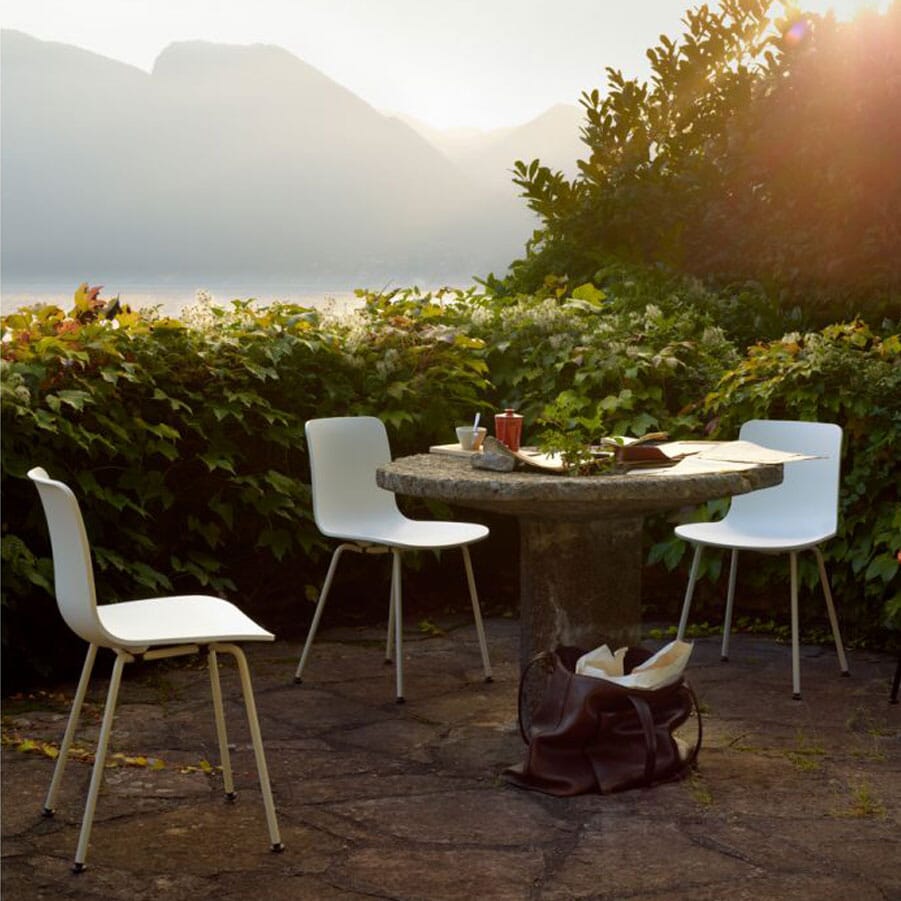 HAL Chair by Jasper Morrison for Vitra
Acclaimed designer Jasper Morrison's credo is that "special is less useful than normal" and so he's coined "super normal" to define his work. The sublime result is the complex simplicity of the HAL Chair, a classic piece of contemporary modernist design in white polypropylene with steel legs. Perfect for outdoor dining or reading, ideal indoors, too.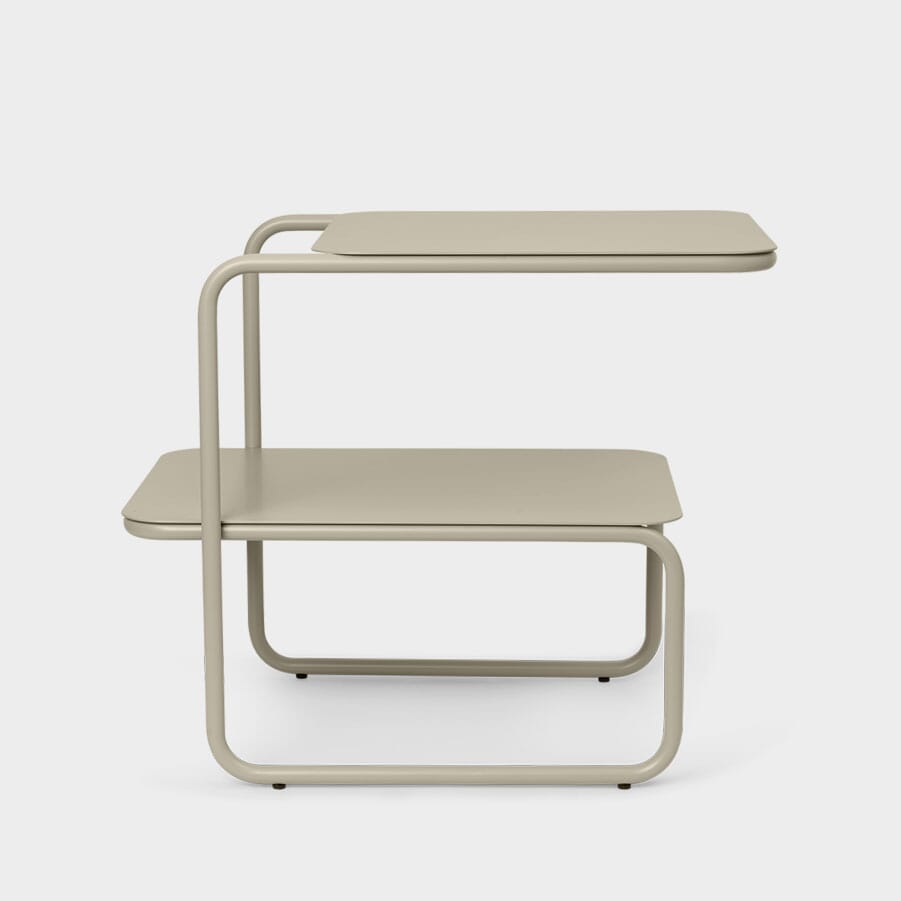 Ferm Living Coffee Table
An unexpectedly sublime design from Ferm Living, with a twist on the usual outdoor coffee table. Asymmetrical profile is both sculptural and useful, a heady combination. Perhaps your guilty pleasure glossy magazine resides on the lower level, with your iced coffee tempting above. Powder coated steel finish is ideal both outdoors and in. Simply brilliant.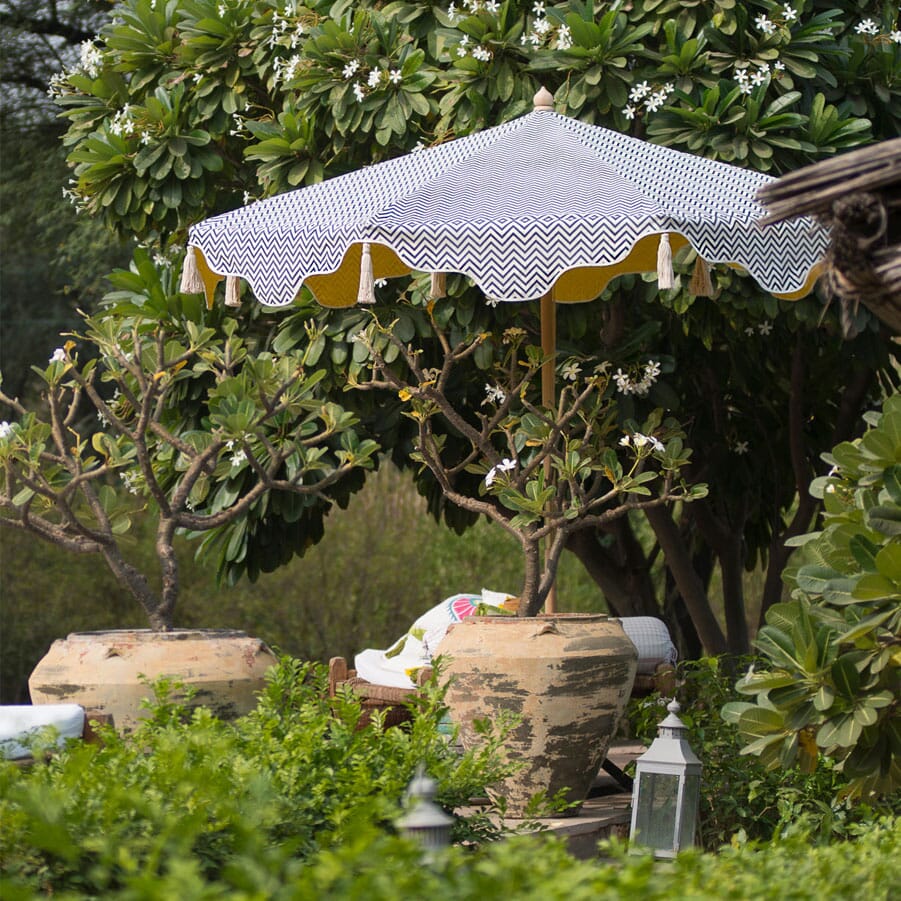 East London Parasols Aretha Parasol
Garden glamour, in a single beautifully crafted parasol with wood frame, hand-crafted in Hampshire. The canopy of this East London Parasols design has an Arabian influenced design, printed on waterproof canvas with a sunny yellow underside. Natural cotton tassels offer an unexpectedly indulgent touch. Made using traditional methods, result: outdoor opulence.
For more garden inspiration, check out these inspiring courtyards.
---
---