No need to pull on the boxing gloves, lace up the footy boots or get behind the wheel of a Formula One car: let the world's best documentary makers put you in the ring, on the pitch and taking the apex of the first corner. Sport is an alluring subject for film-makers, not least because of its compelling characters and the equally compelling footage available of their feats - and, all too often, the lurid facts of tumultuous lives. Seconds out then, for our pick of the 10 best sports documentaries.
Top 10 best sports documentaries of all time
Senna (2010)
Captivating whether or not you're a Formula One fan, not least because of the passion and the tragedy of its subject. Ayrton Senna, triple world champion, was killed in an accident while leading the San Marino Grand Prix in 1994. Oscar-winning director Asif Kapadia's innovative approach dispenses with narration, instead mixing fresh interviews with archive footage to paint a fascinating picture of a complex man, still regarded by many as the greatest F1 driver of all time.
Team Foxcatcher (2016)
Wrestling has rarely been so captivating - or so tragic. 'Team Foxcatcher' tells the barely believable story of billionaire John du Pont in training the US Olympic Wrestling Team at Foxcatcher Farm, his sprawling Pennsylvania estate. It's far more than wrestling: in 1996 du Pont shot and killed wrestler Dave Schultz, whose widow Nancy is key to the telling of this extraordinary story. Was du Pont insane as his legal team argued?
Welcome to Wrexham (2022)
Unlikely story of what happened when a lower league football club was bought by two Hollywood stars. Both Rob McElhenney and superstar Ryan Reynolds feature heavily as they learn the hard way that big American money doesn't buy you instant success in the take-no-prisoners world of non-league British football. Viewers of the Apple TV hit 'Ted Lasso' will recognise some of the pitfalls, the commitment of the new owners, though, is beyond question.
When We Were Kings (1996)
Mohammed Ali at his extraordinary peak, leading up to and featuring his title fight against George Foreman in 1974 - known as The Rumble in the Jungle because of its location in what is now the Democratic Republic of the Congo. Ali is at his best both in the ring and in interview, reminding us all that his fighting skills were matched only by his political campaigning. Was it a good thing to fight in a country ruled by ruthless dictator Mobutu Sese Seko? This Oscar-winning sports doc allows you to decide.
The Last Dance (2020)
Its producers describe this Emmy Award-winner as a "documentary event", perhaps not least because of its 10 parts. Truth is, 'The Last Dance' exceeds all expectations: focus is the career - and specifically the last season - of all-time basketball great Michael Jordan. Jordan himself is interviewed, along with superstars such as Dennis Rodman and Phil Jackson. Some of the footage of Jordan's 1997–98 Chicago Bulls season is featured for the first time. Warning: may make you a basketball junkie.
Diego Maradona (2019)
Combine the mind-bending skills of the footballer regarded as the greatest dribbler of the ball of all time and the pressure that both fame and almost super-human abilities produce, and the result is another must-watch film from 'Senna' director Asif Kapadia. The documentary's focus is on Maradona's transfer in 1984 from FC Barcelona to S.S.C. Napoli, becoming almost a deity in Naples, his new adopted home city. As controversial as a certain illicit Maradona goal in 1986.
Alex Higgins: The People's Champion (2010)
You don't need to love snooker to be fascinated by the turbulent life of double world champion Alex Higgins, known at 'The Hurricane'. Higgins played his way from deprived Belfast to the very heights of his sport, a journey that led to alcoholism and a dramatic decline in his mental health. Mostly though, aficionados will celebrate his brilliance at the snooker table, not least in his against-the-odds win in the 1982 world championship final.
Fire in Babylon (2011)
Acclaimed account of all-conquering West Indies cricket team of 1970s and 1980s. It's more than just the spellbinding skills of the so-called "Calypso Cricketers" that commands attention here, it's their social impact on what, after all, was a colonial sport. Biggest strength is that it's told entirely from a West Indian perspective - and that it features a soundtrack featuring the music of reggae greats Bob Marley, Gregory Isaacs and Lee Perry among others.
Andy Murray: Resurfacing (2019)
Multiple Grand Slam and two-time Wimbledon winner Andy Murray battles back to match fitness after his hip surgery - the "resurfacing" of the title - between 2017 and 2019. His gruelling rehabilitation is - literally - painfully documented as is his truly courageous return to the tennis court. Murray is portrayed at his most vulnerable: gone is the sometimes robotic interviewee and instead a truly remarkable human being is revealed.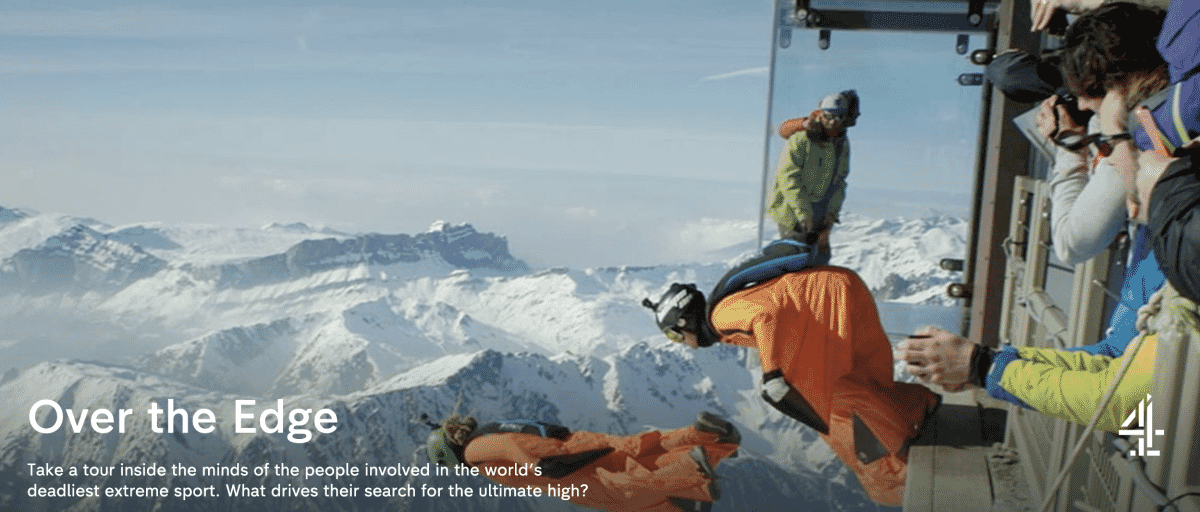 Over The Edge (2016)
Don't try this at home, is the understandable warning from the makers of this edge-of-the-seat docu-series on the frankly insane world of base jumpers. They're the highly skilled dare devils who jump off everything from the highest of mountains to the tallest of skyscrapers. What motivates these ultimate thrill-seekers? The series aims to find out - and on the way there's some impressive point-of-view footage. Unlikely to be an Olympic sport anytime soon? They said that about skateboarding.
Check out our pick of the best serial killer documentaries.
---
---