Built by: Crooked Motorcycles | Year: 1986 | Engine: BMW Inline Four Cylinder
Here's a custom build that looks like a clear and imminent threat even when it's standing still. Perhaps that's because the Nightcrawler, based on a BMW K100, is inspired by the angular shape of Lockheed's F-117 Nighthawk, the stealth jet fighter designed to evade enemy radar. No-one's pretending the Nightcrawler has similar capabilities but its look suggests that given half a chance, it would.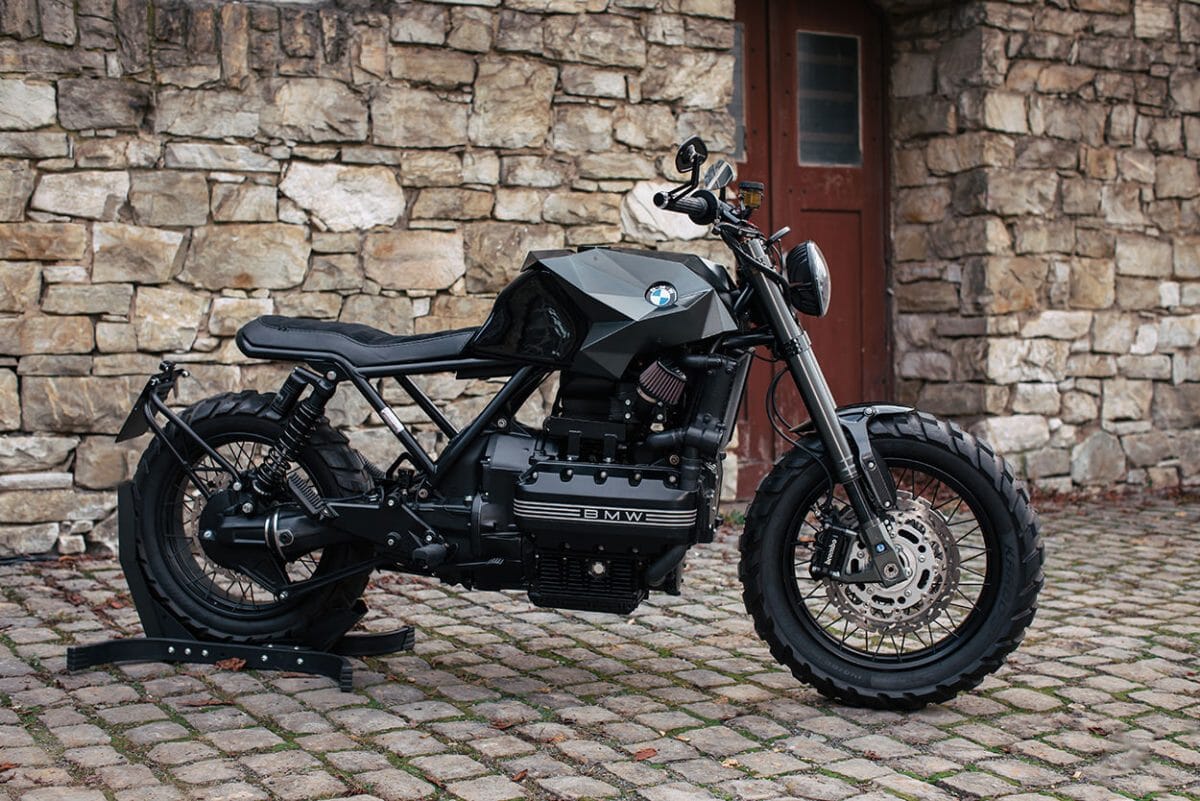 The key to the style of the Nightcrawler is that fuel tank, mimicking the multiple angles of the F-117's fuselage. The tank was painstakingly welded by German specialists Fred Flitzefuß after the component parts were shaped from DC01 cold steel. The gloss black paint finish set the tone for the rest of the build, by the perfectionists at Bavarian custom builders Crooked Motorcycles. The client was Murat Can of cult men's lifestyle blog Beard Brothers. Crooked Motorcycles describe the build as "a super-challenging project" and looking at the result, it's not hard to see why.
Aside from a stealth fighter, the bike's other inspiration is said to be the form of the humble moth. At Crooked Motorcycles, there were more pressing needs that working out the similarities between jet and insect. The next job was to work out what to do with the hefty BMW power unit. Eventually, the venerable inline four was sent to SW Motorradtechnik for a full rebuild before Buschkönig Powdering gave it – and indeed other parts on the BMW – a black powder-coated finish.
Back at Crooked HQ, the parts were beginning to become the arresting sight that is the whole Nightcrawler. The rear swing arm is from a BMW K1100, which required an adjacent K1100 gearbox to be installed so that the whole fitted together. The rugged on/off road tyres are Karoo 3 enduro items by Metzeler. The Nightcrawler's exhaust system is now finished in matt black and features a lightweight Cobra SPX Carbon muffler, which sounds pretty good too.
---
---
The saddle is, of course, bespoke – by Swiss upholsterer Yves Knobel. It's fitted to a new rear subframe. At the front, the control centre features Motogadget instruments on handlebars by TRW, while the LED headlight is by J W Speaker. As you might expect, Murat Can, the client who commissioned the build, is delighted. The vision and commitment of Crooked Motorcycles has transformed his K100, a bike sometimes unkindly called the Flying Brick, into a very different sort of flying machine. Just magnificent.
And now for a custom build of a different kind.
---
---