There are custom builds and then there are these two-wheeled works of art. Both began life as mass produced workaday machines, one a BMW R100 RS, the other a Honda Hawk GT 650, each unlikely to turn a head. Now, they'll draw crowds wherever they go. Welcome to the world of the stealth custom.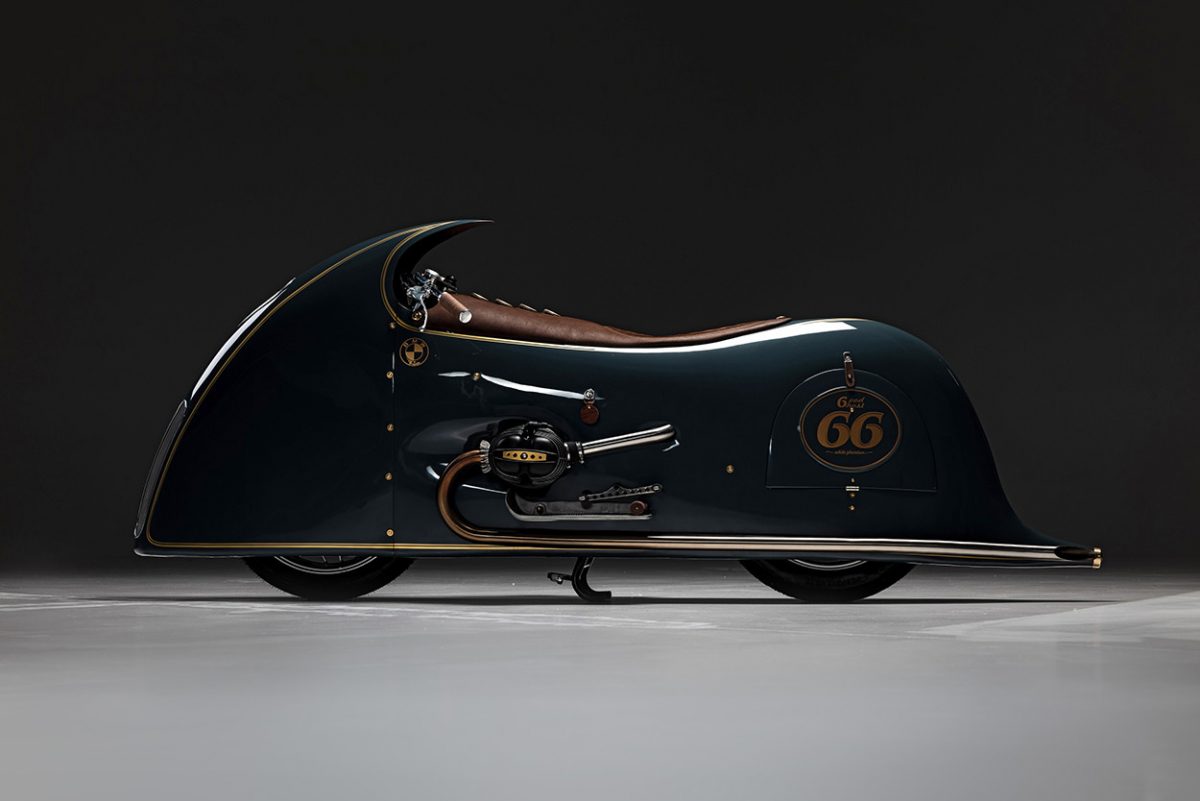 Forget all you know about how motorcycles should look. Now look again, because Kingston Customs have come up the third in their "Phantom" series. This one — following White Phantom and Black Phantom — is known as Good Ghost and takes the idea of the resto-mod to a whole new level, with a full-length fairing and enough drool-worthy detailing to satisfy the most demanding motorcycle fetishist.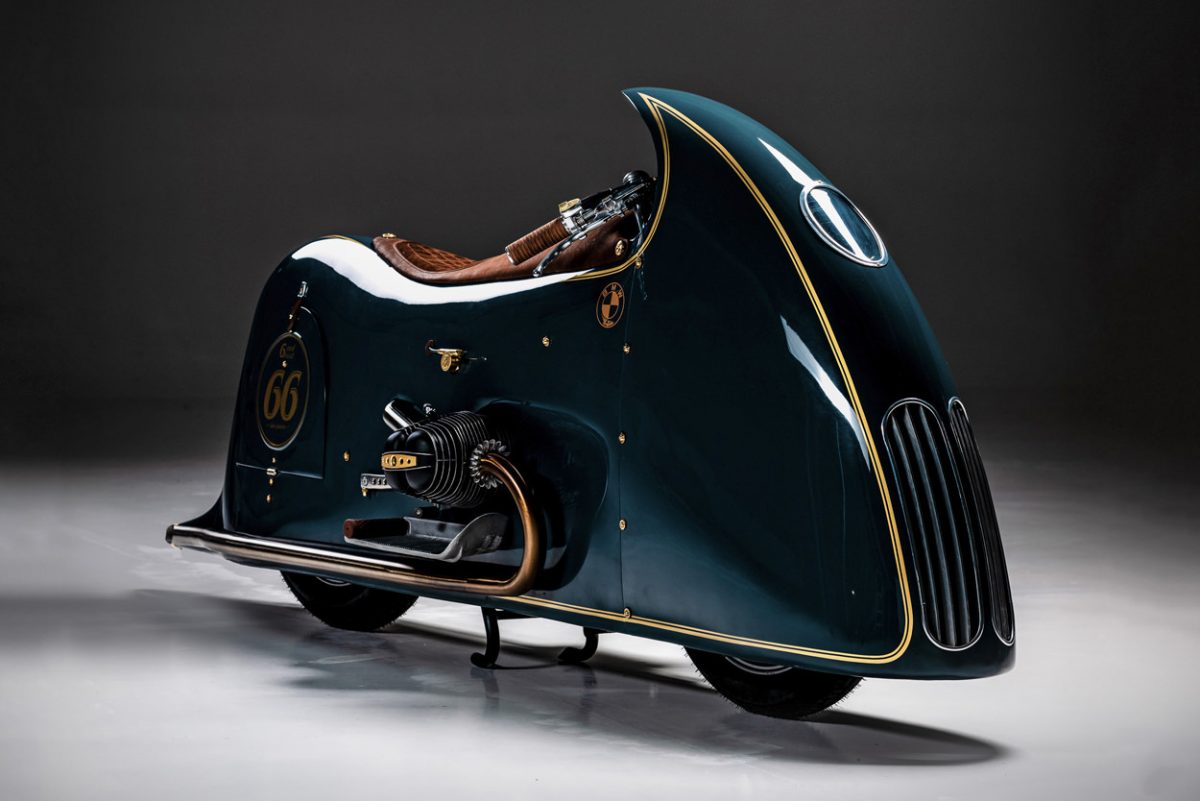 The basis is a 1980 BMW R100 RS, the elongated double kidney grille at the front paying homage to the build's origins. Haas Moto Museum in Dallas, Texas, wanted a third Phantom to match the two that Dirk Oehlerking of German specialists Kingston Customs had already built for them, and which had become popular exhibits. Be clear though: this is no concept bike. Everything about it is ready for the road.
That unique black and gold fairing is in 2mm thick aluminium, painstakingly hand-formed and weighing just 21kg. For style and packaging reasons, the fuel tank has had to go, replaced by a fuel cell behind the transmission, while the twin exhausts are in stainless steel, tracing the lower bodywork to its elegant end on each side.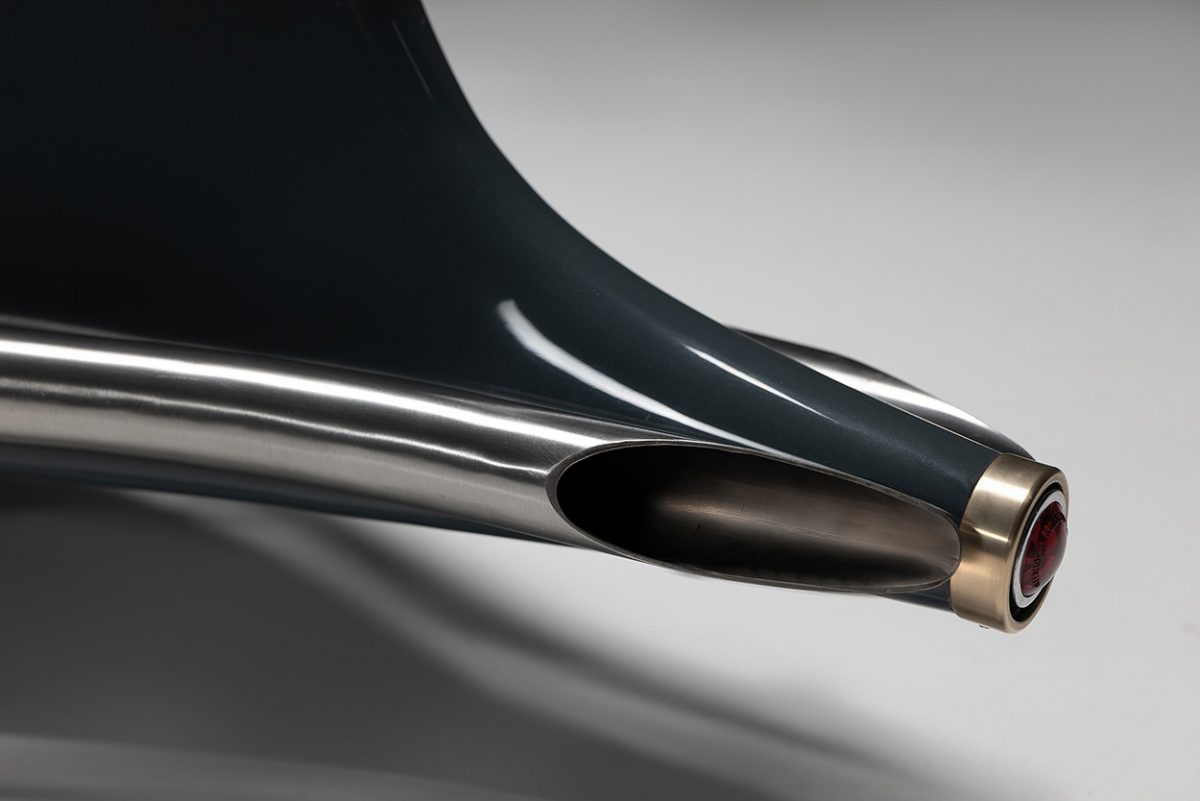 The custom saddle extends right up to the front of the 'bike, incorporating a set of bespoke gauges where the fuel tank used to be. Open it up to reveal a space designed to be large enough for a bottle of wine, a corkscrew and just the one glass, to toast elegance, taste and a most excellent ride.
Drop the wheel coverings at the back and on the one side there's a toolkit in hand-tooled leather. To the other side, there's a set of antique silverware. Will any of this see actual use? We'd like to think so.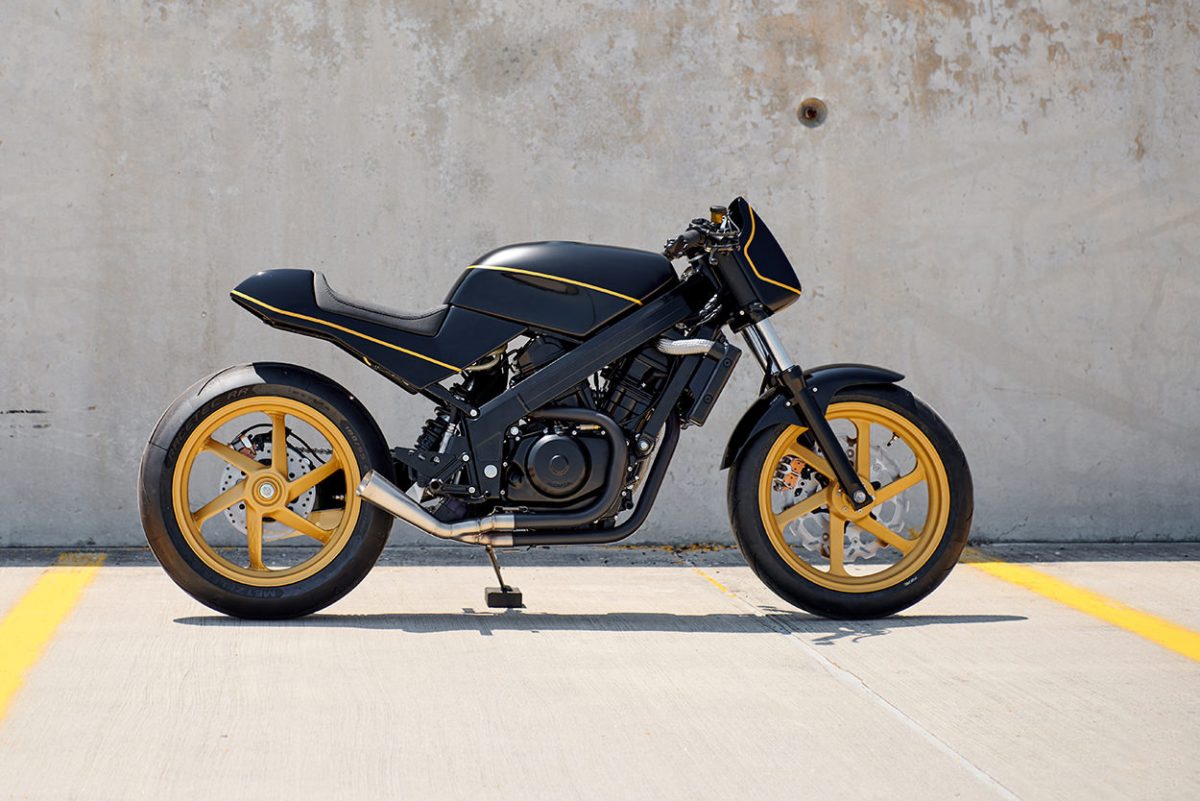 Once a 1980s staple, now a mean one-off custom machine. Analog Motorcycles took on the transformation of a 1988 Hawk GT 650 for a regular customer with some reluctance. They didn't regard the donor bike as a worthy classic. But they do like a challenge and bit by bit, Analog lowered, tuned and re-imagined until this Hawk flew to new heights.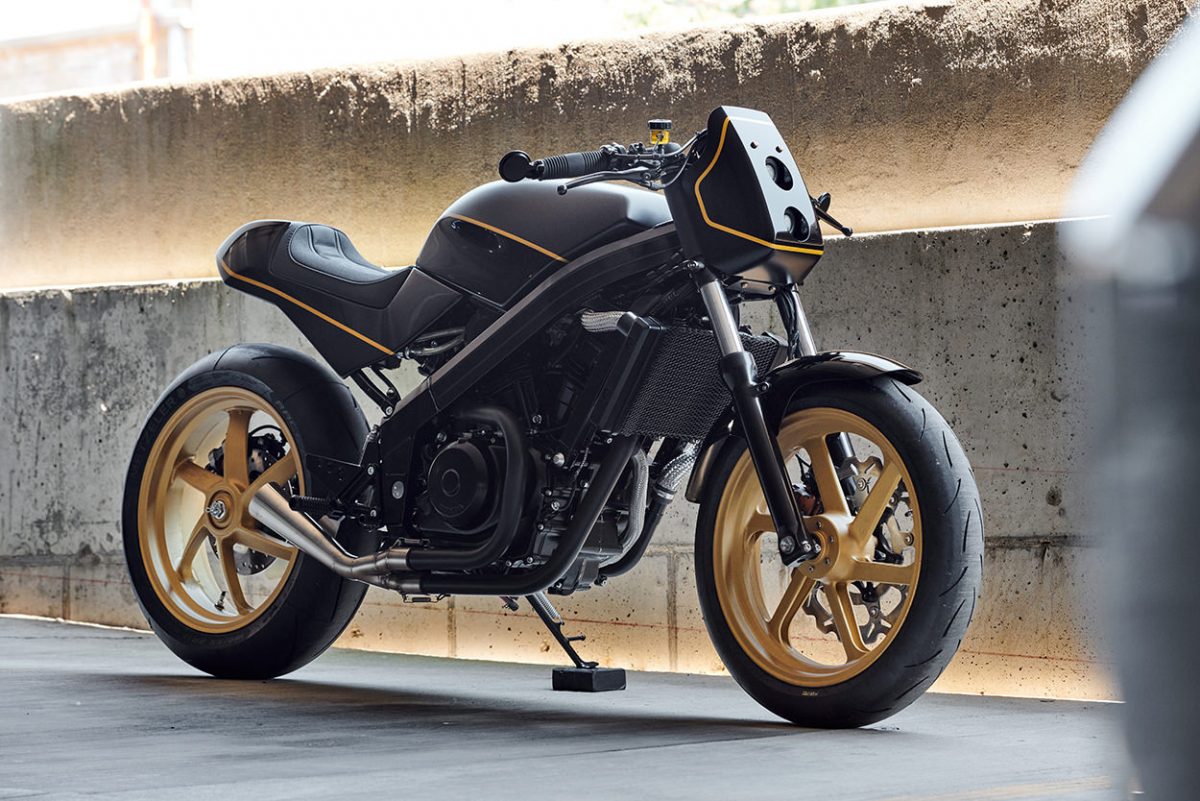 The wheels began it all. They're 17-inch PVM magnesium race wheels from a Honda RC30 and, to make them fit, the front and rear of the Hawk needed special re-tooling. Front and rear shocks were lowered to suit the new look. To meet the client's request for an all-black finish, the Honda's v-twin was stripped down and each part individually powder coated.
The foreshortened two into one exhaust is by Cone Engineering and, according to Analog, it makes the bike sound like it's keen to be on a MotoGP grid. Analog know from long experience that the small touches make a build like this one. Each hose, for example, is now housed within WireCare stainless steel sleeving.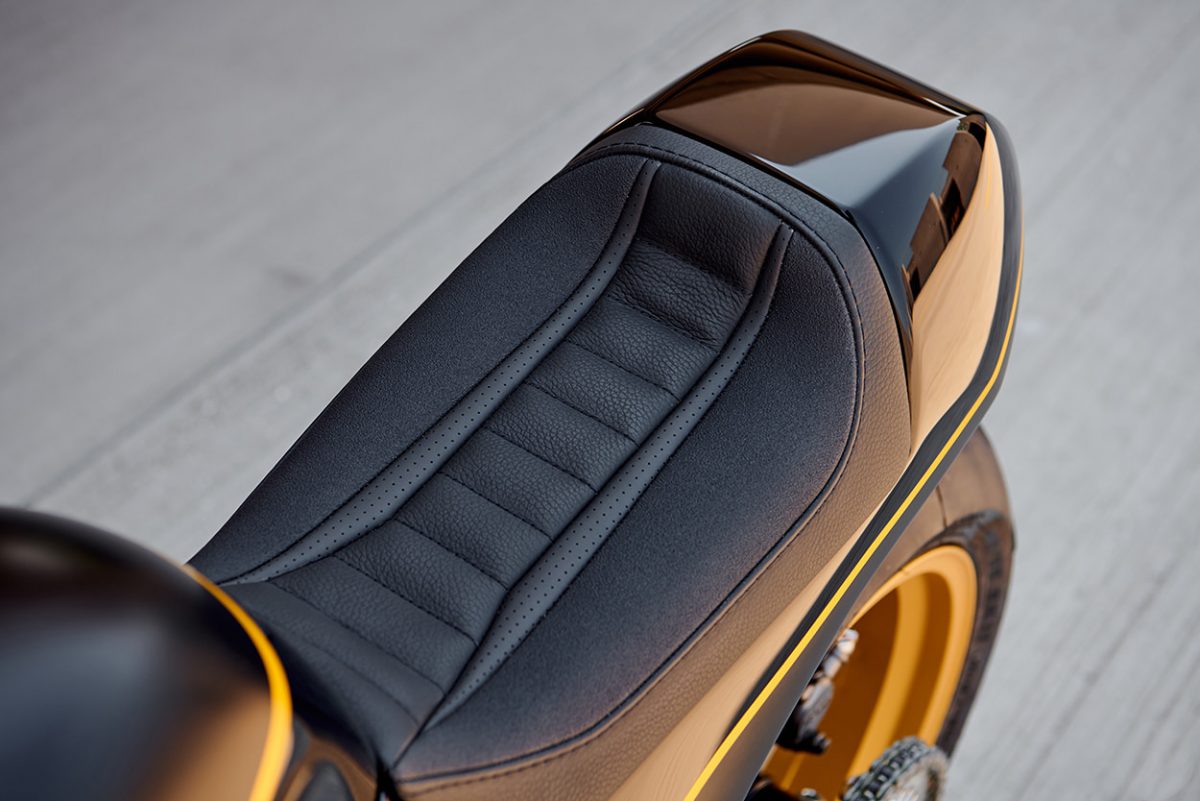 The tail of the Hawk is unique and houses the custom saddle. To match the newly streamlined profile, Analog created an aggressive front fairing, fitted with two Denali D2 LEDs. The new speedo is by Koso while the striking clip-on handlebars are by MessnerMoto, with a mirror by CRG neatly installed at each end.
To finish, the black and gold paint was hand buffed to a deep, dark gloss. The result: something close to perfection.
---
---
Like this? Get to know two more impressive custom builds.
Read more articles from The Garage.
---
---