Converting a motorbike to resemble a classic rally car is an unlikely enterprise. But that's exactly what Argentinian specialists Vida Bandida have done to a standard Ducati 696 Monster, built to evoke a 1970s Lancia Stratos HF, one of the true greats among rally cars.
The standard Ducati Monster is already, as its name implies, a beast of a machine. This conversion has dispensed with all but the most essential of elements to create an ultra-powerful off-road piece of machinery, very much in the manner of the Stratos itself.
Vida Bandida are big rally fans and it shows in what they've done to this bike. This is no cosmetic job, but an in-depth piece of engineering. Off-road tyres and pumped up suspension will allow the Ducati to take to the roughest of tracks, while a truncated tail and shorn off exhaust speak of a highly functional approach to its task.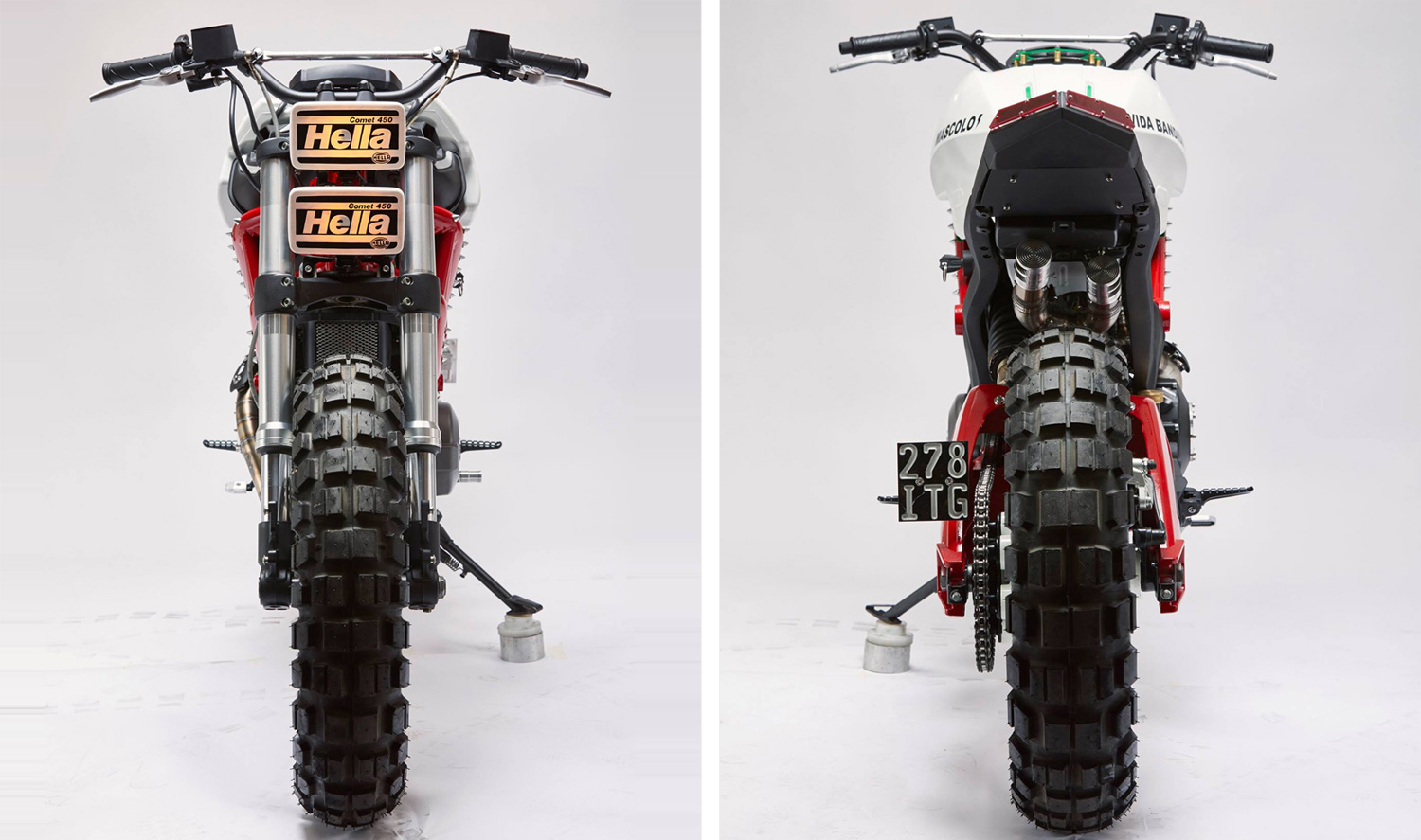 The car this project references, the Lancia Stratos HF, was one of the most successful purpose-built rally cars of all time. The futuristic and functional shape was the work of Bertone, one of the greatest of the Italian design houses. Powered by a Ferrari V6, the Lancia Stratos HF won the World Rally Championship in three successive years in the 1970s and its most well-known livery was that of sponsor Alitialia, the Italian airline.
The key accent colours of the Lancia's livery were the white, green and red of the Italian flag, and it is these shades that Vida Bandida have chosen for the Ducati. The frame is blood red, while the fuel tank is white with green accents. The rest of the bike is stark black in testament to its functional ethos.
This project is a one-off but we have no doubt that the bike fanatics at Vida Bandida would turn your Ducati Monster into a Lancia Stratos HF lookalike should you desire. Whatever it costs, it's certain to come cheaper than the auction cost of a Stratos HF today which, when we last looked, was around £280,000.