It feels like every day we see an exciting new men's clothing brand that's worth our attention, offering a selection of high-quality, sustainable footwear or clothing that uses materials and techniques we've never seen before. Such a high volume of new names means that each brand is forced to find its niche to stand out, and these niches are becoming ever more niche. As for Amsterdam-based men's sneaker giants ETQ Amsterdam, this brand took a different approach.
While others look for the most specific sustainable material possible to design their whole collection around, ETQ Amsterdam decided that its niche would be to not have a niche at all, but to do a little bit of everything to an extremely high standard. We like the way they think, and we love the way the collection looks, so we thought we'd shine a spotlight on one of footwear's most universal collections.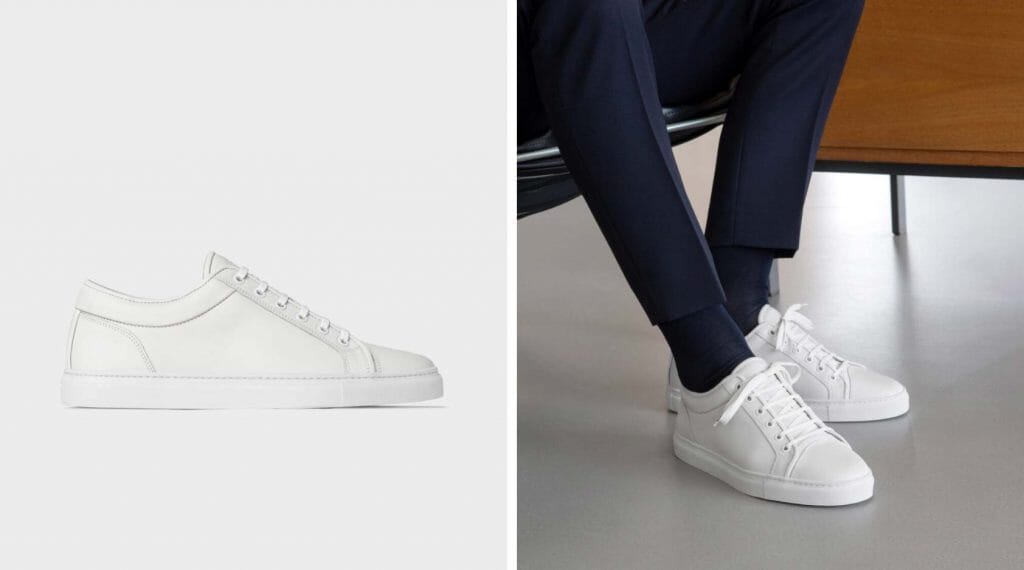 Minimal men's sneakers
It's only right that we begin at the beginning. ETQ Amsterdam was founded in 2010 and the first collection revolved around a few core styles. The most memorable, and still the brand's signature style to this day, was the ETQ Amsterdam LT 01. 
ETQ Amsterdam LT 01
The LT 01 is a premium low-top sneaker for men crafted from luxurious nappa leather that features a full calf-leather lining. When it comes to men's leather trainers, the tennis sneaker is a fundamental staple. The timeless style eschews grand details for absolute simplicity and is all the more striking for it. While inspired by the history of court sneakers, ETQ's LT 01 raises the bar with top-quality craftsmanship and materials, making this one of the most essential men's sneakers around and the anchor to the ETQ Amsterdam Permanent Collection. Sport this pair of sneakers with a suit as easily as with your gym attire.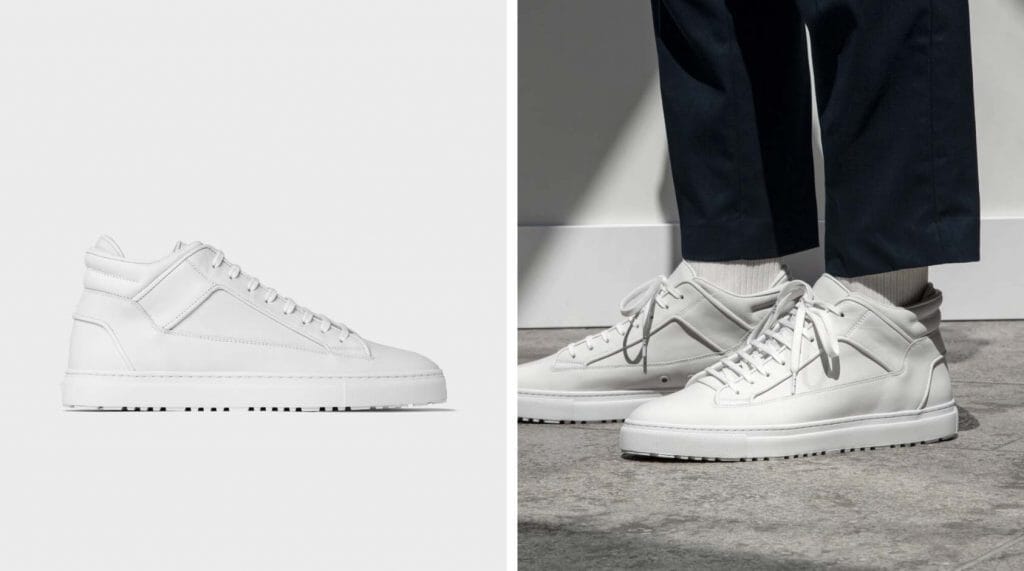 Premium men's sports sneakers
ETQ Amsterdam began life with a tiny nucleus of styles, making sure that each was perfected before growing the collection. One of the later additions to the family was the MT 02.
ETQ Amsterdam MT 02
Inspired by 1980s basketball trainer styles, ETQ Amsterdam MT 02 boasts the brand's signature premium nappa leather uppers as well as a comfortable layered-leather insole. In comparison to the minimal LT 01, MT 02 is visually busy. Ergonomically panelled uppers make reference to the sporty roots of this design as well as combining with the a padded collar to provide maximum comfort. Choosing a mid-top sneaker for men is a safe way to diversify your footwear collection.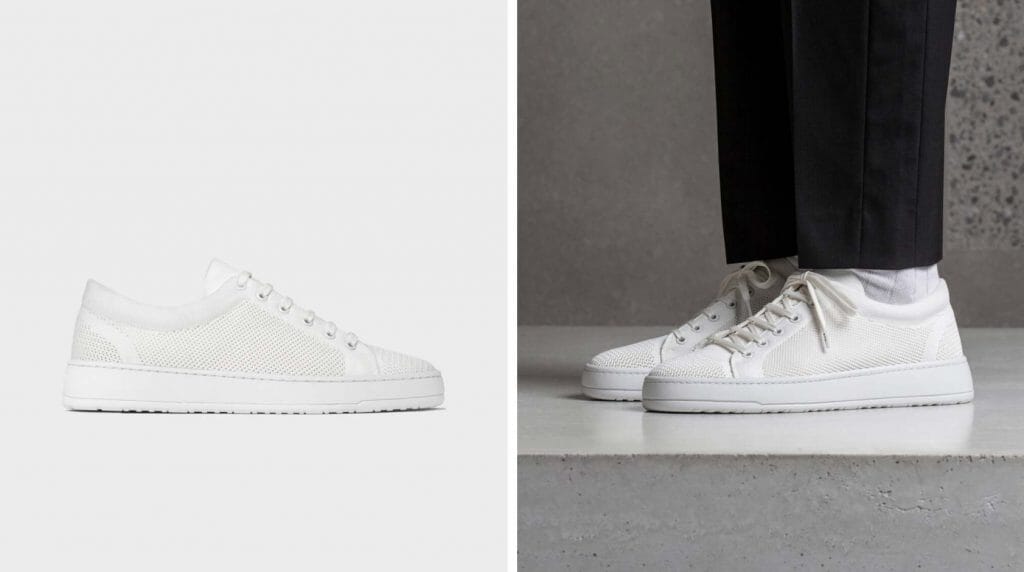 Sustainable men's sneakers
While ETQ Amsterdam's Permanent Collection advocates a sense of sticking to what you know, returning with the same styles each season, ETQ never stays still. Always growing, the label recently introduced their first eco-friendly footwear for men.
ETQ Amsterdam LT 01 Knitted White Econyl
Marking the label's first foray into recycled materials, this pair of ETQ Amsterdam LT 01 is crafted from Econyl nylon: a premium synthetic yarn made from discarded fishing nets and ocean waste. The use of Econyl also means that the upper is completely seamless, as it's no longer constructed from panels but one piece of Econyl. The seamless construction results in an extremely comfortable, sleek premium sneaker that minimises waste at the same time.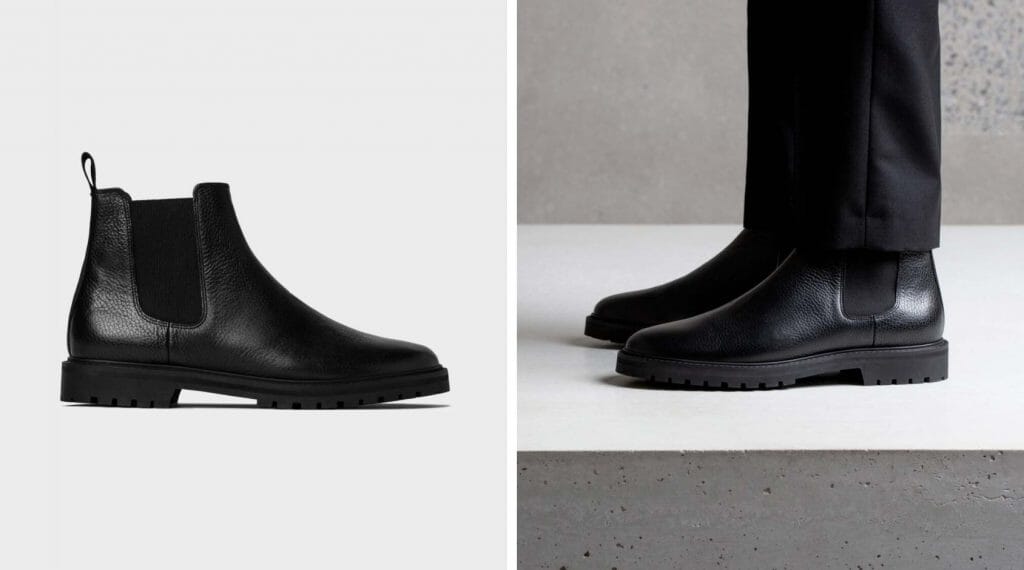 Men's Chelsea boots 
We thought we'd seen ETQ Amsterdam's whole repertoire until a few seasons ago when the brand introduced the first minimal men's Chelsea Boot style.
ETQ Amsterdam CB 01
In one sense, ETQ Amsterdam CB 01 sticks to what the studio knows: minimal design and premium construction. The classic Chelsea boot is crafted from full-grain nappa leather and comes with a calf-skin lining, but we never thought that we'd see a brand so well known in the world of men's minimal trainers experiment with smart leather styles and succeed so effortlessly. The defining feature has to be the double-stitched, welted outsole that gives the style a chunky, commando profile.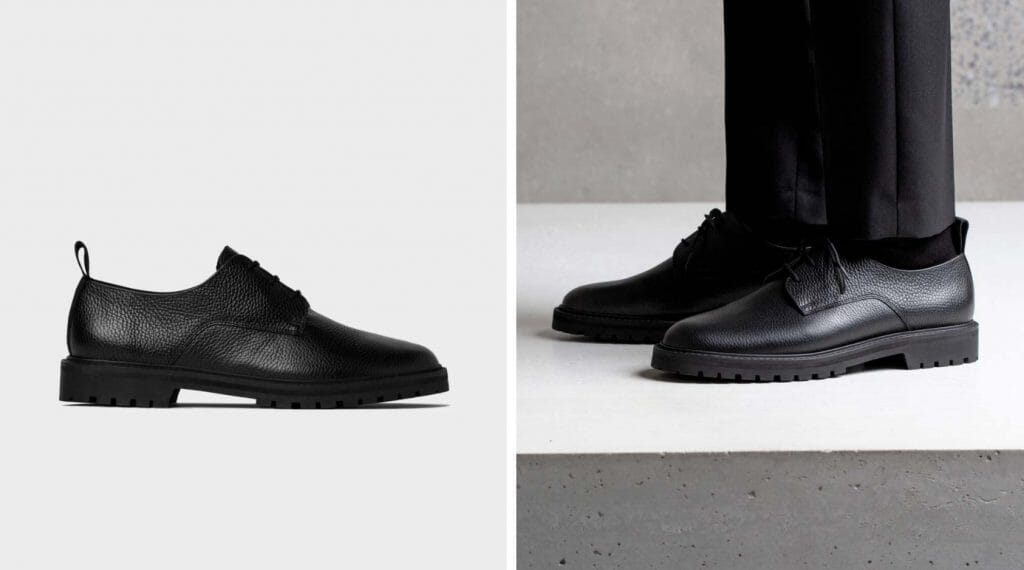 Men's derby shoes
Yet again we thought we'd seen it all from ETQ Amsterdam. Yet again the label surprised us. Exploring the world of traditional leather shoes for men didn't stop at Chelsea boots, ETQ forged ahead to produce the ETQ Amsterdam DS 01.
ETQ Amsterdam DS 01
Who doesn't love a leather Derby shoe? We do. It's one of history's most well-known footwear designs for good reason. The understated style works in any scenario and makes styling an easy game. ETQ Amsterdam leaves its mark on this design with details we'd usually associate with sneakers. A heel pull-tab and commando outsole are unlikely modern additions to the style and contrast the classic high-quality leather uppers to make this a memorable rendition of a classic men's leather shoe.
Shop ETQ Amsterdam at OPUMO.
Find out more about the brains behind the operation with our interview with ETQ Amsterdam co-founder Robin Engelen.
---
---