"I create art at the scale of architecture."
What artist should we all be looking out for? What artist has made the best start to 2018? The answer to those two questions and the name on a lot of people's lips right now is Phillip K Smith III. The architect-turned-artist behind this year's iconic COS installation at Milan Design Week, creates light-based work that draws upon the ideas of space, form, colour, environment and change.
Smith, who grew up in Palm Springs, and pursued both fine art and architecture at the Rhode Island School of Design, cites the desert and barren landscapes as being major influences on his work. Rather than explaining just how special Phillip K Smith III is, we thought we would just show you. Scroll down to discover five of our favourite projects from the career of Phillip K Smith III.
Lucid Stead
Created in 2013 and set in the Californian High Desert, the Lucid Stead installation saw Smith cover a 70-year-old shack with mirrored strips to create the illusion that you can see right through the building. The mirrored panels alternate with weather-beaten timber sliding panels to create horizontal stripes around the outer walls, allowing narrow sections of the building to disappear into the vast desert landscape.
Portals
Smith's immersive Portals exhibit, completed in 2016, offered multiple perceptual experiences. As you approached the 85-foot architectural structure, hundreds of highly polished stainless steel columns circumnavigate the single story construction. These mirrored finish bars reflected and refract the surrounding environment, much like the Lucid Stead exhibit, it was installed in Joshua Tree, California, and it renders viewers unaware of what is immediately in front of them and what is visually collaged from the horizon behind them.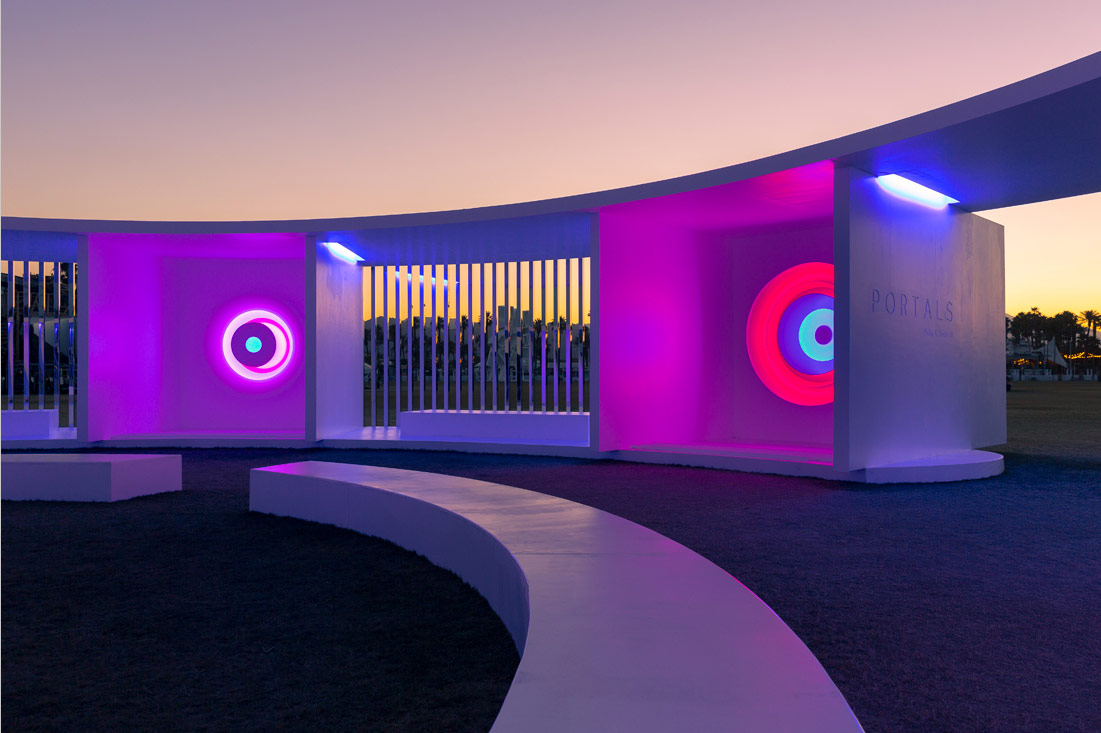 The Circle Of Land And Sky
Created as part of Desert X in 2017, an outdoor exhibition of art installations and site-specific works across the Coachella Valley, Phillip K Smith III installed a reflective and dynamic circular sculpture that interacts with its surrounding desert landscape. 'The Circle Of Land And Sky' defines an immersive space with the vast terrain forming a circular field of 300 geometric reflectors. Each angled at a 10-degree slant to abstract the physical characteristics between land and sky.
Reflection Field
For Coachella festival in 2014, Smith produced one of his most popular installations, 'Reflection Field.' The installation was formed of shiny cuboids that by day provided a series of mirrors but by night were transformed into neon towers of light. The freestanding mirrors ranged from small, independent blocks to five-metre-high structures that encouraged visitors to 'explore ideas of colour theory, optics, perception, scale and technology."
Quarter Mile Arc
Using slithers of reflective surfaces to mirror the landscape, Smith's Quarter Mile Arc installation was erected in 2016 at the seaside town of Laguna Beach. Clad in polished stainless steel, the individual thin posts were embedded into the beach so they stood vertically in a uniform line. Each post measured almost twice the height of an average adult and were strategically placed to create a partial barrier between the town, sand and sea.