Every room should have an overarching colour scheme. Without it, rooms can end up looking cluttered and disorderly, even if you've spent time organising it. When it comes to choosing a colour scheme, you don't have to go all out: red walls, red carpet, red pictures. Keep it subtle. Keep it layered. By carefully curating bits of furniture, you can give slight visual nudges which tie the room together. Grey is a good starting point for colour schemes, neither too bright nor too dark, it provides a good foundation to build on, and leaves open the option for one or two more vibrant colours within the room. 
To give you the full colour lowdown, we've pulled together the best grey colour ideas for every room in the house; right through from the kitchen to the living room and bedroom. Enjoy.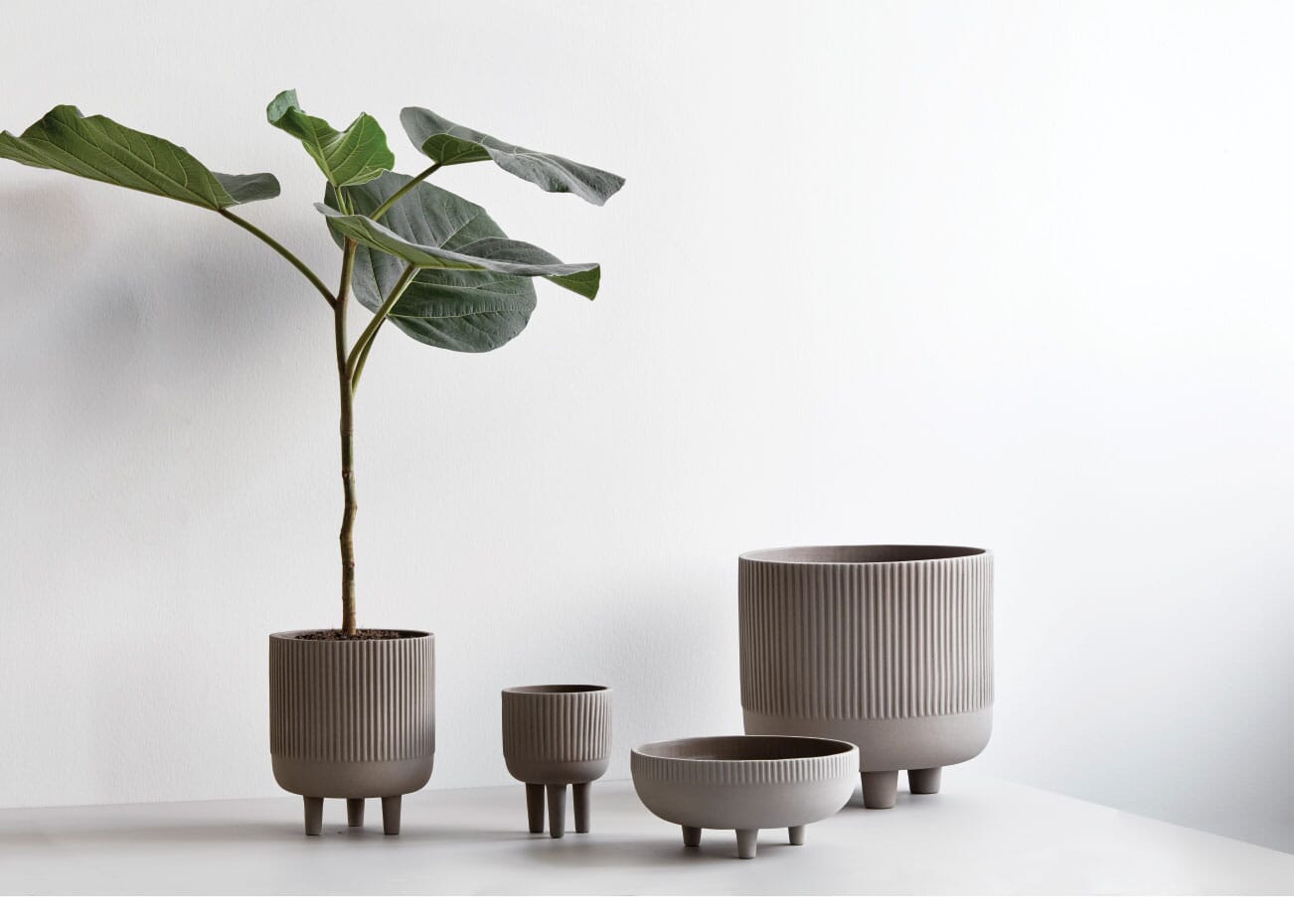 Grey Colour Ideas For The Kitchen
Today kitchen colour palettes are a lot more restrained, with black, white and neutral kitchens taking over. But within those neutrally coloured kitchens, tone is important. So, even with neutral colours there is different tones you can hit - light greys and warm grey hues, for instance - that create an entirely different feel from your normal, one-dimensional kitchen. To illustrate our point, we've picked out a couple of key grey kitchen accessories to help elevate the hub of your home.
Grinders are often kept out of sight for as long as possible, if somebody asks for the salt, the grinder is removed from the cupboard and awkwardly covered during its usage. No more. Menu's playful bottle grinders will hold centre stage in your dining room. Plus, the two-tone colourway will stand out as a sculpture on any kitchen counter when not in use, freeing up cupboard space in the process. 
Kristina Dam's Danish pottery is an easy way to inject a bit of life into your kitchen, especially this small bowl. The bowl stands on three legs, and features a textured band around the outside. This eye-catching piece is durable as well as beautiful.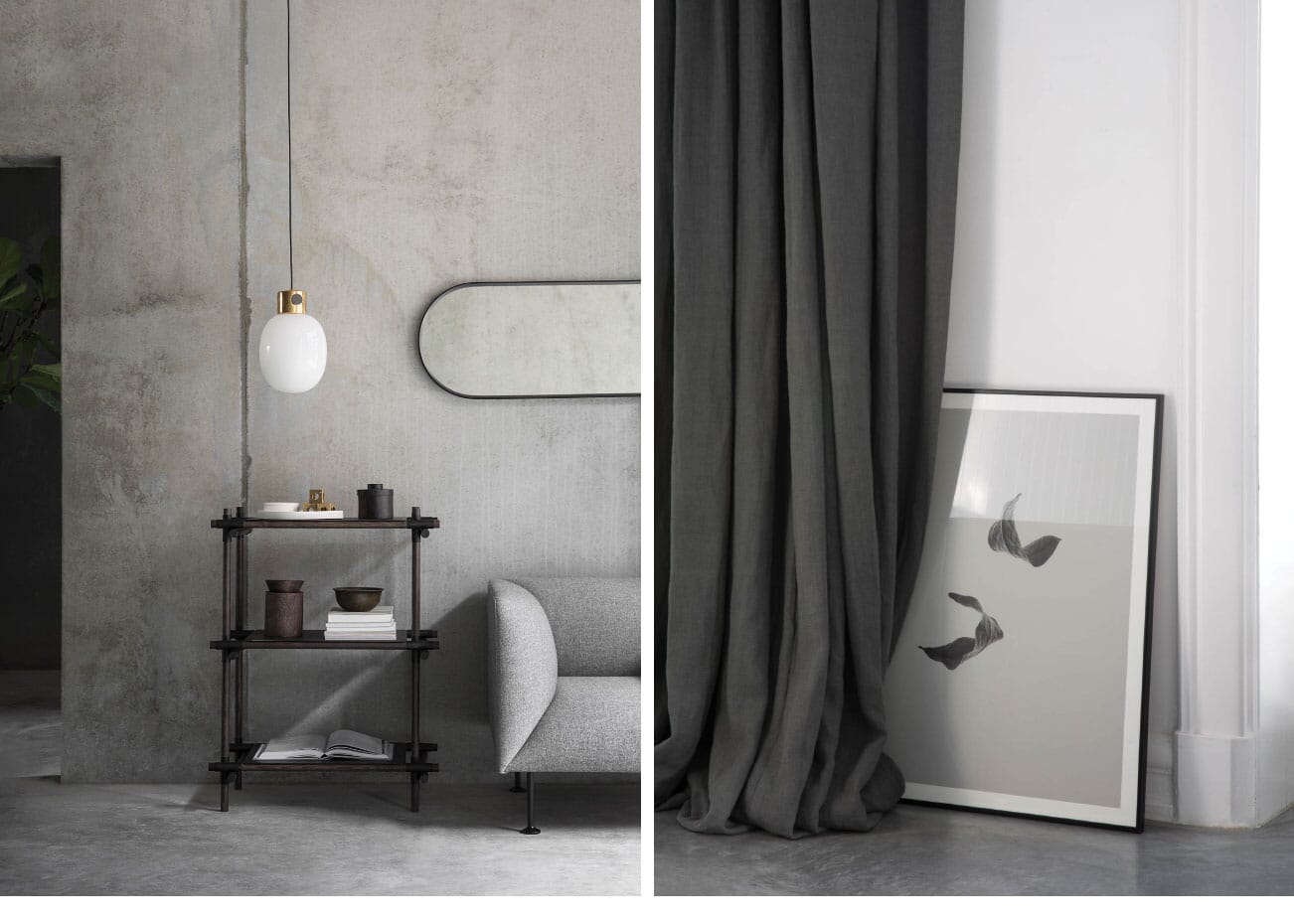 Grey Colour Ideas For The Bedroom
Experimenting with different textures, in this case wall art and bedding, can turn a grey colour palette into something warmer and a lot more modern. A tightly controlled palette of toning greys and neutrals can be bought to live by the introduction of a few simple framed prints and a darker shade of bedding to anchor the middle of the room.
The Sabi leaves are vulnerable, weathered, chipped, bruised, but poised and show strength of character. This calming print by Paper Collective is ideal for the bedroom and the best way to add depth and character to a feature wall. 
Grey Colour Ideas For The Living Room
When choosing the colours for your living area, you should look to any shade that you may see across the natural landscape. So opt for greys, charcoals and eggshell whites, as they will provide the perfect base to build up from. Especially when it comes to adding pop colours of deep sea blues, greens and pastel colours thereafter. Neutral walls should not be matched to light coloured floors, instead try a natural wood stain to your floors for a little added warmth and add a few characterful accessories - such as the Pikaplant Terrarium and a Slowdown Studio Throw - to contrast against our favourite grey living room essentials below.
Not only is the Menu Godot armchair a cushioned haven for relaxing, it's also incredibly comfortable and extremely useful. Its vertical and rectangular surfaces mean that it can easily be attached to other pieces of furniture.
Designed by Sylvain Willenz, the Hem Dusk is inspired by traditional rice paper lamps from the Far East. The handblown shade emits a cosy, diffused light. One of these lamps looks great, but a small group of them is a striking centrepiece of the living room.