When it comes to making the most of a small living space it's not just about removing things or de-cluttering the entire room. It's about maximising the space you have. So, whether you're attempting to make the most of a small space, want to increase the functionality of your home or create a greater sense of space and feeling, then here's five simple and easy-to-follow tips to help you make the most of your living space in 2020.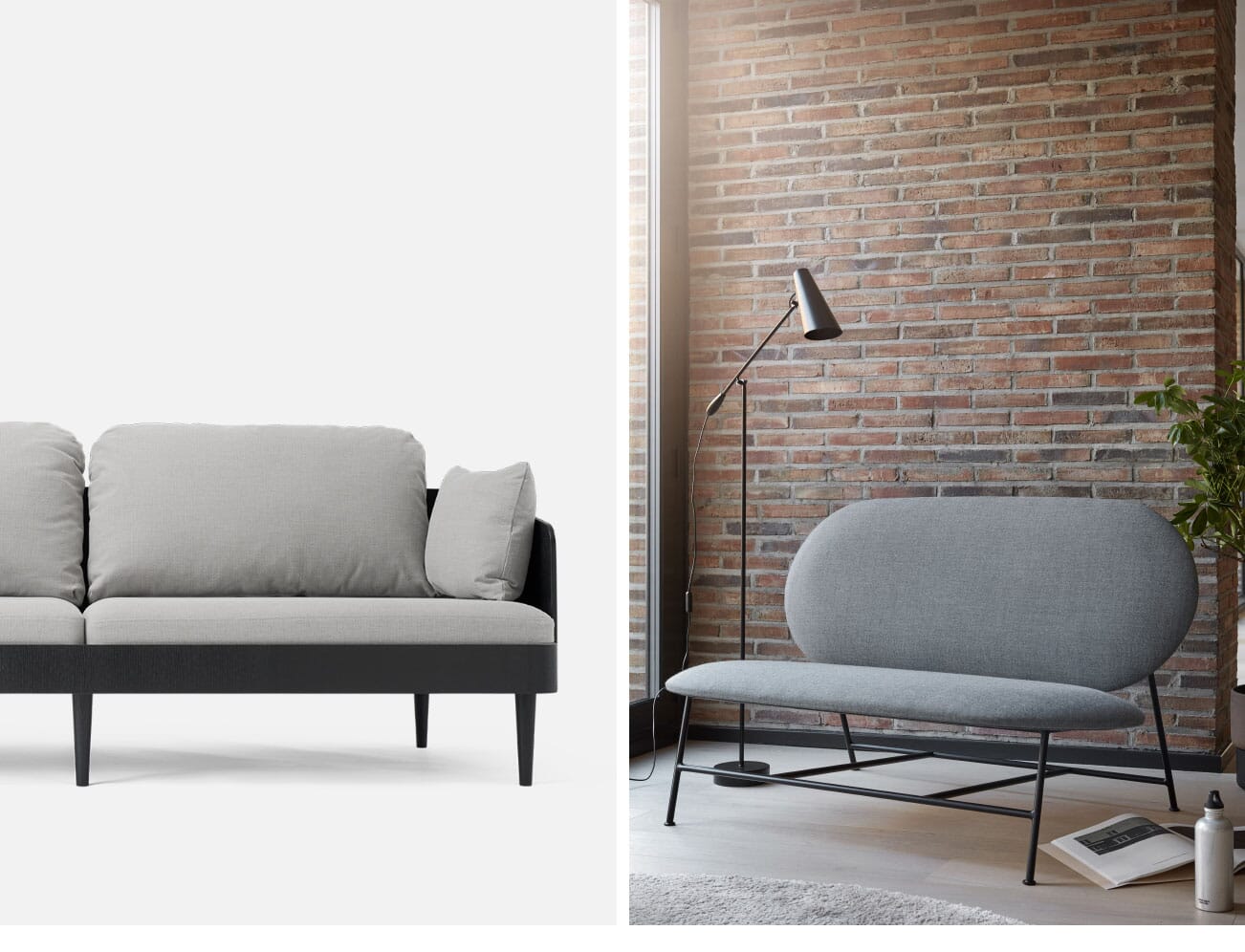 1. Look to thin profile furniture to enhance the sense of space
A nice and easy step to begin with, this. When it comes to planning your living space it pays to think about the pieces that will take up the most space. So, when it comes to the furniture opt for designs with slim, slender silhouettes and move away with heavy, chunky designs. For instance, when it comes to sofas, look for open shapes, such as the Northern Oblong Sofa, that will give a greater illusion of space. The sofa was designed with an open base to allow light to pass though, enabling the Oblong sofa to fill the room without appearing to crowd it. The Menu Septembre Sofa is another space-saving sofa thanks to its ability to solve an age-old conundrum of producing a fully upholstered sofa that is comfortable and intelligent with its use of space.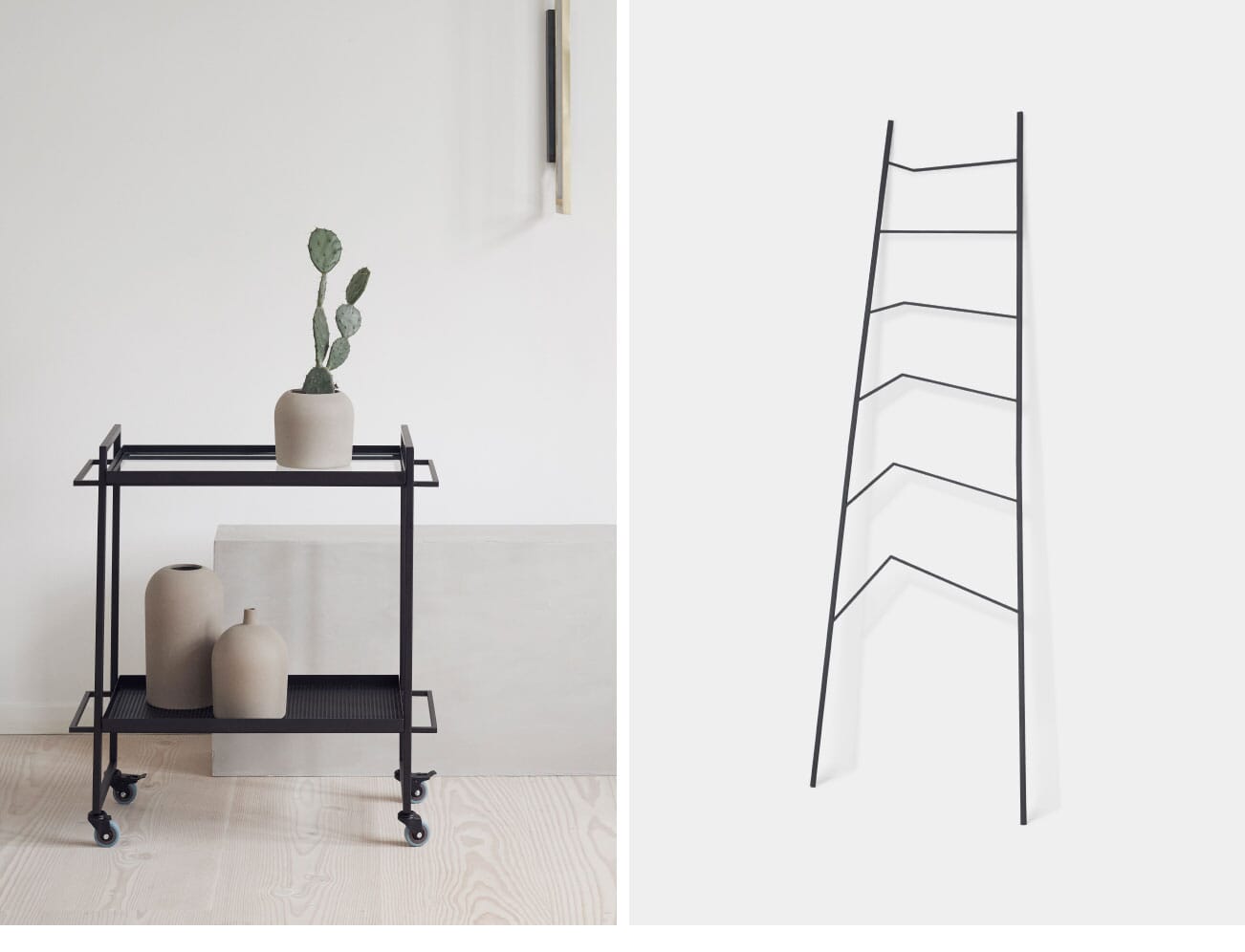 Likewise, with the smaller pieces of furniture, the same logic applies too. Pick supporting pieces that serve more than one purpose but have also been reduced down to the minimum. A bar trolley, such as the Kristina Dam Bauhaus Trolley, is not only great for entertaining but also a beautiful accent piece that will add character to the home. The same applies to storage. Shelving systems that lean against the wall, such as the Northern Black Nook Ladder, that leave little footprint are great for saving floor space too.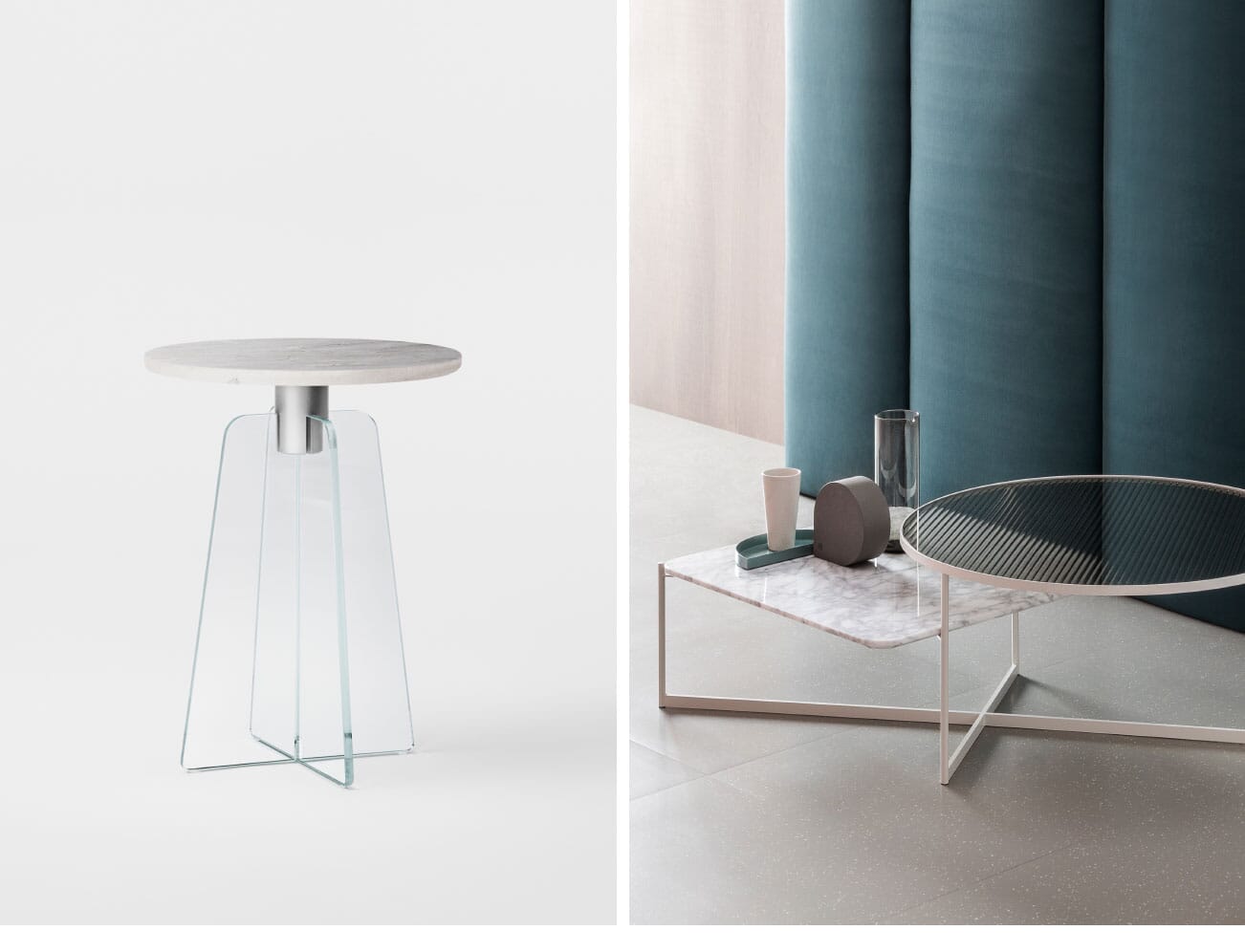 2. Consider neutral & transparent materials
Another important design consideration is not only the shape, size and posture of the furniture in your small living space but also the materials from which they are made. Light coloured and slim-build wooden furniture is always a safe place to start but to make a real space-enhancing impact choose coffee tables and side tables that are made of glass or perspex so the light in the room is not obstructed. Naturally, small and multi-functional side tables such as the SPO1 Mohana Coffee Table or the Million CPH Clear Glass Cupola Side Table take up less space than more solid wooden designs but they also contribute to a lighter and airier feel in the room. Thus, making the room look and feel a lot more versatile.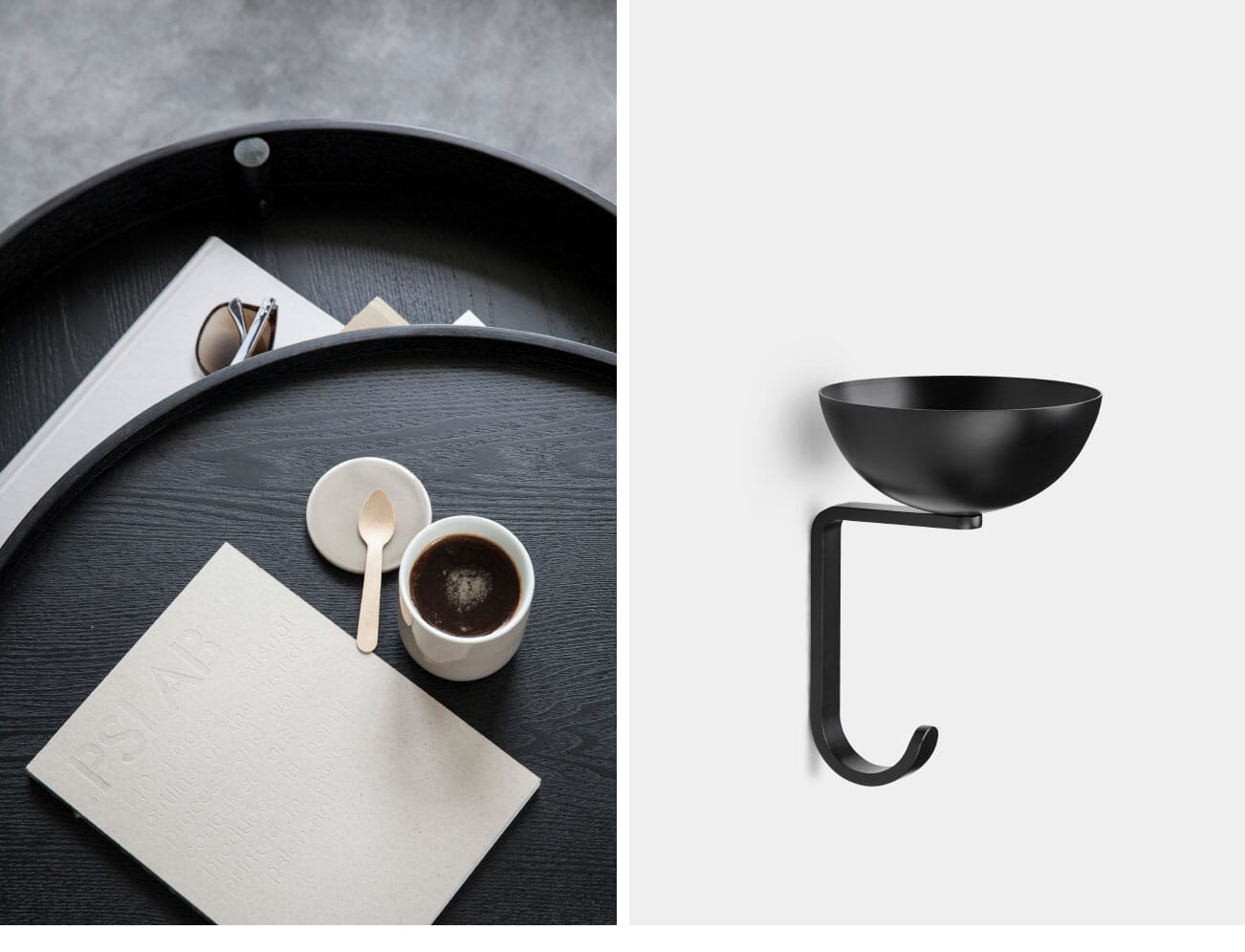 3. Invest in multi-functional storage
 On the topic of furniture, it pays to invest in flexible, multi-purpose furniture. The type of storage furniture that looks neat and considered but has the depth and the capacity to offer a lot more. Something like the Menu Turning Table, for instance. The simple turning top gives the simply sculpted side table the capacity to discretely store a whole host of home accessories – magazines, cables or even chocolate and snacks – that you don't want anyone to see.
The key to enhancing a small space is flexibility, so the room can change quickly and easily to suit your needs. That means, you don't need to invest in just furniture. Take the Nest Hook, for instance. Inspired by small bird nests, the Northern Hooks offers a quick and easy storage solution to keep keys and regular pocket items within the safe vicinity of coats and jackets. Plus, like a nest in nature, the hook blends into its surroundings so it limits it's impact on the entire room.
4. Make the most of mirrors
The inclusion of mirrors in a small living space will not only make the room look and feel an awful lot bigger but it can also help to reflect the best views of the space and enhance the key textures and colours too. So, strategically position your mirror to reflect the best shapes in your space – for example, a statement colour wall or a piece of artwork on the wall.
Don't be tricked into thinking that mirrors for a small living space have to be small too. It's quite the opposite. The Menu Floor Mirror, for instance, is a full-length living room mirror that has been designed with its own unique triangular shape so it can slot neatly into corners and leave little imprint. The same, logic applies to SP01's Michelle Floor Mirror. Lightly coloured to help reflect the light, the mirror comes in a slim sculpted shape with its own tray table – making it the perfect shape to slot next to a doorway and to keep the essentials within easy reach when you're making your escape.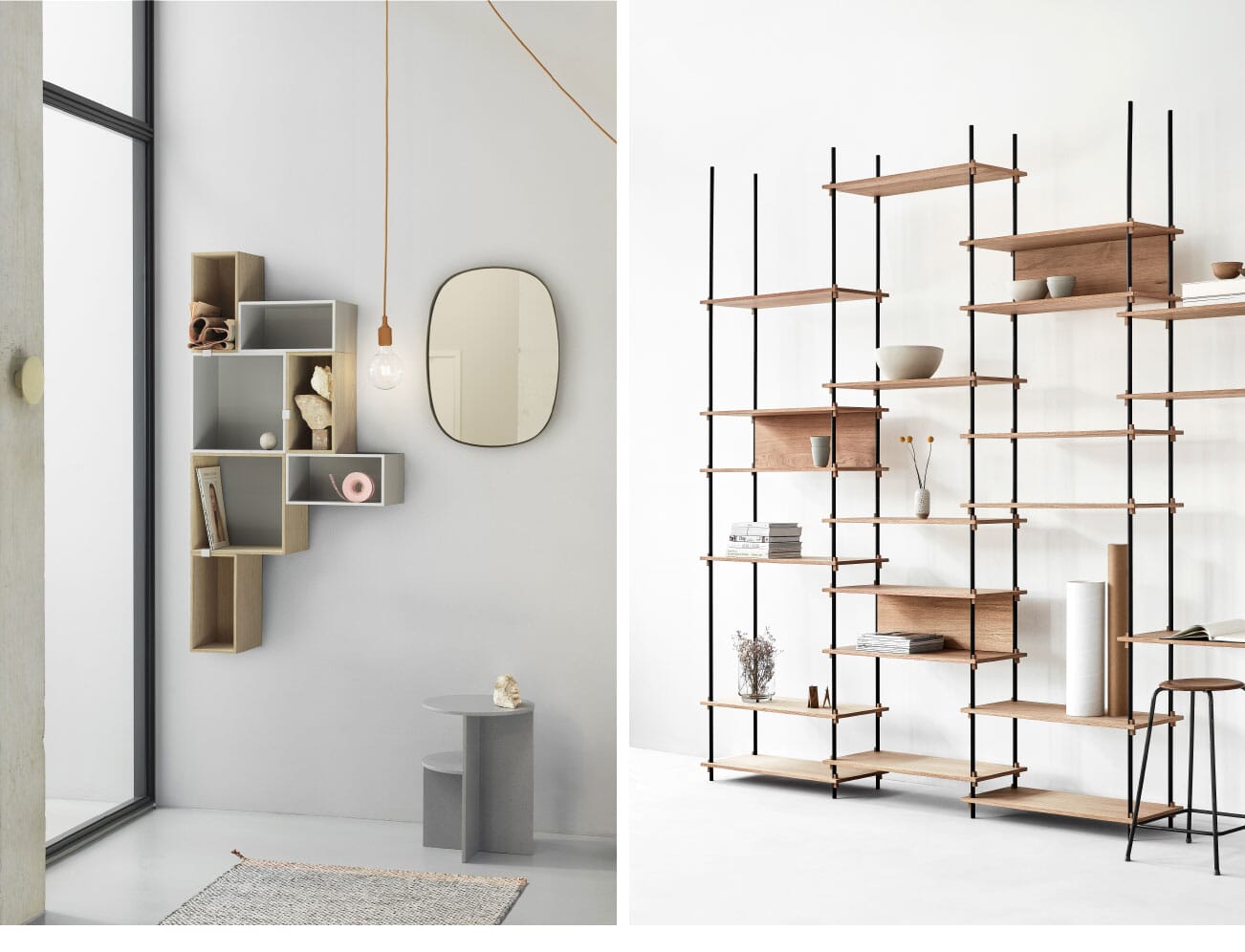 5. Be creative with the use of space
When we say be creative with the use of space we mean opt for simple and efficient pieces of storage that take items up off of the floor to contribute to a clearer and more considered aesthetic. When looking for shelving units in small spaces, look to the Muuto Stacked Storage System and use the different portions to cluster objects, books and accessories at different heights. Leave some of the partitions on the shelves free to balance the shelving unit and keep everything simple and streamlined.
Another winner is the MOEBE Double Shelving System, as it gives you the full freedom to build you own piece of furniture to exactly fit your needs. No, really. The intuitive MOEBE design can be built as tall as you like, as long as you like, even built around corners. So, depending on how you want to start, the shelving system can grow in tandem with your needs.
Shop and explore all furniture and homeware at OPUMO. 
Looking for more interior inspiration? Then you'll want to read this: The Best Space-Saving Furniture From HAY.