Luca Faloni's eponymous label was founded upon the premise of bringing exceptional Italian craftsmanship to the world. With its focus on timeless style over fleeting trends, the brand specialises in premium menswear staples – from linen shirts to cashmere knitwear, all made to last by Italy's finest artisans.
We caught up with Luca to learn about how his brand came to be, the ingredients involved in creating the perfect staple, and what makes Italians some of the most stylish people on the planet.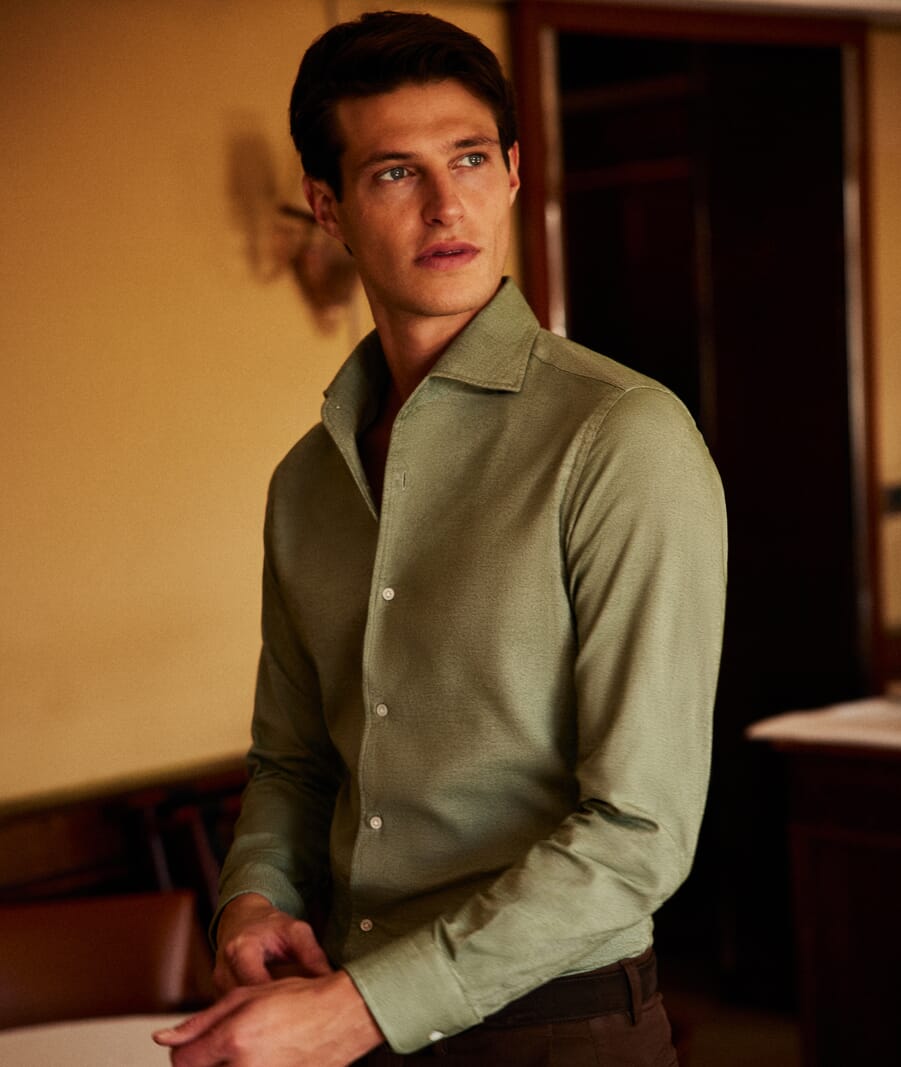 You come from a consulting background. Why did you decide to launch a menswear label and how did you go about it?
I went into consulting because I thought it was the best career choice to learn about many businesses and to learn problem solving skills. But I always wanted to start something of my own and over the years, when I was living in London, I realised that I was always going back to Italy to buy my clothes and I never bought any clothes in London. Yes, there were some good Italian brands but they were really expensive and with the international brands I didn't know exactly which ones to go for, so I always went back to Italy.
A few years later, I was in San Francisco working for a consulting company and I came across the first direct-to-consumer brands in the US, that was maybe 2012. Then it was kind of the eureka moment where I thought, this is how the industry works, with the Internet you can sell worldwide, skipping the middleman and giving the good Italian quality to people worldwide.
In Italy it works a bit differently, in the neighbourhood where you grow up you have the guy who makes the nice tailored shirts, the guy who makes the shoes, the guy that makes the trousers and so you know where to go. And all of them are fairly priced and good service and they know you. When I decided to do the brand I wanted to create the same sort of experience – products well-made, fairly priced, easily available worldwide.
How has the Luca Faloni brand evolved over the past seven years?
The idea was to start with a permanent collection. Starting with the key items of clothing that every man needs, to make those in very good materials and very good fits, very nice colours and durable – good quality and good craftsmanship.
Seven years on, we haven't changed. We marginally improve every year, based on the customer's feedback, based on what we learn over the years, but we never change the designs completely. What worked seven years ago works today and we think it's going to work in 20 years because we focus on those elements that every man should own. We don't focus on trends. We try to serve that space between casual and formal. We want to give you the staples that you can wear on a Friday in the office or on the weekend, when you're travelling, when you're at home.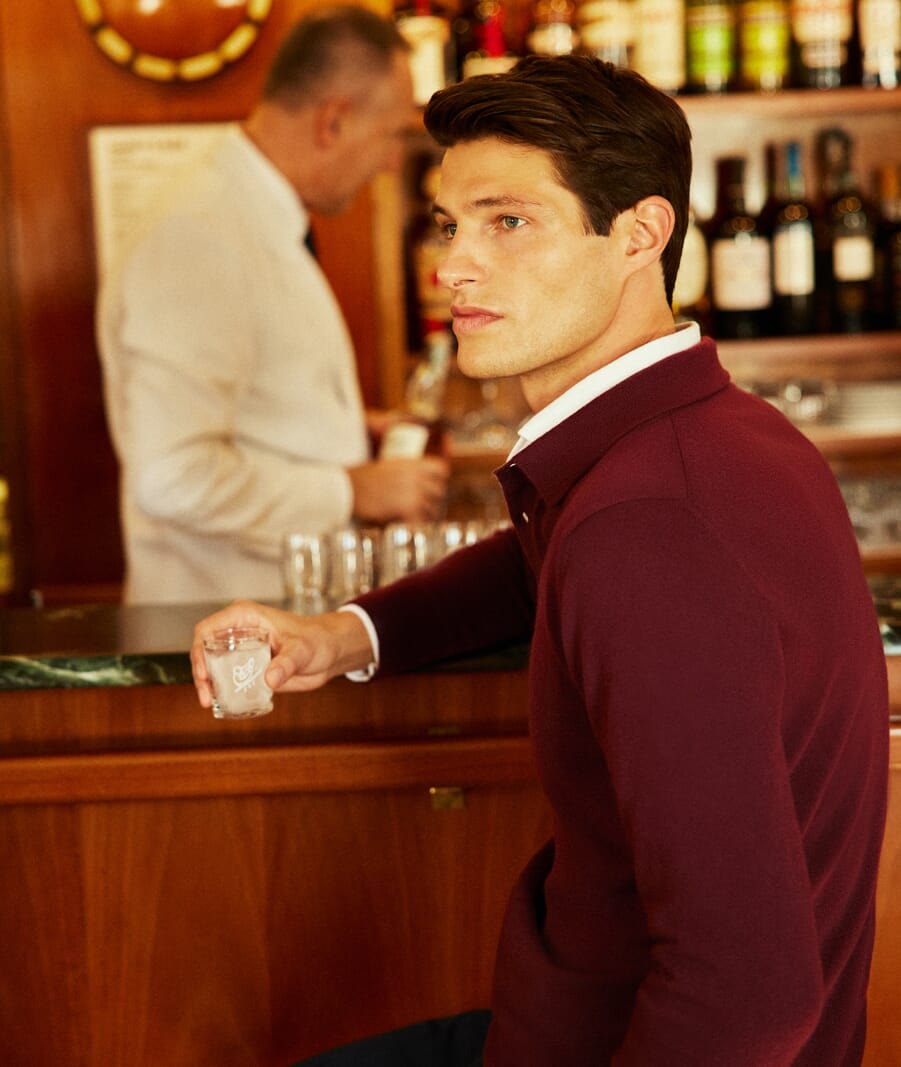 How has your background in consulting informed your approach to running a menswear label?
I think for me it was the perfect learning ground. I saw a lot of industries and I saw a lot of problems and I worked with many different people, people from all backgrounds. When you have employees, it helps you to interact with them and manage them. Throughout my consulting years, I had projects in fashion as well as other industries like fitness, movies, finance, oil and gas – all sorts of things, so it really gives you an idea of what you like and what you don't like. After four years I worked out that I don't like oil and gas, I don't like financial services, but I do like consumer goods. Every time they put me on a project that was directly related to customers I enjoyed it. Every time it was more B2B, I was less interested. 
The Luca Faloni collection is built on staples. What in your opinion constitutes the perfect staple?
It needs to be the backbone of your wardrobe. It's something that you need today and you will always need, so it will never go out of fashion, and exactly because you're always in it it should be durable, otherwise you have to replace it too often. The fact that something is not a fashion trend doesn't mean it can't be very luxurious. It should be nice materials, very comfortable, durable. We like to produce all our staples in classic Italian pastel shades. The idea is that staples should be in the colours that you need, quality that lasts long and a fit that works for you.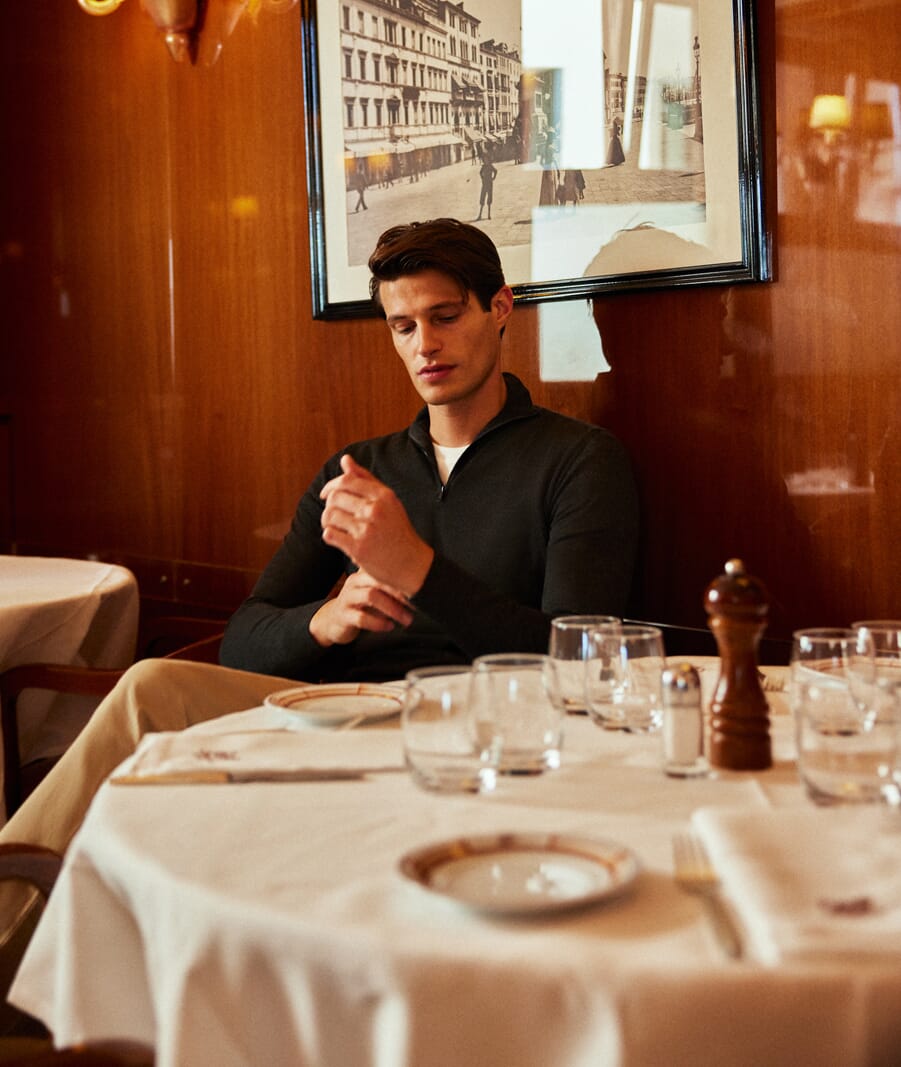 Can you please talk me through your approach to craftsmanship and manufacturing? 
When it comes to the creation of a product, you have two areas you have to think about. First is what materials you use, and second is who makes the products. Those two elements are very important because you can decide to have amazing materials but then if you go cheap on making the products, the products won't be good.
So, when it comes to materials, we decided firstly that we wanted to focus on a few categories synonymous with luxury, like cashmere, brushed cotton, linen – we don't do, for instance, wool or wool blends or normal cotton. We only use very premium materials. And then for each category of these materials we only source it from the most renowned mills in Italy – for cashmere we go to Cariaggi, for brushed cotton we go to Grandi and Rubinelli, these have been there for generations.
In Italy, there are areas that specialise in each product, and for each product there are families that specialise in certain aspects of that product. So for instance with shirts, there is the family that specialises in cutting the patterns, there is the family that specialises in stitching, the family that specialises in attaching the buttons, so you can be assured that these are the people who have passed on the tradition for generations and generations so they know how to do it really well.
It's the quality of materials, quality of manufacturing, and then we think a lot about the fit of the item. Batch after batch, season after season, we speak to customers to understand, based on their body type, what they would change about the product. After three or four years of going through this process with each category, you come up with really refined garments that would work with most body types.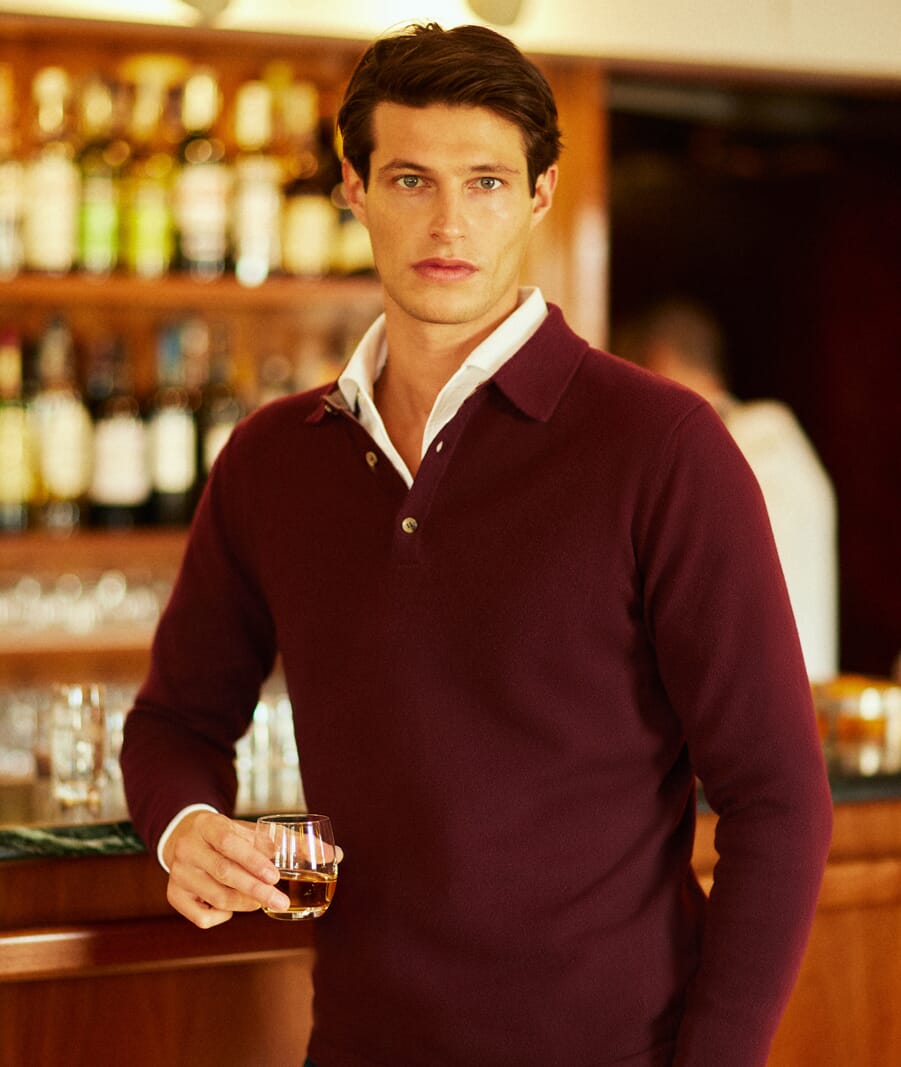 What is it about the Italian approach to style that makes it so world renowned?
Italy has always been a country that has a lot of heritage in clothing. Every region of Italy specialises in certain products – for instance, Le Marche in the centre of Italy specialises in shoes, other regions specialise in textiles, other regions specialise in shirtmaking. So you have all these families of artisans that generation after generation do the job of their fathers, and they learn from them and they're really passionate about the job and they try to improve the products year after year.
Also, in Italy, from when you are very young, you're conscious of dressing and style, because, for example, we don't have school uniforms unlike the UK, so we become very conscious of what people are wearing from an early age. It's one of those industries that we've always been famous for and people are passionate about so it always remains relevant for us.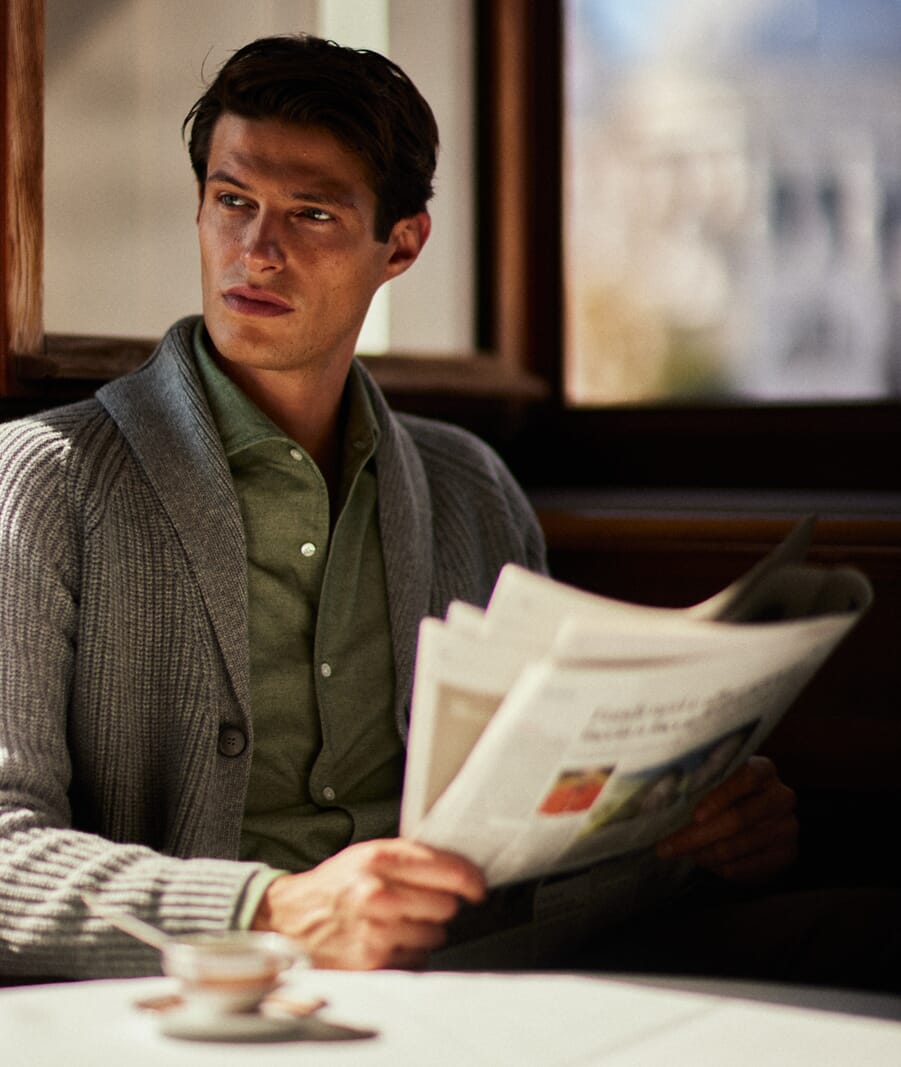 Who are your ultimate style icons?
I come from Turin, so it's easy to say that one of the style icons that is probably most relevant in my region is Gianni Agnelli, one of the most famous entrepreneurs in Italy of his time. He was always very well-dressed but he had particular rules, like he used to wear a watch above the cuff of the shirt, not underneath, so he was very particular. And everyone used to copy him. 
What's next for the Luca Faloni brand?
It's been a challenging and interesting period for fashion. Online has become a very important part of our business and we'll continue to invest in that channel, to be as close as possible to the customers and to give the best possible online service.
In terms of products we're expanding on the categories we already have and we are investing a bit more in trousers, which is a newer area for us. On the retail side, we had plans to open more stores in 2020 but obviously with the pandemic that couldn't happen, so in 2021 we will start again with that. I believe physical retail is still important. Of course people are more comfortable now buying online, but you see when you reopen the stores that people want to try things on, they want to touch the garments, they want to chat with the store assistants, they just enjoy going for a walk on the high street.
We'll also start creating more interesting content. Before we focused mostly on the product, now we will start focusing on the content side of things as well, showing our customers how the garments are made, the history of the materials, how you make the materials. It's not only about creating clothes, it's about making people more passionate about what they're wearing. 
---
---
Discover Luca Faloni's cashmere loungewear range.
Shop the full Luca Faloni collection.
---
---