Slippers have long signified much more than a cosy night in, something much more scary: old age. Hanging up your dancing shoes for a pair of cheap slippers was a symbolic moment of settling down and taking a step back from the bright lights for the warmth of a blanket at home. That is until Inabo walked quietly into our lives. 
We live and work in Stockholm, Sweden, where we enjoy all the lovely things the city has to offer for half of the year, and stay in and complain about the weather and darkness for the other half of the year.
The Stockholm-based label is owned by Ludvig and Sofia who, building on Swedish tradition, have developed the most attractive slipper we've seen. Suddenly the idea of staying at home feels a lot more sophisticated. We managed to catch some time with Inabo's founders to discuss their past, the inspiration behind Inabo, and how to perfect the night in. 
Can you introduce yourselves?
We are real life couple and business partners Ludvig Lindberg and Sofia Jansson, founders of indoor slipper company Inabo. Ludvig is a former corporate lawyer while Sofia comes from the world of fashion, having worked with fashion marketing and branding. We live and work in Stockholm, Sweden, where we enjoy all the lovely things the city has to offer for half of the year, and stay in and complain about the weather and darkness for the other half of the year. Something that most Swedes do.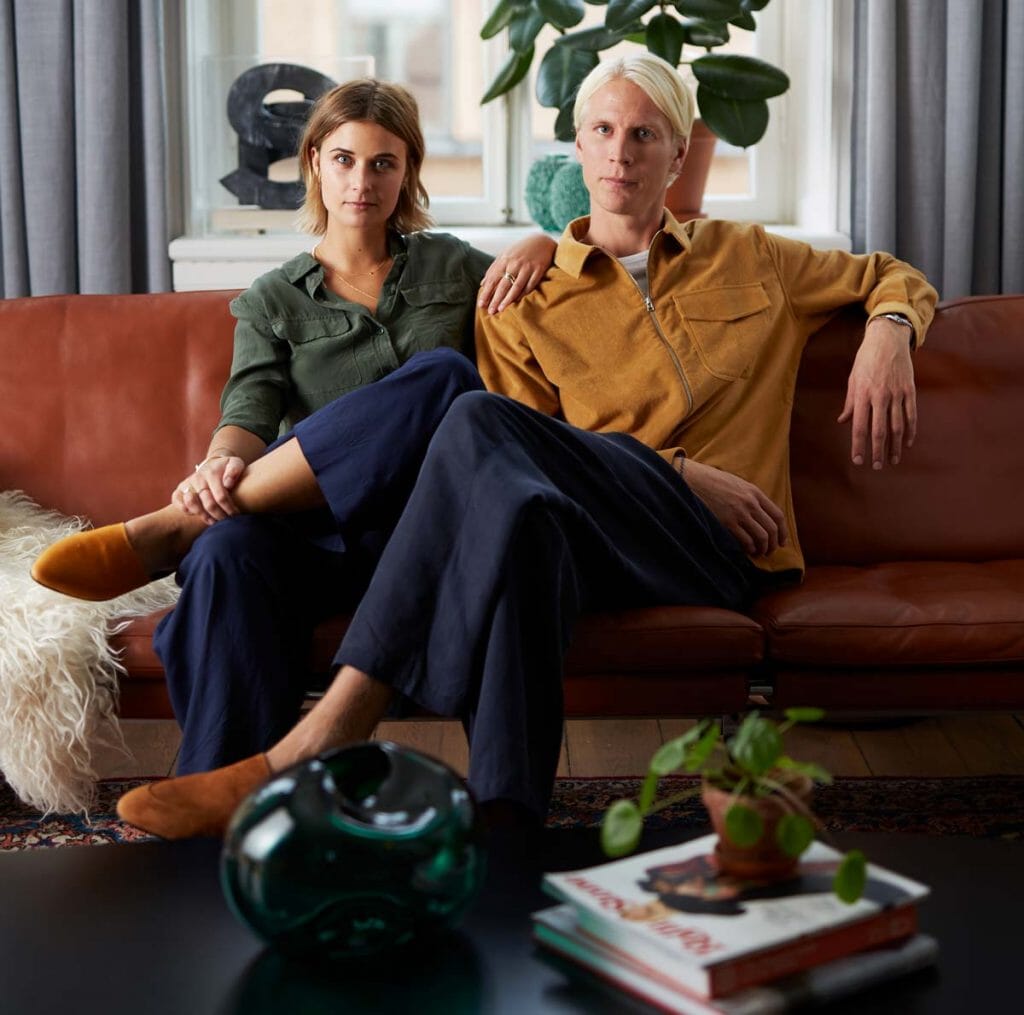 What do you do?
We create premium indoor slippers for men and women. We launched Inabo in December of 2018, so just over a year ago. The goal is to offer beautiful yet comfortable indoor slippers, nice enough to wear when entertaining or to bring to your friend's house when invited over for dinner, but at the same time so comfortable that you always want to put them on when you come home. Inabo slippers will match your curated outfit as well as your well-designed home, and make lounging on the couch a more luxurious experience. 
What sparked the decision start Inabo?
There is a very Swedish tradition of always taking your shoes off when you enter a home. It was probably born out of necessity due to our many months of cold and wet weather each year, to prevent bringing dirt into homes but it has turned in to an instinctive reflex among most Swedes. Even in the middle of the summer people walk around barefoot or in their socks at home.
The idea of making indoor shoes was born out of the simple lack of alternatives. Because although the no-outdoor-shoes-inside tradition is very strong, there is strangely no real tradition of wearing indoor shoes. You can invite friends over for dinner, and they may show up in a nice outfit, but they will almost always walk around in their socks. 
Sofia started looking around for a pair of nice slippers, something that was beautiful enough to match a nice outfit, but still comfortable enough to be an alternative to ugly supermarket slippers. Unable to find anything, we started playing around with the idea of making them ourselves.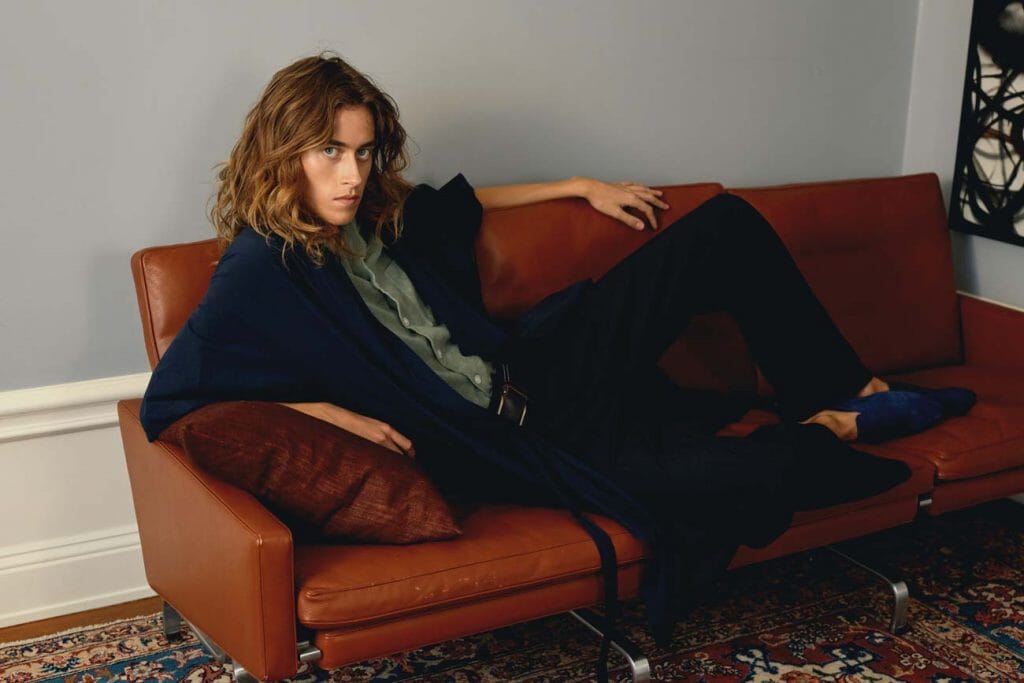 Can you give us three tips for a successful night in?
Of course!
When staying in by yourself we want to challenge you to make it more of a moment to savour than to just crash on the couch in front of Netflix. Try to enjoy some well-deserved 'me' time by investing in nice loungewear (and slippers of course!), light some candles and read a good book or a magazine. And leave your phone somewhere where you won't check it all the time and end up in that mindless scroll.
Cook something nice for yourself or for a friend or partner. It doesn't have to be complicated, just the idea of a home-cooked meal where someone has made a bit of an effort is very comforting for both the cook and the lucky companion.
Entertain! Invite friends for dinner or drinks. Serve a meal that can be prepared in advance, so you are not stuck in the kitchen. Or just buy all those nice things you like to snack on, some nice cheese and cold cuts and skip the cooking part all together. To offer a proper mixed drink is always a very nice and appreciated touch, so stock up you bar cabinet and learn how to make a nice cocktail or two. Guests are always very impressed when you can offer a well-made Negroni or French 75.
---
---
How did your previous careers affect the way that you approached starting a business?
In so many ways! There is a versatility to the combination of fashion experience and business law. Since Ludvig has worked a lot with insolvency law, he knows a lot about what not to do when running a business. Jokes aside, it is very nice to come from very different backgrounds, where we can bring different ideas and approaches to the table.
Many people think that we divide our work as such as Ludvig handles legal and business parts of the company, and Sofia handles the creative parts. Actually it has been much more of a collaborative effort across all parts of the business. Ludvig was craving to work with something more creative and craftsmanship oriented, so the step from being a lawyer was not as far as it might seem, at least not on a personal level. 
Then again it is good to balance it with the previous experience from the fashion world which Sofia brings along. This became obvious in the early phases of product development and then later on when working with other creatives for photo shoots, web design and the like, where you just have to accept that everything is much less organised and well-planned than when working at a law firm. 
How would you respond to the idea that slippers have been given a bad reputation?
Ugly and cheap fabric slippers have a well-deserved bad reputation because they are generally not very aesthetically pleasing and of low quality. We really haven't seen that slippers have a bad reputation, though. In general people have wondered why there's such a lack of really nice and at the same time comfortable indoor slippers until we came around.
It has also become obvious to us that the question of slippers is a question of age, at least in Sweden. Our older customers have been taught to wear indoor shoes at home, whereas our younger customer has grown up walking around in socks. As they become adults and start taking pride in building a home and a style, they realise that a pair of beautiful, handmade slippers can be that small detail that perfects a home and a look. 
What was the hardest step in reaching the final Inabo product?
To create a slipper that was beautiful and sleek but at the same time so comfortable that you can't wait to put them on was a real challenge. Just the development of the sole took months, as we wanted a slightly built up insole that gives support, a soft outsole that doesn't click when walking on floorboards and to make sure that they stay on the foot when worn with socks. The result is a sole made out of seven separate parts, including a metal shank for increased shape retention and longevity and a suede inner sole, to make them stay on the foot even when worn with silky socks. 
The entire shoe is made in 16 manual steps at a small, family-owned factory in Portugal where time seems to have stopped in the 1960s. To see the talented people there work on our mule slippers is such an amazing experience. Just to start to understand how much work goes in to making a pair of well-made shoes is kind of mind-boggling and something we are very proud of.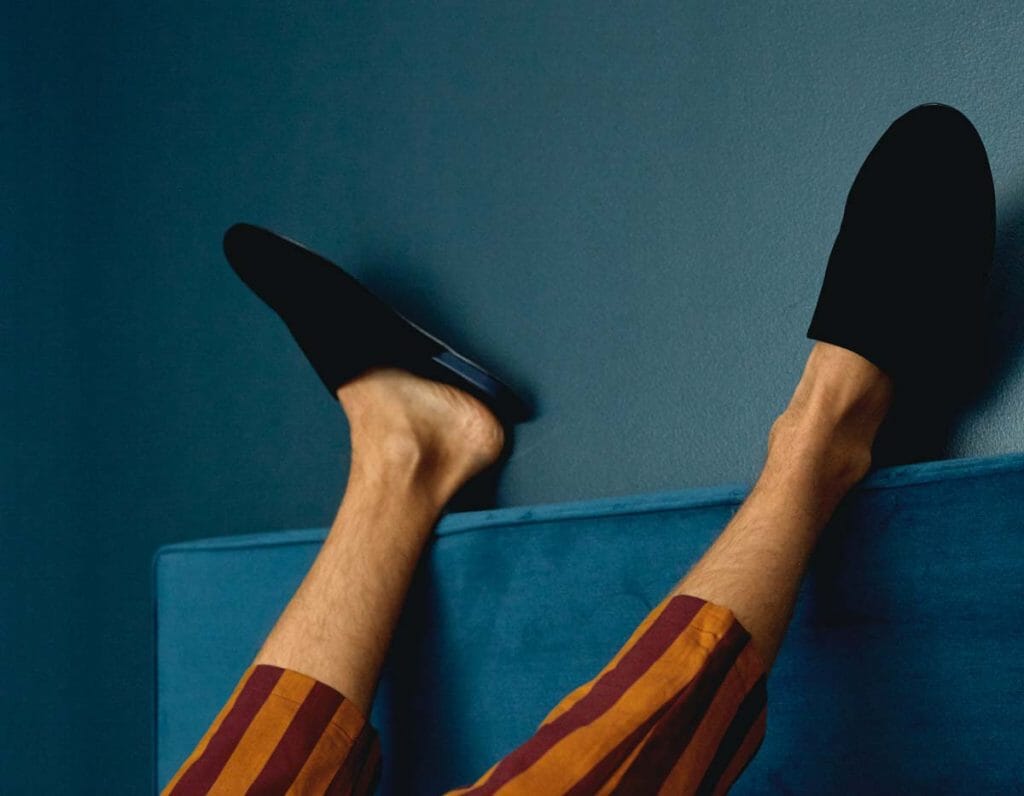 How has living in Sweden affected your outlook on design? 
The entire idea of making slippers is based on a Swedish tradition as mentioned, and our approach to design is of course influenced by our surroundings. However we don't want to be put in to the box of Scandinavian or Swedish minimalism, as we use way too much colour and detail in everything from the actual product to packaging and branding to pass as minimal. We aim to make something that is perceived as timeless and at the same time playful and the tradition of Swedish design is in many ways linked to the idea of timelessness and quality, no matter if it is in the shape of minimalist architecture or maximalist interiors.
Shop the whole Inabo collection.
Inabo features in the first Top 5 Items To Drop This Week of the decade. Don't miss out.
---
---