Words by Alek Rose
Last week we paid a visit to Tom and Will of L'Estrange London at their new pop-up shop on Wardour Street, Soho. At L'Estrange, everything works in harmony, from the concept behind the clothing, to the retail space and pricing strategy. Tom and Will know that life in 2020 is full of choices, maybe too many, so they're striving to make one of the big decisions for you: what to wear. Why pack three outfits when you can pack one that works for all three occasions?
Together they have been simplifying lives since they established L'Estrange in 2013 and there is no sign of slowing down just yet. With more planned in the way of events, design and a new retail space, the future looks bright. Read the full conversation below and if you're in Soho, drop in to see them.
Can you tell us about the name L'Estrange?
Will: The name is my middle name. We decided that we wanted to call the brand something that belonged to us and it was a toss-up between Chancellor and L'Estrange, Chancellor being Tom's middle name.
What was it about the hoody compared to any other menswear piece that attracted you to make the perfect version?
Tom: I think hoodies are traditionally considered as quite a scruffy garment. When we started we were seeing lots of hoodies made out of polycottons and the fit wasn't very good, the zips were cheap. We thought, how can we set out to make an amazing piece that you'd want to wear every day? That led us to not create the same piece again, but actually to upgrade it in many ways.
So we have the Marmi stripe lining and lots of details that make it stand out. One of our favourite features is the inside pocket where you can put your passport or everyday essentials. It's perfect for travelling actually, when that air conditioning comes on and you're only wearing a shirt you're freezing cold. Equally, it's an item that you can wear for dinner or to a smart bar, that's something we wanted to achieve with a lot of our pieces and it started with the hood, it was a foundation for the whole brand.
Will: Yeah, we wanted to elevate the design so it's just smart enough to be suitable in smarter environments but keep the comfort factor so you still gravitate to it, you still want to wear it.
+
White Supima Tailored T Shirt
White Supima Tailored T Shirt
So it seems like you guys have a customer in mind. Who are they exactly?
Tom: Yeah, we've done a lot of events since we started the brand. We've met a lot of people and have a good understanding of our customer, not just who they are and what they do but actually understanding their personality. In general it's a city-dweller, on the move, who cares about style but at the same time isn't queueing outside for the latest releases, they want classic pieces but care about the details.
Will: They like to travel, they're interested in culture and world affairs.
Tom: The thing about that customer is that they have a lot of choices in their life, they have lots of things they're trying to achieve. What we want to do is to make the process of choosing and buying clothes more simple for them. We've done the hard work for them and simplified the wardrobe.
Do you think that London as a place has influenced the direction of your brand?
Will: Definitely. The internationality of London, living here you feel totally plugged into everywhere else and you are designing for the type of individual who is going to be on the move. We actually didn't mention a specific industry of our customers and that's because I don't think there is one specific industry, it's more a mindset that unites them. That global mindset is something that London gives you.
L'Estrange sits at an unusual intersection between fine tailoring and more casual styles. When did you decide on that aesthetic?
Will: To really answer that I'd flip it around and look at it this way: when we designed the hoody, it was with the goal of smartening up an item that we liked but that probably had a shelf life. We then had this product and we thought, why doesn't everything function as simply as this?
We looked at the modern wardrobe and thought about how our lifestyles are sort of fusing together: work, social, travel, it's all becoming one thing. The idea that we need to wear different things for each occasion is stupid. If you're going away on a three day work trip you need to pack outfits for all sorts of different environments. The idea was born out of a realisation that our traditions are overly complex and need simplifying.
Tom: Yeah, the idea of simplification is important. If you look at the traditional fashion industry which is pushing a seasonal calendar, you step back and wonder why we're changing what we wear every six months and perfectly well designed items are going in the sale. It doesn't make sense so we decided to create a wardrobe that lasts all year.
L'Estrange seems to have new ideas on all sides of the spectrum – the L'Estrange apartment is just one example – What wasn't right about what you saw on the market already?
Will: What wasn't right about the market still is not right about the market but there's a greater awareness of the fact that it's broken. Tom already mentioned it, but you have these cycles of fashion and in the luxury sphere you might be looking at two or four collections a year but as you move into the high street you have drops almost every week and a constant influx of product.
As we said, we simplified this process but then we still had customers wanting more and we realised we had to switch it up. So you're being pushed by this system to change the designs. Obviously there are commercial reasons for this but also just because… That's the way the system has always been and therefore that's the way the buyers have been trained to think. That was a cornerstone of what was wrong with the system.
On top of that you have a markup structure. So if I make a product for X and then have to sell it to a store for Y, who then want to put it in a sale for Z in however many months down the line, I have to factor that into the original price. We basically now sell our products at a discounted price and it removes this uncertainty for the customer and from our perspective it flattens out that buying behaviour so we don't have to rely on sale periods or spikes at certain times of year.
Tom: With regards to the L'Estrange apartment and store aspect, we have the freedom to do it because we've removed the shackles of wholesale. We don't spend half our time dealing with buyers, we can focus on engaging with our customer and creating retail spaces. We just did twenty four events in twenty four weeks for the launch of this space and we've got more exciting stuff planned for the run up to Christmas.
What advice would you give somebody who is planning on starting a clothing brand?
Will: Have a reason for being. Before you get out there and start making products for the sake of it, try and think more deeply about why. If you can unlock the reason that you're making a product which is adding value to the lives of those buying it, then you're on to something.
Tom: If your brand is completely based on products then yeah, you may blow up over a couple of months and do very well but if product is your main differentiator then it won't last. That's my opinion.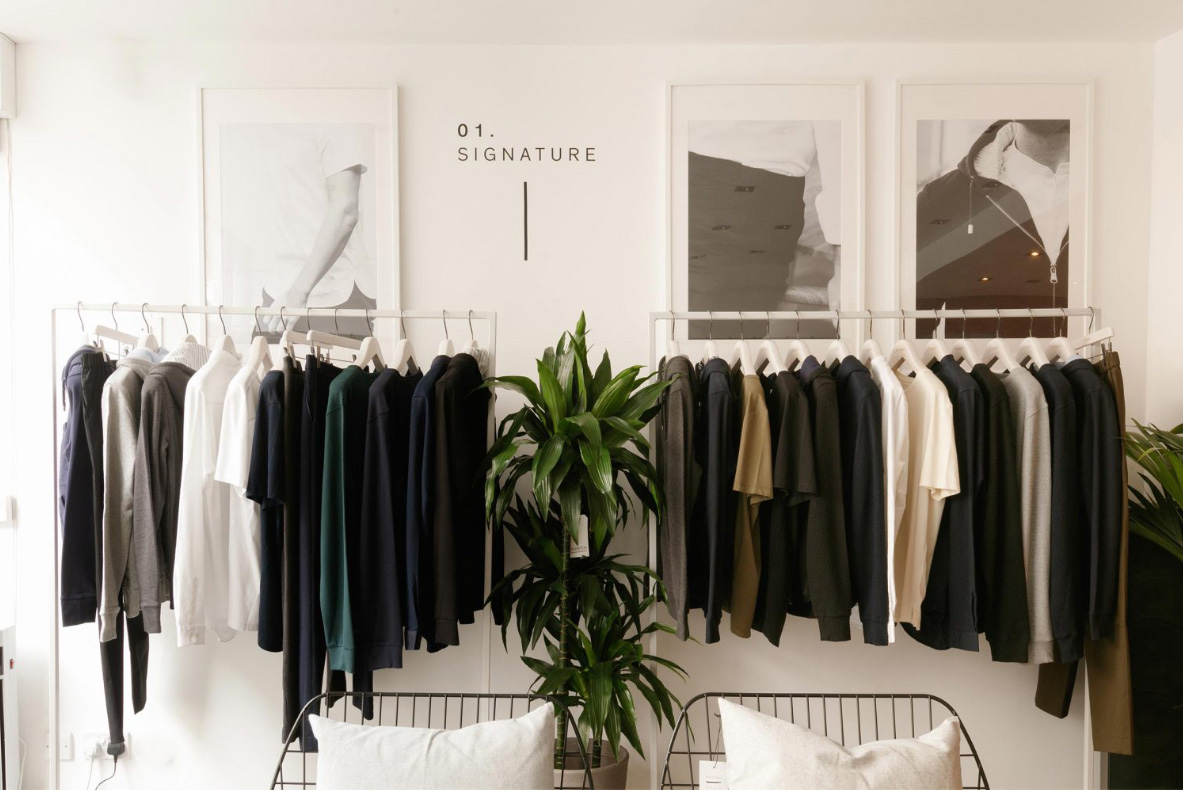 Shop and explore the entire L'Estrange London collection at OPUMO.
Want more entrepreneurial insight? Check out our interview with Adam Lewenhaupt – founder of one the best new sneaker brands, CQP.