Following in quick succession of his first colour-drenched exhibit at Galerie Perrotin in New York last year, one of our favourite artists, Daniel Arsham, returns by transforming the High Museum of Art in Atlanta with three site-specific installations.
The exhibition, titled 'Daniel Arsham: Hourglass' continues the artists' investigation into the interpretation of history through physical objects. In case of contemporary times, the 'historical artefacts' take the form of modern motifs, namely boom boxes, keyboards and sporting memorabilia.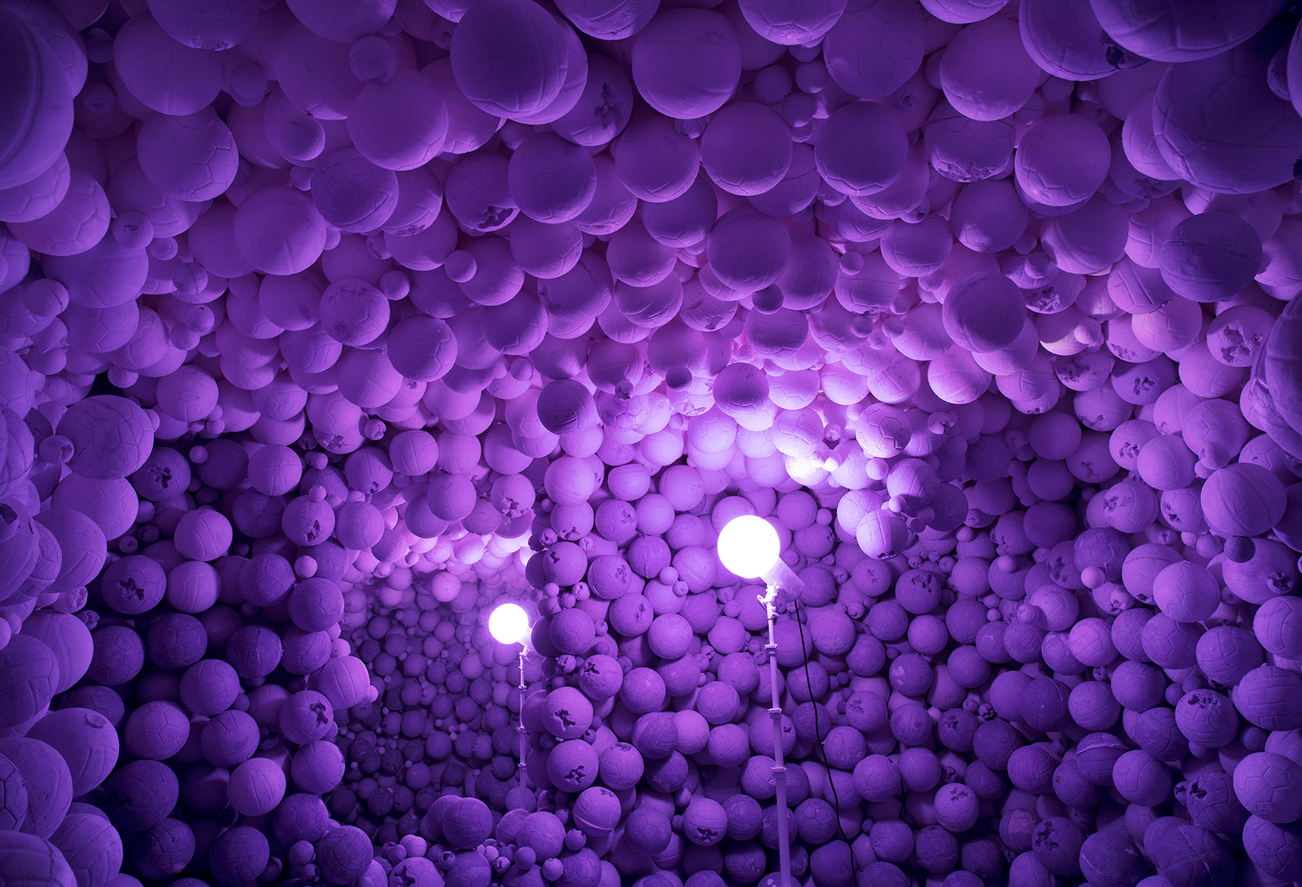 The range of cast artefacts are encased in sand-based timing devices to indicate the precarity of time and nature, and they're joined by a purple cave of moulded footballs, basketball and tennis balls – which were originally showcased at New York's Galerie Perrotin last year. Alongside this, Arsham has built a blue zen garden, complete with a Japanese tea house, that is routinely raked every Sunday by a performer, and is occupied by a statue of a woman sat on tatami mats and surrounded by a selection of everyday items.
"The cast figure of a woman in the sand is reminiscent of Pompeii, while a Japanese lantern and scattered objects give the environment a palpable sense of dwelling – as if occupied by a caretaker-hermit," explain the High Museum of Art
Together with the purple cave, both exhibits form one of Arsham first departures from a solely black, grey and white palette – and it is not until recently that the colour blind Arsham has been able to see a more vibrant spectrum of hues using special glasses that refract light. "Life is definitely more nuanced, but I'm not sure it's more interesting," Arsham explained. "I feel like I'm inside a game – an overly saturated world."
Downstairs, the exhibition features a range of 'hourglasses' that are also turned by a performer every Sunday. In this space, a child's voice describes the objects that are encased inside, which are revealed and concealed by the fine sand grains as they gradually fall from top to bottom.
Make sure you pay a visit to the Atlanta High Museum of Art to catch 'Daniel Arsham: Hourglass' which runs until the 21st May 2017.
"Daniel Arsham: Hourglass" at the High Museum of Art, Atlanta, Georgia. Images courtesy the artist and Perrotin. Photo Credit: Guillaume Ziccarelli."
 Daniel Arsham, Amethyst Sports Ball Cavern, 2016. Images courtesy the artist and Perrotin. Photo Credit: Guillaume Ziccarelli