In the 17th century, a lighterman was a worker who operated and steered the flat-bottomed barges that were used to transfer goods throughout the incredibly busy ports of London. Their role has, naturally, become obsolete, but now, in London King's Cross Granary Square, overlooking Regent's Canal, the Lighterman is back home – acting as the inspiration of one of the capital's finest pub, dining room & bars – the eponymously named, The Lighterman.
The Lighterman, the third venue from Open House, following on from the success of Percy & Founders and The Larder,  has become known for being one of the London's best summer drinking destinations thanks to its pavilion-style three-storey structure designed by RIBA Stirling Prize winning architects Stanton Williams.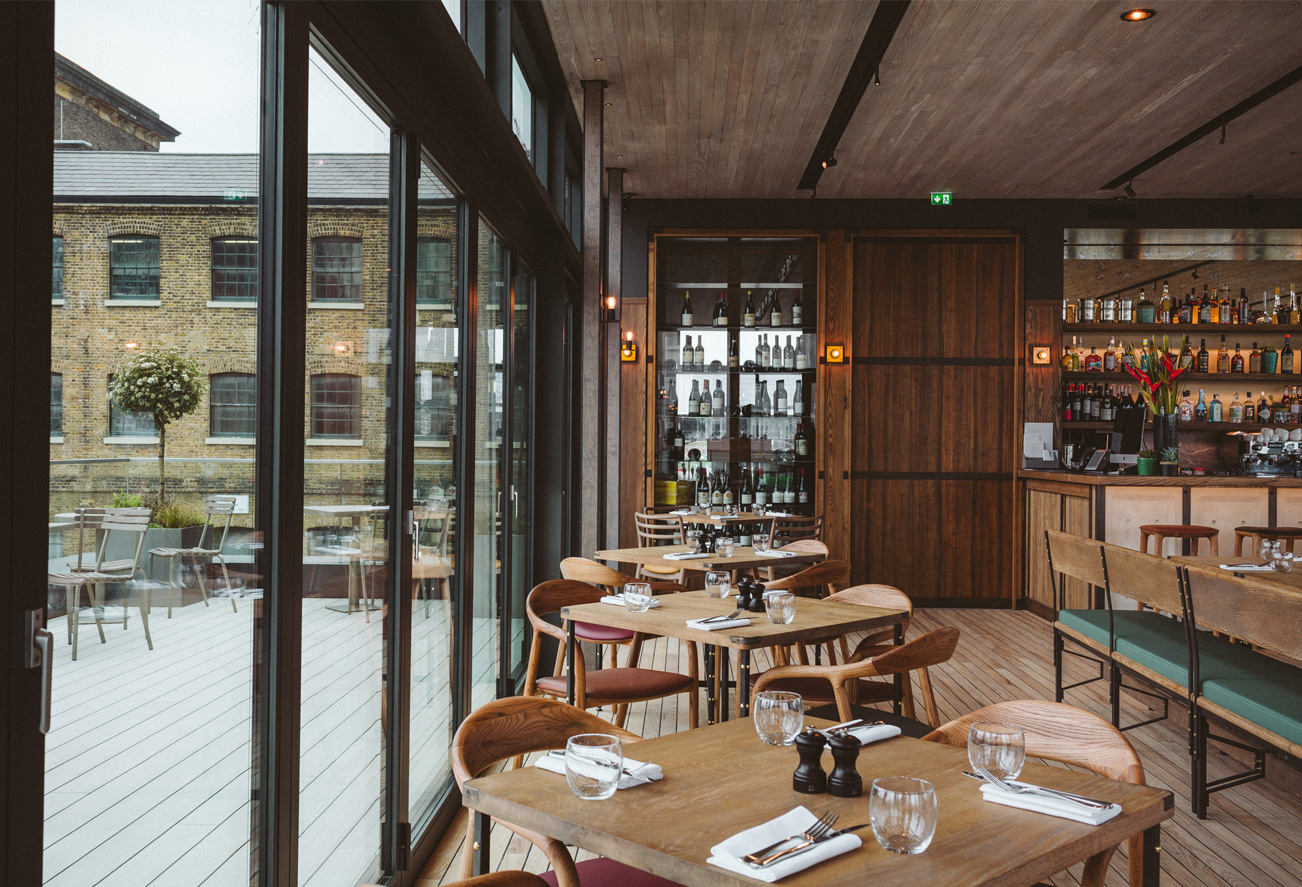 Offering three floors of all-day dining and drinking, with seating overlooking both Regent's Canal and Granary Square plus a wraparound terrace with views of King's Cross, The Lighterman has nurtured the ideal formula of laid-back, down-to-earth dining. From the glazed upper floor of The Lighterman, you can enjoy an uninterrupted panoramic view of the ambitious redevelopments around King's Cross station – while below, the casual ground-floor bar, clad in green, Mondrian-esque squares and defined by the cast concrete bar, makes for a more relaxing and secluded spot to enjoy a drink. 
In essence, The Lighterman is everything you'd imagine a industrial-inspired, forward-thinking restaurant to be, just without too much of the smug-factor. Come the weekend, the all-day dining is buzzed with the carefree, more laid-back side of London living, while during the week the wooden furnishings and foliage give the space a bright and airy feel – perfect for its all-day menu which majors modern British cuisine. This is the place for a relaxing post-work pint, a quick canal side snack and a welcome break from the more commercial realms of Central London. That, and the place for enviable Instagram posts.
All day highlights include: Crispy squid, chilli & lime (£8.50); Grilled artichoke & radicchio spelt risotto, chilli & parmesan (£12); the wood fired grill offers a wide choice of steaks; 28 day dry-aged Lake District sirloin (£24) ; dry aged rib eye (£25.50); Rolled Pork Belly (£16.50) plus a choice of burgers served with fries (£13 – £15)