Some trainers have already reserved a place in the sneaker hall of fame. While most of these styles are limited-edition collaborations that marked a turning point in style, there are a select few general release models that have VIP access to the permanent collection in the hall of fame. One such model is the Nike Blazer. Such an iconic design deserves to have its story told, so listen up. 
Nike Blazer first release
The Nike Blazer was first released in 1973, just two years after Blue Ribbon Sports gained a new 'Swoosh' logo and changed its name to Nike. Having just recently changed its name, Nike felt like a new company – it was – and therefore needed a successful marketing push. One of the label's first dedicated basketball trainers was being developed at the time. This minimal high-top sneaker would form the perfect blank canvas for the new logo which was soon enlarged and stitched to either side of the white shoe. 
---
---
A new age of basketball trainer
We may look back at the Blazer Mid 77 and think: solid vulcanised sole, full leather uppers, fragile mesh tongue? Surely this would make a terrible high-performance basketball trainer. We'd be correct – it does by today's standards. Back then, these components were the most advanced on the market, with Nike Air technology still five years from being invented. 
In fact, the Blazer was so advanced that Hall-Of-Famer George Gervin ended his affiliation with Adidas in favour of Nike's higher-quality shoes. From Nike's perspective, having a name like Gervin wearing their newest logo-dominated shoes was invaluable. It was impossible to ignore the newcomer to the court.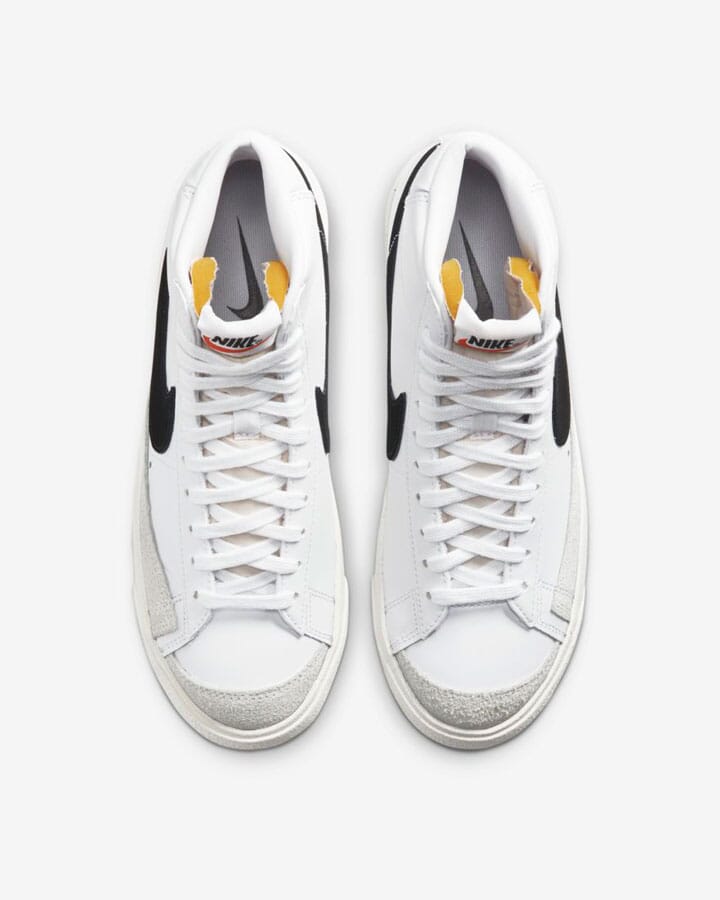 From basketball to skating
In 1977, a NASA engineer introduced Nike to a new technology that would change the course of athletic footwear design forever. Frank Rudy had succeeded in trapping dense gases inside a rubber or plastic coating, unwittingly making the first iteration of the iconic Nike Air unit. This technology meant that basketball shoe design at the company accelerated with unprecedented speed, soon phasing out the Blazer. 
Fortunately, when one door closes, another opens. The heavy leather uppers and solid vulcanised sole that now felt clumpy on the basketball court happened to be exactly what skaters had been looking for. The outsole even carried grip patterns that translated smoothly from hardwood to griptape. 
In 2005, professional skateboarder Lance Mountain announced that a collaborative project would see the Blazer fitted with a padded tongue and an Air insole – a symbolic transition from basketball trainer to men's skating shoe. From then, the Nike Blazer was the Nike SB Blazer.
The future of the Nike SB Blazer
The iconic silhouette of the Nike Blazer Mid has been chosen as an artistic canvas by external collaborators time after time. From Futura to Virgil Abloh and Sacai, designers of all kinds have seen the potential of the Nike Blazer. This gives us great confidence, and we're happy to say that the Nike Blazer is going nowhere soon.
Shop all Nike trainers at OPUMO.
Find out how to take your runs to the next level with the Nike Zoom Fly 3.
---
---