Project name: North Bondi House | Location: North Bondi, Australia | Completed: 2019 | Architect: James Garvan Architecture
Located in North Bondi, Australia, this semi-detached house takes a drastically different approach to its neighbours. With a facade stripped of any detailing and a light-filled, contemporary layout befitting of its location, North Bondi House offers excellent levels of both privacy and openness.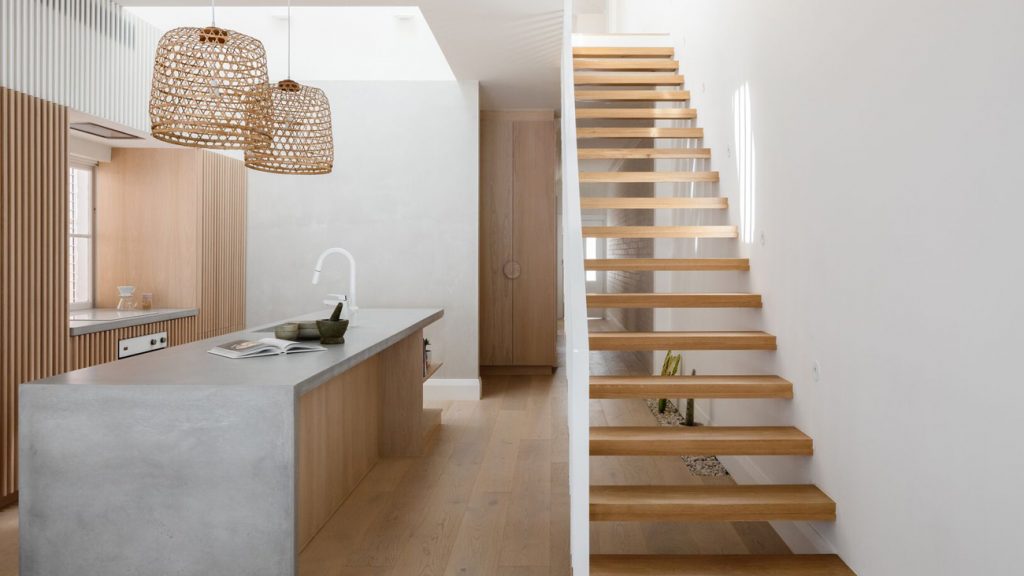 The ultimate aim of North Bondi House was to update the traditional semi-detached housing style of Bondi to give it a more modern feel that better suited the locale. James Garvan Architecture achieved this by transforming both the inside and exterior of the property, white-washing the walls and adding innovative ways of letting in light.
Thin white shutters adorn both the front and rear of this unique home. When closed they line up perfectly making the property look as though it's windowless, but open them up and light streams through the interior, which combined with multiple skylights ensures it's always incredibly bright inside.
---

---
The facade of the house is particularly interesting in its contemporary design. It's been stripped of any superfluous detailing, yet its triangular form still mimics its neighbouring property, so on a basic visual level it complies with the traditional gable-ended semi-detached houses of the local area while also being drastically different. It's a unique take on North Bondi architecture and one that we can't get enough of.
Photography by Katherine Lu.
For more innovative modern architecture, check out Three-Tiered Platforms in Japan.
---
---