An architecture firm in New York has taken the tired notion of "loft living" and mixed it up by knocking down walls and allowing a cavernous Tribeca space to speak for itself.
Loft living began in New York as a necessity: large cheap spaces for artists to work and live in, with ample light and low rents. The phrase was exported and twisted to apply to just about any converted building, just about anywhere in the world.
Time then for a fresh look at the idea, in one of the places where it began: Tribeca, and a second-floor space in a historic 19th-century former warehouse that had become cluttered with partition walls, making it, in the words of architects Office of Architecture, "labyrinthine".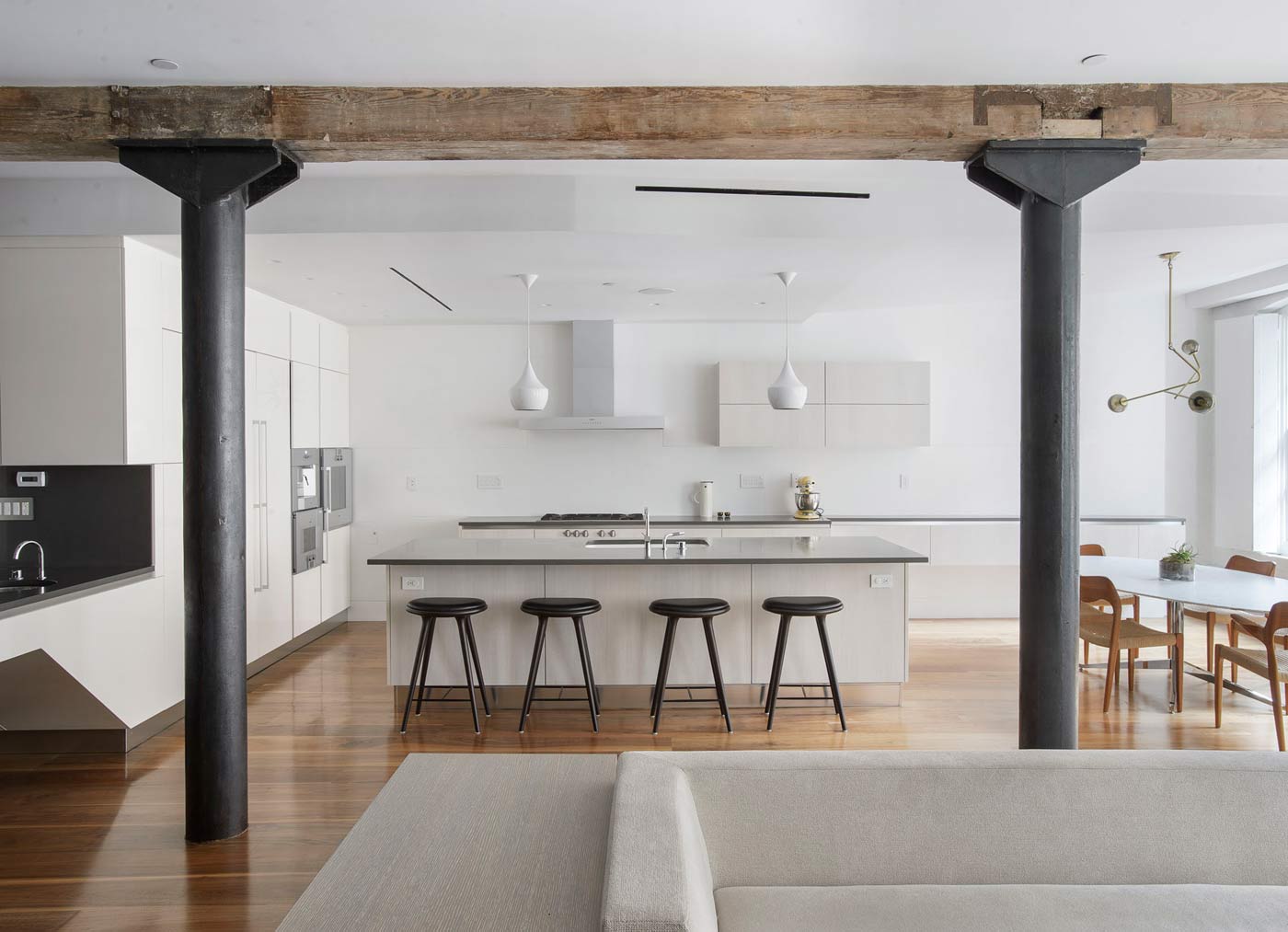 Tribeca – an acronym of course for "Triangle Below Canal Street" – has become one of the trendiest areas of contemporary Manhattan, featuring some of New York's most fashionable restaurants and bars. The loft is designed for a young, fast-living family with the need for both entertainment space and privacy.
First job: knock down those walls. Given this is a warehouse space, none were load bearing. Suddenly exposed once more were roof beams and the handsome 19th-century pillars.
Keeping the light and sense of space was key for the architects. They chose to insert built-in floating storage units as room dividers, along with a top-spec kitchen and a large open fireplace.
Gone are the old loft ideas of exposed brick. Instead, the walls and ceilings are pristine white, while wood flooring is also new. Folding doors screen off bedrooms when needed allowing, as the architects put it, a mix of "bohemian charm and individual privacy".
Brooklyn-based Office of Architecture is a young, nimble firm specialising in, as the practice itself describes it, "the artful orchestration of vision and logistics". In plain language, these are designers with not only new ideas but the necessary focus on how to make those ideas happen.
That said, among their more fanciful unrealised plans is to fill City Plaza, a large square in Boston, with white rocking chairs. The rockers would be placed differently each day and left at the mercy of the city's citizens. An intriguing notion that's yet to reach reality, perhaps because of fears the rocking chairs would simply find new homes in Boston's living rooms.
All great architecture, however, needs flights of fancy. The Tribeca Loft's premise was simple. Clear out this imposing space and fill it only with the fittings strictly necessary for the needs of a young family.
Images courtesy of Matthew Williams